Indian Dreaming Slot Machine – Review & Free Play Demo
Do you know Aristocrat? They're an Australian company and not yet all that well known in the UK market. They're trying to make inroads though, and have more than 50 slots listed at UK sites in a reputable industry auditing site.
Among their most popular slots are the East Asian-themed titles Lucky 88 and 50 Dragons, but they are yet to make a big impact on the industry as a whole, with a very small percentage of the games in UK casinos, and around 0.2% of the games in lobbies.
This Indian Dreaming slot game is generally branded as a "pokie" which is how Australians refer to online video slots – referencing their origins as poker simulators, and the love of slang down under! = it's also very old, and it's not been possible to get ahold of all the facts and figures we would normally like to have in a review. The game has – according to reports – been updated twice in its 20-year life.
However, we have checked out this US-themed game from Oz, so let's have a look at whether you should head off to the plains.
Free Indian Dreaming Play Demo
Best Casinos to Play Indian Dreaming Slot
Indian Dreaming Slot Q&A
What game provider developed the Indian Dreaming slot?
Indian Dreaming is a classic slot developed by Aristocrat Gaming.
When was the Indian Dreaming slot released?
Indian Dreaming is a pretty old slot machine released more than a decade ago in 1999. It was first available in a land-based casino and only later entered the online casino world.
What is the Indian Dreaming RTP?
Indian Dreaming slot machine has a low RTP of 88.33%.
What's the layout?
Indian Dreaming slot comes with 5 reels, 3 rows, and instead of regular pay lines (as in the land-based version), it features 243 ways to win.
What theme is used in this slot?
Native American culture is the theme of the Indian Dreaming slot. The slot comes with details from the Indian culture. You will see the Indian chief, tomahawks, tepees, and dream catchers.
Can I play this game on mobile?
Today you can play Indian Dreaming slot on mobile devices, as well.
What is the Indian Dreaming variance?
Indian Dreaming is a high variance slot machine with a lower RTP. There are big wins in this game but it will be a bit harder to catch them. Smaller wins are, however, more frequent.
What is the minimum bet and the top prize?
The minimum to bet on Indian Dreaming is £1 per spin. The top prize in this game is 9,000 coins.
Are there any free spins and bonus rounds? What other features comes with?
Indian Dreaming comes with a Free Spins Bonus round. The Bonus is activated by 3, 4, or 5 scatters and awards 10, 15, or 20 free spins. The special feature in the Bonus is the wild symbol that comes with an x3 multiplier when on the second reel and x5 multiplier when it appears on the fourth reel.
Are there any jackpots?
Indian Dreaming slot does not feature any jackpots.
Is there anything else that I should know about the Indian Dreaming slot?
In Indian Dreaming slot you can choose how many active reels you want to play with. All five reels active lead to max 243 ways to win. 4, 3, 2, or 1 reel active lead to 82, 27, 9, or 3 ways to win, respectively. Before each spin, you can decide how many ways to win you want to play with.
If I like this game, what else should I look at?
If you liked Indian Dreaming slot you can also try the Legends of the White Buffalo slot by SG Gaming Group. Moirai Blaze slot by Iron Dog Studio features details from the native American culture as well.
The Facts and Figures
We like to start this section of our reviews with the standout figure among the game stats and in this game, it's an unusual one: the date of release.
Aristocrat's Indian Dreaming slot machine is a 20th-century game, released in 1999! It's 20 years old, and it's amazing that it's still on the market and still attracting players, we'll have to assume that the designers and programmers have done something right.
The age though means that it isn't possible to tell you the theoretical return to player. Don't let that put you off though. RTP is more a technical measure than one that will predict your experience, and if you play at licensed, legitimate sites you will be playing games that fit in a legal framework of how much money they must return to players and you'll get a straight and fair contest.
The maximum win is low, at 9,000 coins, on betting from 1 to 25 coins, so £9,000 from £1 to £25. Obviously, that's a great return if you hit it! We would reckon that this game probably has low to medium volatility so will return smaller wins relatively more often.
Wins are delivered on a nine pay line system running over 15 symbols on a 5 by 3 grid layout.
The age of the game means it uses Flash, which has to be enabled in some browsers. The Indian Dreaming slot machine online cannot yet be played on mobiles or tablets.
How to Play Indian Dreaming Slot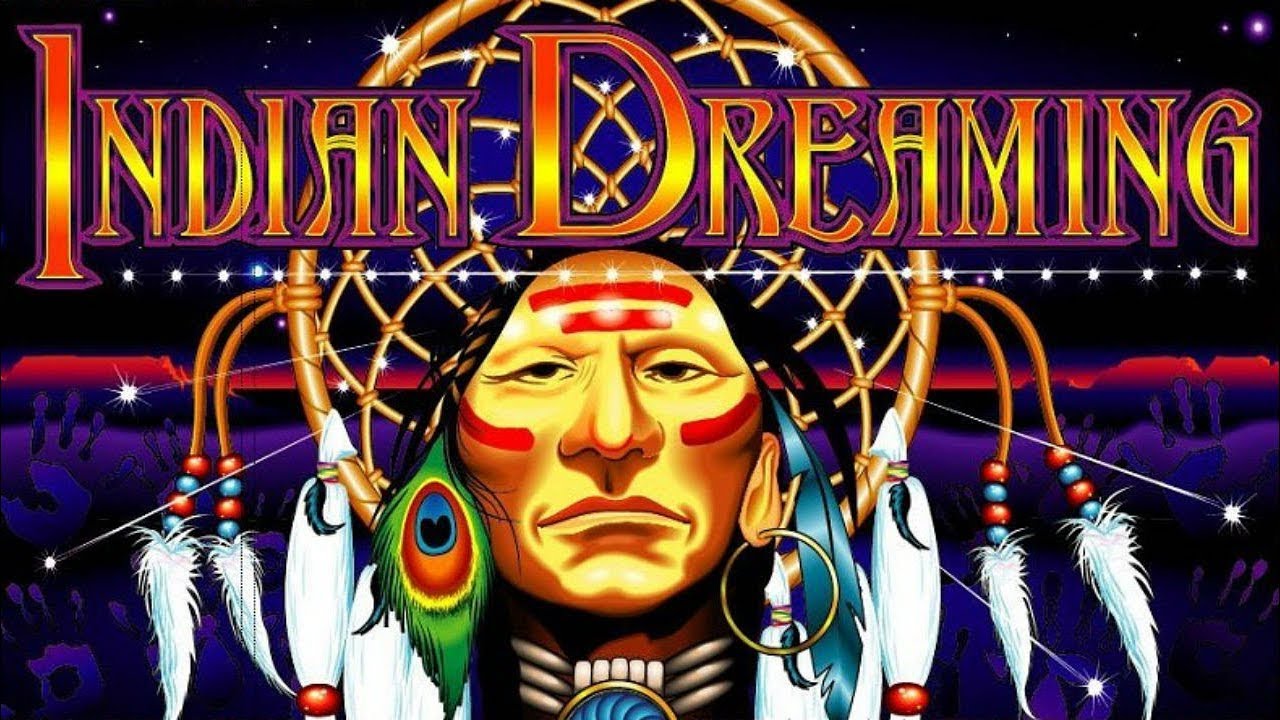 We've noticed recently that many games are becoming simpler. Our guess – and it is a guess, though it's an informed, and probably good one – is that this is because smaller screens make simple, graphical games easier to use.
Indian Dreaming is genuinely simple because that's how games used to be!
The controls are at the bottom of the screen.
To the left of the control panel is a Win window over a credit window. Next is the currency. To the right, you'll see the number of pay lines selected and the bet per line over a window telling you the total bet.
Spin the wheels and cross your fingers and that's about it.
How to win
The paytable is based around playing cards and symbols associated – not always correctly – with Native American culture.
(We're not 100% sure how these figures relate to bets, so make sure you check the paytable as you play.)
The paytable is a two-level affair.
Nines pay 4, 8, 60, and 200 coins in the high-level paytable and 2, 4, 30, and 100 coins in the low level one.
Jacks, 10s and Queens pay 4, 30, and 100 on low and 8, 60, and 200 on high.
Kings and Aces pay 10, 50, and 120 on low and 20, 100, and 240 on high.
Campfires and totem poles pay 20, 70, and 250 and double that on the high-level pay table.
Tents pay 20, 100, and 400, doubled up for the high-level pays.
Dream catchers and weapons pay from pairs, rewarding players with 2, 30, 120, and 800 coins, doubling for the high-level pays.
The Native American man pays 10, 250, 2,500, and 9,000.
The bison is the bonus and it pays 18, 36, 180, and 4,500 coins on a one-level paytable.
Bonus Games
That'll be easy because there is one genuine bonus game on Indian Dreaming.
It's a free spins game, triggered by the Bison symbol from the base game.
That symbol pays out in its own right and also gives players 45 free spins for sets of three, four, or five.
The Verdict
This Indian Dreaming slot machine has been quite a tough title to review.
It is very old and made by a not-very-well-known company that is a long way away! It is not licensed in all jurisdictions, and third-party information about it is hard to come by.
What we can tell you is that this game has been a huge hit in markets – including off-line markets – where it is played. There are dozens of YouTube videos of the game being played in casinos, usually in Australia.
To stick around for 20 years a game has to be doing something right. Players these days tend to like simpler games, and that's what Indian Dreaming delivers in spades.
The base game is simple. The bonus game is simple. You should get relatively decent returns too, though chasers of life-changing prizes will have to look elsewhere (though, speaking personally, I'd be able to make some quite big changed to my life with £9,000!)
As there's relatively little information on this game, this really is one we recommend you try yourself. When you do, make sure you're playing safely and at licensed sites and make sure you enjoy yourself.
One of the oldest online slots we've ever seen, we'd love to hear what you think about Indian Dreaming so we can build up knowledge of this game.