Come gather round people wherever you roam, for you'll see that the headline jackpot has grown!
With apologies to Bob Dylan, this nicely sums up the function of the progressive jackpot slots. They are the crowd drawers of the online gambling world, they provide a big number – often mind-blowingly big – that can be splashed on a front page in order to tempt in new players.
Like all big prizes, these attract millions of players and only very few people are lucky enough to cash one in. That doesn't mean that you shouldn't chance your arm, but it does mean that you should go into progressive jackpot play with a good understanding of the chance you have of winning, both in the main game and for the big prize.
Best Sites to Play Progressive Jackpot Slots
Casinos with the most progressive jackpots
We searched high and low to find out which casinos offered the most progressive jackpots. The winner by quite a distance was Videoslots which has over sixty progressive jackpot games (in fact they have over 3000 games altogether, the biggest online casino by quite a way).
Progressive Slots – Online Casino Jackpot Slots Reviews
Progressive Jackpots for Beginners
A progressive jackpot slot works on a very simple principle.
Online slots already use the funds from players to fund the prizes they pay-out in the sense that the games fund the site, which pays out the prizes. But progressive slots make that link much more explicit and much more direct.
A jackpot slot will normally have a game just like a normal slot that offers prizes in the usual range. It will also have a (or a series of) bonus games that reward players with the progressive prize. This prize is funded by taking a slice out of every bet on the machine. These small sums – across many, many iterations of the game – are pooled and put into a prize pot. It is this pot – rather than the usual multiple of your stake – that is won in a progressive jackpot slot.
With players in the big games, like Mega Moolah, for example, chipping in little bits of the stake from hundreds of thousands of bets across hundreds of games across hundreds of sites, these progressive jackpots can be enormous.
Once a progressive jackpot is won it resets. It might go all the way back to zero, but more often it goes to a base amount – which in itself can be very large, in the millions of pounds – before clicking back up again as players take their chances for the new prize.
Progressive slots can have a maximum limit or can be limitless.
Progressive Slots – the power of the network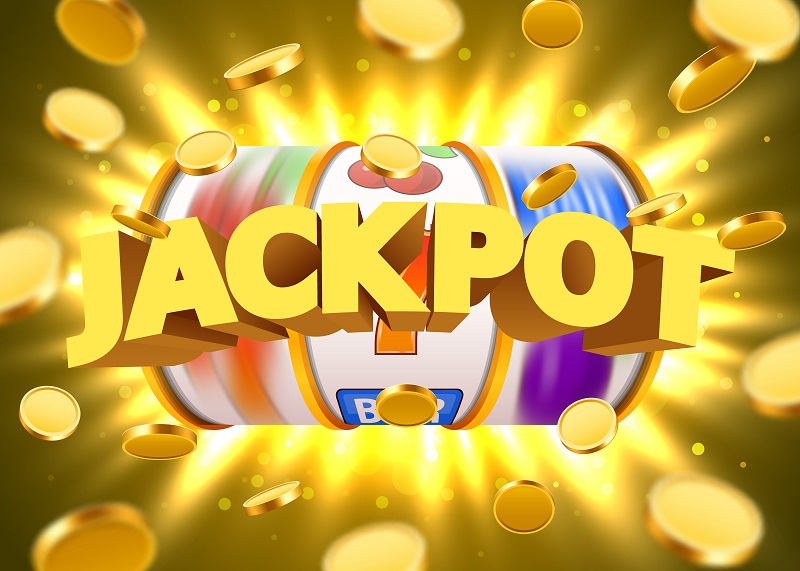 The progressive jackpot slot isn't, surprisingly, a product of the Internet and the online casino site. These prizes were first played for in big casinos where big ranks of machines could fund a big prize that players on all the machines can compete for. It was set up like this, in the big Vegas casinos that used to set world records for slot payouts.
Now – for good or bad – we are all connected, so these networks are massively and exponentially larger in their potential scope. And so are the prizes connected to them.
A networked real-life progressive is usually called a "local progressive". This means all the machines are in the same place. Even in the bricks-and-mortar world, slot machines can be linked up in more than one location, to make a wider network and a bigger prize.
The same operations can apply to online progressive slots prize networks. A title may be offered as a site-wide progressive, as a network-wide progressive, or a web-wide progressive.
As an example, one of the most popular slots on bingo sites is a cute game called Fluffy Favourites. It offers a progressive jackpot, but some of these instances of the game link up only the versions played on one site. Some link up instances of Fluffy Favourites across the sites in a network of sites, opening up a bigger prize. A single-site progressive might offer a prize in thousands of pounds while a progressive network in the tens of thousands.
In common with a lot of other jackpot slots, Fluffy Favourites also offers a set of jackpots in three layers, building up to the very biggest prize and awarded for journeying through the progressive jackpot game.
A game that networks across many sites is the world-famous and double record-breaking – Mega Moolah. This monster progressive slot links up every single instance of the game into its progressive network. That's how it offers prizes that are regularly in the 10s of millions.
There is a momentum to these sorts of games. In order to offer the massive prizes that bring in the really big fandoms – and there are whole sites devoted just to Mega Moolah – the games need to attract a large number of players to build up the prize fund. So progressives can't just pop up and lead the market, it takes genuine success over a number of years. The base game must have its attractions, and these games are often heavily promoted.
Jackpots Slots – How Prizes are Set
When playing slots we always tell our players that a fair game is completely random. That is, that each time you play, and however you play, you cannot set yourself up to win by betting at a certain time of in a certain way.
This is not always the case with progressive jackpot slots.
Some reward players for staking larger amounts – and therefore putting more into the prize pool – with a bigger chance of triggering the progressive game.
This might mean that you can play a progressive game and have no chance of winning the progressive prize because you aren't staking on all pay-lines or putting up the maximum amount. With the theoretical return to player (RTP) in base games almost always lower than in standard games, this is an odd way to play we think. Jackpot Giant works like this.
Other games – Mega Moolah is an example – will award the progressive for bets below the maximum, but reduce the chances of triggering the big-prize game.
Finally, some games do make the progressive jackpot proportional to the bet. Clover Rollover works like this.
How to Win a Progressive Jackpot
Progressives can also be awarded by a number of different mechanisms.
In some, the progressive is just a super-sized jackpot that is awarded like a jackpot after a normal spin the base game. That's an exciting spin for you!
Some progressive jackpot slots have a special set of big jackpot symbols that trigger the pay-out of the progressive jackpot, but it remains in the base game.
Finally, some slots, including, for example, Mega Moolah, have a bonus game that leads to the progressive jackpot.
The Price of the Progressive Jackpot – the RTP
We've already touched on the way that progressive jackpots are built up from tiny amounts of stakes, sometimes combined across many machines.
That comes at a cost to the player.
In economic terms, it's an opportunity cost: you accept a smaller potential reward immediately in order to play for a much larger potential reward in the future.
The way slot games reward players are usually measured in a theoretical return to player (RTP). This long-term measure records how much of the cash deposited in the machine – by all players over its lifetime – should be returned to players.
Writing now in January 2019, the typical RTP is around 95% to 97% in online video slots. But progressive slots are hard to measure.
First of all, the base game may have a lower than average RTP simply because some of the player cash is taken out of the equation and hived off to creating very big prizes.
In games that have a separate progressive jackpot game, you may find a different measure for each part of the game. Typically, the jackpot game will have a lower still measure of RTP, and it may change as the size of the top prize increases – offering a better deal at higher jackpot levels.
Because jackpots vary and the odds of winning them vary with bet size and prize size it is possible that you may not be able to provide a reliable RTP figure for a progressive jackpot machine.
The reality is that most players play progressive jackpot games with the big prize as their prime focus. In doing so, they accept that the base game has a lesser chance of offering them a prize, but they reckon that the big prize is so big it's worth taking that risk for.
That's not to say that progressive jackpots will rip you off in their base game, of course, they are "fair" in the sense that all online video slots (on regulated, legitimate sites) are fair, but you should be aware of the massive odds against you winning the big prize.
Progressive Jackpot Crazes
The progressive jackpot is one of the few player-responsive games you can play in an online casino site. As more players play it, the jackpot prize increases, making it more attractive. The more players play it, the more will the jackpot increase.
This is why Mega Moolah is now established as the top progressive game, the one that every casino wants on its front page, and a massive asset for Microgaming, the Swedish company who produced it.
And Mega Moolah did it on publicity. Big prizes mean big publicity. Most players will now know some of the details of the first big winner: he was an English former-soldier, who won his prize on a single spin that cost him 25p. And the prize?
Well, that was £13.2 million. Jon Heywood from Crewe won it, and he's probably the main reason why Mega Moolah is such a big hit in the UK and has been since his prize win in October 2015.
Big wins mean big news stories, which only serves to bring more players to the table.
That has helped Mega Moolah to notch up a hugely impressive role of wins that make players millionaires, usually in Euros, on a fairly regular basis. And who wouldn't want to have a punt at that?
While regular big wins are now becoming run of the mill, including the amazing award of two prizes in the millions of Euros in one day, Mega Moolah can still bring up prizes that are guaranteed to make headlines all around the world.
Most recently that meant an €18.9 million win in September 2018.
That win is bound to bring in another load of players, which will mean more big wins and so on and so on….
The Dangers of Progressive Jackpot Slots
The first of those record-breaking winners on Mega Moolah, Jon Heywood, is now something of a household name in slots circles. The second player is, as yet, unknown, though no doubt some journalist or other would love to find out.
Jon's name is well known because he agreed to publicity. But it might not be a choice that is yours to make if you win a really big prize.
All games and all gambling sites have acres of small print that floats unread before a player's eyes as they click the forms to join.
We can lecture players on reading this small print – READ THE SMALL PRINT! – as much as we like, the truth is it is unlikely to have much effect.
Those few that do will probably find a set of rules around progressive jackpot prizes, and perhaps specific big-paying games.
You're probably already familiar with the concept of play-through or gambling restrictions or wagering requirements, which limit the use of bonus funds at a site until a certain amount of the player's own money has been spent.
Progressive jackpot machines are likely to feature in those restrictions in some way. You may find that you are not allowed to play these games with bonus funds or with free spins. You may find that you cannot win the big jackpots on these machines with free spins. And tou may find that spins on these machines do not count towards your wagering requirement, or only a proportion of the money played on them does.
When a Win is Too Big!
The most obvious problem with progressive jackpot wins is that they are almost always going to be much much bigger than the casino's withdrawal limit.
This is a problem we'd love to have. Or so you might think! The commonest problem players have with casino sites is when they do not pay out winnings. This rarely comes up in the normal run of play, but when you have a £10 million jackpot sitting in your account it might be very important indeed that you fill in all the right forms when you signed up – this is just one of the reasons we are always very clear that our readers should always follow all the rules at any site they play at.
You may find that a big win will be paid to you in instalments and that that will be decided "at the sole discretion" of the company. For most people, this is a little problem, but in at least one famous case a player decided to take a massively reduced pay-out against a choice of staggering payments that would have taken nearly 40 years to pay out in full. They were right to do so because the casino did, in fact, go out of business before it would have paid out the whole amount.
You will also probably see a clause that might "at the sole discretion" of the site take part in publicity about the win.
Now, we're not lawyers, and we're not sure how enforceable a condition like this might be, but it does show that it's worth taking a look at the small print at the sites you sign up with, and if something like that is a deal-breaker then we reckon you're better off finding a different site to play at.
Watching the Slot Jackpots
If you're really keen on winning a big progressive jackpot, you need to keep your focus on these games. Because a lot of the biggest titles are ubiquitous that's relatively easy: just head to your favourite casino site and if it's half-decent then it will have the biggest jackpot machines all networked up to the whole network.
You can also watch jackpots, using sites like ours or specialist progressive jackpot sites that monitor the available prizes and keep a running total of the jackpots. These sites will usually have a relationship with the sites to which they link, so you should bear that in mind. It doesn't mean that the information that they provide isn't legit, but it does mean that you don't have to click on the links that they provide and you shouldn't feel bad about using your own favourite site to play games that are available almost anywhere.
In this article, which is not monitoring current jackpots it's just not possible to give a completely up-to-date run-down on prizes. For that, you need a live site, and we recommend that you check the sites you use for this purpose are actually live and properly updated.
However, we can use history as a guide to what titles are worth watching, with a pedigree of pay-outs that give you a list of:
The Biggest Progressive Jackpot Slots
1 – Mega Moolah: The multi-record breaking slot that is undoubtedly the biggest of them all, Mega Moolah has millions of fans and can pay out in millions. It has awarded prizes all around the world and has a whole fan world dedicated to charting its ups and downs and jackpot sizes.
2 – Jackpot Madness: This Microgaming slot was the first to pay out millions to multiple players (hundreds of them) in October 2005.
3 – Jackpot Madness: Another Microgaming slot that paid out the first million-dollar win to a European player in 2001. The machine's network had paid out $200 million in prizes by 2006, a record for a single game at that point.
4 – Major Millions: two pay-outs of hundreds of thousands of pounds within hours (to the same player, which is a bit sad in a way) speak of good pay-out potential.
5 – Millionaire's Club: This game paid out a £4 million jackpot in 2007.
6 – Beach Life: Playtech make this machine, which handed out £3 million to a player in 2007. A £5.1 million jackpot in 2012 had the headline writers reaching for their holiday clichés again.
7 – Mega Fortune: A £10.2 million pay-out in 2011 makes this NetEnt slot a one-time Guinness world record holder. You can see the snowball effect of popular games in action in this game's pay-out of £13.9 million just a year later.
8 – Hall of God: A £5.4 million win in July 2013 hopefully allowed the Scottish fisherman who won it to give up one of the most dangerous jobs in the world.
9 – Alchemist's Spell: A £1.5 million win in December 2014 puts this game in our list.
10 – Mega Fortune Dreams: NetEnt's big payer coughed up twice, paying out €5.5 million and €7.7 million in 2015 and 2016. Snowball effect again?
The Secret to Winning Progressive Jackpots
[This space is intentionally blank]
The Truth about Winning Progressive Jackpots
We left that little joke above for you because it's a dishonest headline we see everywhere and it's made to fool players. And that's no good for us!
There is no secret to winning honest progressive jackpots. These games are as random as any other slot – each spin should give you the same chance of winning as any other spin.
We've mentioned a couple of ways that progressives are slightly different, and you should be aware of those before you play any particular machine.
Firstly, stake size may slightly alter your chance of winning. It may rule you out from winning the progressive all together. Just make sure you know what the deal is BEFORE YOU PLAY.
There is some suggestion that progressive jackpots pay out on a sort of timetable. Not one that is set by a clock, but by the size of the prize pot.
This is based in part on twisted gamblers' "common sense" and also by the truth of playing old-fashioned cabinet machines. They were primed to pay out at regular intervals. The games remained random, but the big prize was set up to be up for grabs within a set time limit.
Is the same true for online progressive slots?
No. It's random. That is honestly the best way to think about this. Once you start believing that a machine is "due" to pay out, you are going to find yourself taking part in a self-fulfilling prophecy by becoming another spinner of the wheel, adding to the number of players and making a pay-out more likely.
Our advice is to treat progressive slots like any other slot and play the games that you enjoy the most, using safe gambling rules as you do so.
That way you'll always be a winner and you might just play long enough to hit a big winner.