Manhattan Goes Wild Slot by Nolimit City – Review & Free Play
This 2019 release is a fantastic game aimed squarely at high rollers and those who like the high life.
This game is set in the Roaring 20s, the jazz age, a time we might see recreated somewhat in the near future, as economic crisis causes continuing cultural change, and perhaps an age of hedonism and chaos!
Who can tell?!
And don't believe the history you get from slots or Hollywood movies, it's never the whole story!
This is a Gatsby-inspired game, and it is the 1920s of the rich, powerful, and fun to be around, rather than the real life of real people. But slots are a fantasy world so that's what they have to deliver. There's certainly a chance you could get some high life of your own if you hit the free spins round.
Here the big bonuses are respins, wilds in two styles, and a free spins round. There's a depth to the gameplay that you don't always see on retro games, and there's no question that this isn't just aimed at big hitters. The betting range, for example, is quite conservative.
With lovely deco design and real gambler's stats, could this be a game for you to get in a flap over?
Let's take a look!
Play Free Manhattan Goes Wild Slot Demo
Manhattan Goes Wild Slot Q&A
What game provider is behind Manhattan Goes Wild?
This game is from Nolimit City, who despite their age (they were founded in 2008) have just 35 slots in the UK market at the moment. They're Swedish in origin, but their titles span the world and span the genres of the slot world. Their biggest current hit is the western title Tombstone, followed by Barbarian Fury, another western game, Deadwood, and the very British Punk Rocker.
When was Manhattan Goes Wild slot released?
This game was released on 19th August 2019.
What is the Manhattan Goes Wild RTP?
The theoretical return to player is 96.16%. That's really decent in the current market. RTP is calculated by running spins (1 billion is the number reported) on a simulation of a game in order to calculate how it will behave in real life. This assumes that the players will behave in a particular way, and you shouldn't expect your experience of a game to be exactly like this.
How many reels and pay lines does Manhattan Goes Wild have?
This game plays out on a classic 5 by 3 grid. Across these 15 symbols, you'll find 108 possible bet ways, with non-linear prizes being paid.
What theme is used in Manhattan Goes Wild slot?
This game is themed on: luxury living, high life, the jazz age, history, the roaring twenties. It has illustrated graphics in an art deco style.
Can I play Manhattan Goes Wild on mobile?
Yes, you can play this game on any desktop, mobile, or tablet. It needs JavaScript and HTML5.
What is the Manhattan Goes Wild variance?
The variance of this game is high. High variance or volatility games are expected to deliver higher prizes but to pay them out less frequently.
What is the minimum bet and the maximum win?
The minimum bet is 0.1 coins and the top bet is 10 coins. This should be 10p to £10 on UK sites but check that you understand coin values, pay-out limits, and so on, at the site you're using. The top prize is 2,000-times stake, which could be £20,000 times.
Does Manhattan Goes Wild have free spins and bonus rounds?
Yes, there is a free spins round, triggered by the cocktail glass icon. There is a symbol-collection feature that can add extra wilds to the reels.
Is there anything else I should know about Manhattan Goes Wild slot?
The game also includes respins with sticky symbols.
The Game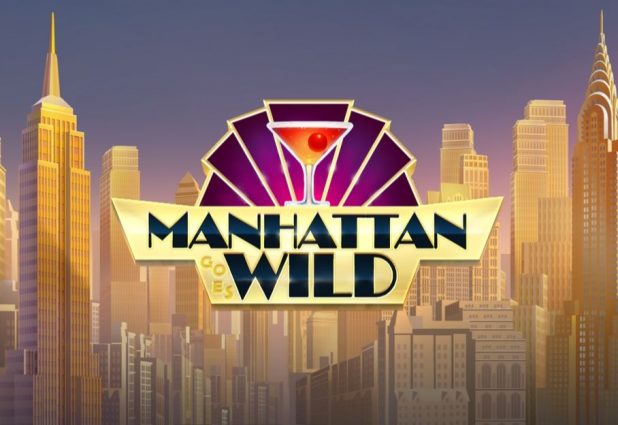 The base of the pay table is a deck of cards, with 10s, jacks and queens paying 0.1, 0.4, and 1.5-times stake. Kings and aces pay 0.10, 0.40, and 1.80-times stake.
Champagne and diamonds pay 0.2, 0.5, and 2-times stake.
Cars pay 0.2, 0.6, and 2.5-times stake.
The singer pays 0.2, 0.7, and 3-times stake.
Betty pays 0.3, 1, and 5-times stake, as does Bugsy.
The wild pays the same.
Both the character symbols can be turned into golden wilds at random. These can stack, and trigger the Wild Party respin.
The scatter triggers free spins. During the round high paying symbols contribute to a meter: fill the meter and the symbol will turn into a golden wild. If Bugsy and Betty fill up then they award three more spins.
The Verdict
Nolimit City have done a great job on Manhattan Goes Wild. It's one thing to have a vague idea and slap a bit of a look on a game, but this is a theme that goes all the way down, even into the gameplay.
To start with the superficial though, that's done really well. Perhaps only a Swedish company could take on such a quintessentially New York theme and deliver it so convincingly – this is how Swedish pop producers have taken over the world after all.
The look is stupendous, with a great design straight out of a Gatsby party. The soundtrack is cool too, with a nice Jazz Age jazz band playing away in the background.
The gameplay also offers depth.
The pay lines are non-standard so there's something of interest straight away. The random features are interesting, with golden wilds offering some big prizes, and maybe the chance of a respin and a continued run of wins. The top of the betting level is relatively low, at £10, particularly for a game with high volatility and with a luxury life theme.
And free spins are the classic bonus round. Here they're delivered with a nice extra with some game play depth to it too.
This is one of the best games we've seen lately, and it's a credit to the company that made it. Manhattan is at the heart of the Nolimit City it seems.