Marching Legions Slot by Relax Gaming – Review & Free Play
Someone's been looking at video games! This Marching Legions slot, from Relax Gaming, is very gamer friendly, with eight-bit-style pixel-drawn Roman soldiers marching off to war.
There's an ongoing fascination with ancient cultures – and particularly ancient cultures kicking **** out of each other – in the slots world, so it's nice to see an original take on at least the graphic style here. The music is the standard martial drums and trumpets – I wonder what Roman military bands really sounded like. And I will never know!
The big features in this game are traditional-style nudges, a respin collection with prize collection, and a free spins round. The headline figure is 10,000-times stake for a top prize and a massively generous theoretical return to player of 98.12%. The game is high variance, so bear that in mind, and always play safely.
It's very pretty and up to date for an Ancient Rome themed game, but should you sign up for seven years in this legion?
Let's have a look!
Play Free Marching Legions Slot Demo
Marching Legions Slot Q&A
What slots provider is behind Marching Legions?
Marching Legions is a product from Relax Gaming. Relax Gaming has been in business for something like 10 years, which makes it of pretty decent age in online digital slots terms. They have around 40 slots in the UK market, and they have made a particular speciality of 3-d games.
When was Marching Legions slot released?
This game was released on July 2nd, 2020, it is Relax Gaming's most recent title.
What is the Marching Legions RTP?
The theoretical return to player of this game is 98.12%. This is very generous, as the industry average is around 96%. This is a long-term measure, so you shouldn't reckon that your individual gaming session will follow this model necessarily.
How many reels and pay lines Marching Legions have?
The classic 5 by 3 grid of 15 symbols is the playing area in Marching Legions. It has 243 ways to win.
What theme is used in Marching Legions slot?
The theme is Ancient Rome, ancient civilisations, military, and 3-D, with computer-animated symbols.
Can I play Marching Legions on mobile?
You can play Marching Legions on any device that supports JavaScript and HTML5.
What is the Marching Legions variance?
This game is advertised as "high" variance. That means it should pay out slightly bigger prizes than average and should pay them out slightly less often. The game has a published hit rate of 25.62, which means you should see a winning combination on around a quarter of spins. Like RTP you need to remember these measures are long-term averages.
What is the minimum bet and the maximum win in Marching Legions slot?
The lowest stake on Marching Legions is 0.1 coins, which should be 10p on a UK game. The top stake is 100 coins, £100 in the UK, and the top prize is 10,000 times stake, which at the top end is 1,000,000 coins! Not bad! Always check pay-out limits on the game you're playing.
Does Marching Legions have free spins and bonus rounds?
It has a free spins round along with a respin and a nudge feature in the main game.
What special features does this slot has?
Free spins come in "waves" with different numbers of stacked legionnaires on the reels. You can trigger further waves of spins with no limit and more stacked legionnaires in each round.
Is there anything else I should know about Marching Legions slot?
You can buy the free spins feature in Marching Legion, by paying 120-times your stake and accepting a slightly lower RTP.
The Game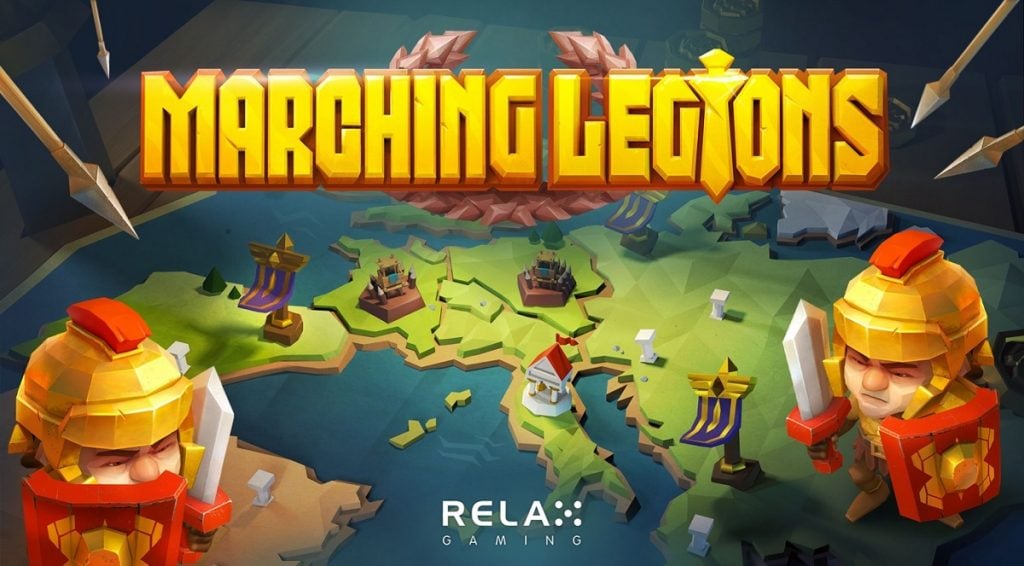 This is a fairly standard game. The controls float up the side of the reels. At the top is a turbo mode for fast play. Under that is the Bet control, which opens up a window with a sliding scale to set your bet in a single-amount option. Under this is the big, ol' spin button, and under that is the autoplay function. This allows you to set the number of spins you want and set a limit on how much you can lose before you stop the feature on a sliding scale.
Under this is a menu option, which explains the game simply, and also links to a further, more detailed ruleset, and all the other information you need to play the game.
The main features are:
Marching re-spins
Legionnaires appear on the reels in stacks. If you see one then they will trigger a respin feature, and they will march to the left on each spin. Stacks can land during this feature, retriggering the respins until they have all marched off the side of the reels.
There's a nudge feature too. If two or more legionary stacks land partially on the reels you may get the chance to nudge in one of the stacks.
The free spins round is quite complex.
When the legionaries march across the reels they advance a meter. Once all five levels are filled you'll enter the free spins round, using the average of your bets when you scored the meter points.
Free spins come in Waves, with a new stack of legionaries added via special symbols until a maximum of five stacks are on the reels.
This is where you can win up to 10,000-times your stake.
You can buy the free spins round at any time.
The Verdict
This Marching Legions slot game is fun and involving and looks amazing.
The graphic style is lovely, and smooth animation complements the superb drawing to make Marching Legions extremely easy on the eye. If you've had enough of trumpets you can easily turn off the sound!
The gameplay is involving and complex with bonus features at every level of the game. This is a game where it definitely pays dividends to read the instructions, and we commend that course of action to you.
Once you do you'll soon be playing this game with confidence and hoping to cash in on those very generous stats.
Join this legion now!