Mayana Slot by Quickspin – Review & Free Play Demo
In the world of slots, Mayan culture seems to trigger thoughts of blocks in designers. There are a number of games based on the aesthetics of the Maya – and related South American cultures – that make a feature of big blocks of stone standing in for standard reels.
That's the immediately apparent feature in Mayana slot, from Quickspin, the Swedish giants of online video slots design. True to this company's form though they've added much more than that in this innovative game released in 2017.
Alongside the blocks, we have expanding reel sets, respins (another common feature around blocks games), and multipliers.
It's also got a very nice looking set of stats to go with some excellent visual and aural design.
With a lot of choice for players who enjoy this aesthetic though, should Mayana slot be the South American civilisations-themed game you load up?
Let's have a look.  
Best Casinos to Play Free Mayana Slot Demo
Mayana Slot Q&A
What game provider developed the Mayana slot?
Mayana slot is developed by Quickspin and features a simple yet exciting gameplay that has potential for great wins.
When was Mayana slot released?
Released on October 10th, 2017, Mayana slot managed to scoop plenty of fans.
What is the Mayana RTP?
The return to player rate or RTP for the Mayana slot is pretty decent and stands at 96.63% just above the industry standard.
What's the layout?
Mayana slot is a 5 reel slot with 27 pay lines. But with each win, the slot award re-spins and the reels expand up to 243 ways to win. Wins are formed with at least three matching symbols on adjacent reels.
What theme is used in this slot?
Mayana comes with a Mayan theme. The slot is set in a dense jungle with cartoonish symbols related to the Mayan culture.
Can I play this game on mobile?
Yes, you can enjoy the Mayana slot machine on your mobile device such as Android or iPhone for example.
What is the Mayana variance?
Mayana is a high-volatile slot machine. This means that it features quite big wins but it will not be as easy to catch them while smaller wins will appear more often.
What is the minimum bet and the top prize?
Mayana slot can be played from as little as 25p per spin while the max bet is £100. This slot is capable of awarding up to x750 on each spin!
Are there any free spins and bonus rounds? What other features comes with?
Mayana slot doesn't come with a standard Free Spins Bonus. The only bonus feature is linked with the wins you hit. Once you get a win, you will get a re-spin with winning symbols remaining sticky while the reels will expand and increase ways to win. You get three free re-spins with increasing multipliers and a max of 243 ways to win.
Are there any jackpots?
Is there anything else that I should know about the Mayana slot?
The spins after free re-spins are crucial for Mucho Mayana Feature. If you see those 'mucho mayana' words on the reels, you can get a multiplier from x4 to x20 applied to your already accumulated wins from the re-spins!
If I like this game, what else should I look at?
If you liked Mayana slot, you may also try other slots from the Quickspin collection such as Sticky Bandits: Wild Return with shootout Free Spins and sticky wilds or Hidden Valley slot with Free Spins and multiplying wilds.
Quickspin – The Developers of Mayana Slot
Quickspin are a big company with more than 60 games in the UK market. Founded in Sweden in 2011, Quickspin is now part of Playtech, the world's biggest online casino software company.
That means they're going to get more visibility, so if you haven't seen many Quickspins games yet you should expect to see more in future.
These sort of tie-ups are becoming increasingly common. For bigger companies, there is an obvious advantage (though the price they pay is in some ways a gamble) in owning companies that make games as well as websites that host them.
It's also likely that smaller, specialist design companies are likely to be more innovative and nimble-footed than some of the giant corporations of the online casino sector.
Quickspin has shown a willingness to innovate, and their titles include plenty of clever features and a particularly strong visual style.
Their biggest games in the UK regulated casino sector at the moment are Sticky Bandits, Sakura Fortune, Eastern Emeralds, Big Bad Wolf, and Panther's Reign. Take a look at those titles and you'll see an excellent array of game and design styles.
Quickspin have a great reputation and you can be sure that you're playing their games safely if you use licensed UK casino sites only.
The Facts and Figures
The theoretical return to the player here is good, with a figure of 96.63%. This is a good figure – a house edge of just 3.37% – and probably slightly above the UK average. However, please don't treat it as a guarantee of how your experience with this game will go, these figures don't work like that.
Neither does the volatility or variance rating. It too is a very long-term measure. However, you can expect a "medium" volatility rating to deliver a similar sort of experience to most other games on the market at the moment.
Betting runs from 0.15 coins to 100. In UK casinos – please always check financial rules and regs at the site you're using – that should mean 25p to £100, a very high top stake.
The game starts as a three-by-three grid but can expand to five reels and more. There are 27 pay-lines, and these expand during the respin features too.
Play this game on any device that supports HTML5 and JavaScript.
The Game – How to Play Mayana Slot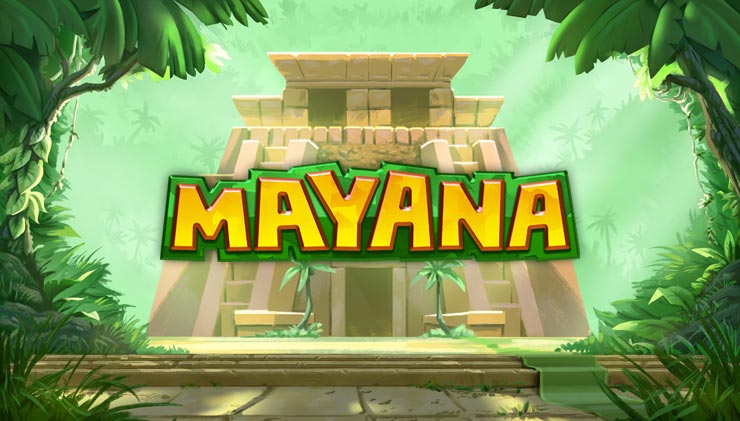 So how do we play?
Easily!
The game uses a standard control panel design from Quickspin.
At the left of the panel are two icons denoting the main menu and a settings menu. Then, reading to the right, are double-decker meters giving your balance and the number of Betways in play, then a bet setting window, then the win window, and finally the control station with a spin button, an auto spin function (very high quality) and the hurry-up button for turbo mode.
Payouts
The menu reveals the paytable where you'll find.
Four gem symbols – white, blue, purple, and green.
The higher paying symbols are a frog, a bird, a tiger, and a human skull.
Mayana Slot Bonuses
The bonuses here are all based around a respin. In fact, that's pretty much it for bonuses, but it is a deeply developed bonus feature that can bring a 20-times multiplier in a randomly triggered extra feature called Mucha Mayana.
Any win on any pay-line triggers a respin. This comes in three parts.
The first part opens up the grid to a five-reel game with single symbol reels at the far right and far left of the screen. Winning symbols stay locked in place.
If this spin is a win, then another set of winning symbols stays locked in and the second respin begins.
The extra reels get an extra symbol each and the multiplier clicks up from 1-times to 2-times. Wins lock in place again for the third part:
The reels now become a full set of five-by-three and the multiplier on wins is now 3-times. Again, wins lock and the respins continue.
From the third respin, the Mucha Mayana Multiplier feature might trigger at random. This counts up a multiplier from 4-times to 20-times.
The Verdict
These games aren't really in-depth looks at culture, but this is a fun (and perhaps not too hideously disrespectful, there are still Maya and Maya-descended people living among us remember) look at a world that has fascinated scholars for centuries.
More pleasing than the anthropological content is the game itself. It looks very nice, in the usual Quickspin style, and is a smooth and well-designed experience.
The bonuses are interesting and novel. They aren't the first respin feature we've all seen of course, but they do offer something more developed than the usual cascade.
That said, the lack of a free spins round will rule this out for some players – even though the RTP is really as good as it gets in the current market, and a 20-times multiplier is a 20-times multiplier, with high stakes meaner very big win potential.
That's a shame because they're missing out on a good game. Perhaps if Quickspin make a sequel of this title they will add another bonus.