Mega Moolah is one of the world's best-known slot games. Very few online video slots have any popular notoriety outside of the specialist slots world – although that's a world that is growing all the time. Mega Moolah is one of those because the prizes it awards are so enormous.
Mega Moolah has made front-page news numerous times with world-record winning slot pay-outs.
With this popularity, Mega Moolah has grown enormously. Few games can boast of websites dedicated to following the latest moves of the game.
(A word of warning here. There is no trick of timing or skill that can get you a shortcut to winning a big prize. Games are won by luck alone. Anyone who tries to sell you information promising a win should be ignored at best and actively avoided most of the time.)
Mega Moolah Isis slot is part of this family of games.
And it's basically the same game, but with an Egyptian theme.
The massive prize is a major pull, but should you head to the land of the Pyramids to check out this version of the game?
Let's have a look.
Best Microgaming Casinos to Play Mega Moolah Isis Slot
Mega Moolah Isis Slot Q&A
What game provider developed the Mega Moolah Isis slot?
Mega Moolah Isis slot is developed by Microgaming.
When was the Mega Moolah Isis slot released?
Mega Moolah Isis was released in 2009 as the sequel to the original Mega Moolah slot machine.
What is the Mega Moolah Isis RTP?
Mega Moolah Isis slot has a lower RTP of 88.12% which is understandable as it was lowered to maintain the jackpots in the game.
What's the layout?
Mega Moolah Isis slot comes with 5 reels, 3 rows, and 25 pay lines just like the original. Wins are formed by matching symbols on active pay lines from the leftmost reel to the right.
What theme is used in this slot?
Mega Moolah Isis slot has the Ancient Egypt theme. The design is colourful and smooth and the symbols are neatly designed to fit the Egyptian theme.
Can I play this game on mobile?
Yes, Mega Moolah Isis slot is compatible with all devices and can be played on all smartphones.
What is the Mega Moolah Isis variance?
Mega Moolah has a medium variance with frequent smaller wins.
What is the minimum bet and the top prize?
The minimum bet in Mega Moolah Isis is 20p per spins and goes up to the max of £20. The top prize goes up to 1m coins.
Are there any free spins and bonus rounds? What other features comes with?
There is a Free Spins bonus triggered with 3, 4, or 5 eagle scatters awarding 20, 25, or 30 free spins respectively. All wins in the Free Spins bonus are subject to an x6 multiplier and the round can be re-triggered as well. This combined with an x2 wild multiplier can lead to pretty hefty prizes.
Are there any jackpots?
Yes, there are 4 jackpots in the Mega Moolah Isis slot. The Jackpot Bonus is triggered at random and provides you with a chance to hit one of the four jackpots: Mini, Minor, Major, and most lucrative Mega Jackpot starting at £1 million!
Is there anything else that I should know about the Mega Moolah Isis slot?
Keep in mind that with a bigger stake, there is a bigger chance of triggering the Jackpot Bonus.
If I like this game, what else should I look at?
There are plenty of other slots similar to Mega Moolah Isis to check out. If you like Egypt-inspired slots, Book of Ra Deluxe or Eye of Horus slot are great choices. On the other hand, if you like to explore more progressive jackpot slots, then make sure to try Mega Fortune or Hall of Gods slot machine. Also, the original Mega Moolah slot comes with a lucrative Free Spins Bonus, bigger RTP, and four progressive jackpots as well.
Microgaming – The Developer of Mega Moolah Isis Slot
Microgaming is gigantic. They are not Micro in any sense. They even have a big tower block as their home in the Isle of Man, from where they launch loads of games upon the world.
The company also makes software to run casino sites and other behind-the-scenes systems. This – which is not at all unique – gives Microgaming a great position in the world of online video slots. Their games are always visible and high profile and they are routinely hits.
The company is based in the UK (sort of), and has a long history, including launching the world's first online casino. They are licensed and legal to play in the UK and in numerous other jurisdictions around the world.
In the Microgaming portfolio, you will find more than 500 games, including slots, card games, roulette and dice games, as well as scratch cards.
Mega Moolah is the company's top game in the UK, but they also have a load of other hits, including the vampire-themed Immortal Romance, and the Thunderstruck series.
Microgaming releases new games all the time, and you should keep an eye on their site if you like their style of game.
The Facts and Figures
Mega Moolah Isis slot is both old and old fashioned.
This shows up in the stats.
The game has a five by three grid with 25 pay lines.
The theoretical return to player is 88%. This is incredibly low, but for a reason. Progressive jackpots work by taking a slice of each stake and adding it to a prize fund.
This game is a medium to high variance game. This means that you are likely to win prizes slightly less often than average, but that the prizes are likely to be slightly bigger than average.
Betting runs from a single penny (0.01 coins) to 0.05 coins.
This is a Flash game, so make sure you have the latest version on your machine.
The Game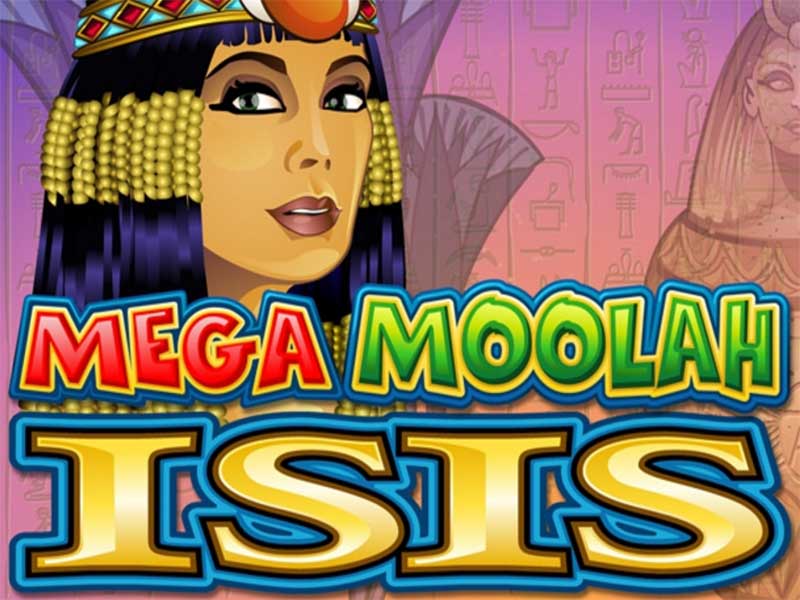 Mega Moolah Isis's layout will be very easy to understand if you've played any slots.
At the left of the control panel is the help button to open up a simple instruction book and the paytable.
You can then set your bet amount, with the lines and coins selector. A bet max button takes you to the top of the scale and the spin button is at the right-hand end of the control panel.
Payouts
The game's paytable lies behind the help button.
The paytable starts with the usual card symbols. They pay from 20-times stake to 200-times stake for full-house sets of five.
The flower rug pays 400-times stake for five on a line.
The sarcophagus pays 500-times for five on a line.
The golden rug pays 600-times for a full house.
The golden statue pays 700-times stake for a full-house.
The Eye of Horus is worth 800-times stake for a full house.
The Isis scatter pays 4,000-times stake for five on a pay line.
Mega Moolah Isis Slot Bonuses
The Mega Moolah Isis slot game is all about bonuses.
That said, they're extremely simple. It's just that one of them is life-changing.
The base game has a wild, and there's a gamble feature on wins with a card-colour/suit choice with a potential four-times boost to winnings.
Free spins are triggered via scatters (from three with four and five adding extras) awarding 20, 25, and 30 free spins. The free spins come with a six-times multiplier on wins.
The jackpot is why you're here.
This is split into four levels.
The mini jackpot starts at 10 coins.
The minor jackpot starts at 100.
The major jackpot starts at 10,000 coins, and…
The big one is the Mega Jackpot starting at 1,000,000 coins.
The game to win these prizes is entirely random. You'll be playing, and up it pops. You spin a wheel of fortune to try to hit the big prize. It's entirely random, so all we can say is good luck!
The Verdict
Games like Mega Moolah Isis slot exist only because of their enormous prizes.
The base game is fine. It's of its time, so now looks quite dated. The graphics are pretty creaky by modern standards, and though the game functions fine it has no great sophistication to it.
If you want to win big prizes then you have to play progressives. And the Mega Moolah family of games are the undisputed world heavyweight champions of progressive jackpots.
You'll pay the price for that big prize though, with a much-reduced chance of getting your money back if you don't hit it. Though the 10,000-times stake top prize from the base game is not to be sniffed at.
The Mega Moolah Isis slot machine is massively popular and has spawned tons of sites dedicated to tips to get you to the top prize. Ignore them, especially if they ask for money, as you will win this game if you're lucky, and for no other reason.