Mermaid's Millions Slot Game – Review & Free Play Demo
There's retro, and there's retro, and this Mermaid's Millions slot game is retro by virtue of being very old!
The Mermaid's Millions slot machine was released in 2008. It's still remarkably popular though, and it's rated by an industry audit site that we trust as the 134th most visible and popular game in the UK.
A game this old has some differences to the current state of the industry. The game looks a lot different, and the theoretical return to player is lower. But, it's obviously possible for a game this old to last if it's high quality and if it offers something that players like.
Players are still diving in to see if they can grab the mermaid's millions, but should you step off the side of the boat and try your hands at this nautical-themed game?
Let's have a look.
The Developers of Mermaid's Millions Slot Game
Microgaming are a massive company. A good measure of their size is the size of their headquarters, which is a bloody big tower block in the Isle of Man. Players love to know that they're dealing with a company they can trust and that UK address is a help too (although the Isle of Man is a complicated case and is not straight-forwardly within the UK).
The company produces more than 500 slots in the UK market. And some of them are very popular. Mega Moolah is the company's big hit, thanks to its enormous progressive prizes, including many, many multi-million pound prizes with a load of world-record-breaking awards made to players whose lives have been more than changed by playing this simple, and simply massive games.
They also produce the sophisticated Vampire game, Immortal Romance, the Thunderstruck series of Viking games, and big tie-ins like their Jurassic Park games.
Microgaming is rated as the sixth biggest Games producer in the UK and is licensed and safe to use. The company also makes behind-the-scenes software, so they run their own casinos.
The Facts and Figures about Mermaid's Millions Slot Game
This game shows its age in a theoretical return to player of 95.56%. Most games in the modern market are over 96%. However, this is a small amount – a house edge of 4.44% rather than <4% – and the RTP is a measure of long-term performance, rather than a measure of how your game will go. The game's low-to-medium variance (also called volatility) rating means you're likely to win prizes slightly more often, but they're likely to be smaller in amount. Again, this is a long-term measure, not a prediction.
Betting runs from 1 coin to 0.01 coins, which should be £1 to 1p in your UK casino site.
The layout is a five-by-three grid with 15 pay lines that you can play on desktops, mobiles, and tablets that support Flash. You may need to turn on Flash in some browsers, and you should make sure that you have updated your software so you have the latest version.
Playing the Mermaid's Millions Slot Machine Online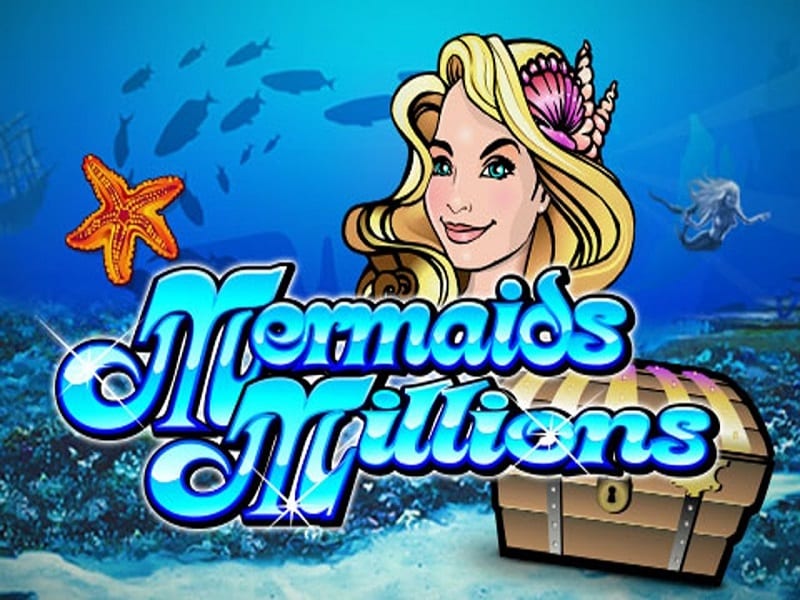 Slightly older though Mermaid's Millions slot is, you'll find the controls completely up to date.
At the left of the control window you'll find the balance window, next to that you can set "expert" mode and get help.
Betting is set via line selection and coin selection. You can hit a "bet max" button to go high, then head to the far right of the panel for the spin button.
The Payouts
The pay table opens on the usual card symbols, paying:
Jacks: 2, 15, and 75-times stake for sets of three, four, and five. Queens paying 5, 25, and 100-times stake. Kings paying 5, 50, and 100-times stake. Aces paying 10, 50, and 125-times stake.
Then the branded symbols are a sea horse paying 15, 75, and 250-times stake. An oyster pays 20, 100, and 500-times stake. A treasure bowl pays 50, 100, and 500-times stake.
The wild pays 5, 200, 2,000, and 7,500-times stake.
The treasure bonus pays in ranges of, 36 – 1,500, 48 – 2,000, and 60 – 2,500.
The mermaid scatter pays 2, 4, 50 and 400 credits.
Mermaid's Millions Slot Bonuses
The main bonus is a free spins round. This is delivered via the Mermaid scatter. More than three mermaids deliver 10 free spins. The wins are tripled in the free spins round and you can retrigger the round.
The treasure bonus can be triggered during the free spins round, but wins will not be tripled.
And that's it for bonuses.
The Verdict
It's quite hard to review a game that is so far outside the current mainstream. We always recommend that you try games, and here it is definitely the case that you should try this game if you want to make the most of it.
The main page of the game is quite strikingly old fashioned. The graphics are very simple and the look is very two dimensional. The controls are also out of another age. They're easy to understand because slots are basically a very simple game. However, the look is different, with those big buttons. You still press the same things to get the same results though.
Expert mode is a Microgaming feature that's common to a lot of games, so you may well be familiar with it. If not, it doesn't take too long to understand. Simply, the Microgaming expert mode is just a way to open up a few extra settings options, including some of the autoplay options. Your best bet is to just try it, and you'll soon be using your expert mode like, well, an expert.
Mermaid's Millions slot machine is not the world's most sophisticated game, but it is popular, and that tells you something. It is a good game in some fundamental way. We've noted lately that as the possibilities opened up by tech have got more and more expansive, there's been a drive towards simplicity. In part, this has been driven by the needs of smaller screens, but there's also a human need being answered there, and Mermaids Millions is a very simple game. Which is why you love it!