The first-ever slots were cheap to play. But they were not penny slots: back in 1891, you had to shove a whole nickel (or 5 cents) into your game to play.
Unfortunately for the purposes of this guide, penny slots is not a well-defined category. Most penny slot machines these days offer a good range of betting options with a defined top and bottom end. Actual penny slots – slots that it costs literally 1p to play – are a relative rarity, but many games fit the bill in that they are cheap to play, costing less than 10p to get a single spin.
In this guide, we'll take a look at the history of slots. We'll explain how betting on slots works, explaining volatility, the theoretical return to player, and odds. We'll look at safe gambling – at all stakes – and why online penny slot machines might be the safest way for you to play slots. Ultimately, we'll look at the penny slots style, and give you some examples of penny slot games titles.
Let's get spinning!
Penny Slots Casinos – Best Sites to Play Online Penny Slot Machines
Penny Slots: The History of Slots
Slot machines are now shiny and sophisticated real or virtual machines, but they have a long lineage that goes back to some much simpler automation.
The first games were attempts to replicate the experience of playing cards. The game that Sittman and Pitt first made in Brooklyn, New York in 1891, worked by sticking playing cards onto revolving drums. In order to improve the house edge, the makers took out two of the 50 cards in a standard deck. A player shoved in that nickel, pulled a lever, the drums span, and if they stopped on a winning poker hand the player could march up to the proprietor of the shop or bar where he was playing and demand his prize. In order to increase the house edge, the makers took out two of the cards from a standard deck.
There was no mechanism for automatic pay-outs in these machines, so they had to be manned or watched in some way. Independently from this East Coast operation, over in San Francisco, a man called Charles Fey was coming up with a solution for that problem.
Cards are all unique and come up with a bewildering array of possible combinations. To work out – with the relatively simple technology of the late 19th century – what should be paid on a particular winning "hand" was impossible.
Charles Fey took the concept of creating sets of matching symbols to win a prize, but cut down the number of reels to three and replaced the unique cards with a set of symbols, some of which are still in use today.
Fey's patriotic use of the Liberty Bell as the top-paying symbol gave the machine its name, while the lucky horseshoes, and familiar card suits (hearts, diamonds, and spades) gave generations of slot players the symbols they have to look out for. With just five winning combinations to pay out, it became possible to set up an automatic prize system, and machines could be left in the corner of a bar or shop quietly picking up cash. They were a sensation across the US, though Fey couldn't profit from them because California's gambling laws didn't allow him to properly patent his inventions.
These machines were very simple, but they are recognisable, a 5-reel, 50 symbol slot game, and a simpler 3-reel game.
With a relative free-for-all on the intellectual property of these games, local inventors and entrepreneurs started to get in on the action, some of them also coining symbols and names that live on.
The laws of the United States were much more complicated than the games though, and gambling at the state and national level was not straight-forwardly legal.
That's one reason why the explicit link to card games was cut with the new sets of symbols and fewer reels. Games could also get around the law by masquerading as vending machines, with an element of chance – I don't know about you, but when I buy something from a machine, I love to not know if they're going to give me what I pay for.
This led to games that offered food as a prize. It's hard to keep a large stock of cheese sandwiches ready and waiting to be "paid out", but chewing gum is long-lasting and portable, and as a relatively novel product it was also sought after. Fruits came to represent the flavours of the gums, and the bar symbol we still use was either a graphical representation of a pack of gum or a logo from the Bell-Fruit Gum Company.
These games were all single-stake operations. You put in a coin and took a chance. We would love to tell you when that changed, but no such information exists as far as we can find.
Certainly, in 1963 slots entered a new age of sophistication when Bally (who are still around) put out the first electromechanical slot.
In 1976 the link with machinery and actual spinning reels was broken when the Fortune Coin Co used a Sony TV screen to screen computer-generated images. This was the start of the age we are in now.
The story of the games since then is of increasing sophistication and the birth of internet gambling in the 1990s took the slot spinning into cyberspace.
Here, there is almost no limit on variables.
And yet, online video slots remain relatively true to the pattern that was set back in the 1880s or 90s.
Staking in Gambling
Stakes determine prizes in gambling.
That's true in pretty much every gambling game. The link is less explicit in slot games than in older forms of gambling, but it is generally there, being broken only for special games and fixed or progressive jackpot games.
Gambling is a simple thing – with layer upon layer of potential complexity!
It is based on relatively infrequent or unlikely events.
In order to generate these events, a random series must be generated. In traditional gambling, this was done by using some form of equipment: a shuffled deck of cards, a coin flying through the air, a dice, a spinning roulette reel.
When it comes to online video slots, this sequence is now entirely virtual and uses a random number generator, a piece of software that spews out a series of random numbers. These numbers decide how the symbols on the "reels" will end their "spin".
When slots were simple mechanical devices working out the odds was relatively simple. A machine with three reels and 10 different symbols repeated on each reel delivers odds on a match of 999/1.
A modern slot has many more possible combinations
You will struggle to find published odds for games. Presumably, this documentation does exist somewhere, and it would be interesting to examine if you can find it.
For now, the best guide we have to odds is the pay-table and the theoretical return to player.
The theoretical return to player is the amount that a game is expected to return to a player over its lifetime. It assumes particular behaviour from a player, so it is not an exact guide, but it's the best we have.
Typically, the modern online video slot delivers a theoretical return to player of around 96% (these figures are governed by licensing and regulation, and must be between 75% and 99%). That means for every pound bet on the machine, the operator will expect to retain 4p.
As we know this we can take an educated guess at the odds from a paytable. The paytable shows you the pay-outs for each possible combination on the reels of the slot you're playing. It's always a good idea to take a look at this as you start playing – as well as the game and site rules.
As an example, we'll use a very simple slot called Arcade by Wazdan, and take some liberties with an actual game operation to simplify the explanation. This is a classic slot with a single pay-line.
When staking £100 we see a paytable promising us a prize of £200 for a set of three cherries, or pineapples, or a pair of raspberries. And so it continues all the way up to the top prize of £40,000 delivered by scoring three Vegas symbols.
The total of possible prizes offered by this paytable is £156,000 on a £100 spin.
As the slot has a theoretical return to player of 96.62%, we should expect the slot to collect £161,457.26 before paying out every prize on that pay-table a single time.
That's a total of 1,615 spins at £100 goes a pop.
Of course, in reality, the maths is much more complex than this. Those low prizes will be paid out many, many times more than the top prize.
But if we take the return as a rough guide to event frequency we can guess that the lowest prizes paying out a 2/1 prize are 200 times more likely to happen than the top prize that pays out 400 times your stake.
All this means for you is that penny slots will pay out much lower prizes: in this example, a penny stake would yield the lowest prize of 2p and a top prize of £4.
Theoretical return player interacts with the other measure of slot performance, volatility (or variance or variability) to deliver your experience. A game that has high volatility is more likely to deliver bigger wins but is likely to pay out less often. A game with low volatility is the other way around, with more frequent small prizes. Most games are rated as having medium volatility.
There is one exception to this rule and that is with fixed jackpot games and progressive jackpot games.
These are relatively rare in the penny slots style, but they do exist.
Fixed jackpot games have a prize, or more usually a set of ranked prizes, that exist as jackpots independent of staking. They are often awarded via a randomly triggered bonus game.
Progressive jackpots are prizes that are dependent on staking, but not on your stake. These games take a slice of every bet on a game and add it to a prize pot that is won via a jackpot game. Because we're playing online games manufacturers can now link up thousands and thousands of iterations of a game and the stakes from many millions of spins in order to build up massive life-changing top prizes.
The most famous slot game in the world, Mega Moolah, which has created numerous millionaires and has twice broken the world record for top pay-outs is literally a penny slot, with betting from 1p upwards. That means you could win many millions of pounds from a 1p stake, though like most big progressive games, Mega Moolah makes it more likely that the jackpot game will be triggered when you stake the top amount.
Penny Slots and Safe Gambling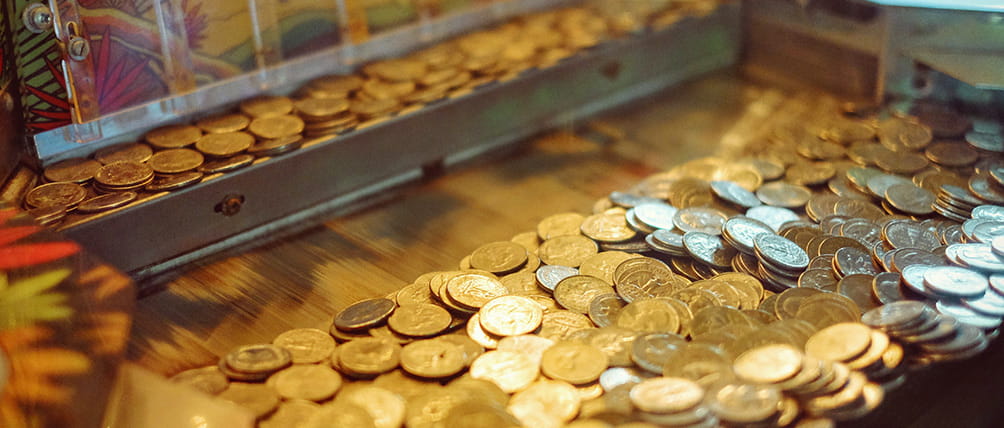 Safe gambling is an enormous subject. It covers internet security, hacking, identity theft, addiction, and much more.
You owe it to yourself to take safe gambling seriously.
You should only ever play at licensed, legal, quality sites – like the ones we recommend in our reviews.
And you should also make sure you're on top of your internet security, using the latest versions of your browser, with properly updated anti-virus and other protective software.
It's in the personal finance arena that we talk about safe gambling and penny slots though.
Gambling is potentially addictive. The only real "cure" for addiction in most accepted treatment models is complete abstinence. Gambling addiction can cause terrible damage in all areas of your life – you should take it seriously.
Most people can and do gamble perfectly safely, playing for fun, and enjoying their games.
And that is where penny slots may help you stay safe
We've covered some of the mechanics of slot games here: including that theoretical return to player of around 96%. This is baked into the algorithms that run online video slots. That means, that while the outcome of each spin is random, and you could win a lot of money the next time you press play, the reality for most gamblers is a small loss in the long term.
Accept that gambling is entertainment, not a means of making money, and you'll be in a much healthier place with regards to your slot play. You pay for entertainment, so you should expect to pay for gambling.
The UK Gambling Commission has some good advice on gambling. Its 9-point guide to safe gambling includes this advice:
"Are you gambling to escape debt or as a way to make quick money? Think carefully about your motivations to gamble. Gambling shouldn't be seen as the answer to improving your personal finances. If you have concerns about money, speak to a financial adviser or student support services."
Playing for penny stakes is a short-cut to lower spending. If you have a realistic expectation of your returns you'll know that you're very unlikely to get rich betting 5p or 10p a spin, and that way you can just enjoy the games and take any wins as a bonus.
One of the ways the UK Gambling Commission suggests to gamble more safely is to set limits on your spending. You should certainly never gamble with money that you can't afford to lose. If you set a low limit, then stick to the low-spending games, you'll get much better value for money.
If you need help, you can contact a number of UK-based safe gambling organisations, or start by ringing the National Gambling Helpline on Freephone 0808 8020 133.
Penny Slot Games: The Style
Penny slots are a stake amount rather than a genre of slots, but they do tend to favour a certain style.
Online penny slot games are cheap and cheerful, and their design and play are likely to reflect that. A good way to find low-stakes games is to search for classic slots.
Classic slots are old-fashioned games that deliver a very pure gambling experience. They are more likely to have fewer reels, perhaps the old-standard 3-reels. And they are more likely to feature classic themes in their symbols and designs like fruits, bars, gems, and cards.
The gameplay is more likely to be simple too. There may well be bonus games, but you're more likely to find a game that focuses on the base game and unlikely to find four levels of character-based three spins with different wilds in each version.
Penny Slots Online Examples
But penny slots online exist independent of style, and because modern online video slots are such supremely adaptable machines a "penny slot" might as well be described as a choice by the player.
Here are just a few examples that you can play for small stakes, check them out:
Mega Moolah: life-changing sums on a machine that can actually be played for 1p.
Lucky Leprechaun: if you've got 2p you can spin the reels of this game, a classic in the very popular Lucky-Irish theme.
Starburst: the most popular game in the UK for a good long stretch, Starburst has classic design given a great sci-fi sheen by NetEnt. Staking from 1p.
50 Dragons: Asian-theming is also very classic, and you can play this very sleek-looking slot from Aristocrat for just 1p.
Fishin' Frenzy: this massively popular game from giants Reel Time Gaming has inspired a whole series of titles, and you can cast your bets from just 1p.
That's just five of our favourite examples. Look for penny slots online at your favourite online casino site because they're a great option for financial reasons, but they're no bargain-basement option these days, offering all the quality you'd expect from a game that costs £5 a spin.