Rainbow Riches Pick n Mix Slot – Review & Free Play Demo
For a game with such a simple and tried-and-tested theme, Rainbow Riches Pick n Mix slot is complex and takes a lot of explaining.
This game is part of a massive series of games from Barcrest, one of the biggest and oldest slot developers in the world.
It is Irish themed, complete with a leprechaun in a green suit.
The big selling point of this iteration of the series is the big choice of bonus games that can be picked and mixed.
Should you head off to Ireland – in ludicrous fancy dress – to try your hand at this game?
Let's have a look in this Rainbow Riches Pick n Mix slot review.
Play Free Rainbow Riches Pick n Mix Slot Demo
Rainbow Riches Pick n' Mix Slot Q&A
What game provider developed the Rainbow Riches Pick n' Mix slot?
Rainbow Riches Pick n' Mix slot is developed by Barcrest.
When was the Rainbow Riches Pick n' Mix slot released?
Rainbow Riches Pick n' Mix was released in March 2016 and it is just from the numerous slots from the Rainbow Riches series which are the most popular Irish-luck slots ever.
What is the Rainbow Riches Pick n' Mix RTP?
Rainbow Riches Pick n' Mix slot comes with the average return to player rate of 96%.
What's the layout?
Rainbow Riches Pick n' Mix features the standard layout just like the majority from the series. There are 5 reels, 3 rows, and 20 pay lines with the wins formed with matching symbols on active pay lines from left to right.
What theme is used in this slot?
Rainbow Riches Pick n' Mix slot has a popular Irish luck theme. Slots from the Rainbow Riches series are some of the most if not the most popular slots with this theme. There are probably only a few players who won't recognize the famous Leprechaun from Rainbow Riches slots.
Can I play this game on mobile?
Yes, Rainbow Riches Pick n' Mix slot is optimized for mobile devices, so you can enjoy it wherever you are as long as you have a stable internet connection on your smartphone.
What is the Rainbow Riches Pick n' Mix variance?
Rainbow Riches Pick n' Mix slot is a medium variance game.
What is the minimum bet and the top prize?
The betting scale in this slot is pretty wide and starts at the minimum bet of 20p per spin and goes up to the max of £500. The max win is x500 the total stake on a spin.
Are there any free spins and bonus rounds? What other features comes with?
Rainbow Riches Pick n' Mix slot, just like the others in the series, is packed with features. there are 5 Bonuses in total. Free Spins awards 10, 20, or 30 free spins, and scatters appear stacked on reel 1 so extra spins can come quite easily. The other 4 features are the typical Rainbow Riches 'pick me' and 'trail' bonuses where you can win cash prizes and win multipliers.
Are there any jackpots?
No, this slot doesn't feature any progressive or fixed jackpots.
Is there anything else that I should know about the Rainbow Riches Pick n' Mix slot?
The top cash prize to be won in Rainbow Riches Pick n' Mix slot is the incredible £250,000 provided that you play with the max bet on.
If I like this game, what else should I look at?
If you like the Rainbow Riches Pick n' Mix slot there are plenty of others in the Rainbow Riches series to try out. Barcrest made sure that we have plenty of our favourite Leprechaun. Therefore, you can try Rainbow Riches Megaways, Rainbow Riches Reels of Gold, or Rainbow Riches Free Spins, among others.
Barcrest – The Developers of Rainbow Riches Pick n' Mix
Barcrest are woven into the history of the slot machine and will be familiar to people who have been playing games since slot machines were beeping boxes in the corner of the pub.
They are the 7th largest developer in the UK market. They have 66 slots currently on the UK market. (Of the company's 10 hit titles, a staggering five of them are Rainbow Riches titles.)
The biggest hit is Rainbow Riches Megaways, at number seven, and this title is currently rated at 77th title in the UK market by a reputable industry audit site.
Barcrest was founded in 1968 and first made its name making slot cabinets for playing in casinos, arcades, pubs and clubs. Since 2011 the company has been part of the gigantic Scientific Games organisation.
The Facts and Figures
The headline figure here is the reported theoretical return to player of 98%. This is very high in the current market, where most games offer around 96%.
However, in this case, the sums are complicated by the complicated set up of the game and the fact that some bonuses offer a very high return to player that raises the average for the whole game. Besides, RTP is a long-term measure that you shouldn't take too seriously.
The fact that the game is rated as medium variance, which is to say average, and remains popular and with good reviews suggests that players are very happy to play the game.
The top prize is 12,500 coins. This can be won with betting from 20p to £500. £500 is a hell of a lot of money to chance on a spin, and Barcrest games have a good reputation with high rollers.
The layout is the traditional 15-symbol, five-by-three grid, on which are found 20 pay lines.
You can play this game on tablets, mobiles, or desktops, as long as they support JavaScript and HTML5. The game was released in March 2106.
The Game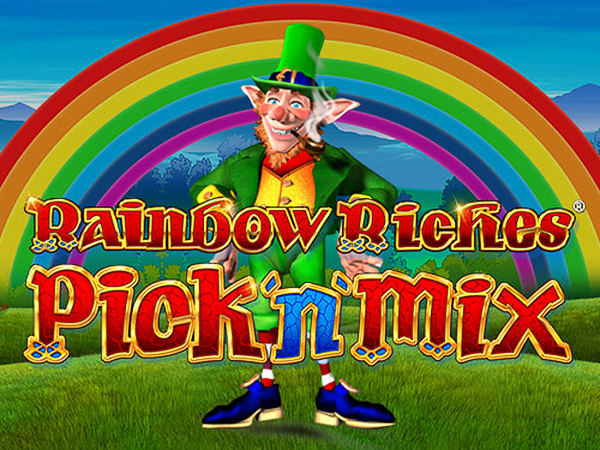 The controls here are as simple as you would expect. The complexity comes in the bonuses and the base game is super friendly.
Bet amounts are set at the top right of the screen. A big green spin button sits to the right. Two indicator windows show your balance and current win at the bottom of the screen. A reset bonus button allows you to make changes to the choice of bonus made at the start of the game.
How to Win
The standard paytable has not many symbols. At the bottom are cards: 10s, Jacks and Queens all pay 10, 20, and 200-times stake. Kings and Aces pay 20, 100, and 400-times stake.
A Wild is a leprechaun.
The bonus symbols are a toadstool, a pot of gold, a leprechaun's face, a free spins logo, and a standing leprechaun. (If you like leprechauns you're in for a treat in this game.)
Bonuses
OK, we've talked a lot about complexity and it comes in at the bonus stage.
There are five bonuses and as the game loads, the player can select between 1 and 3 of them. At any stage in the game, you can use the bonus reset button to have this choice again.
The bonuses show under the reels during the game.
The first bonus is the big bet game. This is a lucky chance wheel for each active bonus the player has. On a spin of these wheels, a bonus can be triggered, mega spins (which are played at three-times the stake of the normal game).
There are a number of multipliers that then apply during bonus rounds.
The bonuses can also be triggered from the base game with their own symbols.
Road to riches is a cash ladder game with a super version that has added multipliers.
Pots of Gold Bonus is a lucky choice pick, with a super version that has only winning pots.
Free spins award up to 30 free spins, which can be retriggered.
The cash crop bonus is a lucky choice game based on tossing a coin with multipliers and a super version that guarantees a first-round win.
The magic toadstool bonus is a lucky pick game with a super version with a much higher opening prize.
The Verdict
The Rainbow Riches Pick n Mix slot game will certainly tempt in many players with its nice figures and simple gameplay.
Simple up to a point that is. The bonuses here offer a huge amount of variety and give players more choice than they have in most comparable slots. They also offer the promise of some really big wins.
As to downsides…? Those will depend on your taste. This is a very old-fashioned looking game (and old-fashioned sounding) and, to us, the Irish theme has been played out to the point where it's almost of dubious taste.
But, if you like leprechauns…!
So get stuck into this game, but make sure you give the rules a good read first because it's been impossible to really go into the depths of the bonus rounds here. Once you're playing it feels very intuitive but it's always best to be sure.
If you fancy giving your luck a test then load this one up at your favourite casino site today.