The game is Rainbow Riches. The software developer, Barcrest Games. The theme? Well, pretty much one of the most explored in the history of slots: the Irish folklore theme. Let's find out more about it in our Rainbow Riches slot game review…
Play Rainbow Riches Slot Game
Best Rainbow Riches Casinos (Barcrest)
Now, for those of you who didn't get the memo, leprechauns aren't real. Well, in the sense that there is no such thing as little wise-cracking people with more gold than Mr T and the evasive skills of Floyd Mayweather Jr. in his prime. If there was, then that whole downturn the Irish economy suffered up until a couple of years ago would have surely been avoided.
Nevertheless, in the world of fantasy, leprechauns are very, very real. In fact, this game alone was the driving force behind an absolute torrent of leprechaun-themed slots which aimed to capitalise on the same success Rainbow Riches enjoyed. It is one of the most played slots in the history of the game, so it goes without saying that it is also one of the most revered.
Rainbow Riches slot is a 5-reel, 20 pay line video slot which is essentially in the slots Hall of Fame (well, in theory – there isn't one yet). The game is renowned for its bonus games, coin range of between 0.01 and 20p and the psychedelic-leprechaun soundtrack which plays in the background.
With an RTP of 95% and a jackpot, there is a comprehensive and player-friendly system built into the game. While there are many who would argue that the RTP is a little too low to be considered value for money, we will take a look at the game in detail and see if this can be counterbalanced in other ways.
Rainbow Riches Slot Gameplay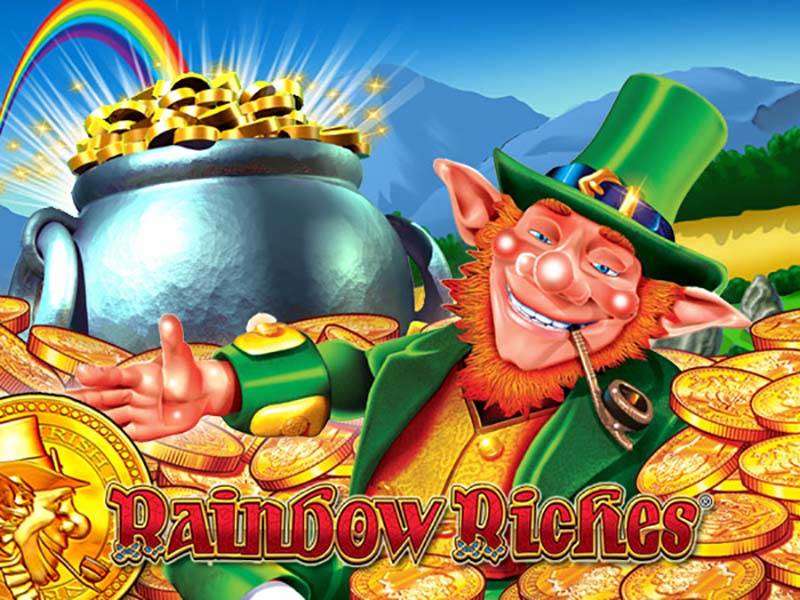 Rainbow Riches is the blue-eyed boy of Barcrest Games, who has made an absolute fortune on account of this hugely-popular slot. As instantly recognisable a slot as they come, the game is based on the leprechaun figure of Irish folklore.
Players play for the ultimate prize of the pot of gold, with a silver and bronze version also up for grabs. There are rainbows, shamrocks, and wishing wells, bringing home the fantasy theme in style.
So popular
There is little doubt that the slot is one of the big players in the UK and around the world. In fact, there are very few slots which come anywhere near it in terms of popularity. But why is this?
Well, you will be whisked away to a fantasy world ruled by a gregarious and often annoying leprechaun. You will want to stay on the leprechaun's good side though, as he will be integral to your chances of nice wins. You will be playing with the usual low-value symbols alongside high-value symbols. There are also 3 potential bonus features: Wishing Well Bonus, Road to Riches Bonus, and the Pots of Gold Bonus.
As mentioned, the slot is designed with 5 reels and 20 pay lines, featuring 5 bet levels. The game can be played at very small stakes or high enough to hang with the high rollers. Either way, you can select the "Bet Lines" and "Stake/Line" to hit your bets up to a max of £400 per spin.
Players should know that there is no multiplier in the main game. Well, that is if you discount the Wild symbol. The Wild is a gold coin with an image of a leprechaun's head and will help you mix it up with some winning combinations. For players who hold lofty ambitions of hitting some big wins, there is little doubt that it is in the bonus features where players can amass some pretty impressive chunks of that pot of gold.
Features & Bonuses
Rainbow Riches is – as you may have guessed by its stupidly massive popularity – known for its easy-on-the-eyes design. More than anything, the game is huge because of the bonus features which have been copied by almost every single unoriginal software developer out there. For a long, long time, too.
The game itself is simple to understand and landing the bonus within the lower value symbols is how you will get your hands on the bonuses. The lower values on Rainbow riches are10, J, Q, K, A. As mentioned above, the wild symbol – which fills in for any other symbol except the bonuses – can get you some nice wins if it is combined with some of the other big symbols, such as the Rainbow Riches icons.
Three Bonus Levels
There are three bonus levels and these are:
Wishing Well – Should you land three Wishing Well symbols, you will have a shot at a random multiplier. You can choose from three wishing wells, so select any of the three to uncover your prize.
Road to Riches – Get three leprechaun symbols and you will be whisked away to another screen. From here, you will see a number of multipliers scattered across a road. At the end of the road – surprisingly enough – is a pot of gold. Spin the wheel and win between 1 and 6 steps, each time, with a chance to bag between x7 and x200 your bet.
Pots of Gold – The holy grail, no doubt. Get three Rainbow Pots symbols anywhere in view and you will be taken to a screen with a number of revolving pots. Here, you will see them distinguished by their colour: bronze, silver, and gold. You can potentially bag between x60 and x500 your bet.
One of the great things about the Rainbow Riches slot game is that you can find free versions to play in many casinos online. This means you can effectively practice as much as you want to, in preparation for when playing with real money. We have even provided a Rainbow Riches preview for you above, which is identical to the versions you can play at most online casinos.
Don't pass these opportunities up if you get the chance.
Conclusion
OK, you may be thinking "not another leprechaun-themed slot," but rest assured, this is the Muhammad Ali of these type of games. It is pretty easy to get the hang of and is guaranteed to keep most slots players entertained.
Yes, it's a classic. Yes, it is based on leprechauns. So yes, it is a classic, but…
There is no doubt that the Rainbow Riches slot game is worthy of a couple of spins!
Best Rainbow Riches Casinos (Barcrest) & Rainbow Riches Free Spins: