Rainbrew Slot by JustForTheWin – Review & Free Play
It's not our job to come up with new names for slots. We are forever grateful for that because the pool of available names is getting ever smaller. Hence we have a title like Rainbrew, which is an Irish-themed game, though you wouldn't immediately know that (though it does rain quite a lot in Ireland).
These games keep coming even in 2020, though this one was released in 2018, and are enduringly popular. Generally, they stack together with a load of Irish and Irish-perceived stereotypes, here it's leprechauns, beer, the colour green, and Celtic knots and typefaces, and stick a fairly hard-core gambling game on top.
It's a traditional and retro style usually, but JustForTheWin have certainly done a bit to jazz up the game here with a big-screen look, complete with bubbling pipes, and a nice, modern control panel.
There are wilds and a sidewinder feature in the base game, and the main feature is a free spins round. A gentle acoustic folk tune plays in the background as a very nice set of symbols spins round, so you could easily chill out for a while playing this game.
But should you go to the Leprechaun's Brewery? (Not a question we thought we'd be asking today!)
Let's have a look!
Best Casinos to Play Free Rainbrew Slot Demo
Rainbrew Slot yQ&A
What slots provider is behind Rainbrew Slot?
This game was produced by JustForTheWin. The company was founded in 2016 in Sweden (is there any industry in Sweden apart from slots?) and despite having a relatively small catalogue of 37 games is highly rated by the industry audit site that we like to use, who have it as the 37th most popular and visible producers in the UK. That's thanks to titles like its biggest hits: Aurora Beast Hunter, Immortal Glory, Treasure Skyland, Deco Diamonds, and Anderthals. This game is currently ranked just outside the top 1,000 titles.
When was Rainbrew slot released?
This game was released on 16th August 2018.
What is the Rainbrew RTP?
The theoretical return to player of Rainbrew is 96.02%. You couldn't get more bang on the current industry average than this. RTP is measured by spinning a game through a billion virtual spins, and it assumes that players will act in a certain way, you should not use it as a predictor of how your game will go other than in the broadest possible way.
How many reels and pay lines does Rainbrew have?
Although this game uses a very wide screen it plays out on a 5 by 3 grid, with the wild features adding a potential two extra rows to some reels. It has 243 ways-to-win rather than conventional pay lines.
What theme is used in the Rainbrew slot?
The theme here is Irish, luck of the Irish, Leprechauns, beer, and Celtic culture. The graphics are in the usual Irish cartoon style.
Can I play Rainbrew slot on mobile?
You can play this game on your mobile or tablet device. You need JavaScript and HTML5 to get the reels of Rainbrew spinning.
What is the Rainbrew slot variance?
There is no published volatility or variance for this game, but the game's other stats suggest that it is likely to be medium.
What is the minimum bet and the maximum win?
You can stake from 0.1 coins up to 100 coins. In UK sites this should be 10p to £100, but you should always check coin values, pay-out limits and financial settings at the site you're using. The top prize is 136,035 coins.
Does Rainbrew slot have free spins and bonus rounds?
Yes, there is a free spins round. With both extra reels in play, there are over 1,000 possible winning combinations on the free spins round.
Is there anything else I should know about Rainbrew slot?
The game pays out for matching symbols on adjacent reels, they don't need to be adjoining.
The Game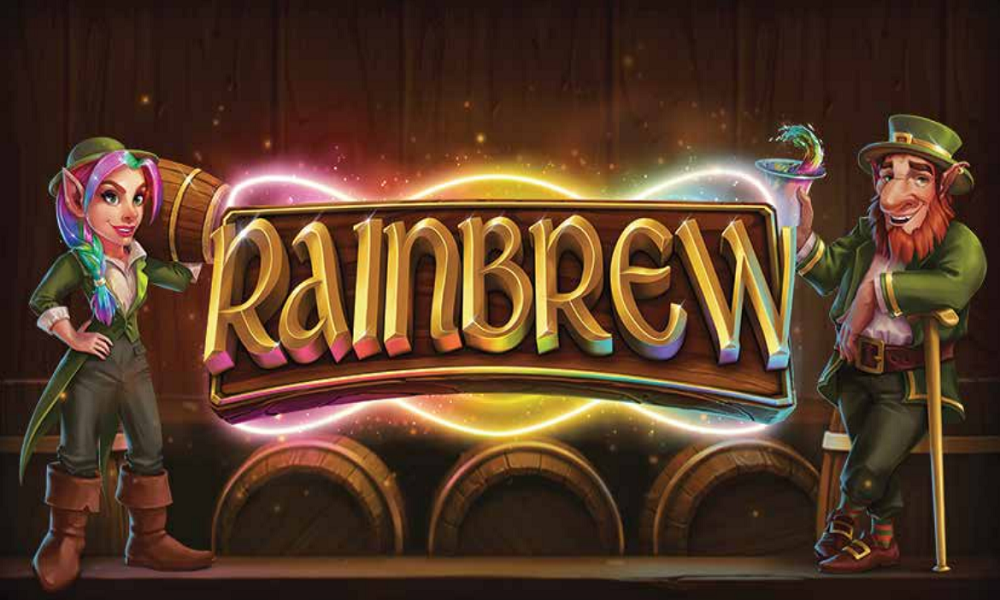 The control set for Rainbrew is very standard and in the modern style hides a lot behind other buttons for a mobile-friendly, minimal screen.
The spin button is at the bottom right of the screen, and above it, a coin symbol opens up the sliding scale bet controls. Above that is a menu button to access the other options, including the pay table, sound control, and speed spin.
The pay table opens with Celtic-knots, all of which pay .4, .8 and 2-times stake.
A pipe pays 0.8, 1.5, and 4-times stake.
A beer mug pays 1, 2, and 5-times stake.
A barrel pays 1.2, 3, and 6-times stake.
The leprechaun woman pays 1.5, 4, and 7-times stake, and the leprechaun man pays 2, 5, and 8-times stake.
There are wilds too. A regular wild with a purple diamond, a top wild with a blue diamond, and a bottom wild with a green diamond.
Regular wilds appear only on the horizontal reels above and below the main reel set. Top wilds appear on regular reel 4 and on the top horizontal reel. Bottom wilds appear on regular reel 4 and the bottom reel.
When one of those appear they activate the corresponding reels, giving you extra wilds and extra ways to win.
Free spins are triggered via the game logo.
Three logos = 6 free spins and 4 gives you 10. Both horizontal reels are in play during the feature, but there are no wilds or free spins symbols on the regulation reels. Instead, wilds that match on the top and bottom reel stack to turn a whole reel wild in between them.
The Verdict
We sometimes have a go at Irish-themed games for being clichéd. Because they are.
However here the developer has done the work to go beyond the surface and deliver some really great innovative gameplay, plus a decent little twist on the game. Even the music is less offensive than is often the case for these titles.
Rainbrew is familiar yet nicely original which seems like a good mix to us, and the gameplay innovations are likely to keep you coming back to keep looking for that winning pint.