Reactoonz Slot by Play n Go – Review, Free Spins & Demo
We like something different, and this Reactoonz slot is certainly different. This game stretches the definition of what a slot is, and shoots the traditional reels off into space to replace them with giant stacks of cute, jellybean-like aliens. That's not the least of the game's attractions either, because it's packed with a load of bonus games too.
Play'n Go are the designers behind this oddly addictive game. Play'n Go are big beasts in the galaxy of online video slots, and their work extends into every area of the biz.
They're a Swedish company which now has an international profile and bases in Malta, Hungary, the UK, and the Philippines. Their website is chock full of badges from respected licensing authorities and industry bodies. You can play their games with confidence.
This Reactoonz casino game looks great, but does it add great gameplay to the list?
The headline extras are some very original bonus games, including four "quantum features", and a Gargantoon special character.
There's a lot to explore in this game so let's fire up our Toon space ship and head off to check out this intergalactic game and see if you should take the trip!
Let's find out more in this Reactoonz slot review and don't forget to also play the Reactoonz free play demo!
Free Reactoonz Slot Casino Demo
18+ – you now need to be over 18 to play free slots demos, sign up to play in demo mode at the following casinos:
Best Reactoonz Slot Casinos
Reactoonz Slot Q&A
What game provider developed the Reactoonz slot?
Reactoonz is a popular grid slot developed by Play n' Go slot provider company.
When was the Reactoonz slot released?
Reactoonz was released in October 2017 as the sequel to Play n' Go's Energoonz slot machine.
What is the Reactoonz RTP?
The RTP of the Reactoonz slot is a bit below the industry average and stands at 94.51%.
What's the layout?
Reactoonz doesn't feature the standard layout. Instead of fixed pay lines, there is a 7×7 grid with cascading reels. With each win, the winning symbols will explode and new ones will fill in the empty positions. The cascade continues as long as new wins are formed.
What theme is used in this slot?
Reactoonz slot has the alien/space theme. The symbols in this slot are cartoon-styled aliens. There are all kinds of one-eyed, two-eyed, and monster three-eyed aliens appearing on the reels.
Can I play this game on mobile?
Yes, you can play Reactoonz slot on your mobile devices as Play n' Go made sure to optimize the game for all smartphones.
What is the Reactoonz variance?
This is a slot with high variance. The big wins will occur once you fill in the meters and trigger tie different features.
What is the minimum bet and the top prize?
The minimum you can bet on the Reactoonz slot is 20p per spin while the max bet goes up to £100 per spin. This slot has a great winning potential that reaches x4750.3 the total stake prize.
Are there any free spins and bonus rounds? What other features comes with?
There is no regular Free Spins Bonus round in Reactoonz slot. Instead, there are multiple bonus features obtained with filling up the meter with consecutive wins in the cascade. There are also random features awarding extra wilds for example.
The main feature is when you manage to fill the meter all the way to the Gargantoon Feature. The three-eyed monster alien will then appear on the reels as wild of 3×3 size and starts moving on the reels with each cascade. This could lead to big-sized wins.
Are there any jackpots?
No, Reactoonz doesn't feature any jackpots.
Is there anything else that I should know about the Reactoonz slot?
Whenever you have 4 one-eyed alien symbols form a square, they will turn into one 2×2 symbol with an x2 win multiplier applied to the wins.
If I like this game, what else should I look at?
If you like the Reactoonz slot then you can also try out the Space Wars slot or Money Mad Martians. Both of the slots are inspired by the same theme, that is, aliens and space. Give these a try and see which alien slot suits you the best.
The Facts and Figures
This game has a theoretical return to player of 96% (though we have seen this expressed as 96.51% in some reviews). That's a house edge of 4%, but these are long-term measures and not to be taken too seriously. That said, this RTP is bang on for the current market (this game came out in October 2017), and its "high" variance means that the game is slightly more likely to give bigger wins that pay out slightly less often, but apply the same caveats to this measure as you do to RTP.
The top prize is 91,406 coins and you can bet between 0.2 to 100 coins, which should mean 20p to £100 staking for a £91,406 top prize, but be sure to check the details of the game you're playing.
The layout is very non-standard, but it's basically a 7 by 7 grid using its own pay line system.
You'll need Flash, JavaScript and, HTML5 on your device to play this game on desktops, mobiles or tablets.
The Game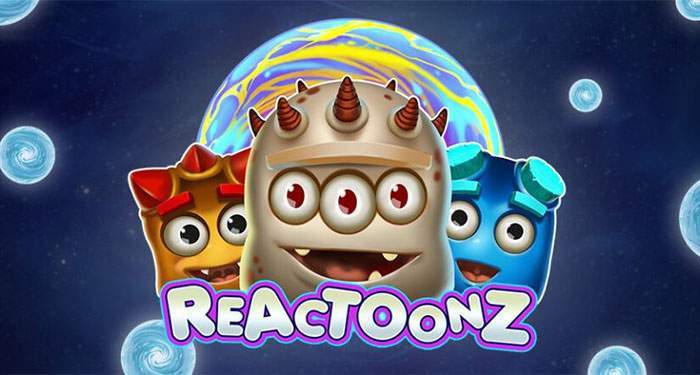 Despite lots of non-standard features, you'll find playing Reactoonz perfectly simple if you've played any online video slot before.
The spin button is on the right of the screen next to the Autospin feature, which allows you to play up to 100 spins with no click.
The betting is done on a sliding scale in the centre of the control panel, climbing up a non-linear scale to the maximum bet. The total bet amount is on the right of this control.
Your balance is to the left of that, and then the information key opens up the paytables.
With a set of menus and other controls in the game frame that completes this pretty simple game set-up.
Payouts
This is very different because you're playing for much larger numbers of symbols. The aliens are also hard to describe, so make sure you take a look at this before you start playing for money. Wins are awarded for symbols that touch in any direction.
Players are rewarded for sets of 5, 6, 7, 8, 9, 10 – 11, 12 – 14, and more than 15.
Lower-paying symbols have one eye each.
The round alien pays from 0.1-times stake to 3-times stake on that scale.
Pawn shaped green aliens pay on the same scale.
Brown ones pay 0.15 to 10-times stake.
Diamond-shaped pink ones the same.
Then there are four larger aliens with two eyes: blues pay 0.5 to 75-times stake. Orange pays 0.6 to 150-times stake. Greens pay 0.8 to 300-times stake. Pinks pay 1 to 750-times stake.
Bonus Games
There's a lot going on here, much of it happening to the side of the reels.
The first feature is a Quantum Leap generator.
As you win on the main grid, the Quantum Leap generator charges up. Four features pass through this generator, triggering when wins end.
These features are:
Implosion: adds 3 to 6 extra wilds to the grid which destroys adjoining symbols.
Incision puts a wild into the centre of the grid and creates two lines of a random symbol.
Demolition destroys matching symbols and one-eyed symbols.
Alteration changes a random one-eyed symbol into another one.
Instability is a respin on non-paying spins. The base game also allows squares of symbols to become giant symbols with doubled wins.
The Gargantoon works via the Quantum Leap generator, releasing a 3 by 3 wild onto the grid that divides and moves with each new round.
There are fluctuating symbols in each spin. Selected at random, these one-eyed aliens change into wilds on wins.
The Verdict
It's quite hard to do justice to this game, which is so different from your average, run-of-the-mill slot that it almost deserves its own category.
You can play this game and have a great time without reading the rules in full, but it's always a good idea to check them out, and doubly so on this game. This is also a machine that repays a bit of time playing on demo mode so you can take a look at what's going on without throwing your money away.
Once you do get your head around this space jam we reckon you're going to love it.
Beautifully designed graphics, sound and theming go really deep into the game to give players a genuinely different experience. The bonus games are a little complex, but boy they do reward players with loads of engagement and gameplay differences.
This is an engaging but complex game, and that doesn't suit every player. If you just want a quick spin on a simple three-reeler then obviously this game shouldn't be next up for you, but if you love something with depth and complexity – while remaining great fun and laugh-out-loud funny – then we reckon you should head to your favourite online casino site now and load up Reactoonz slot.