Reel King Slot – Review, RTP, Free Spins & Casino Demo
These days, the choice we have when playing slots has never been greater. You can roll up to pretty much any online casino and find enough slots to keep you playing for years and Novomatic's Reel King slot is one of them.
Of course, new titles come out what seems like every day, so getting through everything is never really a viable option.
Free Play Reel King Slot
18+ – you now need to be over 18 to play free slots demos, sign up to play in demo mode at the following casinos:
Play Reel King Slot for Real Money – Reel King Free Spins
Reek King Slot Q&A
What game provider developed the Reel King slot?
Reel King slot machine is developed by Novomatic (Greentube).
When was the Reel King slot released?
Reel King slot machine was released back in February 2014.
What is the Reel King RTP?
The theoretical return to player rate or RTP of Reel King slot is a bit below the average and stands at 94%.
What's the layout?
Reel King is a classic slot with 5 reels, 3 reels, and 20 pay lines. To form a win you need at least three matching icons on an active pay line starting from the leftmost reel to the right.
What theme is used in this slot?
Reel King is a classic-themed slot machine with retro looks and symbols such as fruits, gold, and classic playing card icons. It also has a touch of Las Vegas feel to it.
Can I play this game on mobile?
Yes, you can enjoy this slot machine on your mobile device.
What is the Reel King variance?
Reel King is a medium to a high variance slot machine with big winning potential but you can expect frequent smaller wins while the big ones come as a part of the mini-features and from the high-paying icons.
What is the minimum bet and the top prize?
You can start betting on Reel King slot with a minimum stake of 1p per spin while the max bet is £40 per spin. The top prize in Reel King is x500 the total stake while if you play with the Gamble option you can win up to x1,000 the total stake.
Are there any free spins and bonus rounds? What other features comes with?
Reel King slot doesn't feature Free Spins Bonus. But the jackpot prize can be won if you land all five sack of gold symbols on the reels awarding x500. Also, the Reel King feature is triggered with at least three scatters. You will then see cartoon-styled fatty King who will spin his mini-slot awarding prizes up to x500 the total stake.
Are there any jackpots?
No, Reel King slot doesn't feature any jackpots.
Is there anything else that I should know about the Reel King slot?
This slot comes with a Gamble option that you can play after any winning spin. If you like risk, you can use the Gamble option and have a shot at the prizes up to x1,000 the total stake.
If I like this game, what else should I look at?
Fancy the Reel King slot? There are plenty of other games based on this slot by different slot providers. The newest release is Reel King Megaways by Inspired Gaming that features up to 117,649 ways to win, an exciting base game, and a lucrative Free Spins with increasing multipliers.
Greentube/Novomatic – the Developers of Reel King Slot
All things considered, this is why classic games tend to stick around a little longer than the fads, or those built upon trends. Reel King slot is one of those games that has endured the test of time and still finds itself in the slots categories of many online casino sites, big and small. Is this down to its quality, or its complexity, playability and style? Perhaps not, but it is certainly popular with many slots enthusiasts, nonetheless.
Novomatic certainly turned many a player's heads with their Reel King slot machine. The software developer created a simple game which seemed to resonate with many players. Unfortunately, I would not be in that camp. I like my slots a little more imaginative and full of twists and potential turns. Reel King slot does not really offer much in terms of spontaneity; it is the slots version of a clean-shaven accountant that will get the job done on time. Not everyone's cup of tea.
This doesn't mean that you won't enjoy the Reel King slot game. There are tons of people out there who love the slot. There are also players who have an affinity to the game – presumably for the big wins – and they may have a completely different outlook.
With that being said, let's look at what the Reel King slot game is all about.
Reel King Slot Gameplay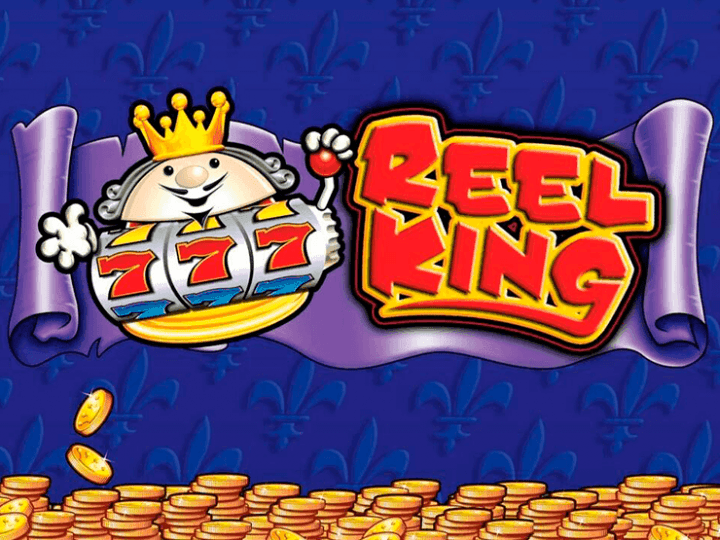 As previously said, there is no doubting Reel King. The version you will probably come across is a similar version to the one you can find scattered around pubs and clubs in the UK. For this reason, the developers certainly had a simple slot in mind and one which can be played while having a few pints or watching that redhead in the black dress (she's probably taken, by the way).
You won't have to worry about looking away when you hit a progressive jackpot, as, there is none. Yes, that's right, there is no progressive jackpot in the game, so you will have to be content with picking up some smaller wins along the journey,
To make matters worse (bonus chasers look away now), Reel King slot has no bonus games which would be worthy of matching anything out there.  There is a jackpot, but it is very, very basic. There are wilds and scatters but it is simply not a game which would please those looking for a comprehensive slot packed with surprises.
In Reel King, there is a gamble feature. How this works is that, after each win, you will be presented with the gamble or collect option. Gambling can naturally win you much more and can also lose you everything. The gamble feature is obviously something which isn't fresh, new, or engaging, but it is available, nonetheless.
How to play
Basic is the underlying theme in everything this game is about. Some people like basic; pizza is pretty basic. Water is, too, and is also one of the only things we really need as humans to survive, other than oxygen and pizza.
When playing on Reel King, you will see that there are six standard symbols which you can play with. Now, this is basic to the core. Pizza comes in many different types and even water is flavoured. As we mentioned above, this reel King slot game was designed to be treated like an old-school fruit machine type slot. For this reason, you can excuse the developer in what they produced with this game. Well, you can but should you?
Payouts
There are players who will like the fundamental approach. While earth-shuddering wins are far from the game here, the smallest win you can expect is x10 times your bet, which is achieved by landing three cherries on a pay line. The largest win is 200 times your bet, which you can get by landing 5 K symbols.
In Reel King, you have 20 pay lines, which is more than unremarkable considering it is a 5-reel slot. This will invariably make it harder to come by wins frequently. For players who prefer betting in small amounts, this is likely something that they will welcome, for the most part.
So, what are the symbols you should be looking for? Two words: jack and pot (which, when put together make…)
Yes, you guessed right. The jackpot symbols are undoubtedly what players should be crossing their fingers for in Reel King. These jackpot symbols will also act as normal symbols, so even if you don't get five, you can still bag a nice win. Although there is a jackpot, it is nowhere near as impressive as what you can find on other slots.
Regardless, the reel King slot game is still popular among many players and is a particular favourite of novices for its simplicity.
In Conclusion
A wise man once said something along the lines of "never have expectations and you will never be disappointed." If you do have expectations of this game being one you fall in love with and can't be without, then you may be a little disappointed.
Reel King will not be royal for everyone. It is inconceivable to think of the game ever challenging the big titles out there and it is as basic and straightforward as they come. If we had to be critical of the game – and identify something in particular – it would be the lack of imagination in the design and the monotonous feel of the spins. There is nothing remarkable at all.
That being said, this is coming from a massive slots enthusiast. From my personal perspective, I cannot understand how players could choose this game over any of the other thousands of engaging games which offer a lot more. At a push, novice players may like its simplicity and lack of complication, while seasoned players may enjoy it for the nostalgia. For everyone else, it may tire pretty quickly.