Scruffy Duck Slot by NetEnt – Review & Free Play Demo
NetEnt have a quacking title here. (Here we promise to make no more ducking puns in this review – it is the right thing to do and we're doing it for you.)
It is good though, however you describe it, with a really great and original look, based around a family of cartoon ducks – as you would expect!
The Scruffy Duck slot isn't a new title, but it's dated pretty well. Even the stats are well up to date with the market in 2020. There's a really good top prize of 100,000 coins to keep you interested.
This being NetEnt you know you can expect a quality gaming experience, with good quality controls, help, and information.
You'll also get really top quality features in both the base game and at the bonus game level, where there are loads of wild variants, plus a free spins round that comes with a choice of modes and multipliers.
NetEnt make hit after hit, partly because their games are great, and partly because they're very visible in casinos wherever you go.
Should you jump into the duck pond though?
Let's have a look!
Best Casinos to Play Free Scruffy Duck Slot Demo
Scruffy Duck Slot Q&A
What game provider is behind Scruffy Duck?
This game is made by NetEnt. You know NetEnt whether you know it or not. They have the number 1 game in the UK, Starburst, and the number 5 game in the UK (it was 3 recently) Gonzo's Quest. In fact, 7 of the company's top 10 games are in the UK top 100. The company has almost 1/5th of the global market, and nearly a third of the European market. Like almost all of the biggest European slot co's they are Swedish and their more than 350 games now include a fantastic stable of live casino games.
When was Scruffy Duck slot released?
This game came out on 13th January 2017, so it's been around for a while.
What is the Scruffy Duck RTP?
The RTP of Scruffy Duck is 96.38%. This is a very good value, just above average even today in 2020. RTP is the theoretical return to player and is measured over the long-term, you should not consider it as a measure – also expressed as a house edge of 3.62% – of exactly how your game will go.
How many reels and pay lines does Scruffy Duck have?
This game plays out on a standard 5 reel set up with 3 rows of symbols. There are 25 pay lines running across these 15 symbols.
What theme is used in Scruffy Duck slot?
The game is themed on cartoons, comedy animals, ducks, wildlife, and comedy. The graphic style is cartoons.
Can I play Scruffy Duck on mobile?
You can play Scruffy Duck on any device that supports JavaScript and HTML5.
What is the Scruffy Duck variance?
This game has medium volatility or variance. This means you should expect the ratio between spins and wins to be about the same as on most other games. Sorry to be so vague, but that's what medium variance means, and in any case, there is no agreed measure that runs across the industry.
What is the minimum bet and the maximum win?
The top win here is 100,000 coins. Lovely! You can win that with betting from 25 to 250 coins. Please make sure you understand coin values, financial limits and safe gambling when you play this or any other game.
Does Scruffy Duck have free spins and bonus rounds?
Yes, there is a free spins round on Scruffy Duck. On Scruffy Ducks there are mode choices and extra multipliers on Scruffy Ducks' free spins round. You can choose up to five feature sets for the Scruffy Duck free spins round.
Is there anything else I should know about Scruffy Duck slot?
Click on "advanced settings" to set limits on spins by win numbers, cash prizes, balance increase and balance decreases.
The Game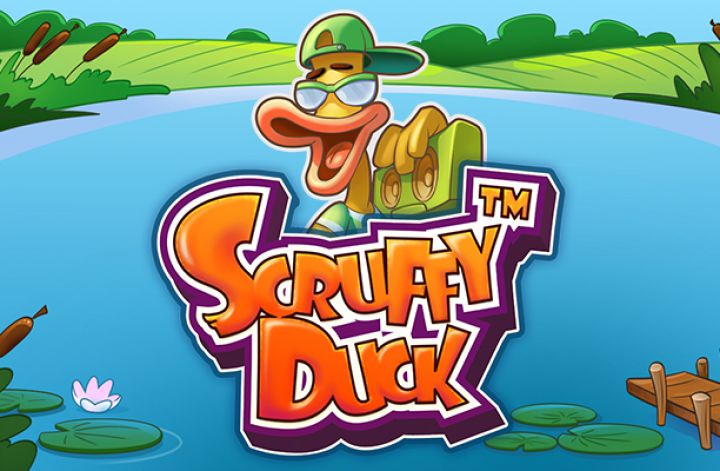 You can play this game very easily if you've played any slot game before.
The control panel has a standard set up, with the spin button at the centre. Betting control is via bet level (which adds pay lines) and coin value (they start at 0.01).
Click the information button at the left end of the screen to check out the instructions and the pay tables.
Paytable
Wins are worth from 3 to 70-times stake in the low paying symbols.
At the top end we have a duck family, paying:
10, 40, and 150-times stake for the baby duck chick.
10, 50, and 200-times stake for the teenage duck.
The mother duck pays 10, 60, and 250-times stake.
The father pays 20, 100, and 400-times stake.
Swans are the wilds.
There is a random wild, an expanding wild, and a colossal wild.
Free spins are awarded one of five features: a multiplier with 15 free spins, a symbol removal with 12 free spins, colossal wilds with 10 free spins, random wilds with 8 free spins, and 6 free spins with two features awarded.
The Verdict
We loved this game. It's got a really original visual style that's delivered with loads of panache. The sound is great. It's easy to play and easy to enjoy.
The symbol set is great fun, and we love the colour palette, which is very different from the usual colours.
And when it comes to the game itself it really delivers on all cylinders. The features are rich and varied: wilds of every size and shape for most of the game (only colossal wilds are exclusive to the free spins round), and there is so much interest in making the choice of how you're going to enjoy your free spins.
Although it's a bit older, there's so much to recommend this game, and it's still widely available in UK casinos, we hope to see more of it.
And we reviewed this game with only one duck pun. And we're ducking proud of ourselves (two, sorry!) for doing so.