Slingo Ante Up Review
Are you ready for Vegas? If you're a high-roller, pack your things and take the ride of your life in this classy and simple to play Las Vegas slot from the ever-popular Slingo series – the Slingo Ante Up slot!
Slingo delivers impressive graphics and audio on this game to transport you to Vegas in class!
You get a fixed number of plays in the basic game and if you want to continue playing, you can buy extra spins. This latest version, Slingo Ante Up, comes with a familiar retro Las Vegas theme, but with a twist – you choose if you want extra spins before you begin playing – not at the end of the free spin games.
This Vegas-inspired Slingo version has a simple design and look. It features some neon lights, casino background and typical Vegas casino soundtrack to get you in the mood. Its simplicity is appealing! And the same simplicity actually makes playing this Slingo game even better.
Free Slingo Ante Up Demo Sites
How to play Slingo Ante Up
When you play Slingo Ante Up, you need to get horizontal, vertical or diagonal lines – with 5 numbers in each. On this version, you start with 10 spins – and that's where any similarity to previous versions ends. You can decide to play with more or fewer spins, which then changes the game's volatility. But note that the RTP of the game stays the same.
How many spins you choose also determines the bet that you can place. So, for example, choose to play 10 spins and you may pay Ј1 but choose to play only 9 spins and the bet decreases to Ј0.56. You can choose to play a maximum of 16 spins, but it means that you'll play at almost X15 the minimum bet.
Slingo Ante Up bets start at Ј0.11 but you can up this on Gala Spins to the maximum of Ј25. The minimum bet and maximum bet might vary from one site to another.
After you begin playing the game, the auto-spin feature takes over, so there's no need to be continually pressing the spin button.
On each spin, the game generates 5 numbers that appear under the 5X5 grid on the screen. If any of the numbers match those on the grid, they are marked off. If you're lucky and get a complete row of 5 numbers, you start climbing up the prize board.
As long as you keep on getting complete lines, you unlock bigger prizes!
Features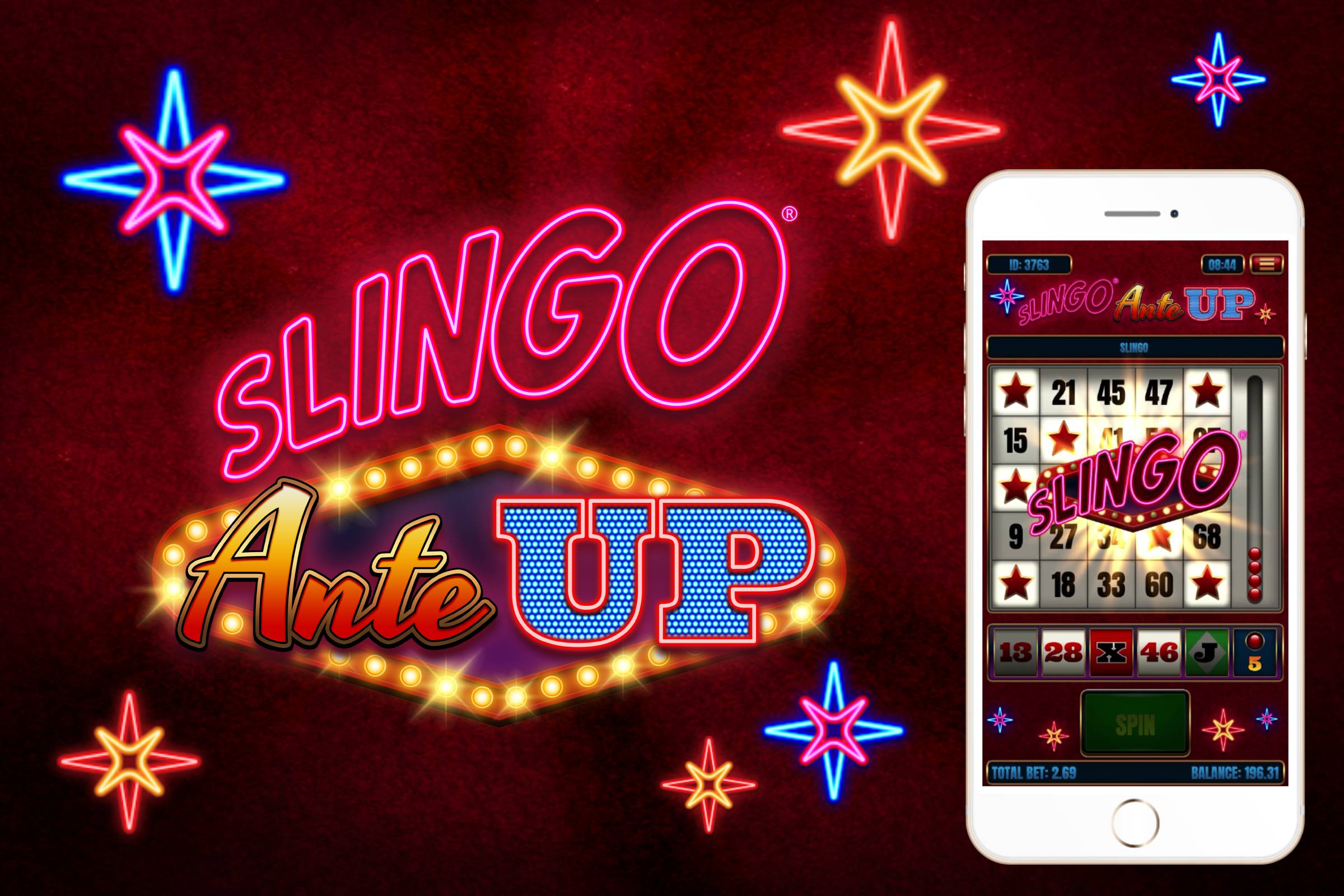 Slingo Ante Up provides some classic Slingo features. Look out for the special symbols that will help you match numbers displayed on the grid – to add some extra excitement while playing!
Wild: get a joker on the reel and you can mark a number off in the column above.
Super Joker: get a super joker and you can eliminate a number from any of the columns on the grid
Free Spin: get the free spin icon and enjoy an extra spin
Just like in Las Vegas, it's not in the bag until you've won! Watch out for blockers that stop you matching numbers on the grid.
Top prize:
Slingo Ante Up differs from other recent Slingo games which featured big bonuses and jackpots. If you get a full house on Slingo Ante Up, you can win X500 your initial bet. But to win the maximum prize of Ј12,500 – you need to bet the maximum allowed on each spin.
Whether you choose more or fewer spins, it doesn't affect the available jackpots in this version. When you finish playing the spins you buy and any free ones – the game is over. You can't continue playing.
Slingo Ante Up is a change from previous Slingo games because it has no limit on wagering options, as featured in previous Slingo games. For example, in Slingo Berserk, you can limit how much money you choose to continue wagering with.
With this latest version, there's no need for such a feature, because with Slingo Ante Up you can't choose to continue betting once the game finishes.
You need to make the big decision about wagering before you begin playing. So, this Slingo Ante Up version is basically everyone's favourite Slingo game – but reversed.
Slingo Ante Up FAQ
What game provider developed the Slingo Ante Up slot?
It was developed by Slingo Originals, powered by Gaming Realms IWG software.
When was the Slingo Ante Up slot released?
Slingo Originals released this latest game in August 2020.
What is the RTP on Slingo Ante Up?
This version has an RTP = 94.90% – 97.10%
What's the layout?
It comes with a classic Slingo 5 X 5 reels, with 12 pay lines.
What theme is used in this slot?
Slingo Ante Up brings a taste of Las Vegas bingo-style fun to your fingertips. With sharp graphics and authentic casino soundtrack, you'll feel as if you're sitting in a casino in Vegas!
Can I play this game on mobile?
Yes, Slingo has optimised Slingo Ante Up for both mobile and desktop play.
What is the variance on Slingo Ante Up?
This version has a high variance.
What are the minimum bet and the top prize?
Minimum bet = Ј0.11 and Maximum win = Ј12,500.
Are there any free spins and bonus rounds?
No bonus rounds on this version unlike previous ones, but a free spins icon appears once all paid spins have been played. The game also features wilds and auto-play features.
Are there any jackpots?
The top prize is Ј12,500 – you can win this if you bet the maximum amount allowed for each spin.
Is there anything else that I should know about the Slingo Ante Up slot?
It's different from previous versions. Choose carefully how many spins you want to play and how much you want to wager before you begin playing. Once you have used all your spins – it's game over!
If I like this game, what else should I look at?
If you love this Slingo Vegas-themed game, you should also try Slingo Classic, Slingo Advance and Big Money Slingo Bonus.
The Verdict
Slingo Ante Up is certainly not a revolutionary slot game, but it's still enjoyable to play. We like that you can control the volatility, which is an uncommon feature in such games.
We thought about why Slingo might want to change the format of this version. Maybe they just wanted to try something different, or maybe they are planning for the future. The UKGC has been examining slot mechanics and the fact that players are encouraged by the chance to win ЈXXX if they bet ЈX, which was the case with previous Slingo games. It's possible there will be further scrutiny of such features in the future. So this new format by Slingo – the reverse format – would make it easier to modify previous versions!
We like this new format of Slingo. We never really liked the play-on feature on the previous games, it always seemed like a bit of a con.
Now you have more control over how much you spend while playing Slingo Ante Up.
Overall, we don't believe there will be many players choosing to wager the maximum amount (almost Ј400) per spin to get the top prize on Slingo Ante Up.
We recommend you to start with a much lower amount and gradually add in some extra spins – and see if your winning ratio improves.
This Slingo Ante Up version keeps alive most of the attractive elements of previous Slingo games, so try it for yourself, it's worth your time and money. After all, who doesn't love Las Vegas?