Slingo Fluffy Favourites Slot Review
Slingo Fluffy Favourites is a cross between the online slot machine and the online bingo game, a unique invention which dates back to 1995.
In October 2020, Slingo Originals and Eyecon teamed up to re-release one of Eyecon's most loved slot machine characters, that being Nellie the elephant from Fluffy Favourites, and it was an instant hit!
Fluffy Favourites is a hugely popular slot franchise which follows stuffed characters from a virtual and colourful funfair, and naturally, the bonus features offered are reminiscent of what you'd typically find at the fair.
Boasting a 5×5 grid, Slingo Fluffy Favourites is a new way to play bingo and slots with wins and bonus games being triggered when numerous lines are completed. If you've never played a game of bingo before, all you need to do is watch as the numbers are drawn and marked off your ticket automatically! The only time you'll need to do something is when it comes to selecting your bet, pressing spin and operating the bonus games!
Sites to Play Slingo Fluffy Favourites Slot Demo
Slingo Fluffy Favourites Slot Bets and Pays
The minimum bet is 20p while the maximum is £25, and for your chosen stake, you will be credited with 10 spins, with each spin generating up to 5 numbers. The maximum stake may not be as stated, as with all the Slingo games, additional turns and chances to win are offered at the end of your plays and will come at an additional cost. To generate any sort of win, you must complete at least 5 lines, which in turn triggers the bonus games.
Slingo Fluffy Favourites Slot Features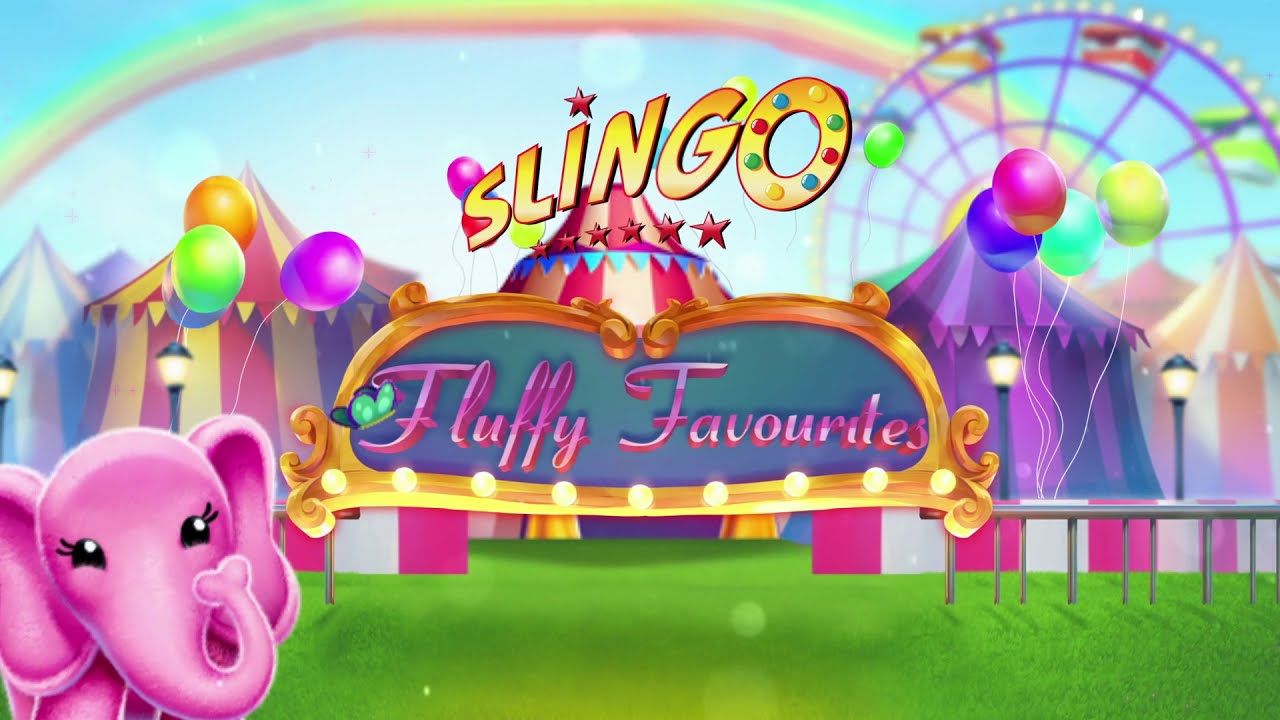 Nellie is what you call a super joker or wild, and when she makes an appearance you can mark any number off the grid that takes your fancy. Try to identify the numbers that give you the most chance of winning and use her to mark one of those off. The devil will block an attempt at a number, so the less we see of him the better. A joker appearing is another wild, only unlike Nellie, you must choose a number from the column directly above where he sits. The free spin ball grants an additional turn once all 10 plays are over.
Five lines award the toy box pick where you navigate the claw to pick up a fluffy toy and a prize. Six lines award the coin pusher where you are required to drop 2 coins into the machine to generate multiplier prizes. Seven lines award the hook a fluffy where you pick three toys from the water for 3 prize amounts.
Now it's time for the super prizes. Eight lines award the super toy box bonus, it's like the standard toy box bonus only this time you get four toys and four prizes. Nine lines is where the super coin pusher sits with five coins now being dropped into the machine for five prizes. Ten lines is the super hook a fluffy where five picks are granted with a 2x multiplier. The best has been reserved until last; 11 lines awards the mega toy box pick bonus where five prizes are generated through five picks with all values multiplied by 5x!
What's the Verdict?
Slingo Fluffy Favourites is cute, simple to play but not so simple to win. Whether you play big stakes or small, the minimum line requirement isn't exactly reasonable – reach 5 lines to generate any sort of win, and there's no guarantee you'll do this! To give you a little helping hand, when a super Nellie wild or joker wild appears, the columns will flash to indicate where you can choose a number, but the rest is down to you. The value of your stake can increase drastically if the chances of triggering a bonus is likely, which could lead to player's spending way more than they wanted to!
Slingo Fluffy Favourites Slot FAQ
What game provider developed the Slingo Fluffy Favourites slot?
Slingo Originals teamed up with Eyecon to create the Slingo Fluffy Favourites slot title.
When was the Slingo Fluffy Favourites slot released?
Slingo Fluffy Favourites was released on 28.10.2020.
What is the RTP of the Slingo Fluffy Favourites slot game?
Slingo Fluffy Favourites has an RTP of 95.30%.
What's the layout?
It comes with a 5x5 grid.
What theme is used in this slot?
Slingo Fluffy Favourites is a funfair themed slot.
Can I play this game on mobile?
Slingo Fluffy Favourites is a mobile-optimised slot.
What is the variance of the Slingo Fluffy Favourites slot machine?
Slingo Fluffy Favourites is a high variance slot game.
What is the minimum bet and the top prize?
The minimum bet on the Slingo Fluffy Favourites slot is 20p and the top prize is £2,795!
Are there any free spins and bonus rounds?
Slingo Fluffy Favourites offers free spin opportunities as well as 7 bonus games. It also comes with Jokers and super jokers, a toybox and super toy box pick, coin pusher and super coin pusher, a hook a fluffy and a super hook a fluffy bonus and the mega toy box bonus pick.
Are there any jackpots?
A maximum win of £2,795 is possible from max stakes.
Is there anything else that I should know about the Slingo Fluffy Favourites slot?
To win more, sometimes you are required to spend more, so you must decide whether the additional cost is worth the risk, because you're not guaranteed a bonus nor a win by spending more. Extra cost delivers one spin and five numbers, if no new matches are found, you may be granted the opportunity to go again, only this will charge your bankroll again!
If I like this game, what else should I look at?
Fluffy in Space, the Eyecon powered slot with progressive jackpots, two of which are guaranteed to drop before a set level and a re-spin and hold feature where Nellie the elephant symbols can award epic wins!