Sticky Bandits Slot by QuickSpin – Review, Free Spins & Demo
The bandits here are real gun-slingers rather than just metaphors, but they're also what you'd normally expect to be sticky in a slots game: wilds!
This Sticky Bandits slot is a game set in the Wild West, a perennial time and location combination for all sorts of popular culture, and one that slots developers don't want to miss out on too. The classic action for slots is going to be robberies and mining, and here we're searching for extra-legal caches of cash for our players, stolen from trains by our heroes, the bandits!
This is a nice looking game that does well with an old, familiar theme, and gives players lots of variety from a non-standard grid to bonus games with depth. There's also great reward potential – the sort of thing that might have tempted Butch Cassidy and the Sundance Kid out of their Hole in the Wall Hideaway.
But should you saddle up and ride over to the wrong side of the law with Quickspin's August 2018 release?
Let's have a look.
Play Free Sticky Bandits Slot Demo
Sticky Bandits Slot Q&A
What game provider developed the Sticky Bandits slot?
Sticky Bandits slot is developed by Quickspin and comes with a great design and exciting in-game features.
When was the Sticky Bandits slot released?
Sticky Bandits slot was released in August 2017.
What is the Sticky Bandits RTP?
The RTP (return to player rate) of the Sticky Bandits slot is slightly above the industry average and stands at 96.58%.
What's the layout?
Sticky Bandits slot comes with 5 reels, 5 rows, and 30 pay lines. Wins are formed by matching symbols on active pay lines starting from the leftmost reels to the right. Massive wilds will greatly help you out with forming the winning combos.
What theme is used in this slot?
Sticky Bandits slot is themed around Wild West. The slot is placed in the Wild West plains with villains and cowboys appearing on the screen. The design is colourful and neat.
Can I play this game on mobile?
Yes, Sticky Bandits slot can be played across all devices including smartphones.
What is the Sticky Bandits variance?
Sticky Bandits slot is a medium variance game with frequent smaller wins and decent winning potential.
What is the minimum bet and the top prize?
The betting scale in Sticky Bandits starts at a minimum of 15p per spin and goes up to £90 per spin. The top prize you can obtain in this game is x739 the total stake per spin.
Are there any free spins and bonus rounds? What other features comes with?
Sticky Bandits slot comes with Free Spins, massive wild symbols, and stacked symbols. Massive wilds can appear two reels wide and 5-rows high which can greatly help you out with the wins especially in the Free Spins where one massive wild remains sticky during the whole round. The Bonus awards 7 free spins.
Are there any jackpots?
No, Sticky Bandits slot doesn't have any jackpots.
Is there anything else that I should know about the Sticky Bandits slot?
Sticky massive wilds in the Free Spins are what will bring you big wins especially if you manage to land the second massive wild as your balance will explode.
If I like this game, what else should I look at?
Wild West slot machines are pretty popular among players which is why slot providers keep developing these kinds of slots. The most popular Wild West slot by NetEnt is definitely Dead or Alive 2 which has a winning potential of x111,111 the total stake! More interesting and rewarding Wild West slots are Money Train 2 with up to x50,000 prize or Deadwood slot by Nolimit City with plenty of action on the reels and amazing detailed design.
QuickSpin – The Developers of Sticky Bandits Slot
Quickspin are very well-established giants of the online video slots scene.
They were founded in 2011, in the world's capital of quality slots: not Las Vegas, but Sweden, which is bursting with innovative developers.
And now this one is part of the Playtech empire, joining the world's largest producer of online casino software.
Quickspin are still very much an independent entity, and they very much have their own style as a developer – notably so, in fact.
Among the immediate standouts on most Quickspin titles are the fantastic graphics. The company also prides itself on innovation – though, to be honest, we're not aware of a slots company that doesn't say this about itself.
Quickspin are trusted, and they have licences and industry accreditations enough to let you know you can enjoy their games safely, plus awards for their titles that show they are among the very best in the business.
The Facts and Figures
This game comes with an RTP of 96.58%. This is a 3.42% house edge. These figures are very good in the current market, where 96% is good value. These figures are not an exact science though, and you certainly shouldn't expect to go to a casino site to spend £100 on this game and think you're guaranteed to lose no more than £3.42 – you might end up ahead, or lose much more.
You can place best of between 0.15 and 90 coins. That's 15p to £90 in UK terms, though make sure you check the details of any financial limits when you use a particular site. You can win more than 700 times your stake – that's £63,000 at the top of the stakes n' ladders.
The Sticky Bandits slot game has an atypical layout of a five by five square, which gives you 25 symbols in play. You'll need to hit one of 30 pay lines to see a win, and you can start spinning on any device that supports JavaScript, HTML5, and Flash (make sure you have an updated and enabled version).
The Game – How to Play Sticky Bandits Slot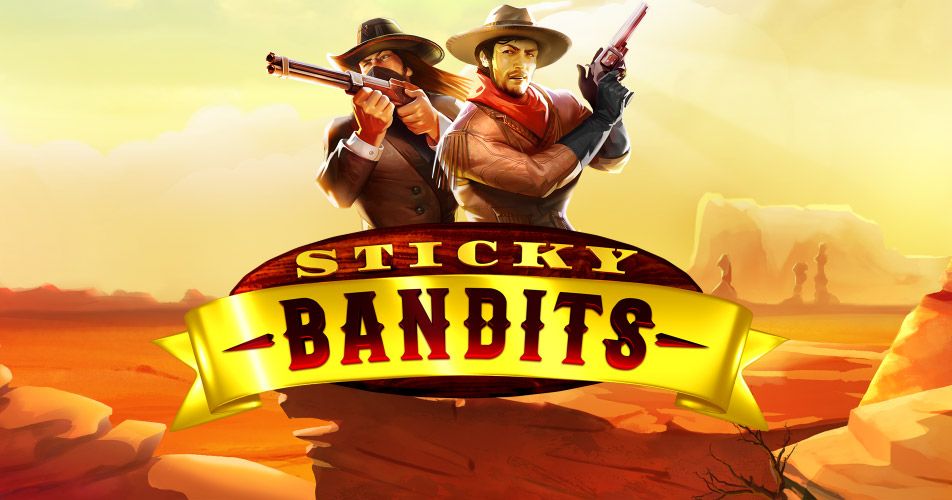 Quickspin know what they're doing, so you won't spend any time scratching your head when you open up this game, with its very standard and easy to use control set.
Starting at the left there are two menu buttons: a three-bar menu and a cog for your settings. Then the balance sits over the number of bet lines in play. You set this with the total bet selector to the right of that. To the right of that is the information window. Then at the right is the spin control, with the turbo and Autospin options right next to it.
Easy!
Make sure to check out the rules and pay table before you play.
Payouts
If you do take a look at the pay table you will see a nicely designed set of Old West symbols, opening with:
Jacks and Queens paying up to 1-times total stake for a set of five.
Kings and Aces paying up to 1.33-times stake for a full-house.
The dynamite paying 2-times stake for a full line.
Gold coins also pay double your bet for a full-house.
The bandits are:
A blue bandit paying 2.66-times stake for a full house. A purple bandit paying 3.33-times stake. And the red bandit paying 6.66-times stake for five.
There are also extra symbols which work with bonus games.
Sticky Bandits Slot Bonuses
There are two extra symbols.
The train bonus – helpfully labelled with a massive "bonus" across it! – can only appear on reel 1. If it appears alongside a Wild on reel 2 or 4 you will be awarded seven free spins. Wilds on the reels when you win the feature stay in play throughout it and they will be joined by sticky wilds during the feature too.
The wilds are massive – and helpfully called Massive Wilds – and feature two bandits armed with fearsome-looking pieces. They are two reels wide and a screen-full high. They function as a bonus trigger – as discussed – and also as wilds during the base game.
The Verdict
While looking like it promises quite a lot of complicated gameplay, Sticky Bandits is actually a pretty simple and straightforward slot.
The bonuses are just two in number, and while nicely delivered, and potentially lucrative, isn't that eye-opening.
Jaw-dropping originality aside though, this is a quality game on a theme that remains perennially popular.
The Wild West keeps drawing in players because it promises adventure and certain lawlessness: the first experience many people have of gambling is via classic westerns, in which the gambler is a recurring character.
You may not get involved in a life-changing adventure with Sticky Bandits – and hopefully not in any illegal activity – but you could win life-changing sums of money (60k would certainly change my life), and you'll enjoy the game even if you don't.
For a Western game, Sticky Bandits slot isn't a revolutionary title, but it has more than enough to make it a regular part of your gaming schedule.