The Goonies Slot by Blueprint – Review & Play
One of the great childhood films of all time and a major nostalgia-fest for people of a certain age, The Goonies has got a slot makeover from Blueprint that has now continued into a series.
This is the first of that series and does what a lot of Blueprint titles do, which is offer big character development and gameplay depth with a load of features.
In this title that means a feature for each of the young characters who were at the centre of Spielberg's massive hit film, six bonus features in all.
As this is a treasure hunting theme, it works well with slots, and there's a seventh feature arranged around the big prize from the map in the film.
The Goonies had a crazy adventure, but do you want to join them?
Let's have a look.
Play The Goonies Slot
Rank
Casino
Bonus
Rating
Visit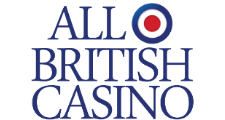 The Goonies Slot Q&A
What game provider is behind The Goonies?
This game is from Blueprint. This company is massive, the fourth biggest and most visible UK provider according to the audit site that we use. They have 200 titles on the UK market, nearly all of them video slots. Their biggest current title is Fishin' Frenzy, in both Megaways and the original networked Jackpot King title. The company has a load of Megaways titles, licensed from Big Time Gaming, but also more traditional slots titles and all of their top 10 games are in the UK top 150.
When was The Goonies slot released?
This game was released on 25th October 2018.
What is The Goonies RTP?
The theoretical return to player is 96%. This is slap bang in the middle of the range these days, and we often quote 96% as the industry average. Theoretical is what you need to remember with this figure. It's a long-term measure and not a prediction.
How many reels and pay lines does The Goonies have?
This is a classic slot with a 5 by 3 set-up. There are 20 pay lines.
What theme is used in The Goonies slot?
This is a movie tie-in, an adventure story, a treasure hunt game, and has comedy graphics including photographs and movie clips.
Can I play The Goonies on mobile?
Yes, you can play this on a mobile. Load it up with JavaScript and HTML5.
What is The Goonies slot variance?
This game does not have a published variance or volatility figure, but the size of the top prize suggests it could be high volatility, which means that you should expect bigger pay outs that appear less often.
What is the minimum bet and the maximum win?
The lowest wager in The Goonies is 0.1 coins, which should be 10p in UK sites. The top stake is 200 coins, which should be £200. Make sure you play within your limits and with your own safety at the front of your mind.
Does The Goonies have free spins and bonus rounds?
Yes, there is a free spin round, and a load of other bonus features. There are 3 free spins round with different wilds in each feature.
Is there anything else I should know about The Goonies slot?
The intro sequence is great. Leave it on.
The Game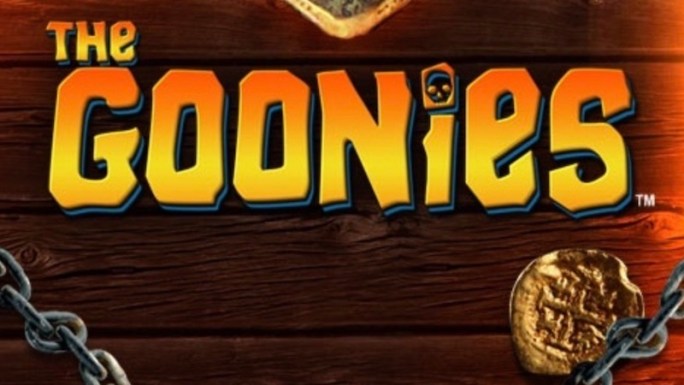 There is a lot going on in this game, but the controls aren't complex and will be easy to get your head around if you've played any online video slots before.
The pay table opens on cards, paying up to 5-times for a set of 5.
The scales pay 10-times stake for a set of 5, as does the skeleton.
The pirate ship and the treasure chest both pay 15-times stake for a set of 5.
The wild pays 25-times stake for a full-house of 5.
The bonuses come thick and fast!
The One-Eyed Willy Bonus Boost puts extra scatters on the reels.
Mouth's Lucky Coins turn coin symbols into a set of matching symbols.
Chunk's Truffle Shuffle puts wilds randomly on the reels.
Data's Colossal Symbols turns 3 of the reels into massive reels.
Mikey's Hidden Treasure turns reels wild.
Sloth's Win Spin guarantees a big prize spin.
There are two lose-to-win features too.
The main bonuses are triggered with One-Eyed Willy's Bonus or with 3 scatters. These open a wheel of fortune to trigger one of:
One-Eyed Willy's Treasure, a multiplier.
Fratelli's Hideout Bonus, a prize pick game.
Skeleton Organ Bonus, a multipliers feature.
Free spins come via scatters, and they are also awarded via a wheel spin in one of these varieties:
Super Sloth Free Spins with extra-high-value symbols.
Goonies Go Wild Free Spins with extra wilds.
Inferno Free Spins with a moving inferno adding extra wilds.
The top potential prize is 10,000-times your stake, with a top prize stake of £250,000.
The Verdict
Wow. This game is amazing. And amazingly complex.
So that means it might not be for you.
If you want a nice familiar set of symbols, with a couple of wilds, and a free spins round then this is not the game for you.
If you want an all-singing, all-dancing take on an adventure film then this might be for you. It's not complicated to play in any way. These games never are: it would be mad to make a game that is hard to play.
But it means there is depth and breadth to the game play. We do recommend that you read the instructions for this game just so you know what's going on. It's also not a game to really sit down and bang through the spins on as there are a lot of little sequences and a lot of choices for players to take part in.
With a good bit of luck, you could have both a very enjoyable gaming experience and a rewarding one too. The Goonies are long in the tooth now, so this could be a nice frisson of nostalgia for some players, but might well introduce this great movie to a new generation too.