Thor is back! Thunderstruck slot by Microgaming was a landmark title for the company, it's still in the UK charts some 19 years after it was released, and now we have a Thunderstruck 2 slot version!
The Scandinavian style and Norse myths, legends and gods have never gone out of style, in fact, the arrival on the slot market of a load of companies actually based in Sweden who have their own take on the folklore, gods, and goddesses of their region's culture must make a reboot look more than due, and this game was duly launched in 2010.
What does this new take on an old favourite offer?
More generous figures jump out, including a potentially massive top prize. Of course, things look very different, and the game is delivered a bit more smoothly.
Should you trade in your old thunder hammer for a bash at this new take of the world of Thor?
Let's have a look in this Thunderstruck 2 slot review.
Free Thunderstruck 2 Slot
Thunderstruck 2 Slot Q&A
What game provider developed the Thunderstruck 2 slot?
Thunderstruck 2 slot is a sequel to the original and is developed by Microgaming.
When was the Thunderstruck 2 slot released?
Thunderstruck 2 slot was released in May 2010, six years after the release of the original Thunderstruck back in 2003.
What is the Thunderstruck 2 RTP?
Thunderstruck 2 slot has a bit higher RTP than its predecessor and stands at 96.65%.
What's the layout?
Thunderstruck 2 slot features 5 reels and 3 rows, but as opposed to the original with 9 pay lines, Thunderstruck 2 slot has 243 ways to win. This means that there are no regular pay lines and wins are formed from left to right with at least three matching symbols.
What theme is used in this slot?
The theme is that of Norse mythology and this time besides Thor, you will also see Loki, Odin, and Valkyries. The design of the game is also upgraded and looks pretty good especially when the action happens during the Wildstorm feature, for example, when the mighty Thor appears and turns reels wild.
Can I play this game on mobile?
Yes, you can enjoy this Microgaming slot online on your smartphone.
What is the Thunderstruck 2 variance?
Thunderstruck 2 slot is a medium variance game just like the original and the big wins hide in the Free Spins Bonus rounds or Wildstorm feature.
What is the minimum bet and the top prize?
Thunderstruck 2 slot can be played with a minimum bet of 30p per spin and the betting scale goes up to £15 per spin. The top prize is x8,100 the total stake on a single spin.
Are there any free spins and bonus rounds? What other features comes with?
Thunderstruck 2 slot comes with a Wildstorm feature and The Great Hall of Free Spins Bonus. The Great Hall of Free Spins is triggered with scatters and depending on how many times you trigger the bonus you will progress and unlock up to 4 different Bonus rounds. Each bonus comes with a different number of free spins and features such as multipliers, wilds, or tumbling symbols.
Are there any jackpots?
No, the Thunderstruck 2 slot doesn't feature any jackpots.
Is there anything else that I should know about the Thunderstruck 2 slot?
The Loki Free Spins is the most lucrative Bonus as it comes with random wilds and x8,100 winning potential. This potential is also possible with Wildstorm Feature as it can turn all reels completely wild.
If I like this game, what else should I look at?
If you like the Thunderstruck 2 slot, make sure to give its original Thunderstruck slot a spin. It may be a classic slot but it is still pretty exciting and lucrative with Free Spins bonus with all wins tripled. Zeus 2 slot is another great Norse mythology slot you can try out.
Thunderstruck 2 Live Demo Play
Microgaming – the Developers of Thunderstruck 2 Slot
The Isle of Man is one of the areas of the UK that has been most affected by Viking and other Scandinavian cultural influence on the UK. And it is there that the developers of Thunderstruck II, Microgaming are to be found in a big shiny tower block called Number 62.
They're probably there for tax reasons as much as any great love of the island's unique Manx culture (ethics in business fans will also note that Microgaming do report a number of quite impressive community initiatives).
They're licensed by the UK Gambling Commission, one of the world's most respected gambling regulators and the one licence UK players need to see.
The company make a huge variety of games and gaming systems. On top of around 500 slots, you'll find table games and much more. Microgaming also produce the systems that make casinos run, so they have a very strong market position.
Their current favourite titles in the UK market are Immortal Romance at number 6 in a respected industry audit, and Mega Moolah (the world record-breaking progressive slot), with this title shooting straight in at number 33.
The Facts and Figures – Thunderstruck 2 RTP
Microgaming released this Thunderstruck 2 slot game in May 2010, and it has a standard five-by-three grid layout. The nine pay lines of the original are beefed up to a company favourite 243 ways to win setup. You can play it on any device with JavaScript, HTML5, and Flash (you may need to allow Flash on your device, and should update it regularly for security reasons).
The Thunderstruck 2 RTP has become more generous in the six years between games, and Thunderstruck II offers 96.65% to players, so a house edge of 3.45%. That's quite generous in the current market, but not so generous to be a headline figure. The medium variance rating suggests a fairly typical experience should be expected.
There's nothing run-of-the-mill about the 2,400,000 coins top prize. You'll need to bet at the top of the 0.3-to-15 coins staking scale to win that. (This should translate to £600,000 with 30p to £15 betting, but always check the full details as you play.)
The Game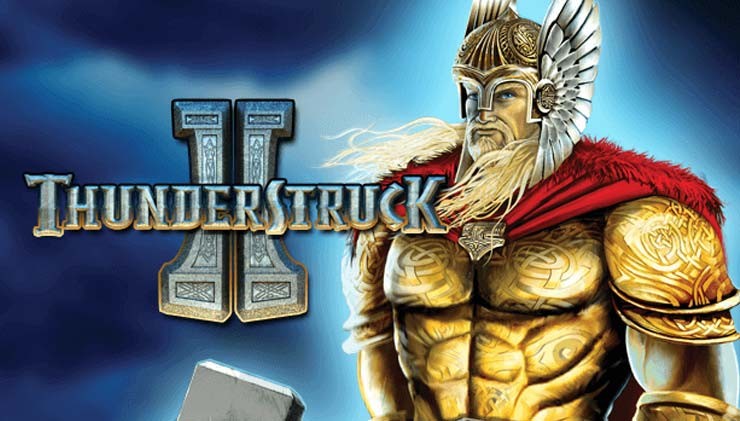 The controls remain quite similar to the original game and typical of Microgaming titles.
At the left, the credits are displayed. Then an unlabelled coin value control before a set of three indicator windows for coins, bet amount, and the current win, over buttons that set the number of coins, maximise the bet, and finally the spin button.
Thunderstruck II by Microgaming: Big Wins
The paytable is full: 10s pay 5, 10, and 100-times stake for sets of three, four, and five. Queens pay 7, 15, and 125-times stake. Kings and Aces pay 10, 20, and 150-times stake.
Above these are a floating city paying 15, 60, and 300-times stake. A Valkyrie paying 20, 80, and 250-times stake. Odin pays 30, 100, and 450-times stake. Thor pays 30, 100, and 500-times stake.
The hammer is a bonus symbol, it also pays 1, 2, 20, and 200-times stake for sets of two, three, four, and five. The game logo pays 75, 200, and 1,000-times stake for a full house.
Thunderstruck 2 Slot Bonuses
The bonuses in this game are complex.
Filling all pay-outs for a symbol turns that symbol gold on the paytable and increases pay-outs. The Wildstorm feature triggers at random, turning a random number of symbols wild.
The main bonus is a Hall of Spins free spins game.
There are four mythical figures in this feature each with different characteristics.
They are all triggered with the bonus hammer symbol, and players cycle up through the levels from:
Valkyrie (10 free spins with a 5-times multiplier);
Loki (15 free spins with Wild Magic, adding extra wilds on the middle reel);
Odin (triggered after 10 rounds of free spins: 20 free spins, with wild raven feature adding multipliers);
and finally Thor (25 free spins, with rolling reels, increasing multiplier, triggered after 15 rounds of free spins).
Thunderstruck 2 Casino Slot – The Verdict
There's a lot to say about this Thunderstruck 2 casino slot game, but we hope we've said most of it above.
In terms of complexity and depth, you won't find many games today that match Thunderstruck 2 slot by Microgaming. The climbing levels of the superb free spins round are a real triumph. Everyone will enjoy these and they're where the real big wins lie.
That trick of increasing engagement is also present in the base game, with the golden paytable feature making up for the comparative rarity of the free spins triggers.
You need to commit to playing this game for a while to really get the rewards and to get on top of it, but it's a very pleasurable journey with the usual Microgaming virtues of great graphics and rock-solid gameplay.
There are a load of Viking games out there, so you have lots of choices if you like them, this one really delivers the magic and might just deliver a thunderously big top prize.