Tome of Madness Slot – Review, Free Spins & Demo
You may recognise the handsome guy in period costume who stares with steely gaze from the publicity for this Tome of Madness slot game from i-gaming monsters (and punctuation manglers) Play'n GO.
That's Rich Wilde, already a majorly popular slot game character. Rich has had more than one hit, and he's in danger of genuinely rivalling Indiana Jones, the film character he is close (but not close enough to bother the lawyers apparently) to.
There's a whole genre of games themed around the archaeology of the treasure hunting kind, rather than the actual real archaeology of painstakingly digging in muddy ditches while recording every single detail of what you do. Type B archaeology is not fun enough – so we're led to believe.
Here, Rich Wilde achieves what must be another first by taking slot players into the insane world of HP Lovecraft. Lovecraft is one of the pioneering fantasy and sci-fi writers and credited with inventing whole genres of horror. (In real life he was a disgusting racist too, so take that on board.)
These games are rich in detail and have a load of features, but that's a scary looking book there, so should you open it?
Let's have a look!
Free Play Tome of Madness Slot
Tome of Madness Slot Q&A
What game provider developed the Rich Wilde and the Tome of Madness slot?
Rich Wilde and the Tome of Madness slot is developed by Play n' Go.
When was Tome of Madness slot released?
Rich Wilde and the Tome of Madness slot machine was released in June 2019.
What is the Tome of Madness RTP?
The theoretical return to player rate or simply RTP of this slot is 96.59%.
What's the layout?
Rich Wilde and the Tome of Madness is a 5×5 grid slot. There are no regular pay lines but the wins are formed with 4 or more matching symbols linked horizontally or vertically in a cluster. After the win, winning symbols will disappear and new ones will fill their positions just like in Gonzo's Quest slot, for example.
What theme is used in this slot?
Rich Wilde and the Tome of Madness slot is based on the mystic world and has a voodoo vibe to it. The design is excellent and Play n' Go did a great job in creating this slot machine will high-quality graphics and fun animations.
Can I play this game on mobile?
Yes, this slot can be played across all kinds of smartphones.
What is the variance?
This is a high variance slot machine so you should arm yourself with patience if you want to reach those bigger wins hiding in the Bonus rounds.
What is the minimum bet and the top prize?
The minimum you can stake is 10p per spin while the max bet goes up to £100 per spin. Rich Wilde and the Tome of Madness slot comes with a top prize of x2,000 the total stake on a single spin.
Are there any free spins and bonus rounds? What other features come with?
Rich Wilde and the Tome of Madness slot comes packed with features and action. With winning, you charge the portal which unlocks various features from the Portal called Portal Effects (up to 7). There are plenty of special wild features, symbol transformations and updates, and Free Spins rounds.
Are there any jackpots?
No, Rich Wilde and the Tome of Madness slot doesn't feature any progressive or fixed jackpots.
Is there anything else that I should know about this slot?
The Mega Wild symbol occurs in the Free Spin round and it moves down the grid one row at a time which can bring you big wins.
If I like this game, what else should I look at?
If you like grid slot machines, there are plenty of others to explore. Jammin' Jars slot by Push Gaming is a popular 8×8 grid slot that can award wins up to x20,000 the total stake!
Play n Go – the Developers of Tome of Madness Slot
Play'n GO are genuinely massive.
Whatever it is in the water that runs through slot development neighbourhoods in Sweden then Play'n GO have been drinking plenty of it.
They have nearly 200 games on the UK market and keep the hits coming at regular intervals. They're big international players too, with 15 licences in Europe alone.
With roots going back to 1997 Play'n GO are veterans, but they're still at the cutting edge, and still winning awards, including Mobile Supplier of the Year award from EGR in 2019.
Rich Wilde stars in their biggest hit, the Book of Dead, while Chronos Joker, Xmas Magic, Fire Joker, and Legacy of Egypt complete the top five.
Their games are innovative and good looking and you can click on Play'n GO games with complete confidence.
The Facts and Figures
Tome of Madness slot has a slightly lower than average 94.52% theoretical return to player. This measure is the proportion of player funds that are paid out in winnings over the lifetime of a game. However, the game is high volatility, which means it is likely to pay out higher prizes (but to pay them out less often), and this is often reflected in a slightly lower RTP.
(We'd like to note here that we've seen different reported RTPs for this game, so please make sure you're aware of and happy with the terms and conditions when you play the game – and always read the rules!)
That high variance helps to deliver a top pay-out of 200,000 coins. You'll need to stake at the top of the huge staking scale from 0.1 to 100 coins (usually 10p to £100 in the UK, but check all financials on the game you're using.)
The layout is a 5-by-5 grid, so a square set up with two extra rows, when compared to the standard game layout, and delivering wins via shaped clusters rather than pay-lines.
Open the Tome of Madness slot on any device that offers JavaScript and HTML5.
The Game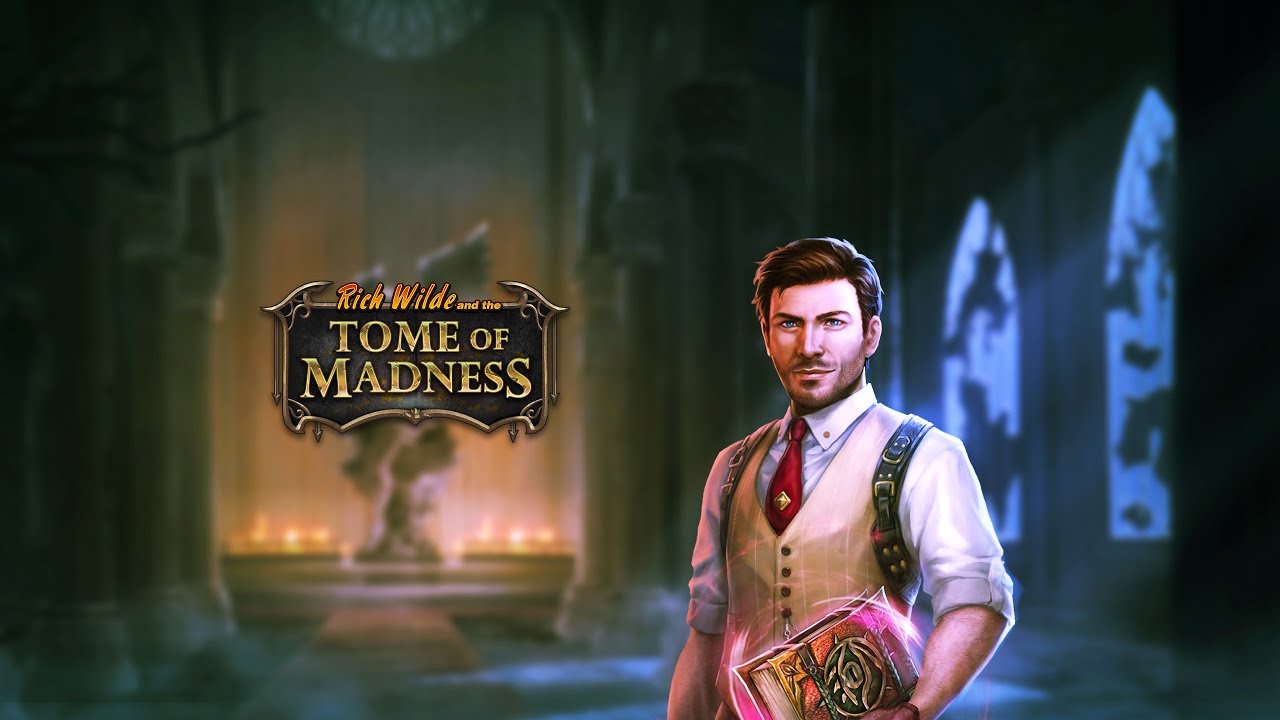 There's a lot going on with this game, but it's super-easy to play.
At the bottom left of the usual control panel is the "I" button that opens up the first information screen with game instructions and pays.
Set your bet on the sliding scale to the fight of that and use the spin button or its smaller Autospin setting brother to play at your choice of speed.
Balance is recorded at the left, bets to the right, and the wins and information window is central.
How to Play and Win
Wins here are delivered in sets, with a set of 10 delivering these top prizes for each symbol.
Red crystals pay out two-times the bet, blues pay out four-times the stake, and red crystals pay five. Purple crystals are worth 6-times your stake.
The skull of Cthulhu pays out 30-times stake. The ring pays out 40-times stake. A dagger pays out 60-times stake. And the octopus pendant (or shapeless, nameless monster to give it a Lovecraftian spin) is worth 100-times stake.
Tome of Madness Slot Bonuses
There are a ridiculous number of bonuses here.
The base game comes with tumbling symbols working as a respin on wins. Also in the base game, the Eye Mark is a randomly appearing wild generator.
To the side of the symbols is a portal. As you score wins, the portal charges up. Seven symbols together put two more wilds on the game surface and open the portal. A set of 14 winning symbols adds two more wilds and may open the Abyss. The Abyss removes a load of symbols to throw into the portal and charges it up even more.
When you have 27 portal symbols you have two more wilds, and the opportunity to trigger the Void. The Void takes wilds off the grid and chucks them in to further charge up the portal.
With 42 portal symbols, the Other World Free Spins Round starts with three extra portal effects. The round comes with extra Eye Mark symbols that can trigger the Mega Wild Cthulhu Symbol, a giant, walking wild.
The Verdict
This is quite a hard game to explain. It has multiple levels of meaning and the bonuses are complex and involving. In fact, amazingly, it's quite a decent representation of the twisted fiction of HP Lovecraft.
If you like complex games and creepy, involving graphics then this is the game for you. The earlier Rich Wilde outings are a good introduction to what to expect from this game, but Play'n GO have added much more sophistication and depth to this title.
High volatility means you might need to be patient, but there's a good staking range, and the top prize here is potentially very big.