Troll Hunters 2 Slot by Play'n GO – Review & Free Play Demo
Troll Hunters these days are generally operating online looking for people who are – depending on your point of view – rude, funny, disruptive, sinister, or silly.
Those sh*t posters needn't concern us here though because Play'n GO have fired up the martial drums and horns on the soundtrack and got out the Big Box of Viking clip art to take us off into the Scandinavian historical world to dive deep – again – into myths and legends.
Slots players love Vikings!
This Troll Hunters 2 slot game has a load of lovely graphics, and also a lot of gameplay innovations. The main bonus is a free spins round, but there are also multiplier wilds, and the trolls themselves show up to deliver guaranteed wins in the base game.
The trolls look amazing.
If you've read the title of this game you'll have worked out that it's a sequel! Troll Hunters was a popular game – popular games are the only games you're going to repeat – and this game takes what worked there and runs with it, in particular by boosting the prize potential and turning the game into a high-variance game.
Should you go on this monster hunt?
Let's have a look in our review!
Play Free Troll Hunters 2 Slot Demo
Q&A Troll Hunters 2 Slot
What slots provider is behind Troll Hunters 2?
Play'n GO are the makers of Troll Hunters 2 (and Troll Hunters). This company is enormous, the auditing site we trust rates it as the third most popular slots provider in the UK. The company is Swedish and has released more than 200 games, including every style of slots, casino games, and scratch cards. Their biggest hit is Rich Wilde and the Book of Dead, a massive hit that's a free spins favourite.
When was Troll Hunters 2 slot released?
Troll Hunters 2 was released on 12th September, 2019.
What is the Troll Hunters 2 RTP?
Troll Hunters 2 has an RTP of 96.5%. This is towards the higher end of the current market average. Please remember that this measure is created by running 1 billion simulations of the game. It is not a guarantee that this figure will be returned to you when you play Troll Hunters 2. Your game may be very different.
How many reels and pay lines does Troll Hunters 2 have?
Troll Hunters 2 is played on a 5 by 5 grid with 25 symbols on the grid. Pay-lines run up and down horizontally and vertically.
What theme is used in Troll Hunters 2 slot?
Troll Hunters 2 is themed on Viking culture, Scandinavian myths and legends and monsters, it has cartoon graphics and female characters.
Can I play Troll Hunters 2 on mobile?
Yes, you can! If your device can support JavaScript and HTML5 then you can play Troll Hunters 2 on your device.
What is the Troll Hunters 2 slot variance?
The variance or volatility of Troll Hunters 2 is "high". High variance games are more likely to pay out higher prizes and more likely to pay them out less often. This, like RTP, is not an absolute guarantee of how your game will go.
What is the minimum bet and the maximum win in Troll Hunters 2 slot?
The lowest bet in this game is 0.2 coins or 20p in UK sites, and the top bet is 100 coins or £100 on UK sites, but check the details on the site you are on. High variance usually means high top prizes and this game pays 5,000-times stake, so 500,000 coins.
Does Troll Hunters 2 have free spins and bonus rounds?
Yes, there is a free spins round in Troll Hunters 2. There are also bonus features in the base game.
What special features come with Troll Hunters 2's free spins?
Troll Hunters 2 free spins round comes with a multiplier and a boosted Win Spin feature from the base game.
Is there anything else I should know about Troll Hunters 2 slot?
This is one of the noisiest games we've ever played! They love the dramatic music the Vikings, huh.
The Game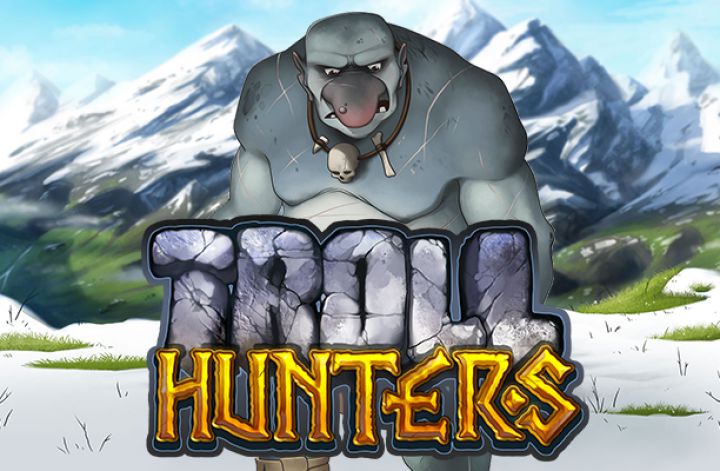 This game is very simple to play, using a standard Play'n GO set-up.
That means at the left is the information button to load up the pay table and game instructions. Then you can read your balance, and then betting, which is set on a horizontal sliding scale, and displayed in the next window. Finally, there's a green spin button and the auto spin function:  this can be set to end on wins, on win totals, on loss totals, on bonus triggers or after a number of spins.
Aside from wilds, the symbols open with shields, which pay between 2 times stake and 4-times stake for a cluster of 5.
Female warriors pay 5-times stake for 5.
The young female warrior pays 10-times stake, as does the big warrior woman, and the helmet-wearing warrior.
Triangle runes pay 50-times stake.
There are cascading respins delivered by removing winning symbols to allow the symbols above to drop in. This retriggers until the wins stop with an increasing multiplier that climbs to a maximum of 3. 
When female warriors land in wins you'll fill a three-section meter, which triggers multiplier wilds to land randomly on the grid.
The free spins round is triggered when the word BONUS is revealed behind the reels by dropping symbols out of the game. You choose a spin/multiplier wild ratio for the round. You can trigger further spins by filling the bonus meter.
The Verdict
This is a great addition to the ever-popular Viking genre, offering fantastic visuals and sound (though it's one you might need to turn down), on top of a fantastic game that's full of novelty and innovation.
Are you a high volatility player? That's a good question. Our advice is to always play safely first, with low stakes, and considering how much fun you're having than how much you might win. You should be aware that this game may make you wait for wins though.
No-one will complain if they wait for a win and it's that 5,000-times stake top prize.