Are you feeling fruity? No, not like that! Are you into classic, retro, fruit-machine style slots with all your favourite symbols like sevens, diamonds and bars?
Then welcome to NetEnt's Twin Spin slot, which has been successful enough since its launch in December 2013 to spawn one sequel and to win a load of fans, and make an appearance in the top 10 of UK slot games even in February 2019.
That's quite some longevity for a slot game. Especially one that seems to be as simple as this one, which could have been seen out in the wild at any time from the 1990s onwards.
However, there's some special NetEnt sauce in this mix, with a hugely generous RTP, loads of bet ways and a massive top prize. The name is a reference to a linked-reel feature in the base game.
The mathematics of Twin Spin slot alone make it a compelling proposition right from the off.
Play Twin Spin Slot
Twin Spin Slot Q&A
What game provider developed the Twin Spin Slot?
Twin Spin slot is a classic slot machine developed by Net Entertainment.
When was the Twin Spin slot released?
Twin Spin slot machine was released back in December 2013. Four years later NetEnt brought us the revamped version of the original called Twin Spin Deluxe slot.
What is the Twin Spin RTP?
The theoretical return to player rate or RTP of Twin Spin slot is 96.55% which is the average RTP of the majority of slot machines.
What's the layout?
Twin Spin slot comes with a standard layout of 5 reels and 3 rows. Instead of regular pay lines, there are 243 ways to win with at least three matching symbols from left to right and from right to left (pays both ways) forming winning combos.
What theme is used in this slot?
Twin Spin slot is a classic-styled slot machine with sharp graphics and symbols such as lucky sevens, bars, fruits, and standard playing card icons.
Can I play this game on mobile?
Yes, Twin Spin slot can be played on mobile devices as well as other devices such as desktops, laptops, and tablets.
What is the Twin Spin variance?
Twin Spin is a medium to a high variance slot machine. The big wins can be obtained in the special feature of the game.
What is the minimum bet and the top prize?
The minimum you can bet on Twin Spin slot is 25p per spin while the max bet is £125. The top prize in Twin Spin is x1,080 the total stake on a single spin.
Are there any free spins and bonus rounds? What other features come with?
Twin Spin slot doesn't feature Free Spins nor scatters. The only special feature is the Twin Reels feature and wilds. This special Twin Reels feature occurs on every spin and causes the reels to duplicate. It can cause all 5 reels to duplicate which is the road to the max prize of this slot.
Are there any jackpots?
No, the Twin Spin slot doesn't feature any jackpots.
Is there anything else that I should know about the Twin Spin Slot?
If you play with the max stake on, with the x1,080 winning potential you can win up to £135,000 on a single spin. But keep in mind that this is a high-volatile slot and it will take a while to get a perfect spin with those duplicating reels.
I like this game. What else should I look at?
If you like this slot, you can also try its sequel Twin Spin Deluxe slot which is a Cluster pays slot with 6 reels and 5 rows and the top prize of x1,000 the total stake. Mystery Reels and Joker Pro are great slots to check out if you want to explore more of classic slot machines.
The Facts and Figures
Let's start out with that generosity. The RTP is 96.6%. That's the theoretical Twin Spin RTP. It's a measure of how the machine will perform over its whole life, not that you should expect to put in a pound and get 96p back.
That said, this is still a generous figure and should be reflected up to some degree in your experience with the game wherever you play it. The title's variance is listed as towards the high end of medium – again, a long term measure that you should treat with caution – but meaning that bigger wins are more common, but wins are likely to be relatively rarer.
The top prize on this game is a major league, 270,000 coins (always check wins, bets and pay-out limits on the site you're actually playing at) paid on bets from 0.25 to 125 coins.
It's a standard layout of five reels and three rows with a big 243 pay-lines across the reels.
Play Twin Spin by NetEnt on any mobile, desktop or tablet device that supports FLASH, JavaScript and HTML5. Remember to keep your Flash updated and enabled in your browser to play securely.
The Game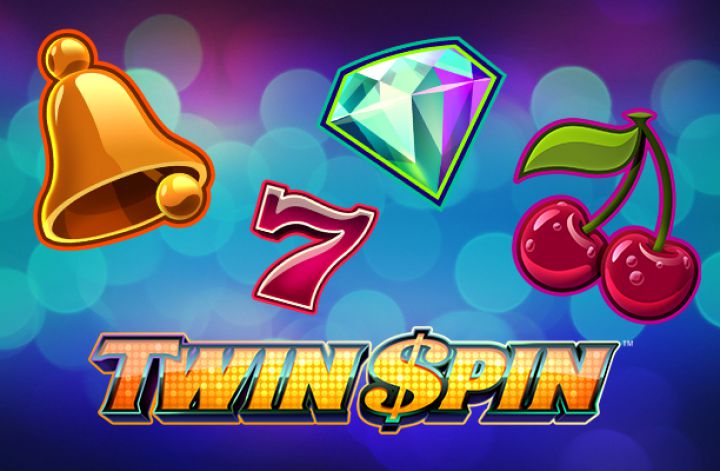 A simple set-up is backed with a very simple operation that has classic – or even retro – slot stamped all over it.
The reels sit front and centre with the main controls on a bottom panel beneath them.
From left to right, the top line of these controls reads: "i" for information, followed by the bet amount, in the centre is the win amount, and the far right is the coin balance.
The bottom line of the controls panel allows you to set the number of pay lines you're betting on with a 10-level betting option to the left of a central spin button that is flanked by an auto-play function and the max bet button. Autoplay functions are generally pretty sophisticated these days, with the law in the UK meaning that they need to give the player plenty of control over how and when to stop a gambling sequence. Finally, you can set the coin value for your bets.
Extra game controls – sound and help – are in the game frame.
Paytable
The pay-table of the game is pretty standard, with cards at the bottom end of the scale, propping up some higher paying classic fruit machine symbols.
Nines pay 3, 10, and 25-times stake for sets of three, four and five.
Tens pay the same – 3x, 10x, 25x.
Jacks also pay 3x, 10x and 25x.
Queens pay 4, 15, and 40-times stake for three, four and five.
Kings pay the same – 4, 15, and 40.
Aces also pay 4x, 15x, and 40x.
At the top of the pay table you'll see:
Cherries that pay 10, 75, and 250-times stake for three, four, and five.
Bells pay the same – 10, 75, and 250-times stake.
Bars pay 15-times stake, 100, and 400-times stake.
Sevens pay 30, 150, and 500-times stake.
Diamonds pay a wonderful 50, 250, and 1,000-times stake.
There is also a wild symbol, which will stand in for any other symbol.
Twin Spin Slot Bonuses
The "standard" bonus is the Twin Reel feature.
At the start of each spin, two identical reels are linked – it can be any of the five reels. They spin together and can expand reel-by-reel to fill the whole screen.
And that's it! Pretty simple stuff with no free spin, and just wilds and the twin spin feature in the way of bonuses.
The Verdict
Why – in a world where the latest streaming and design tech can deliver a perfect game of roulette with a live croupier, or a slot game with 15 different bonuses and a full strategy game as an extra – are people playing this simple game?
It's because it's fantastic!
There might only be one bonus, but it's a damn fine one and the fact that it's there for every spin brings a bit of magic to every press of the green button. The random nature of those expanding magic reels also brings magic to every spin.
And this game can deliver some seriously big wins from a very generous paytable.
That paytable is filled with familiar symbols, but they're presented in a fantastically imaginative way and illustrated beautifully. The reels glitter or shine or light up in turn in a way that is really engaging and genuinely magical.
All that magic is sprinkled on top of a base set up that is familiar and welcoming to players who played even the simplest of slots. This machine isn't going to scare anyone off.
NetEnt have got a load of things right with this game and we think it's deserving of its continued popularity. We haven't yet checked out its family of sister titles, but if they live up to this standard then they will be as worthy of your time as Twin Spin slot is. We think you should check out this game at your favourite casino site today!