Wild Frames Slot by Play n Go – Review, Free Spins & Demo
Wild Frames slot is both retro and very up to date.
The retro features qualify this game as a classic in some respects. The symbols are certainly friendly and familiar in the slot machine world.
But there's nothing familiar about the massive grid on which they dance. The frame of this game is a super-big 7-by-7 grid.
The bonus meter is another interesting feature and gives this game another dimension in gameplay that will be attractive to some.
Play'n GO are big players themselves, and they can be relied upon to deliver a good quality game, and one you can be sure that is trustworthy and legal too (always check this sort of detail, you need to play Wild Frames only at sites licensed by the UK Gambling Commission).
There's a lot to explore here, but are you ready to take on this mass of symbols?
Let's get in the frame.
Play Free Wild Frames Slot Demo
Wild Frames Slot Q&A
What game provider developed the Wild Frames slot?
Wild Frames slot is a classic slot with a modern touch developed by Play n' Go slots provider.
When was the Wild Frames slot released?
The Wild Frames slot machine was released in December 2019.
What is the Wild Frames RTP?
The theoretical return to player rate or simply RTP of Wild Frames slot stands at 96.50%.
What's the layout?
Wild Frames is a 7×7 grid slot with cluster pays mechanics and cascading reels. To hit a win you need a cluster of matching symbols which will then trigger the cascade that continues as long as there are new wins on the grid.
What theme is used in this slot?
Wild Frames slot is based on classic slots with familiar classic symbols such as lucky sevens, bells, diamonds, etc.
Can I play this game on mobile?
Yes, Wild Frames slot is optimized for mobile play so you can enjoy this slot wherever you are on your smartphone as long as you have a stable internet connection.
What is the Wild Frames variance?
Wild Frames is a high variance slot with big winning potential and huge wins won't be that easy to hunt down.
What is the minimum bet and the top prize?
You can start playing this slot from a minimum of 20p per spin while the max bet is £100. The top prize in Wild Frames is huge and goes up to x7,000 the total stake on a single spin.
Are there any free spins and bonus rounds? What other features comes with?
There is no regular Free Spins bonus in Wild Frames but there are up to 6 other special features. These include random wilds (up to 6 appearing on the reels at the same time), two wilds in a Wild Frame feature award wild multipliers, and also there are features such as more wilds, high-paying symbol transformations, cascade triggers, and extra Wild Frames with multipliers.
Are there any jackpots?
There are no jackpots in the Wild Frames slot machine.
Is there anything else that I should know about the Wild Frames slot?
Wild Frames slot can award up to the max of £700,000 on a single spin if played with the max bet on.
If I like this game, what else should I look at?
If you like grid slots like Wild Frames is, then you can also try out Jammin' Jars with the exciting Free Spins bonus with multipliers that can bring you up to x20,000 the total stake!
Play n Go – the Developers of Wild Frames Slot
Play'n GO are giants. The industry audit site we use, rates them as the third biggest developer in the UK online casino market.
They make games, and also technical tools to the industry to help them feature the games effectively.
They are highly visible and have some big hits in their portfolio. The standout title from Play'n GO at the moment is the Rich Wilde series, particularly the Book of Dead. This game is massive, and if you've seen a free-spins offer lately, there's a fair chance that it featured this title.
Their entire range goes well beyond that though. The Rich Wilde series are modern, sophisticated video slots, but you'll also find classic slots as well as other games like table games and scratch cards.
Like most modern developers, Play n GO releases regular new games and its most recent titles are: Coywolf Cash and Wild Blood II, a vampire sequel.
You can play Play'n GO games with confidence that they are legal, licensed and will give you a fair experience.
The Facts and Figures
In common with quite a lot of Play'n GO games, Wild Frames slot puts big prizes first. There's a payback for that, and it comes in the shape of a lower theoretical return to player higher volatility.
RTP is a measure of how much money will be returned to players over the whole lifespan of the game. In this title, it is 94.5%. This is less than the current industry average, which is probably around 96%. This is a long-term measure, and you shouldn't expect your game to mirror this: it could be a long way off in either direction.
The reward for that slightly lower RTP comes in the form of high volatility and big prizes. Volatility means that the game will pay out less often (on average), but when it does pay out it is likely to be with higher-value prizes. Again, this is a lifetime measure, don't expect an exact match. And you get a high top prize, in this case, 7000-times stake.
Your stake could be as much as £100, with betting from 0.2 coins to 100 (check all money values at the site you're using).
We've touched on the 7-by-7 grid, and you can play this game on desktop, tablets, and mobiles, using JavaScript and HTML5.
The Game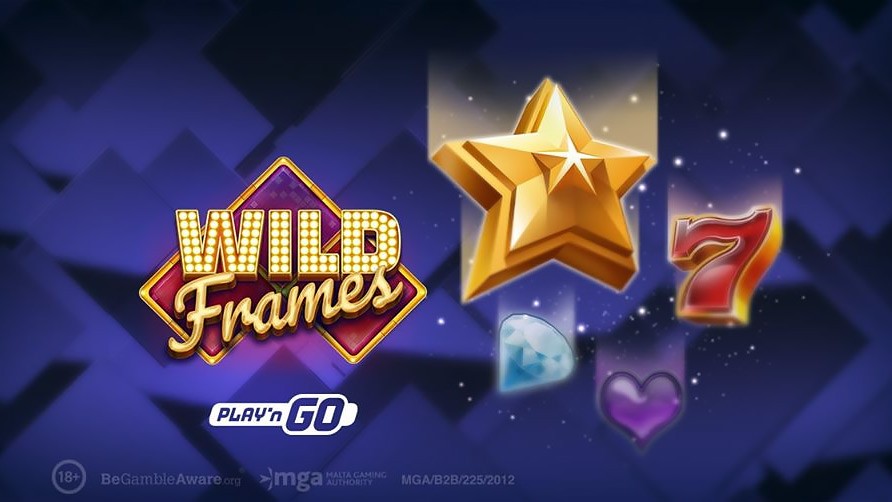 Although this is an innovative game, there's a lot of familiar features here and you won't have any problem getting your head around playing it.
The controls are a standard Play'n GO template, starting with the information button, then bet controls on a sliding scale on which you set a final bet amount, with a spin button and auto-spin function on the right.
In the game frame, you should find other controls, including sound, and further help and menus.
Payouts
The games pay with clusters rather than straightforward pay-lines.
The paytable then is a big beast.
At the bottom of it are the card suits. These play from 15-times stake to 25-times stake for clusters of more than 30.
Bells pay 75-times for 30-plus.
Golden stars pay 150-times for 30 or more.
Diamonds pay 250-times for 30.
And the top symbol is the Red 7, which pays 500-times stake for 30 or more in a group.
Wild Frames Slot Bonuses
Bonuses start with a wild. This does the usual wild thing but also creates a frame on the spot where it landed, that can potentially turn a subsequent wild into a multiplier on the next spin if the Wild Frames bonus is triggered. This can go up to 9-times. Extra wilds can be thrown onto the reel at any time.
This game uses a bonus meter to trigger bonuses in three levels:
Transform turns all high-value symbols into a set of one of them.
Wildcard puts up to six wilds on the reels.
Shatter takes all the low-value symbols off the reels.
The Wild Frames feature comes with a full meter, activating the multiplier frames, and giving you multipliers and wilds all over the place.
This is how you'll snag that 7,000-times stake top prize.
The Verdict
This is a great game that's full of originality and gives retro symbols and graphics a decidedly 21st-century make-over.
Although the symbols could have been on any game for decades, this is a really smooth looking game that's stylish and visually interesting. It's a pleasure to look at.
There are no free spins rounds! But, before you get up in arms check out the other bonuses on offer; they're not only super-original and engaging, they're also potentially very valuable.
Wild Frames slot delivers all the usual Play'n GO virtues, including great gameplay and a machine that's safe and solid to play on. But it's got a lot more than that, and if you enjoy high volatility games – and even if you don't – you should check out this interesting and different game.