What have IGT games got for you to be so angry about here? Oh, nothing, it's just another way of massively hyping a game.
So, you don't need to wildly furious or furiously wild to play this game, from one of the giants of the gaming industry, though no doubt you will be angry as all hell if we give this game a great review and it turns out to be awful.
It shouldn't do. IGT are massive. Really massive. We say this sometimes about big gaming companies, but IGT are genuinely multinational, with offices across America, Canada, Asia, Europe (including London, Rome, and Barcelona – lucky them), and Latin America.
This Wild Fury Jackpots slot game is very international in feel, with – arguably – something of an East Asian theme with its dragon symbols and diagrammatic look.
They make games like this by the shovelful and also loads of behind the scenes products.
This game has been on the market since September 2017 and is still popular. IGT's market share no doubt helps it to appear in – according to a reputable slot audit site – 35 sites, and in the lobbies of 14 to get into the top 100 titles in the UK.
But it's also bound to have something going for it.
So should you lose your temper over this ferociously bad-tempered title?
Let's have a look in our Wild Fury Jackpots slot review.
Watch Wild Fury Jackpots Slot Play
Best Casinos with Wild Fury Jackpots – IGT Casinos
Wild Fury Jackpots Slot Q&A
What game provider developed the Wild Fury Jackpots slot?
Wild Fury Jackpots slot is developed by IGT.
When was the Wild Fury Jackpots slot released?
This classic-looking slot was released in September 2017 and it was transferred from land-based casinos into the online casino world.
What is the Wild Fury Jackpots RTP?
Wild Fury Jackpots slot's RTP or theoretical return to player rate stands at 96.02%.
What's the layout?
Wild Fury Jackpots slot features 5 reels, 4 rows, and 60 pay lines with combos formed with at least three matching symbols on active pay lines from left to right.
What theme is used in this slot?
Wild Fury Jackpots is based on classic slots with a smooth design and a lot of fire details.
Can I play this game on mobile?
Yes, Wild Fury Jackpots slot is available for play across all devices including mobile devices such as Androids or iPhones.
What is the Wild Fury Jackpots variance?
Wild Fury Jackpots slot comes with low to medium variance with frequent smaller wins and 4 in-game jackpots.
What is the minimum bet and the top prize?
The minimum you can bet on Wild Fury Jackpots slot is 10p per spin which is quite suitable for low-rollers. The max bet is £100 per spin. The top prize per spin in the base game is x500 while the overall winning potential goes over x14,000 total stake.
Are there any free spins and bonus rounds? What other features comes with?
Wild Fury Jackpots comes with stacked wilds and Free Spin Bonus that is triggered with 3, 4, or 5 scatters awarding 10, 15, or 20 free spins, respectively. You can expect even more wild stacks in the Bonus as well as level up and double level up symbols that can increase the jackpots.
Are there any jackpots?
Yes, Wild Fury Jackpots comes with 5 in-game jackpots. To collect any of the jackpots, you need to collect wilds in the Free Spins round. Depending on the number of wilds you can win jackpots worth from x80 up to the max of x2,000 the total stake.
Is there anything else that I should know about this slot?
In order to win the max jackpot worth x2,000 the total stake, you need to collect at least 100 wilds in the Free Spins Bonus round.
If I like this game, what else should I look at?
If you like Wild Fury Jackpots slot, you can also try similar slots such as Twin Spin by NetEnt that comes with Twin Reels, that is, duplicating reels that can bring prizes more that x1,000 the total stake. Also, the Starburst slot by the same provider is the most popular slot of this kind and with its wild reels, it can bring juicy prizes.
The Facts and Figures
The RTP on this game – which is a measure of the house edge, or how much the game should return to a player over its complete lifespan – is low for the current market at 94.81%.
Most slots offer around 96% and up to 97% unless they are progressive jackpot machines. And this is – sort of – what Wild Fury Jackpots is, with its huge jackpot bonus games. These are paid for by a small deduction from all stakes that go into a prize pot.
The set-up is also slightly tweaked to give a five by four grid rather than the usual five by three sets.
The minimum betting is 0.10 coins (which should equate to 10p) and runs up to £100 on 60 pay-lines. You must check coin values, pay-out levels and maximum payout levels at the machine you're playing on to be on the safe side.
IGT Gaming has used Flash, JavaScript and HTML5 to deliver a game that can be played on all modern platforms, including mobile and tablet devices.
The Game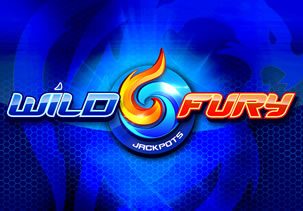 The Wild Fury Jackpots slot game is very easy to play, with controls that will look familiar to experienced slot players and that won't put off newcomers – who should always be aware that the help function and a demo mode are their friends.
This machine looks great, with some wonderful colours and a really high-energy feel. Once you load it up you'll want to stick around for a while.
The total bet is set by plus and minus buttons. Then hit that spin button to the right-hand side of the screen, in high-contrast orange. The auto-play option is right above that button and will allow you to set up to 50 click-free spins with stops for jackpot wins, bonus triggers or single wins.
Get your information fix with a pay-table button and look for more information sources in the game frame.
Paytable
A blue honeycomb backdrop gives a 3-D effect in front of which the reels spin, where you'll find these symbols:
Diamonds and jewel-branded playing cards pay 5-times, 10-times, and 30-times stake.
Dragons pay up to 60-times stake, and 7s pay as much as 100-times stake for a full set of five.
The wild – a ball of fire – pays 40-times, 125-times, or 500-times stake as well as subbing in. It also operates as a stacking symbol, offering towers of wins!
Wild Fury Jackpots Slot Bonuses
The bonus symbol triggers the main bonus feature – no surprise there – which is a free spin round. You need to see the bonus on the three middle reels to open this round.
It is delivered via a trip to a lucky wheel that sets the number of spins you'll receive – 10, 15, or 20 toll-free trips to Winsville – and can chuck in extra spins too.
The extra within the extra is a wild feature.
The bonus game comes with extra symbols and extra chances to win. There are more stacked wilds on the reels. Extra free spins are awarded a +1 symbol, and this can retrigger on and on until you hit a top number of 100 free spins.
Every bonus game guarantees you a jackpot.
This is described as a non-progressive, but really it's a non-linked progressive that accounts for the slightly lowered RTP in the base game.
This jackpot metre runs up the left-hand side of the screen and is a stake multiplier. It climbs from 80-times stake to 125-times, 200-times, 500-times and finally 2,000-times stake, which is where you'll hit hat maximum prize.
The Verdict
This Wild Fury Jackpots slot game has been frustrating to review. It's been difficult to find reliable information on all aspects of this game, which in a way is disappointing. It's not necessarily a problem of the developer, but we also found clear information quite hard to find on their own site.
That's silly because this game is great and we've loved playing it to check it out.
It's vibrant, colourful and full of visual excitement. We even quite like the electro pop-themed music, which is unusual for us.
The facts and figures come across as a little disappointing, but we're convinced that's funding the massive jackpots that might wait at the end of the rainbow.
With its Manga/magic theming, this game looks great, and if you luck into the bonus rounds you've got a guaranteed jackpot, which is the gold at the end of the rainbow for slots players.
Head to your favourite online casino site now and take a look at Wild Fury Jackpots slot, we're pretty confident that you'll have a good time – and an even-tempered one – however you find this game.