Wild Pixies Slot by Pragmatic Play – Review, Free Spins & Demo
Pragmatic means realistic and is often used to downplay expectations – a politician who boasts of their pragmatism wants you to know they're not going to make big promises. So it's an unusual name for a biz in this hype-focussed industry.
But there's nothing at all realistic or down-to-earth about his mystical and fantastical game! Oh no! This Wild Pixies slot, as you would expect, is massively unrealistic.
The theming is somewhere between the Irish games we've seen for donkey's years, and that almost always focus on leprechauns and a Lord of the Rings sort of feel.
It feels like it's quite a female-friendly game, lacking any great focus on conflict and with a nicely unisex set of characters.
Slightly odd name aside, Pragmatic Play are currently booming. They have more than 5% of the games in the lobbies of UK casino sites – the prime real estate for a casino site – and more than 2% of the game's total. Not bad in a market of more than 200 games producers.
This game, in particular, is focussed on a free spins round, friendly design, sticky wilds and generous stats. Wild Pixies slot was released in February 2019.
Should you pack up your fantasy bags and head off to this enchanted forest?
Let's have a look in our review!
Play Free Wild Pixies Slot Demo
Wild Pixies Slot Q&A
What game provider developed the Wild Pixies slot?
The Wild Pixies slot machine is developed by Pragmatic Play.
When was the Wild Pixies slot released?
This fantasy-inspired slot machine was released in February 2019.
What is the Wild Pixies RTP?
The theoretical return to player rate or simply RTP of Wild Pixies slot is 96.5%.
What's the layout?
This is a classic slot with 5 reels, 3 rows, and 20 pay lines. Wins are regularly formed by matching symbols on active pay lines from left to right.
What theme is used in this slot?
It's a slot themed around magic pixies and fantasy. It is beautifully designed to depict the fantasy fairy tale theme with superb graphics.
Can I play this game on mobile?
Wild Pixies is optimized for mobile devices so you can enjoy it across any kind of smartphone devices such as Android or iPhone.
What is the Wild Pixies variance?
Wild Pixies is medium to high-variance slot with a rich Free Spins round but not as high potential as we would expect it to be.
What is the minimum bet and the top prize?
The minimum you can bet on Wild Pixies slot is 20p per spin while the max bet goes up to £100 per spin. Theoretically, you can win up to x500 the total stake, but more likely top prize of x261.75 can be reached.
Are there any free spins and bonus rounds? What other features comes with?
Wild Pixies comes with Free Spins rounds. To trigger the Bonus you need 3 scatters on the same spin. If you get only 2, the reels will nudge providing you with a chance to land the third scatter to trigger the bonus with 8 free spins. In the Bonus, you get to collect wilds that will trigger Roaming Wilds (up to 6) that will remain till the end of the Bonus.
Are there any jackpots?
No, Wild Pixies slot doesn't feature any jackpots.
Is there anything else that I should know about the Wild Pixies slot?
The biggest wins can come in the Free Spins bonus round if you manage to collect as many wilds as possible and trigger the Roaming Wilds that will help you out with hitting more and bigger wins.
If I like this game, what else should I look at?
If you like the concept of roaming wilds feature, you can also try other slots featuring these kinds of wilds such as the Riders of the Storm slot, Mysterious slot, or the popular and action-packed Punk Rocker slot machine.
The Facts and Figures
We like generous games, so a theoretical return to player of 96.5% stands out straight away as really good news. This is a long-term measure of a game, but it's always nice to see something more generous, and if you do have a long-term relationship with a game then you should see some difference in your return.
Despite this, the variance is high, which should mean that it will pay out bigger prizes but do so slightly less often. Again, these measures are more technical than things that will have an actual effect on your play.
The top prize is 50,000 coins, which can be won with betting between 0.2 and 100 coins. In UK terms this means £50,000 and betting from 20p to £100.
The prizes are awarded hits on 20 pay lines that run across a standard 15 symbol, 5 by 3 grid.
You can play this game on desktop machines, tablets, or mobiles with JavaScript and HTML5 capability.
How to Play Wild Pixies Slot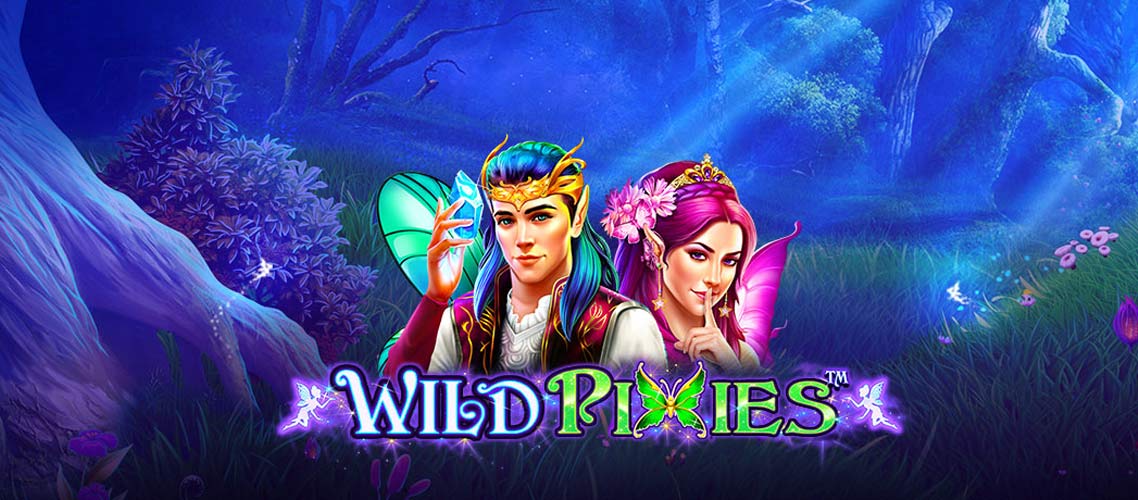 This game is designed in a very modern style that translates best to mobile screens.
The backdrop is of woodland scenes. It's very tranquil. In front of it sits a set of five square reels.
At the bottom of the screen are the controls.
A menu symbol – the usual three horizontal lines – sites over a mute and volume control, and next to an I for information to open up the paytable. To the right of this is your account balance, and under that is the current bet amount. Messages and status news runs across the centre of the control panel.
The business end of the control panel is to the right where a spin button has an autoplay setting at its base and the plus and minus buttons that set your bet to sit to either side of it.
It's very easy to understand and players with any experience will feel at home. Newcomers too will not struggle to find their way around.
How to Win
Behind the information button, there is a paytable.
The lower-paying symbols are cards. The 9 pays 0.25, 1, and 5-times stake. 10s pay the same. Jacks pay 0.25, 1.25, and 6-times stake. Queens pay 0.5, 2.5, and 6.25-times stake. Kings pay 0.5, 5, and 6.25 times stake for sets of three, four, and five. Aces pay 0.5, 5, and 7.5-times stake.
The first fairy (a blonde woman) pays 0.75, 5 and 7.5-times stake. The first male pixie pays 1.25, 6, and 10-times stake, as does the dark-haired female pixie. Finally, the dark-haired male pixie pays 2.5, 7.5 and 12.5-times stake.
The wild – simply a wild logo – pays 5, 12.5 and 25-times stake.
The scatter – the word scatter – has no value, but triggers free spins.
Bonus Games
Scatters perform especially in the base game. They appear only on the first, third and fifth reel. Three of them trigger the free spins feature, called Roaming Wilds Free Spins!
A scatter nudge randomly triggers to push scatters onto reel 5 if they are one space out of sight.
Roaming Wilds free spins arrive in sets of eight. A set of spaces sit at the top of the reels that can be filled by wilds that appear on the reels during the games.
Each time one of these double sets of holes are filled then more free spins are awarded and the symbols become roaming wilds that return to the reels.
The Verdict
What a lovely game Wild Pixies slot is!
The theming, feel and look of this rather beautiful game is really a breath of fresh air. If you've been playing War Bastard Spin Match for a couple of hours then switch to this to give your soul a breather. Seriously, it's just so nice to see something different and even, dare we say it, a little gentler and less confrontational than a lot of games. The sound is excellent too.
But more than being just a pretty face, Wild Pixies also delivers on the entertainment and engagement fronts with a sophisticated bonus game with a couple of levels of meaning.
Wild Pixies slot is also very good value. It'd be nice to see a multiplier, but free spins should be lucrative, and the extra wilds will add up to some big wins we're sure. The theoretical return to player is very much at the top end of the scale at the moment, which is unusual for a game with higher than average volatility.
Great to look at, with a lovely set of colours and original theming and design, including in the symbols on the reels, Wild Pixie is a game we recommend that you check out at your favourite online casino site now. This could just be the start of a session that really puts a spell on you!