We all imagine a big throbbing jackpot when we play our online video slots. And there are a number of fairytale-themed games available. They usually focus on one particular story, but in the Wish Upon a Jackpot slot machine, you get a whole Shrek-world-full of childhood stories to play around with, hopefully, to make your wishes of an enormous win – and perhaps a beautiful princess/handsome prince – come true.
Best Wish Upon A Jackpot Casinos
Rank
Casino
Bonus
Rating
Visit

What Does Wish Upon a Jackpot Slot Offer?
This Blueprint Gaming title looks fantastic. It's got great, original theming that has a wide appeal, and pays due respect to it with some imaginative graphics, sounds and visual effects.
The gameplay is hugely engaging. In fact, you might even criticise Wish Upon a Jackpot slot for being over-complicated, and if you're looking for a very classic game that you just click play on and sit back for the spin then you shouldn't head for Wish Upon a Jackpot. This has bonus games coming out of its gingerbread house.
The Facts and Figures
Wish Upon a Jackpot slot is a five-reel, three-row machine. It has 20 pay lines. You can get started from 20p a spin and – depending on how you count them – at least five bonus games. The RTP is 92.46% to 95.26%.
Wish Upon a Jackpot: The Game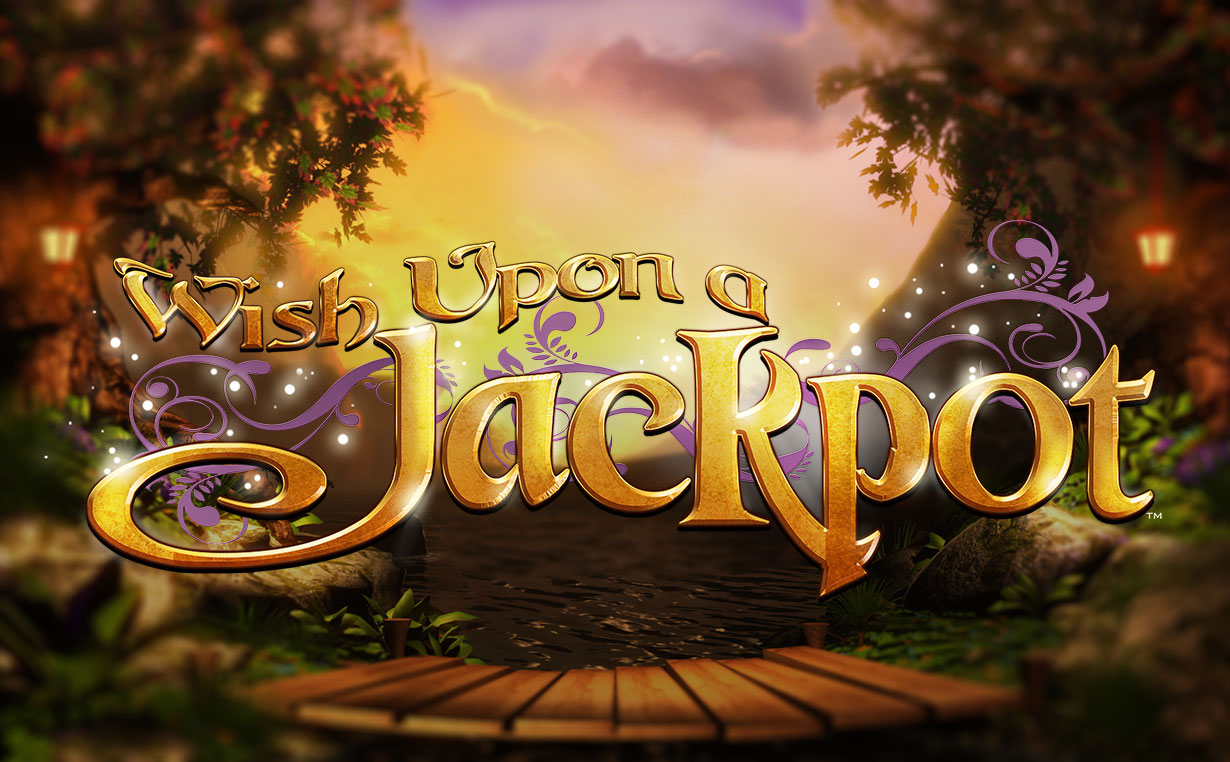 The game opens on a shot of the explanation of one of the bonus features, the Fairy Godmother Spin, a pick-a-winner game that opens up five more bonus rounds. This game demands a lot from players, who will need to make sure they check out the rules before they play.
Once you get inside you'll see the usual set up, with big reels right at the front and centre. The look and feel are modern, with a green graphical spin button on the right of the screen and the bet amount with up-and-down arrows to the right. In the bottom right corner, there's a respin symbol that sets up the auto-spin feature. The "i" button on the bottom left of the screen that completes a very clean and simple look. The balance, bet number and win amount are shown in a simple bar along the bottom of the screen.
You'll see that this game has picked its visual style from animated films, specifically from the Shrek family of films. It works well because it's been done with care and style.
The pay-table is propped up by the playing card symbols. Above them sit the fairy tale icons. A Disney-style castle, a slipper on a cushion and a golden harp. The two top payers are the prince/frog that's a wildcard that pays 500X stake for a full house. The game logo is a super-stacked wild that pays 400X line bet for five.
Wish Upon a Jackpot Bonus Games
It's not often we say this, but there are so many and so complex bonus games that we don't really have time to cover them fully here. Make sure you check out the rules in the game when you play.
Three book symbols open up the Fairy Tale Bonus, which offers you a choice of four more bonus games: 3 Little Pigs Free Spins, Rapunzel Free Spins, Jack and the Beanstalk, or Rumpelstiltskin's Deal-Maker Bonus.
The 3 Little Pigs Free Spins game puts the little porcine fellas onto the reels and turns random reel slots into wilds that stay wild until a Big Bad Wolf comes along and blows them away.
Rapunzel's game offers unlimited free spins with retriggers, with a multiplier ladder that's represented as a handsome prince climbing the long-haired prisoner's tower and increasing the multiplier on wins from 1X to 5X as he goes.
Finally, the Rumpelstiltskin's Deal-Maker Bonus features the nasty little bloke offering a contract that consists of a cash offer or a bonus of some sort. It's a game of risk or reward, and you'll only get so many offers, so if you keep turning them down you might end up with nothing.
During the base game, there is another bonus game, the Fairy Godmother Bonus. This pops up randomly when the hefty flying lady appears on the reels. It triggers a choice game that reveals one of these bonuses:
Pinocchio Wilds that turn a random reel slot into a wild;
Gingerbread Man represents whole reels going wild;
Puss in Wilds (ha!) turns surrounding symbols wild;
A simple Bonus Award symbol means you'll get one of the Fairytale bonuses lifted above;
The Fairy Win Spins symbol promises a big win.
Wish Upon a Jackpot Mobile Play
Blueprint Gaming has designed a game that works fantastically well on smaller screens. The look and feel of the game translate really well into a smaller space and the controls have obviously been designed with mobile players in mind. It works on all the big operating systems.
If you want to explore more casinos, check out our list of the top 20 UK online casinos!
Wish Upon a Jackpot Slot Q&A
#1. What game provider developed the Wish Upon a Jackpot slot?
Wish Upon a Jackpot slot is a fairy tale game developed by Blueprint Gaming.
#2. When was the Wish Upon a Jackpot slot released?
This action-packed slot machine was released in January 2013.
#3. What is the Wish Upon a Jackpot RTP?
The theoretical return to player rate of Wish Upon a Jackpot slot is a bit low and it seems reasonable considering the number of features in the game. The RTP stands at 92.46%.
#4. What's the layout?
Wish Upon a Jackpot slot comes with 5 reels, 3 rows, and 20 pay lines.
#5. What theme is used in this slot?
Wish Upon a Jackpot slot has a fairy tale theme. This slot is a mixture of fairy tales, so you will see Pinocchio, Gingerbread Man, Puss in Boots, Three Little Pigs, and other characters from the children's popular stories. The Fairy Godmother is full of surprises so keep an eye on her.
#6. Can I play this game on mobile?
Yes, you can play Wish Upon a Jackpot slot on your mobile.
#7. What is the Wish Upon a Jackpot variance?
Wish Upon a Jackpot is a high variance slot with plenty of features on the reels which are the key to big wins.
#8. What is the minimum bet and the top prize?
The minimum you can stake in Wish Upon a Jackpot slot is 20p per spin while the max bet is £50 per spin. The top prize is x1,000 the total stake on a single spin.
#9. Are there any free spins and bonus rounds? What other features comes with?
Wish Upon a Jackpot slot is packed with features. There are stacked symbols, wilds, 5 random bonus features, and as many as 4 different main Bonus rounds. There are two Free Spins rounds with different enhancements such as extra sticky wilds or re-spins. The other two main features are 'pick me' bonuses with cash prizes.
#10. Are there any jackpots?
No, Wish Upon a Jackpot slot doesn't feature any jackpots.
#11. Is there anything else that I should know about the Wish Upon a Jackpot slot?
Fairy Godmother can provide random features at any spin such as wild reels, extra wilds, guaranteed wins, or main Bonus round.
#12. If I like this game, what else should I look at?
If you like this Wish Upon a Jackpot slot you can also try similar games such as the revamped version of this slot called Wish Upon a Jackpot Megaways or NetEnt's Fairytale Legends Red Riding Hood slot machine.
The Verdict
This is one of the best looking, sounding, and playing games you'll experience this year. The theme is great, and it's got real depth to the way it is delivered. If you like bonus games you have enough bonus games here to last a 100-year sleep.
Smooth and easy to play and beautiful to look at, does Wish Upon a Jackpot live up to its shiny exterior? Yes, it does. However, the RTP is relatively low, though that won't bother winners of the 1,000x-stake top prize.
Complexity is also a sword that cuts both ways. It's great if you don't mind getting your head around a load of instructions, but lots of players these days – particularly mobile players – are going for a nuts-and-bolts approach to games. You won't find that with Wish Upon a Jackpot which has numerous variations on both the in-game extras and the main bonus game. We like that variation in gameplay and think it rewards players who want to get into a game deeply, but you should check it out to see what you think.