Genesis Global Has Gambling Licence Suspended.
The UK's gambling regulatory body, the UK Gambling Commission (UKGC), has suspended the gambling licence for Genesis Global. The suspension comes amid accusations that Genesis Global has breached compliance rules.
Genesis Global (GG) has a relatively small family of casinos, which includes Casino Cruise, Casino Joy, and Kassu Casino. Currently (July 2020), when visiting some of their sites, you'll see the following message: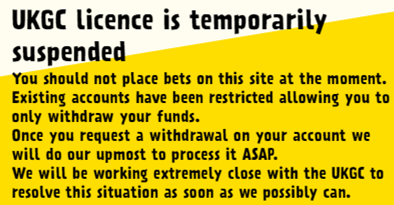 As a brand, GG has a solid reputation and is particularly popular amongst people who enjoy playing themed casinos, so this latest news comes as a shock to us.
Why Did UKGC Suspend Genesis Global's Licence?
UKGC cited compliance issues under sections 116 and 118 of the Gambling Act 2005 as the reason for the suspension. This allows UKGC to suspend licences under UK law when it deems an operator unsuitable to carry out activities allowed under its licence.
UKGC has not released the precise details of the suspension, and we are unlikely to know more until they resolve the issue.
However, we do know that Genesis Global has encountered problems in other countries too. For example, Sweden issued the group a financial penalty for issues with bonus offers and for failure to comply correctly with Sweden's online gambling self-exclusion service.
What Happens Now?
GG had their licence suspended with immediate effect on Monday (22.07.20). Pending the conclusion of the review by UKGC, they are likely to either revoke the licence completely or restore it, depending on any wrongdoing and its severity if found.
There have been some notable licence revocations in recent years, including Ninja Casino and Stakers. Couple this with criticisms from parliament and the House of Lords that the UKGC lacks the power to act against problem casinos and the chances are not good for GG if it is found to be in breach of its licence.
What about Players?
If you have an account with a GG casino, then UKGC has you well covered. They have instructed GG to allow customers access to their accounts to withdraw any funds.
They have also advised customers NOT to place bets with the affected casinos.