Good News: the UK's Gambling Industry Grew 2.9% Last Year!
Despite a gloomy outlook for many UK industries, the gambling industry is flourishing.
The Gambling Commission published its latest Industry Statistics. The statistics cover the UK's gambling industry from October 2017 to September 2018.
The gambling industry saw a Gross Gambling Yield of £14.5bn, an increase of 2.9% compared to the previous year.
The remote (online) sector now occupies a 39% share of the market, an increase of 1.2% and a total Gross Gambling Yield of £5.6bn. Included in the industry gross yield (i.e. £14.5bn) is the National Lottery. Excluding them from the total share of the market shows how popular online gambling is.
To see how many online casinos are capitalising on this trend, visit our "new casinos" section. New online casinos are opening all the time.
Oh Dear. Some People Are Losing Out
The news for casino employees is less positive.  With a decline in the total number of employees across the industry falling by 1.4%, they're suffering.
We can only speculate why people are losing their jobs, but automation could be a driving force. In Las Vegas (the world's iconic gambling resort), employees are threatening strikes. As many as a quarter of the 50,000 employees are threatening to walk out over automation.
It's also bad news for the high street, which has seen a decline in bricks and mortar betting shops of 1.5%. This is likely due to the general decline of the high street and not a decline in gambling. The decline in high street shopping means fewer people in the betting shops. It's only natural that we'll see a decline in their usage – people are starting to prefer online gambling. It's more convenient but just as fun.
The decline of the town centres has also seen other victims. Fewer people are visiting the bingo halls (a decline of 1.1%) and licenced arcades (5.3%).
Interestingly, there has been one winner in the bricks and mortar realm: casinos. Often found further from the city centres, and usually forming part of the city's nightlife, they saw a slight increase. It's not much, but one new casino opened during the period, bringing the total number of UK casinos from 151 to 152.
The General Picture
The general picture for the gambling industry is one of growth. But with the move from bricks and mortar gambling to online gambling, the industry is changing.
Some of you will miss the social side of real-world gambling. Fortunately, with virtual reality coming to play an ever-increasing role in online gambling, it won't be long before we recreate the casino atmosphere from the comfort of our sofas!
And to end on an extra-positive note, revenue from the gambling industry contributed £1.8bn (an increase of 0.3%) to good causes, thanks largely to the National Lottery.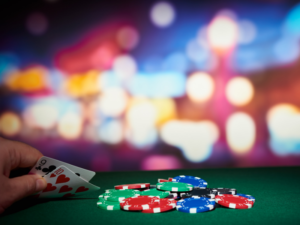 Poker Chips & Cards by Studio_3221