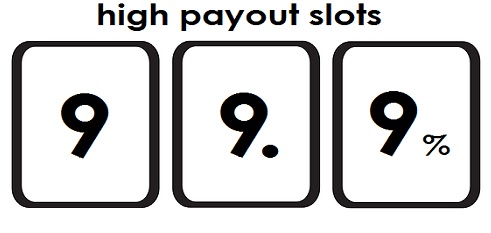 Every slot game has an official Return to Player (RTP) percentage. This figure shows how much a slot machine is expected to pay back its players.
The closer an RTP is to 100%, the more money you're expected to win. So, if a slot has an RTP of 97%, you are likely to win €97 for every €100 you put in.
The best payout slots, or high payout slots, are those with the highest RTP percentages.
To save you the time of searching for the best high payout slots available today, we've compiled a list of the top 10 high payout online slots for 2021 you can try out right away.
We'll also go through everything else you need to know about online slots: where to find them, what to look for when picking a game, and how to pick the best ones.Top 10 High Payout Online Slots
Top 10 High Payout Online Slots
Here's our list of the top 10 high payout online slots, along with a summary of what to expect from each of these slot games.
#1. Jackpot Jester 50,000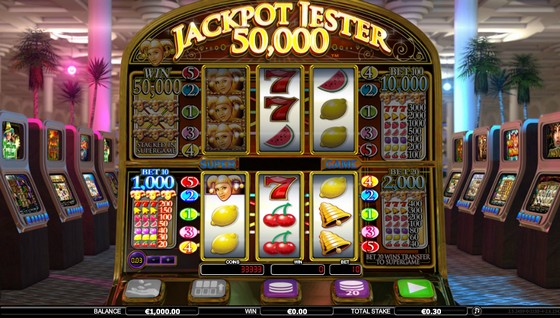 At the top of the list for the highest payout is Jackpot Jester 50,000, a NextGen production that has a 99.9% RTP. You can play Jackpot Jester at All British Casino and Race Casino.
The best thing about this classical fruity Jackpot Jester is that it's effortless to play. You begin the game on the bottom set of reels, where you can either bet 10 or 20 coins. If you win by betting 20, your winnings will be transferred to the upper set of reels, where you can play the so-called Super Game. In the Super Game, you have the chance to win a 50,000 coins jackpot.
Although this feature isn't unique to Jackpot Jester, no other slot game will bring you such good returns. The visuals are also very well-executed: expand the game to cover the whole screen and you'll feel as if you're playing in a real, brick-and-mortar casino.
#2. Goblin's Cave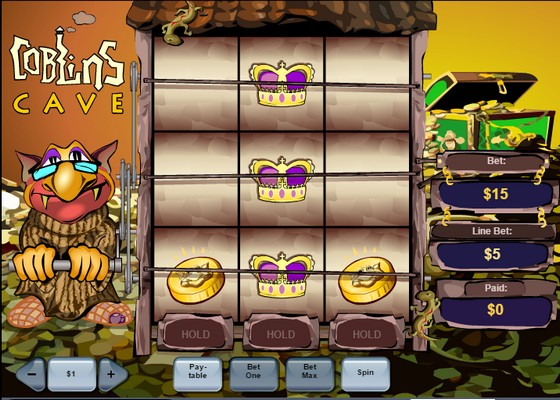 Movies and books have given goblins a bad reputation as wicked and smelly creatures.
That's not the case with the Goblin's Cave 3-reel slot machine. The game's aesthetic is colorful and bright, featuring a harmless goblin who looks like your next-door neighbor.
Most importantly, though, this game has a 99.35% RTP. Give it a go at William Hill casino.
The game gives players two spins for every stake placed, with the possibility to hold symbols upon the reels for the second spin to increase winning chances. The best combination you can get are three red ruby jewels, which will grant you a line bet multiplier of 150x.
#3. Ugga Bugga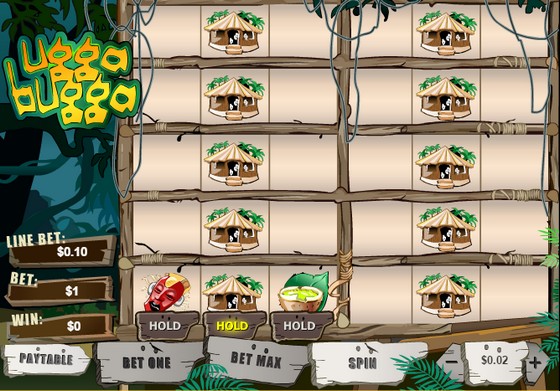 Ugga Bugga is a Playtech product with three reels and 10 rows that starts by ​​spinning the bottom line of the first set. You can play it at Casino.com.
After deciding whether to hold one or more of the symbols revealed, your selection will replicate on the respective reel of the second set as well, and the next spin will reveal the remaining icons on both sets. Deciding on whether you should hold or not depends on how lucky you think a particular symbol is.
The game doesn't have a jackpot, but with a 99,07% RTP, you've got the chance to win up to 1,000x of your price.
#4. Ocean Princess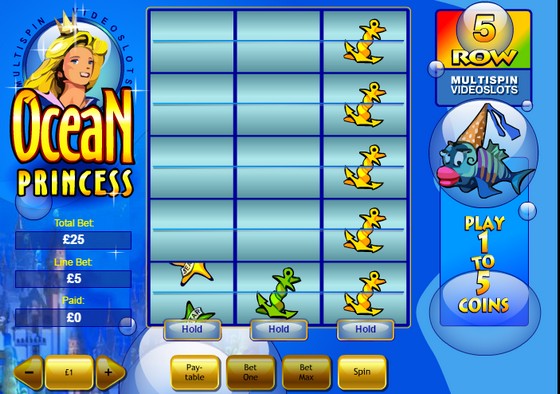 Looking to spend your money (and win them back) on an underwater adventure? Then Playtech's Ocean Princess could be the slot game for you. Try it out at William Hill casino!
The Ocean Princess slot game features 3 reels and 5 pay lines and lets you bet up to 5 coins on each of the pay lines. You can either select the number of coins you want to wager per line and spin the reels, or you can choose the maximum bid and the reels will automatically spin on their own.
During the first spin, only the bottom line rotates, so you'll get the chance to hold any of the symbols that show up. If you're having a lucky day and get to spin three crowns, you can win up to 1000x of your initial bet.
#5. 7 Oceans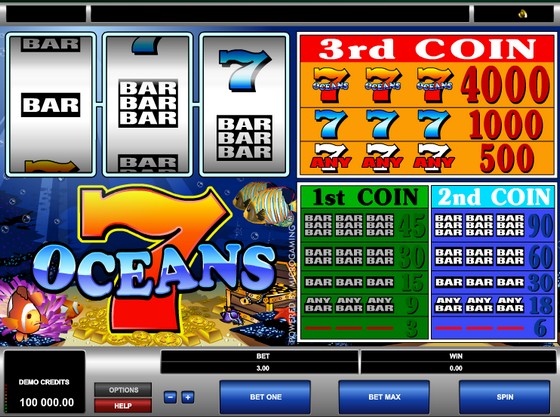 7 Oceans is a colorful 3-reel slot machine with a single payline that comes from Microgaming's factory.
Before hitting the spin button to see the reels deliver retro symbols, you'll need to choose whether to play with 1, 2, or 3 coins. Each of these options comes with either different (higher) payouts or a completely new set of winning symbols. If you want to form higher-value winning combos, though, you'll have to go all out and play the maximum bet, which is 3 coins.
Check it out at Betway casino today!
#6. Mega Joker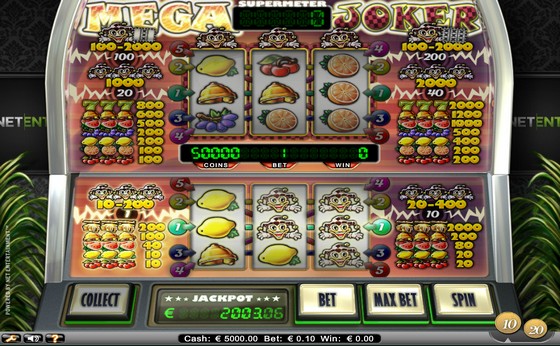 NetEnt's Mega Joker comes with 2 reel areas, each with 3 reels, 5 pay lines, and a few other unexpected features. Starting, you'll be playing on the bottom set. Once you win, you'll be given the option to collect or use your winnings as a credit to play on the top Supermetre reels. Why would you want to? Well, because there are more attractive awards to be won!
Give it a go at Race Casino and All British Casino today!
#7. Nemo's Voyage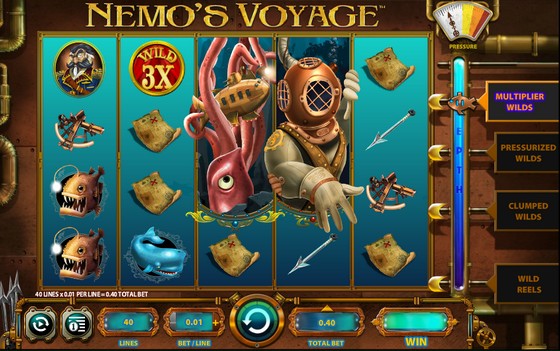 Nemo's Voyage is a 5 reel, 40 pay line slot made by WMS. Each spin of the reels moves it down the depth meter and right within the pressure gauge.
As you reach each bonus section, the symbols on the reels will be joined by Multiplier Wilds, Pressurised Wilds, or Clumped Wilds, or you'll enjoy the sight of 1 to 3 reels turning Completely Wild.
The Increase Pressure and Decrease Pressure icons control the submarine's movement towards the surface and down to the ocean's floor. You want the submarine to sink as low as possible because as the Nautilus descends, the RTP increases. Add to this the Scatters feature being able to trigger Free Spins round with Persisting Wilds and it's clear this is a game you could be playing for a while. And you'll love doing it, thanks to its high RTP of 99.00%.
#8. Ooh Aah Dracula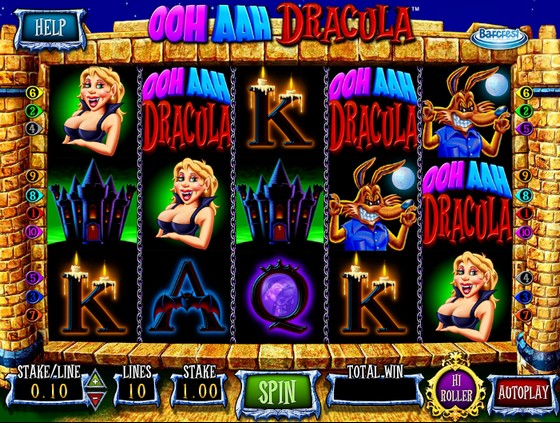 If you like vampires or dark-themed games, this Barcrest video slot game is just for you. Ooh Aah Dracula has a slightly crazy Dracula theme, with creepy symbols, flickering candles, dripping blood, and scary music. Want to try it out? Head over to Videoslots casino now!
On top of these great graphics, the game allows you to pick 5 spins at $20 or $30 and trigger one of two special graveyard bonuses. It also offers Free Spins bonuses that come with randomly assigned Wild symbols and several rounds of decision making, prompting you to collect what you won or give it another try (Stake It Or Leave It Free Spins).
An interesting addition is the Best Strategy Indicator, which reveals what is statistically the best decision. It evaluates the average win based on the value of Wild symbols but does not guarantee the outcome.
#9. 1429 Uncharted Seas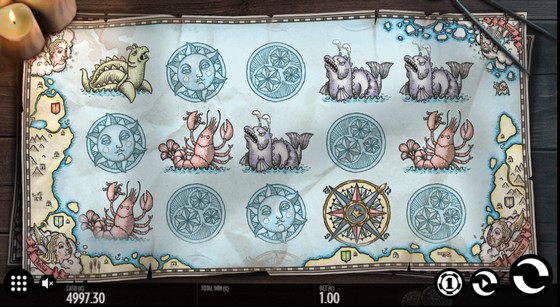 The 1429 Uncharted Seas slot has 5 reels, 25 pay lines, and two exciting bonus features: Expanding Wilds and a Free Spins Bonus. It's available at Mr Green and LeoVegas casinos.
The sun, moon, and stars give you the most basic payouts, whereas the sea creatures pay you up to 10 times your wager. The mermaid brings the biggest money – if you can line up five mermaids on a pay line, it'll multiply your bet by a delicious 50 times.
Compasses, on the other hand, reward you with free spins. Line up three compasses and you'll get 10 extra free spins. With four compasses, you can earn 20 free spins and with five compasses, 50 bonus spins.
#10. Tropic Reels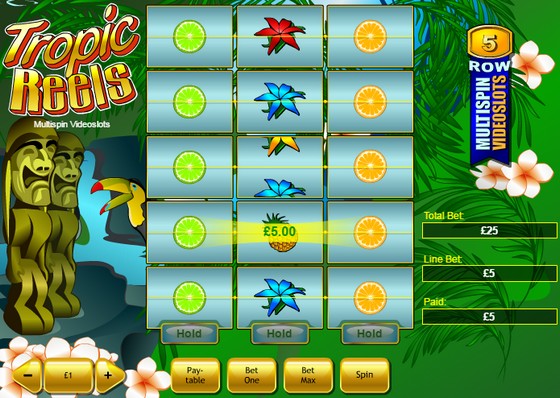 This 3-reel game by Playtech provides an interesting multi-spin feature that first spins only the bottom one of 5 lines and then allows you to hold one or more symbols revealed before spinning the other ones. Before the next spin, the symbols you decide to hold will populate all places on the respective reel to increase your chances of winning. The highest payout in the game is 2,500 times your bet, which you can achieve by lining up three tiger wild symbols on a bet line.
Play it today at BGO and William Hill casinos!
Highest Payout Online Slots
Jackpot Jester is our winner, with an impressive payout of 99.9%! NextGen's game is available to play at SpinIt and Dunder Casino today. It's a classic slot with fruits, and it's easy to get started with.
If you've never dabbled with slots, this one is perfect for you. You'll get the highest payout available at online UK casinos slots.
Best New Online Slots with High Payouts
Looking for the newest slots with high RTP?
Here is our list of top 7 hand-picked slot games with the biggest payouts:
White Rabbit Megaways: 97.77% RTP
Legacy of Dead: 96.58% RTP.
Book of Dead: 96.21% RTP.
Fire Joker: 96.15% RTP.
Evil Goblins: 96.14% RTP.
Buffalo King: 96.01% RTP
Towering Pays Valhalla: ​​​​95.75% RTP.
Where to Play Online UK Slots
Below, we've compiled a curated list of the best, top-rated 10 online casinos where you can play slot games safely and win real money:
If you want to explore more casinos, check out our list of the top 20 UK online casinos!
What Are Slot Payout Percentages?
A slot payout percentage is the same thing as a Return to Player (RTP) percentage. Both represent the estimated, average percentage that is expected to be returned to a player as a winning.
Now, people often think that this means a slot payout percentage indicates how often a player is likely to win. That's not the case, though. A slot payout percentage or RTP is only an average estimation. There's no way anyone can know in advance whether they'll win or lose.
For instance, two games can both have an RTP of 97%, however, one might pay out more frequently at lower amounts while the other less frequently, but at a higher rate.
But, how is RTP calculated?
It's pretty straightforward: you just divide the total amount returned to players by the total amount they've put in the slot. So, if a player gambles £1,000 and gets £960 back, the RTP would be 0,96 or 96%.
What To Look For in Online Slots
Yes, a high payout is important. But there are other factors you need to take into consideration when choosing what slots to play.
Here's what to look for in online slots to increase your likelihood of winning in the long term:
1. High RTP
Normally, slot machines have an RTP of 94%. So, avoid playing slots with a lower RTP than that percentage.
2. Free Spins
Free spins are a great way to earn a stake-free profit. They often also come with additional features, such as extra wilds, sticky wilds, cascading reels, or multipliers.
3. High Hit Frequency
A slot hit frequency or hit rate tells you how often you can expect to land on a winning combo when playing. The higher the frequency, the better.
But be careful, though – don't base your decision on hit frequency only. A slot can have a high hit rate but end up paying you back a sum that's smaller than what you put at stake.
4. Volatility
Volatility, or variance, is the frequency with which you can expect a slot to pay out, and how big your wins will be. A high variance slot requires you to play a lot before a win arrives. When you do win, however, it'll be a big sum. A low variance slot means the opposite: you'll win a lot but at low amounts. Choose accordingly, depending on how much time and cash you have in hand.
High Payout Online Slots FAQ
#1. What online slot has the highest RTP?
The online slot with the highest payout is Jackpot Jester 50,000, with a 99.9% RTP.
#2. How are slot payouts calculated?
Slot payouts are calculated through the below formula:
RTP = Total Amount Returned to Players / Total Amount Gambled by Players
#3. Why do some slots have different payouts?
Payouts differ from slot to slot depending on a variety of game features such as the number of free spins, jackpots, reels, pay lines, bet sizes, and more.
#4. Can online UK casinos change the payout rate?
Changing the payout rate of slots is not typical for casinos. Online casinos in the UK are regulated by the UK Gambling Commission, which ensures that the casinos won't tamper with their games.
#5. How can you withdraw money from online UK casinos?
The process of withdrawing money from an online UK casino largely depends on the payment method and casino you've chosen. This being said, some steps remain the same regardless of your payment solution.
First, you'll have to go to the cashier's section. This section is usually located in the same place where you've deposited your money initially.
There you can choose your withdrawal method and fill out any required financial and personal details. And you're done!
Key Takeaways
And that's a wrap!
For a quick recap, here are the top 10 high payout online slots for 2021 and their corresponding payout percentages:
Jackpot Jester 50,000 99.9% RTP
Goblin's Cave 99.32% RTP
Ugga Bugga 99.1% RTP
Ocean Princess 99.07% RTP
7 Oceans 99.07% RTP
Mega Joker 99.00% RTP
Nemo's Voyage 99.00% RTP
Ooh Aah Dracula 99.00% RTP
1429 Uncharted Seas 98.6% RTP
Tropic Reels 98.95% RTP
Related Articles