High Stakes Baccarat Online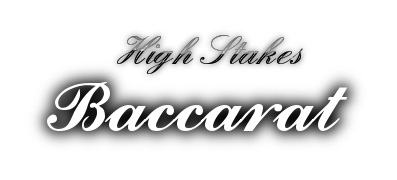 Baccarat has been around for about 600 years
, and when it first made it to Europe, it was a popular (though initially illegal) game enjoyed by French royalty and nobility. It still maintains a reputation of being a high rollers' casino game, even if the online gaming industry has made it accessible to the masses. Still, if you take a look at what's on offer, there are more options available to players with bigger bankrolls. That would be you, I guess!
You might have played the game in a brick-and-mortar establishment and learned to love either the standard Baccarat (chemin de fer and banque) or Punto Banco, or both. The differences between them are much more subtle when you move your gaming online, but there's no reason why couldn't enjoy either just the same when facing your desktop or laptop. The only thing you need to know is where to go and which games to play to satisfy your high stakes preferences. So that you can spend time playing rather than browsing the Internet, we've visited a number of online casinos to find the right high limit Baccarat games for you. And here they are!
You can go straight to the high stakes LIVE baccarat reviews below.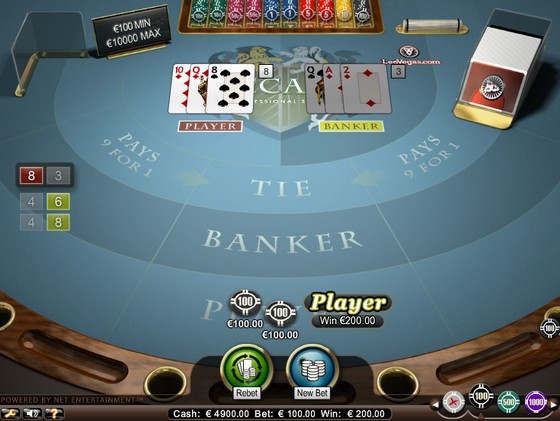 High Stakes Baccarat from Net Ent
While they don't boast a huge variety in terms of mechanism, NetEnt is probably the one who offers the most complete range. Their Professional Series includes Low, Standard and High limit Baccarat games, and same options available within the Punto Banco variation.
Professional Series High Limit Baccarat, played with eight 52-card decks, offers you to stake between £10 and £1,000 and features an RTP of 98.96%. There are no side bets included, just your standard gameplay which allows you to bet on the Player, Banker or Tie. Even money is paid on Player and Banker bets, the latter minus a 5% commission, while Tie bets pay 9 for 1. NetEnt Professional High Limit Baccarat is available at Miami Dice .
Punto Banco Pro High Limit offers pretty much the same, only it's played with 6 decks and has an RTP of 98.92%. You can give it a try at SpinIt Casino or Spin Station .
Looking after high rollers, NetEnt has provided another variant called VIP Professional Series which ups the bets to £100 minimum and £10,000 maximum. It also plays with standard rules, no side bets available, and comes with the same RTP as the High Limit game. If these figures satisfy your appetites better, take your cash and go play at Leo Vegas or Videoslots .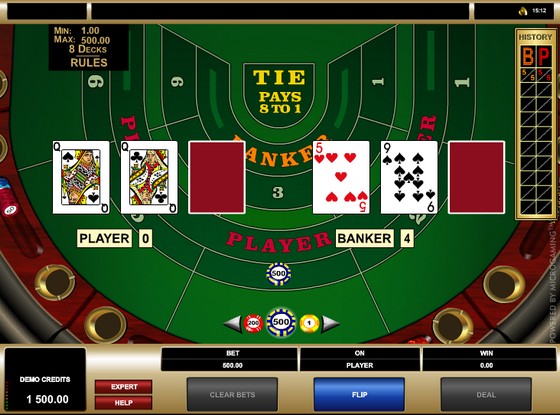 High Stakes Baccarat from Microgaming
Microgaming High Limit Baccarat uses eight standard 52-card decks and offers a bet range of £1 to £500. It pays 1:1 on Player and Banker bets (minus 5% commission), and 8:1 on Tie. The game can be played at SpinIt Casino , Casino Cruise and Videoslots .
Microgaming Baccarat Gold starts at £5 bet limit but goes only as high as the previous variant. It does, however, offer additional bets, namely Player and Banker Pair which are determined by the first two cards dealt to Player and Banker respectively. These two side bets provide a payout of 11:1. The game features amazing graphics and some interesting card handling animations which make it very realistic. For example, you'll be able to peek at the cards by lifting a corner and then turning them over. While History feature is not unique, Roadmap offers the opportunity for more advanced baccarat analysis and includes Big Road, Big Eye Road, Small Road and Cockroach Road. If this sounds like your cup of tea, play Baccarat Gold at 32 Red or Casino Room .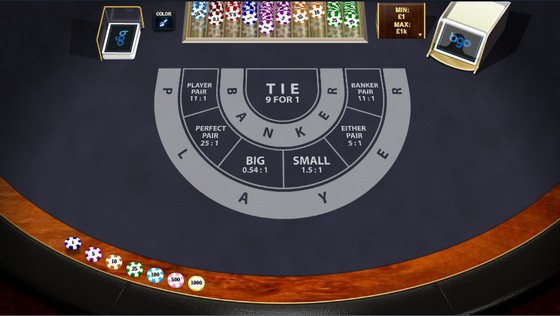 High Stakes Baccarat from Playtech
Playtech Baccarat, available at BGO , is played with 6 decks and offers a bet range from £10 to £1,000. Available side bets include Player Pair, Banker Pair, Either Pair, Perfect Pair, Big and Small. Player and Banker Pair win if first 2 cards dealt to the respective hand form any pair. To collect on Perfect Pair side bet, they need to form a pair of the same suit. Big bet wins if the total number of cards dealt between Player and Banker is 5 or 6, and Small bet if the total is 4. RTP ranges from 82.93% on Perfect Pair to 98.94% on Banker bet. Tie pays 8:1 and Player Pair and Banker Pair 11:1.
William Hill additionally offers Playtech Progressive Baccarat, which on top of the above side bets also features one which gives you the chance to take home a progressive jackpot. The jackpot is triggered when both the dealer and the player land an Ace plus an 8, all four cards of the same suit. If you get lucky, you'll receive part of the jackpot fund in the proportion of your side bet to the maximum side bet. After the jackpot has been won, a new pot is started with the casino's contribution of the base amount (seed), ensuring that even if you trigger it right after someone else has won, there's still a decent amount to be collected.
Other High Stakes Baccarat Games
Baccarat by Random Logic also comes with a bet range of £10 to £1,000, giving you 5 wagering options: Player hand, Banker hand, Tie hand, Player Pair or Banker Pair. Tie bet pays 9:1 and both Pair bets 12:1. You can choose from two table styles, classic or digital, and set a faster pace game by turning on the Turbo mode. RTP ranges from 85.64% on Tie to 98.94% on Banker bet. This game is available at 888 Casino .
For the ultimate high stakes baccarat you need to play at the live dealer tables. The highest baccarat stakes can be found at William Hill casino with limits of £45,000 on the public tables or more at the private invitation only tables. The high roller live baccarat tables at Leo Vegas come a very close second here with limits of up to £35,000 per hand.
Even though there aren't a zillion different games on offer, as is the case when it comes to Blackjack or even Roulette, several high roller baccarat variants give you a chance to spice things up by placing side bets, and even enjoy a shot at the progressive jackpot. With max limits set at £1,000, and even going as high as £45,000, you're likely to satisfy your high roller needs by playing one of the above.
Immensely popular worldwide, baccarat is a unique card game originated in Asia, and in those parts of the globe it still generates 80% of the casino income. Even if you don't know much about baccarat, it's enough to know that it has one of the lowest house edges out of all the casino games and you can already see its appeal. A game hundreds of years old with a prestigious history such as baccarat has no reason to endure any radical changes, which does not mean it won't keep up with the times and the technological advances. Baccarat is available today at numerous live dealer casinos, moving further away from its Asian homeland and closer to the homes of players from all over, including the UK. The game itself remains as traditional as the modern age allows it and it's simple rules and straightforward payouts are why most players get interested in baccarat in the first place.
That, or they've heard that baccarat is the favourite casino game of agent 007. Yes, Mr Bond – James Bond – made the game quite recognisable to an audience that is not largely Asian and partially we can thank him for having such a nice range of games to choose from at reputable online casinos such as Casino Gods, Genesis Casino, Mansion and so on.
Baccarat is a high-stakes game by its nature. Through history, it was mostly played by those of a higher status. With the influx of online casinos and the creation of web-based gambling games, that has changed. The games became more accessible to players with various bankroll sizes. However, on this occasion, we will focus more on the live casino baccarat games that are suitable for big bettors. We'll get to them in a jiffy, as beforehand we'd like to point out some things you need to keep in mind during high-limit baccarat play.
Experienced players will tell you to never place a bet on Tie. Also known as the "sucker's bet", Tie is an extremely rare occurrence, and not a good idea to go materialise despite its generous payout of 8:1.
Another useful tip is to bet in favour of the Banker instead of the Player, ideally at a table that does not require paying commission. Banker is a safer bet to take and will pay off more in the long run, commission or no commission.
Make use of the baccarat roadmaps feature. All the best live baccarat providers include this tool in their products, and they are worth looking into if you want to maximise your wins at a high stakes table.
Once you find an occasional promotion which applies to live dealer games, don't miss the opportunity to use it. Joining a VIP program could also be a good way to go if you're playing with significant sums of cash.
Budget accordingly! When you're staking big money, it's easy to get carried away. Even if your balance can be reloaded from other sources, resist the urge to overspend. Set your limits and stick to them. Take a cool-off period if need be.
These are the live baccarat tables you can join at the best online casinos for UK players if you care to play like a VIP: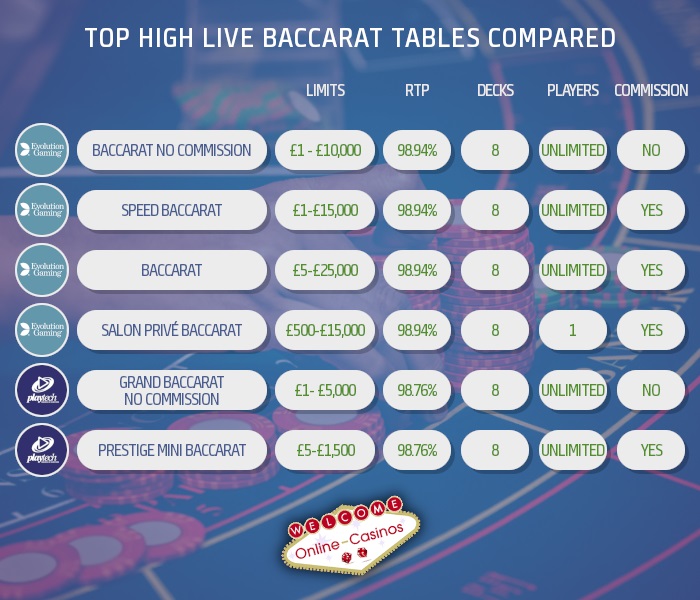 Evolution Gaming Live Baccarat No Commission
Evolution Gaming Live Baccarat No Commission is a game played with 8 decks of cards. The aim of the game is to predict whether Banker or Player will have a hand closest to 9. The round could also result in a Tie, which is the third main wager in the game. Various side bets are supported, from Player and Banker Pair, Perfect Pair and Super 6 to Player and Banker Bonus. The house loses the commission in this game on Banker wins and the Super 6 side bet, but compensates by delivering a payout of 0.5:1 in the event of Banker scoring a 6. The Perfect Pair side bet pays 25:1 and 200:1 for two pairs.
Since baccarat is associated with Asia, both the environment and the outfit worn by the dealer have a recognisable Chinese feel. The video feed takes up the entire screen and the digital betting area placed below appears and shrinks when necessary to allow a clear view on the bean-shaped table with bright purple felt. The interface supports low, medium, high or HD video quality, as well as game sounds and scorecards view adjustments. The table runs 24 hours a day, 7 days a week at Evolution Gaming casinos. You can play it at Mr Green Casino with bets starting at £1 and going up to £10,000. The RTP of the main game is 98.94% and lowers with the use of side bets.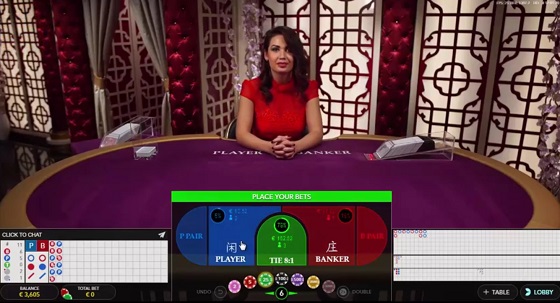 Evolution Gaming Live Speed Baccarat
Evolution Gaming Live Speed Baccarat is a live dealer card game dedicated to those who are all about playing and not at all about waiting or contemplating their moves.  While a standard baccarat round lasting over 40 seconds, Live Speed Baccarat cunts it down to 27 seconds. This game is played at the speed of lightning and dispenses with multiple cameras, various angles or the squeeze option. It is streamed from the company's studio in Riga and uses 8 card decks. The betting window lasts only 12 seconds and the cards are dealt face-up.
There are additional features that make Evolution Gaming Live Speed Baccarat just as exciting as its regular variant. Players can choose between classic and 3D view and adjust the sound effects to their liking. They can make use of the side wagers Player and Banker Pair, Either Pair, Perfect Pair and Player and Banker Bonus. To keep up with the streaks and trends of the hands played, the game offers roadmaps – Bead Road, Big Road, Big Eye Road, Small Road and Cockroach Road. The table has the authentic, Macau-style bean shape with golden felt and you'll see luxurious beaded curtains behind the dealer wearing a red lace dress. A feast for the eyes and one's gambling-eager mind. Live Speed Baccarat is usually played from £1-£15,000 per round, and you can find it in the lobbies of Mr Green, Casino Gods and Genesis Casino, among others.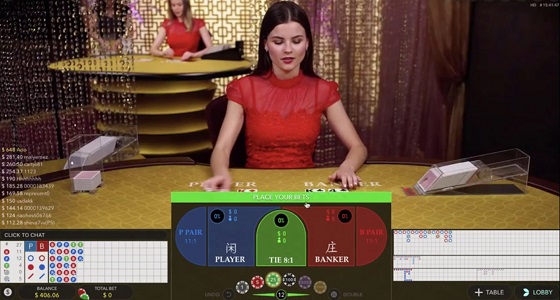 Evolution Gaming Live Baccarat
Evolution Gaming Live Baccarat is not always a go-to option for high-stakes play, but there are casino sites that offer higher-than-average betting limits on this particular product. The cards are dealt from a manually shuffled 8-deck shoe and the table can serve a theoretically unlimited number of players. High-definition cameras deliver three different views of the live game. The round begins with a wide-shot, but switches to a close up when the cards are placed on the table. The players have roads to follow if they wish to keep track of the results of the previous hands and try to implement certain pattern into their future decisions. Side bets are also supported. Mr Green Casino is particularly generous with Evolution's Live Baccarat betting range, allowing a minimum of £5, and going up to a maximum of £25,000 per round.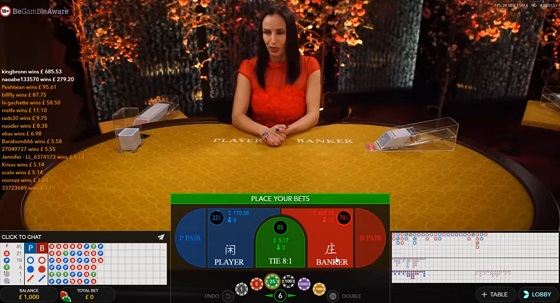 Evolution Gaming Salon Prive Baccarat
Evolution Gaming Salon Prive Baccarat is a dedicated private table launched by the company in 2018, hosted by a VIP specialist dealer providing a premium one-to-one service at selected casinos only. By joining the highly elegant Salon Prive Baccarat game, you will be able to control the choice of dealer, the shuffle dynamics and the speed of the game using 'Spin Now' and 'Deal Now' buttons. Similarly to the games in Macau, the player can request a "Free Hand" and the dealer will deal a hand with no bets placed. One player at a time can access the table, and when occupied the game shows "In use", preventing other gamblers to observe or participate. The croupier, usually an attractive lady dressed in gold, will be 100% committed to your needs and if you want, you can take the game with you wherever you go (mobile-optimised). A VIP Room Manager will attend the session and make sure everything is in order at all times. Keep in mind that players are required to have a minimum balance of £6,000 to sit at the Salon Prive table. Should you decide to go on this high-wagering adventure, Mr Green will make you place a minimum bet of £500, with the maximum table limit being £15,000 per hand.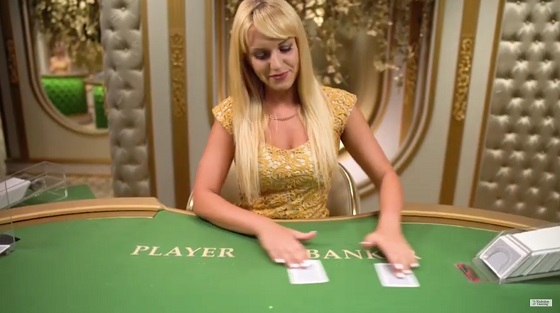 Playtech Grand Baccarat No Commission
Playtech Grand Baccarat No Commission is a live dealer game played in an upscale-looking studio painted in gold. The dealer's outfit also matches the surrounding and the whole sight is a big sparkling affair. The interface is rich in features, supporting detailed statistics presented via the usual 5 baccarat roadmaps. Other than wagering on the Banker, Player or Tie, players can also place multiple side bets, like Banker Pair and Dealer Pair, Either Pair, Perfect Pair, Big and Small and Egalite Extra. Playtech Grand Baccarat includes interesting features such as auto-confirmation of bets and the possibility to hide one's wagers so that other participants can't see them. We believe this one is an underrated gem and we recommend you try it out at Casino.com where you can wager as little as £1 or as much as £5,000 per round. The game is also available at Betfred Casino.
Playtech Prestige Mini Baccarat
Playtech Prestige Mini Baccarat is similar to Grand Baccarat in various aspects, but also comes with authentic features and a new interface complemented by an HD multi-camera format. Visually, the studio is decorated to appeal to players who are fond of the traditional Asian vibe while they play their baccarat hands. Red is the dominant colour, both across the table and around it, while the dealers usually wear pink dresses. Prestige Mini Baccarat features a single betting position.
The game incorporates roadmaps, Bead Road, Big Road, Big Eye Road, Small Road and Cockroach Road, allowing the last two shoes worth of results. Side bets are included, with the most interesting being the Egalite bet. You can make this bet whether or not you have placed a main bet and by doing so you will be betting on the specific value of a Tie. Playtech Prestige Mini Baccarat is not always categorised as a high-stakes game, but we've found that its betting range at Mansion Casino is £5-£1,500, and that's quite above average.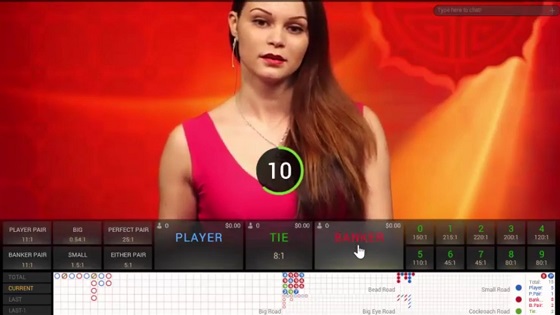 Good luck with your bets and hopefully you will find these elite suggestions worthy of your playtime.