Taking on the game of roulette at high stakes is for players who want to make an impression and prove to themselves that they belong with the big bettors. Not everyone iss cut out for this high level of play and there is much risk involved, but also the thrill levels are through the roof and players mostly know exactly what they are getting into. By taking a seat at a VIP live dealer roulette table, one entertains the idea of gambling with large amounts of money, expecting large prizes in return. The key is not to become over-confident and to recognise where the limits are, as high as they may be, provided they are within your budget range.
Before we move along and showcase some of the best high stakes roulette options with live dealers you can come across on the internet, we'll take the time to share some useful advice in hopes of helping you improve your high-limits roulette capabilities.
First comes first, you have to know the game well, even when you're playing medium stakes, and especially if you're staking small fortunes on each spin of the wheel.
It's not recommended to gamble on a whim, and that also applies to roulette high-limit play. You will likely regret the decision, even if you have the bankroll to support it.
Try not to waste any bets. Place the best wagers at any given moment and you'll last longer in the game.
Remember the quintessential roulette rule: always play the European roulette table instead of the American, as the American wheel gives the house a higher advantage.
When you play online roulette at high stakes you must be mindful of the casinos you choose. Don't join unless the venues are safe, licensed and trustworthy.
If you're not comfortable moving onto high stakes yet, try out games with low stakes or even free roulette at first, to build confidence and strategy.
Mathematical systems for beating roulette can come in handy at certain points of your session, but try not to depend on them fully.
As a VIP player, you have all the more reason to know your limits and never gamble with the money you cannot afford to lose.
What makes live roulette a favourite among high rollers is the fact that the game brings opportunities to place simple and relatively low-risk bets for the chance to win large sums of money. VIP roulette tables are normally not geared towards a casual audience. Instead, they aim to attract casino-goers with bigger ambitions, bigger pockets and more tolerance for suspense. If you've built up immunity to the fact that high stakes play can be quite nerve-wracking, feel free to have fun by taking a sat at one of the following live roulette tables: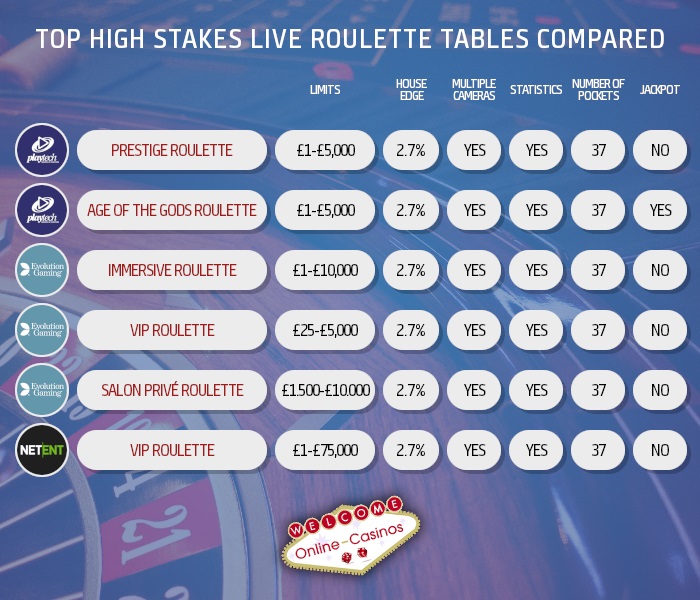 Playtech Prestige Live Online Roulette
Playtech Prestige Roulette was designed to compete with Evolution's highly popular Immersive Roulette. The studio from which the game is streamed has an intimate feel and a luxurious neon-lit design. Some of the benefits of this live dealer roulette solution are multiple camera angles and the ability to experience instant replays. The dealer and the wheel are the two main focal points of the interface, with the controls cleverly tucked in below the betting area and in the corners. The game itself is not life-changing, as it sticks with the standard rules of European roulette play. The dealers have a friendly demeanour and love to chat. Prestige Roulette by Playtech aims to provide a one-on-one VIP experience to players who are willing to stake from a few quid to thousands of pounds on a single spin. Selected casinos offer Prestige Roulette with table limit in the range between £2 and £1,000, yet at Casino.com you can play this exclusive offering for £1-£5,000 per spin. Betfred Casino also has it in its portfolio.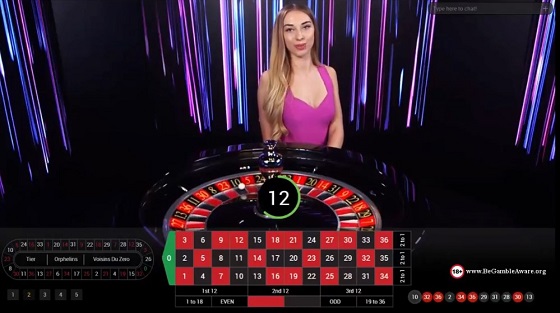 Prestige Roulette
Playtech Age of the Gods Live Online Roulette
Playtech Age of the Gods Roulette is a themed live roulette variant which is also played using regular European rules. The theme is inspired by Ancient Greece and its mythology, something that Playtech has already explored with its series of progressive jackpot slots also called Age of Gods. Much like the slots, Age of the Gods Roulette features a multi-level progressive prize pot. The jackpots are triggered randomly and they are shared and seeded across the entire Playtech network. The Power jackpot starts at £50, the Extra Power starts at £500, the Super Power jackpot's minimum value is £5,000 and the Ultimate Power is seeded at £100,000.
The studio is designed to look like a Greek temple, with the table and the wheel also featuring appropriate decoration. The interface was designed with the user in mind, with unobtrusive controls and high-quality video feed. Some of the available options include bet limits and payouts, game rules, as well as detailed statistics of the last 100 spins. If you join Casino.com, you can play Age of the Gods Live Roulette for £1-£5,000 per spin.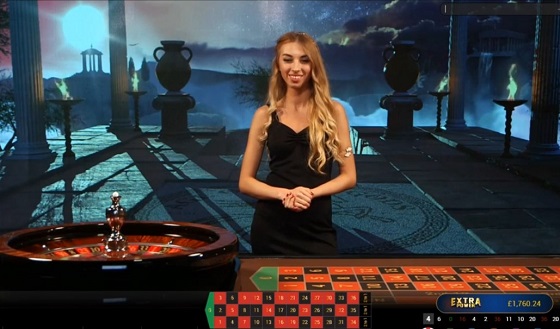 Age Of Gods Roulette
Evolution Gaming Immersive Live Online Roulette
Evolution Gaming Immersive Roulette is a premium-quality roulette game hosted by real, qualified dealers. This is by no means a new game, but it one that maintains its popularity year after year. Having won EGR's Game of the Year award in 2014, Immersive Roulette became one of the most sought after roulette games at online casinos. Its greatest advantage is the combination of multiple engaging camera angles and HD video streaming at 200 frames per second. Observing the ball and the wheel in motion from up close nearly equals the experience offered by any land-based casino.
You can bet from £1 per round up to a maximum of £10,000 on Immersive Roulette at casinos such as Genesis Casino, Casino Gods or Mr Green. The game also features advanced statistics showing the last 500 games along with hot and cold numbers. It is a classic European roulette with a single zero and numbers 1 to 36, so the house advantage is as low as it can be. You get 25 seconds to place your bets, and in a minute the round is usually over. Immersive Roulette also comes complete with a racetrack layout and Neighbour/special bets.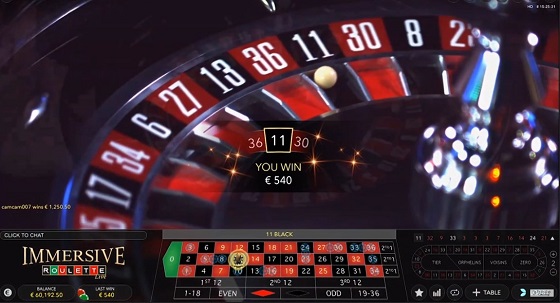 Immersive Roulette
Evolution Gaming Live VIP Live Online Roulette
Evolution Gaming Live VIP Roulette is created with high rollers in mind and its gameplay is broadcasted live from the company's Latvian studio. The décor is captivating and the background music is lovely. As it is expected from Evolution Gaming's employees, the dealers are all up for interaction and their looks are never short of glamorous. Players can benefit from useful tools like the option of storing up to 15 favourite bets, changing video quality, checking game history and activating the full screen view.
Live VIP Roulette offers a standard house edge of 2.70% and features a wheel with 37 pockets. The list of available bets includes Straight, Split, Street, Six Line, Corner, Trio and Basket, as well as Red or Black, Odd or Even, Dozen and Columns. The game is a long-standing offering at Mr Green Casino, available at starting stakes of £25 going up to the maximum bet of £5,000 per round.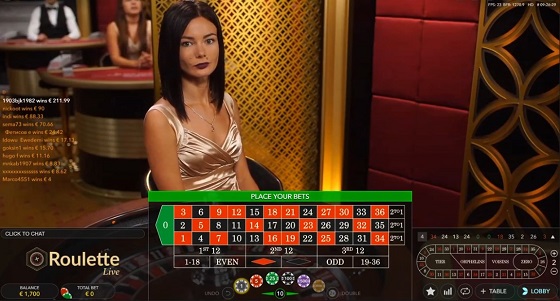 Evolution Live VIP
Evolution Gaming Salon Prive Live Online Roulette
Evolution Gaming Salon Prive Roulette was launched in 2018 and the provider made it available through a private online area reserved for the most distinguished of players. The exclusive VIP salon only accepts casino users with a certain bankroll value, and, in return, provides an individualised set of services. For one, the private salon delivers one-on-one play, which means the players are sole participants at the table and share an intimate gambling session with the dealer. When people say a game can be customised, we often think of the standard visual and audio settings. Evolution Gaming Salon Prive Roulette offers so much more than that, as players are allowed to influence the game dynamics and have more control. For example, they can choose their dealers during play.
Of course, only the best-trained and most experienced croupiers are at the roulette table, making sure the clients are as comfortable as possible, enjoying their privacy and enhanced control in a single player environment. The clear goal of attracting proper high rollers is also obvious from the distinct and luxurious design of the studio setting, and there will be a dedicated VIP manager supervising the room. The speed of the rounds is controlled by the Spin Now button, which comes in handy especially in the moments when you need an extra second to arrange the bets just right. At Mr Green, Evolution Gaming Salon Prive Roulette does not accept bets under £1.500. You can't even get near the table if your balance is lower than £6,000. The upper stakes limit climbs to £10.000 on a single spin. Ouch!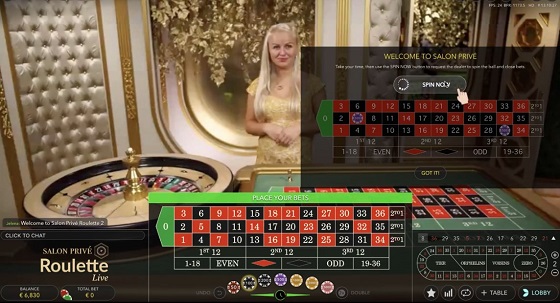 Salon Prive Roulette
NetEnt Live VIP Online Roulette
NetEnt Live VIP Roulette is streamed from a live casino studio based in Malta equipped with the best and latest technologies, offering high-definition streaming around the clock. Aside from having quite high wagering limits, Live VIP Roulette from NetEnt also incorporates various options to enhance the players' gaming experience. From an intuitive live chat feature and full-screen viewing to charming dealers and options like racetrack, recent bets, favourite bets, charts and Hot & Cold numbers, NetEnt Live VIP Roulette is packed with everything the best high stakes live roulette games should have.
The live feed is located across the top part of the screen and the bottom sector contains the table layout with available bets and most of the added features. Once the betting is over, the camera will spontaneously focus on the wheel as it begins to spin, so players can easily see the outcome of the round and follow it through. Should you decide to enjoy this premium gaming experience at Mr Green, you are able to do it for a minimum stake of only £1. If you feel you'll strike it lucky, the highest you can go is £75,000 per spin – definitely in deep high roller territory.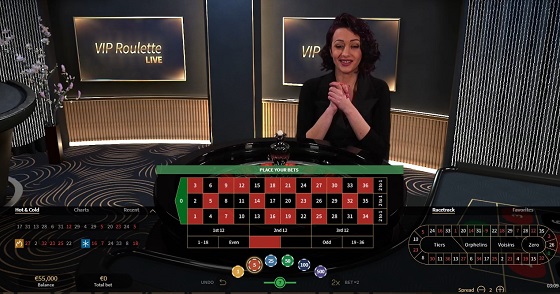 NetEnt Live VIP Roulette
Are you planning on betting substantial amounts of money on the roulette wheel from the comfort of your home in the UK? Good for you! Do it with style and treat yourself with a proper spinning session at recommended live tables, courtesy of trusted providers such as Evolution, NetEnt or Playtech.