So you're a Blackjack fan and you have tons of cash to invest in playing your favourite card game? You lucky bugger! I'd guess the sight of £1 or £5 stakes makes you snigger, and even £100 bets leave you stone-cold. But not to worry, the gambling industry loves high rollers and makes sure to offer them high-limit options for the majority of their games. Even when playing blackjack online, you'll have an opportunity to bet several hundred, thousands and even tens of thousands of pounds on a single hand. Where? Well, I'm glad you asked! Take a look at the highest stakes Blackjack games we've found and pick the one(s) which fit your bankroll the best.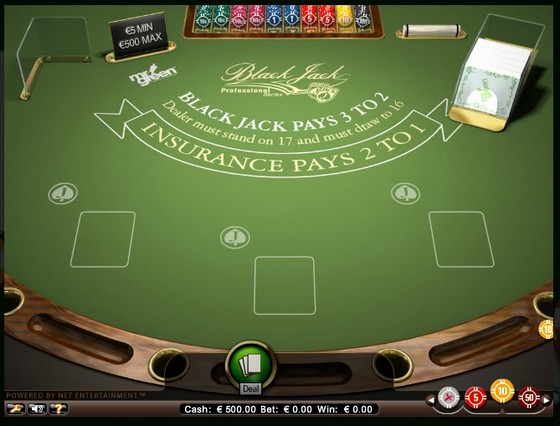 Blackjack Games at £500 Stake Max
NetEnt Professional High Roller can be played with £500 max bet at MrGreen . In some casinos this game offers a Double Jack side bet in the maximum amount equaling that of your regular BJ bet. Side bet wins if the first card in your regular hand is a Jack (10x bet payout), or if the first two are a pair of Jacks. In the case of the latter, pairs of any suit will deliver 25x bet, except for the Jacks of Spades which pay a generous 100x your bet. Let's see, 100 x £500… yeah, not bad at all.
NetEnt Pontoon High Limit also allows you to stake up to £500 when playing at SpinIt Casino . If you've never played Pontoon before, you should know that both dealer's cards will be dealt face down. While your regular BJ hand consisting of an Ace and a 10-value card is still the top of the pops, the 2nd strongest is a hand of five cards totalling 21, called Charlie. At the same casino you can also play Single Deck High Limit and Double Exposure while betting £25 to £500.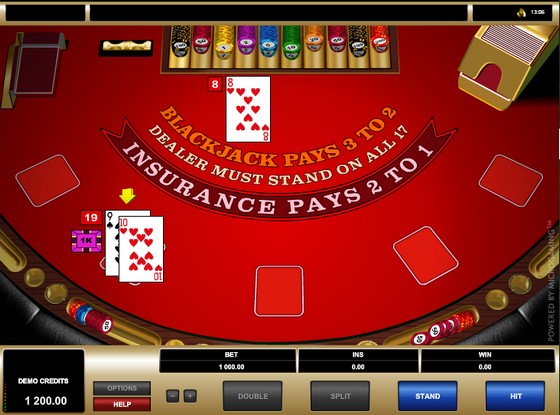 Blackjack Games at £1,000+ Stake
If one or several thousands of Pounds is the amount you feel happy staking on a single hand, you'll have quite a few online gaming establishments to choose from.
High Limit European from Microgaming allowing a maximum bet of £1,000 is available at Videoslots and Casino Cruise . The game is played with two standard decks of 52 cards, with dealer standing on all 17 and insurance to be used if you wish. Double down is available on the first two cards only if they show a hard 9, 10 or 11.
BetWay offers a good selection of £1,000 max stake Microgaming games, such as Multihand European Gold, Atlantic City Gold, High Streak European Gold, Hi-Lo 13 European Gold, Vegas Strip Gold and Super Fun 21. Hi-Lo 13 European Gold comes with 3 optional side bets – Hi, Lo, or 13, which win if the total value of your first two cards is above, bellow or equal to 13. High Streak European offers bonus dependent on the number of consecutive hands won. Every winning hand moves side bets to the next streak of the betting area, and you're getting paid each time it does. Super Fun 21 allows you to double down on any number of cards, offers insurance, late surrender and double-down rescue. It additionally pays bonus for specific hand combinations, namely Diamond Blackjack, Five+ cards 21, and Six+ cards 20 or less.
At NetBet you'll get to play Multi-hand VIP by iSoftBet for as much as £2,500 per hand, and the same bet value is available in a game of Classic Blackjack and Perfect Pairs/21+3 by Realistic, available at Leo Vegas . NetEnt's Professional Series VIP featuring a £3,000 max stake can be played at Videoslots and MrGreen . Casino Room pushes the max a bit higher, offering a High Roller Blackjack game by NetEnt which allows you to bet as much as £5,000 per hand.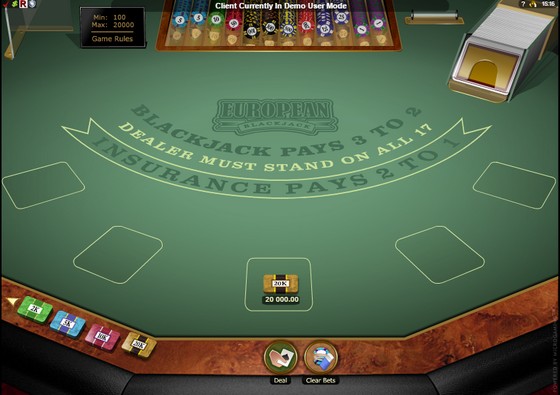 Blackjack Games at £10,000+ Stake
If this is where you're at, I take off my hat and going green with envy. There's not many online venues which will accept bets of £10,000 or more, but we've done our best to find you a couple that do.
William Hill is one of them, offering a pretty wide range of Blackjack games with £10,000 max bet. These include Surrender, Double Attack, 21 Duel, Switch and Pontoon from Playtech. Double Attack is played with 48-card Spanish decks, meaning all the 10's have been removed. After the initial bet, only one dealer card is dealt, at which point you can place an additional Double Attack bet up to the value of the initial bet. Blackjack 21 Duel values all hands totalling 21 equally, plays with 2 communal cards, and offers a 2UP side bet on 3 first cards to be shown (your up card plus the communal cards). If they contain a pair or make up three-of-a-kind, you'll win. Blackjack Switch comes with two hands which you play in turn, and prior to any hits, you're allowed to switch the top cards between them. The same game also features Super Match bet which wins if your initial 4 cards contain 2 or more matching cards.
The Absolute Highest Limit Blackjack Available Online!
Blackjack Games at £20,000+ Stake!!?
Want to go even higher than 10K? Oh, dear. Could I possibly come and watch? Ok, if all that I've shared so far wasn't good (big) enough, take yourself to 32 Red . They offer High Limit European Gold and High Limit European Advanced from Microgaming, with a maximum bet of a staggering £20,000. That's right, a £20,000 maximum bet! This is really the best I can offer, and hopefully it meets your expectations.
Playing high stake games can mean amazingly high wins but also significant losses. However, if you're one of the high rollers, I'm guessing you're not new to this game. Blackjack is, after all, a game of skill, and playing strategically does increase one's chances to come out on top. Which you've proven many times already, right? So go on, make us all envious by placing multi-thousand Pound bets on one of the above and beat the dealer to win thousands more. We're cheering for you!
High Stakes Live Blackjack
High-limit live blackjack tables offer a completely exclusive gaming experience that high roller bettors often enjoy solely for themselves – in luxurious surroundings, out of reach for the average player. Considering high stakes play means that you will get to sit at a table where minimum and maximum bets are high by objective standards and to support such requirements you will have to invest a sizeable budget into each round. In return, the game will give you the VIP treatment without altering much of the gameplay itself.
The way one places bets on a high stakes live blackjack game does not differ from the way it's done with a standard blackjack variant. The rules are the same and you don't need to complete a course on how to be a high roller gambler and bet on high-limit live dealer blackjack. All you need to have is a large bankroll, the audacity to join one of the exclusive tables and good budget management skills. The more money you stake, the bigger the payouts. Low or mid-stake blackjack tables are popular among casino goers who are restricted by their limited funds. If you do not fall under that category there is no reason why you shouldn't give high stakes live blackjack tables a try.
Whether they are available inside VIP rooms or accessible through the standard casino lobby, high roller blackjack games entail many benefits. For one, these games are produced by some of the most trusted and respectable companies in the live dealer casino industry, such as Playtech, NetEnt and Evolution Gaming. These platforms never fail to deliver exceptional casino content and they are commonly associated with safe, secure and reputable gaming websites.
After going through the best UK-facing online casinos featuring live dealer blackjack tables with high table limits, we bring you an overview of these entertaining products aimed to keep your adrenaline at levels just as high as your bets.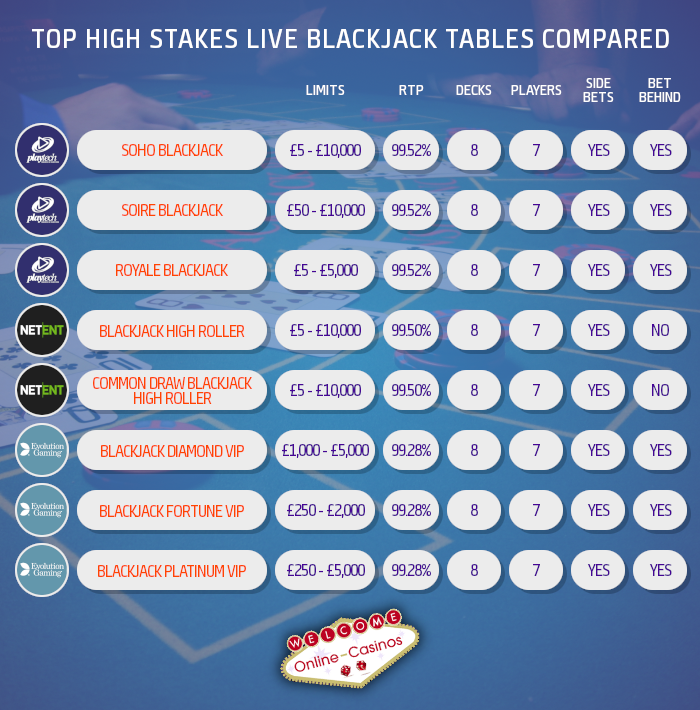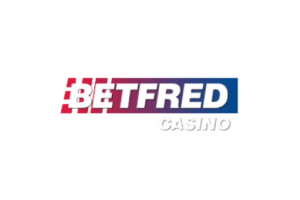 Overall Rating
PLAY NOW
1. Playtech Soho Live Blackjack
Playtech Soho Live Blackjack is streamed from Playtech's live studio in Romania and it joined the provider's portfolio as of 2018, offering a 7-seats multiplayer environment, 24/7 availability and a house edge of 0.48%. The game uses an 8-deck shoe and permits doubling after split and doubling any two cards, whereas it doesn't allow hitting on split Aces and re-splitting. Players can benefit from the 21+3 side bet, as well as from Pairs and Bet Behind options. You can play Playtech Soho Blackjack at Mansion Casino from £5 to £10,000 per round. You'll notice how low the minimum table limit is, which means this product accepts big bettors but does not isolate them from other fellow players.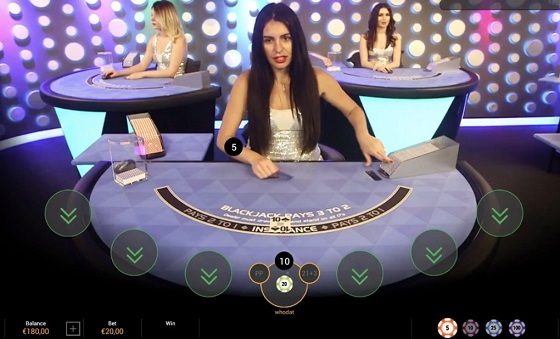 2. Playtech Soiree Live Blackjack
Playtech Soiree Live Blackjack is particularly aimed at high rollers, yet it has a low enough minimum bet to make it accessible to average players looking for a slightly richer game than standard blackjack hosted by live dealers can provide. You can access the Soiree Blackjack table with only £50 on your bankroll and enjoy a VIP gaming service which allows you to request a dealer change, or extend the session of the current dealer and request a shoe change and shuffle every half an hour or so.
The game uses 8 pre-shuffled decks of cards and supports up to 7 seats at the table. Side bets are available including 21+3 and Perfect Pairs, blackjack pays 3:2 and insurance is also offered. Most casinos cap the table limit for Soiree Blackjack at £10,000. The interface has been redesigned to enhance the high roller experience to the maximum, and in the case of a full table, players can join the waiting list and observe the live action until a seat becomes vacant. You can enjoy high stakes Soiree Live Blackjack at William Hill Casino.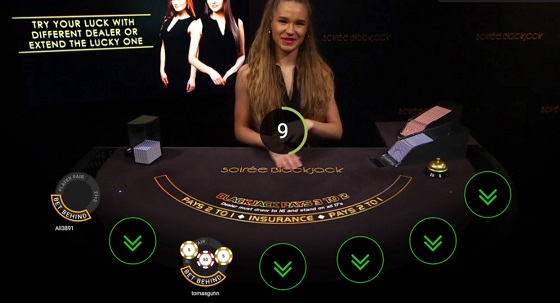 3. Playtech Royale Live Blackjack
Playtech Royale Live Blackjack is targeted towards the VIP player base and usually features wide betting limits. It features a luxurious feel and décor and uses 8 decks of cards, as per Playtech standards. A multi-seat blackjack variant, Royale Blackjack benefits from the American dealing style (the dealer obtains their second card directly after dealing the first two cards to players). Blackjack pays 3:2 odds, and insurance pays 2:1. You can double any two cards and the dealer must stand on all 17s. Playtech's Royale Blackjack comes with a house edge of approximately 0.49%, which delivers an RTP percentage of 99.51%. The numbers are quite favourable, and if you want to test your luck and card skills on this dazzling blackjack game, as a member of Mansion Casino you can spend from £5-£5,000 on it per round.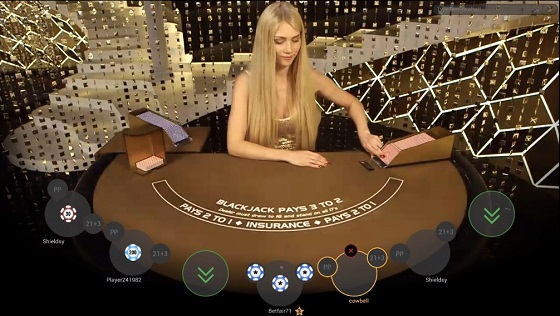 4. NetEnt Live Blackjack High Roller
NetEnt Live Blackjack High (Roller) is available at casino sites such as All British Casino, Hyper Casino and Fun Casino and represents the standard NetEnt Live blackjack solution with increased table limits. A set of 6 decks of cards is used and the table accommodates 7 players, each occupying one seat at a time. This one does not come complete with a Bet Behind feature. The red tables are set in an elegant environment reminiscent of a high-end hotel casino, and even though other tables can't be seen in the background, the players can hear the familiar noises and chatter characteristic for land-based casino floors. The game isn't saturated with extra features – there are no side bets, but you can consider Insurance or the Even Money option. Bets move within the range between £5 and £10,000.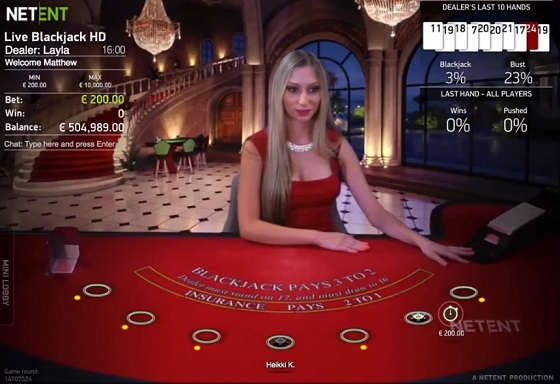 5. NetEnt Common Draw Blackjack High Roller
NetEnt Common Draw Blackjack High (Roller) is a game unique to the NetEnt Live portfolio and the beauty of it is that it can cater for an unlimited number of players at the table. In Common Draw Blackjack, a single hand of cards can be used by multiple players against the dealer's hand. Other advantages of this game are trained professional dealers and cutting-edge streaming technology.
The game takes place in a deluxe casino hall and brings variety to the classic version of live blackjack. Still, there are some rules and protocols that don't suffer any changes – the dealer can draw only up to 16 and must stand on all 17s and natural blackjack pays 3:2. All the players are involved in the game draw from a common card stream on the table. You will find 6 decks of cards that are automatically shuffled. Depending on the casino, NetEnt Common Draw Blackjack High may offer bets from £5 to £5,000 or £200 to £10,000 and is available at All British Casino.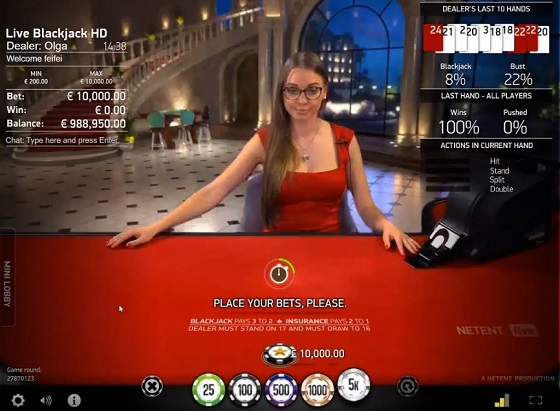 6. Evolution Gaming Blackjack Diamond VIP
Evolution Gaming Blackjack Diamond VIP is one of the several variants of high-limit blackjack in the outstanding Evolution's portfolio. These games are praised for their widescreen, HD format, and are known to attract elite groups of VIP players. Blackjack Diamond VIP boasts an upscale-looking environment with a crimson and gold colour palette and purple tables hosted by well-mannered VIP dealers. It is the most exclusive Evolution gets with their blackjack live dealer products. Matched only by the Salon Privé options, Blackjack Diamond VIP is a table that is not easy for one to afford, with bets starting at £1,000 minimum. You can go as high as £5,000 if you want to.
The game is played with 8 decks of 52 cards, the dealer stands on soft 17. Further rules state that you can only split once and no re-splitting will be allowed. The game also has side bets: Pre-Decision, Perfect Pairs, and 21+3. Insurance option is also open. The large video feed and the live chat facility make the game even more immersive, allowing seamless interaction with the charming female croupiers. If you care to pop by a good casino and experience Blackjack Diamond VIP to the fullest, Pots of Luck and Genesis Casino is where you should start.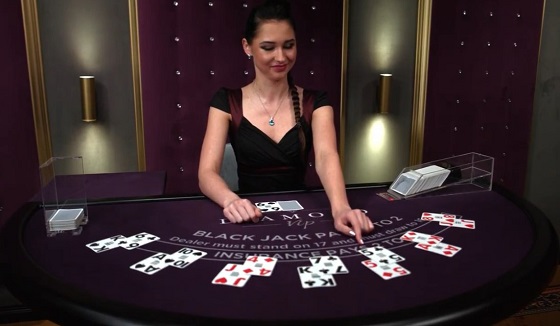 7. Evolution Gaming Blackjack Fortune VIP
Evolution Gaming Blackjack Fortune VIP is another title from the provider's rich VIP suite, very similar to Blackjack Platinum VIP. It is mainly the studio theme that separates these two products, with Fortune having more of a Chinese-looking design, using red and gold for the background and an Oriental style outfit for the dealers. Chances are you won't have to double-check the game rules, since the gameplay remains fairly standard. The dealer stands on all 17's, doubling down is offered on any two cards, and splitting is possible with cards of the same value. No less than 8 decks of cards are used and you can benefit from additional betting opportunities via Perfect Pairs and 21+3 side bets. Bet behind is not included. This is a live dealer title will set you back £250 per game as a minimum. Genesis Casino limits upper wagers to £2,000 per round.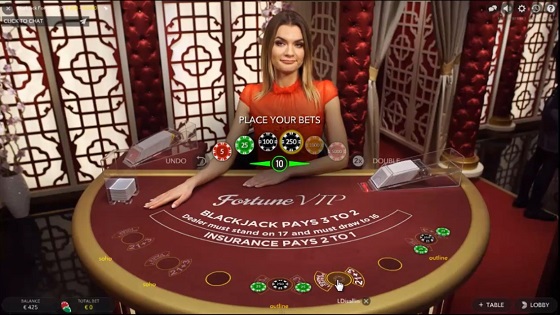 8. Evolution Gaming Blackjack Platinum VIP
Evolution Gaming Blackjack Platinum VIP is another live blackjack instalment from the leading industry supplier dedicated to those who like to take risks. Grey tables look magnificent alongside golden environment and studio details and you can count on this game to be less crowded than others due to its starting bet value of £250. The high streaming quality is not to be questioned and the rules of the game are not tampered with – dealer stands on all 17s and the player has the option to double down (any two cards) and split (when the two cards are of the same value).
Blackjack Platinum VIP offers Pre-decision, Perfect Pairs and 21+3 side bet, leaving behind the Bet Behind option (a slight wordplay, mind you) because, we can only imagine, high rollers don't appreciate sharing their valuable hands with others. Feel free, should your budget allow it, to try Blackjack Platinum VIP at Pots of Luck or Kassu Casino.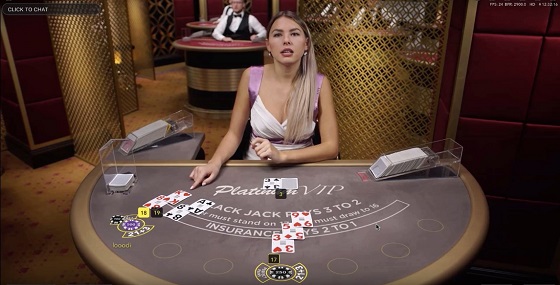 Suggested titles are not live blackjack games for the faint-hearted. Players need to qualify for these exclusive tables and have the finances to compete; otherwise, they will fail in record time for forcing something that is not usually their cup of tea. Remember – each to their own – and pursue the best casino experience within your capabilities.
If you want to explore more casinos, check out our list of the top 20 UK online casinos!