How You Can Follow this Swedish Player's Record Win
Big prizes are the shining lights of the slots world. We say over and over again, that the vast majority of players will have a safe and fun time and will probably lose a small amount of money regularly. But no matter how often we say that we know our players are dreaming of the 20p stake that triggers the multimillion-pound win.
Swedish Player wins €14 million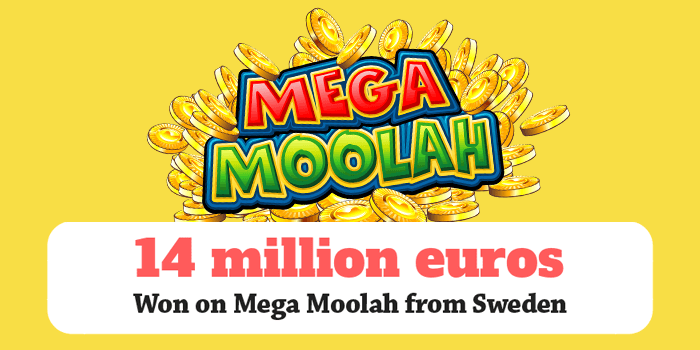 It happened again, in August 2020, when a Swedish player won 146,000,000 Swedish Krone, which is €14,239,532.84 EUR or $16,861,672 US or about £12.7 million!
What a lucky lad, or lady, as we don't know the gender or anything else about this big winner, who obviously ticked the "no publicity" box on his form.
We do know that the game he played was Mega Moolah, and the prize he won was the Massive Jackpot, which we're going to agree is a well-named prize.
Playing the Right Games to Win Big Prizes
The first thing you need to do to find the big prize games is to know which ones they are.
Jackpot games come in four categories.
There are games that have a set, internally regulated jackpot. These games might offer something like a multiple of the player's stake as a jackpot prize won via a special bonus game. A nice example is a four-stage jackpot that pays out 10, 25, 100, and 1,000-times stake.
These are big prizes, but they are limited by your stake.
One of the big attractions of the really big prize games is that they are almost always very cheap to play.
This is our second category: progressive jackpots, which come in two subcategories.
A progressive jackpot is a networked prize. Players who wager on the machine contribute a small amount of each bet to a prize pot.
The two categories within the progressive category are locally networked games and widely networked games.
A local network might simply link all the players of a game on a single site. Wide networks may take in many many sites and potentially hundreds of thousands of players. That's how those tiny slices of stakes build up into such big prizes so quickly.
The final category of progressive games are timed progressives.
This is a relatively new segment in the market.
Progressive jackpots are one of the few games in which timing may play a role. Big progressive have trigger mechanisms that decide when the biggest prizes will be paid. The longer it has been since the game paid out the biggest prize, the bigger the prize fund is and the more likely it is to pay out.
Unfortunately, as the building prize fund attracts more and more players it doesn't really become any more likely that you will be the one who gets the lucky algorithmic fluke that triggers the big prize.
With guaranteed-to-drop games (the Red Tiger Network has a number of these) there is a second variable: a time limit. This does introduce a genuine element of strategy, but its impact on your chances are likely to be extremely marginal.
If it is one minute to midnight and a game has to pay out before midnight then it is probably a good time to play it. However, the mass attraction effect is against likely to play a role in diluting any effect that your good timing has on your chances.
Progressives are about the crowd
Progressives are the only slot games on which the action of players has much of an impact. The biggest prizes are paid out by the most popular games. And big prizes then attract more and more players, whose stakes contribute to the prize fund, which builds up to ever bigger heights more and more quickly.
This is very much the case with Mega Moolah.
This game, from Microgaming, is well over a decade old now. And it is hardly sophisticated, even by the standards of the year in which it was first released.
But it's got that raw pay-out power, and that's how it stays on the market.
It's this game that paid the biggest ever anonymous jackpot win of nearly €19 million. It also played over €20 million to John Heywood in 2015 – he bet 25p.
So finding and playing popular progressives is a good way for the prize funds on those games to build up bigger and faster.
Titles to look out for include:
Mega Moolah, in all its variants; Major Millions. Age of Gods Progressives. And more.
Nothing Beats Random
While we've mentioned very small effects that might trump the random nature of slot games, the truth is that they are so small that there is very little point in taking them into account.
Because of the size of the prizes in progressive slots a whole infrastructure of media and gossip has built up around them.
It is probably best to ignore this stuff.
Once you get to this level of interest in a game it is likely that you are going to be sold something that is of no use to you – a slots strategy.
That timing effect on timed jackpots is the only thing you have. Other than that there is nothing you can do to alter or improve your chances. The stories of big wins aren't stories of skill they are stories of luck. So if anyone tries to sell you something that they claim will improve your chances on progressive jackpots then they are not doing you any favours.
Having Fun is the Safest Way
Progressive jackpot slots might just deliver a huge prize, but it's important to remember just how unlikely that is. If you like progressive jackpots then play them for fun. One of the effects of the "tax" element of progressive jackpots is that the theoretical return to player in the base game is almost always lower than in comparable games. Perhaps the best way to treat a progressive jackpot machine safely is to treat it like a lottery ticket – have a flutter once a week, just have a single spin, and keep your fingers crossed.