Indiana Casinos and Gambling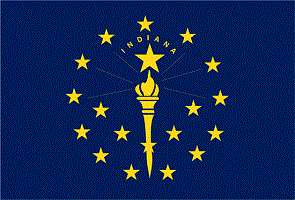 When most people think of American gambling casinos, they immediately think of Las Vegas or Atlantic City, but Indiana rarely comes to mind. However, gambling casinos in Indiana are extremely popular, drawing customers from Illinois, Kentucky and other nearby areas where gambling casinos aren't available. In fact, the Indiana casino industry is so popular; it ranks third in the United States gambling market.
Modern gambling in Indiana dates back to the late 1980s when residents voted to bring an instant-win and scratch-off ticket lottery to the state. Casino gambling became legal in Indiana in 1993 after Indiana lawmakers passed The Indiana Riverboat Gaming Act of 1993, which paved the way for riverboat and floating vessel casinos. The law led to the creation of the Indiana Gaming Commission, which is responsible for approving casino license applicants, overseeing the gaming procedures of each license holder, and licensing as well as overseeing the professionals and contractors servicing the riverboat casinos.
As apart of the act, riverboat casinos in Lake Michigan and the Ohio River were forced to sail and allow customers to board and un-board every two hours. In 2002, Indiana lawmakers passed a bill that allowed riverboat casinos to remove their motors. The bill required that riverboat casinos still float on water, but it permitted them to remain permanently docked. This gave riverboat casinos customers since gamblers were now able to access the boats and come and go as they pleased.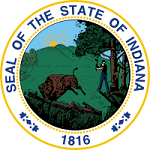 Popular Indiana Casinos Time-Line
Indiana's first riverboat casino, Casino Aztar, located in Evansville, Indiana, opened it's doors in December 1995. This Las Vegas style casino offers nearly 900 slot games ranging in denominations of one cent to $100 per game. The casino has over 250 gambling tables featuring games such as Blackjack, Roulette, and a Poker room where gamblers can play Texas Hold'em and 7-Card Stud.
The Majestic Star Casino opened in June of 1996, becoming Indiana's second riverboat casino. This floating casino, located on Lake Michigan in Gary, Indiana, has over 400 gambling tables and over 1,000 slot machines. During the same month, Trump Hotels and Casino Resorts opened  a floating casino, Trump Indiana, adjacent to the Majestic Star. In 2005, Majestic Star Holdings, the owner of the Majestic Star Casino, purchased Trump Indiana and renamed it the Majestic Star II. The Majestic Star II consists of 306 gambling tables, and nearly 1,200 slot machines.
The Horseshoe Hammond Casino, formerly known as The Empress, opened in June of 1996 in the city of Hammond, Indiana, just 20 minutes outside of Chicago, Illinois. The Horseshoe Hammond Casino has over 3,000 slot machines, including 250 video poker machines. The casino's high limit room boasts 125 gaming machines with denominations up to $1,000 per game. The casino has over 1,000 gambling tables and is home to the largest poker room in the Midwest. The Horseshoe Hammond hosts a regular schedule of poker tournaments, including the Chicago Poker Classic and the World Series of Poker Chicago Regional.
The Rising Star Casino Resort, formerly known as the Grand Victoria Casino, opened its doors in October 1996. The Rising Sun, Indiana Casino has over 1,300 traditional and video slot machines. The Rising Star Casino Resort has over 250 gambling tables, featuring games such as Craps, 21+3 and Three Card Poker.
The Argosy Casino, later renamed the Hollywood Casino Lawrenceburg, opened it's doors in December of 1996. The Lawrenceburg, Indiana casino is a riverboat casino along the Ohio River. The Hollywood Casino is Indiana's largest casino, boasting nearly 1,100 gaming tables and over 3,200 slot machines with machines ranging in denominations form one cent to $100 per game. Hollywood Poker, the casino's poker room, features over 40 poker tables that host daily tournaments and poker games around the clock each day. The 9,000 capacity casino's claim to fame was hosting a stop on the World Poker Tour in March 2010.
The Ameristar Casino, formerly known as the Resorts East Chicago, is a land-based casino located in East Chicago, Indiana that opened in April of 1997. The Ameristar has nearly 2,000 slot and video poker machines with a variety of 90 different games, and playing denominations ranging from one cent to $100 per game. The casino boasts over 350 gaming tables with nearly 41 different types of table games. Gamblers can find common table games such as Blackjack and Roulette and more unique games such as Mississippi Stud. The Ameristar Casino offers high stakes gaming on some of it's most popular table games. Gamblers can bet $5,000 or more on select Craps, Roulette, Blackjack and Pai Gow Poker games.
The Horseshoe Southern Indiana, formerly known as Caesar's Indiana, is a riverboat casino along the Ohio River in Elizabeth, Indiana. As the largest riverboat casino in the world, the 5,000 capacity vessel has over 1,834 slot machines and over 800 gaming tables.
The Belterra Casino Resort, located near Florence, Indiana along the Ohio River, opened it's doors in October of 2000. The casino has nearly 1,500 slot and video poker machines, with new games added each week. The Belterra has over 400 gaming tables featuring classics such as BlackJack and Craps, and newer games like Let it Ride and Three Card Poker. The casino's poker room is open seven days a week and hosts tournaments daily.
Indiana's first "racino," Hoosier Park, transformed from a standard bred and thoroughbred race track in Anderson, Indiana, and opened the Hoosier Park Casino in May 2008. In an effort to save the state's horse racing industry, Indiana lawmakers passed legislation in 2007 to allow slot machines at race tracks, hence the Hoosier Park Casino. This 24-hour casino boasts more than 2,000 slot machines, video poker games and e-table games. Since legislation does not permit gambling tables with live dealers at racinos, Hoosier Park has e-table poker, craps, blackjack and roulette games with video dealers.
Indiana's youngest casino, Indiana Live! Casino, opened in June of 2008 in Shelbyville, Indiana and is the state's second "racino." This 24-hour casino has nearly 2,000 high-tech slot machines and electronic table games, similar to Hoosier Park Casino's e-table games. Unlike Indiana's first "racino," Indiana Live! boasts a poker room with 100, automatic gaming stations.
Is Online Poker Legal in Indiana?
The Gaming Control Division (GDC) of the Indiana Gaming Commission are responsible for enforcing gambling laws in Indiana.  Since it started operations in 2007 it has made over 40 gambling related arrests and controversially busted up a number of home poker games, seizing the pot.  They have also confiscated over 5000 electronic slots machines at unlicenced premises.
One way Indiana residents have found to get around this is to play poker online as the GDC does not have any authority to stop online wagering.  Indiana is one of the few states with specific anti-online gambling laws, though these have yet to be tested.  The same grey area applies in Indiana as it does across the United States – it is illegal for banks to process transactions from offshore casino and poker operators.  This has allowed several operators with a tacit understanding with the US DOJ to continue to serve US players.
Online casinos and online bingo are far more widespread and accessible than poker for Indiana and all US players, we take a look at the best options available for Americans in our US casino and US bingo pages (no longer existing).