Introducing Mobile Smartphone Casinos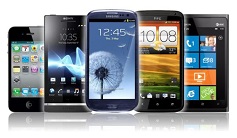 These days it seems you can do just about anything with a mobile phone including reading a book, watching a video, or sending an email. Did you know that you can gamble on your mobile phone too? There are many mobile casinos out there that have games for you to download and play on your mobile phone. How cool is that? Now you don't have to wait until you have free time at home for a little casino gaming, you can do it from anywhere. Anywhere with good cell reception that is!
The kinds of games that you can play via your mobile phone vary from casino to casino. Some examples include Blackjack, Roulette, Poker, Baccarat, Bingo, Hi-Lo, and a variety of different slots games. Most, but not all of these mobile casino applications will allow you to play for and win real money. How cool is it that you can be sitting in a waiting room and making a little extra cash at the same time? New mobile casino games are being developed all the time because of their growing popularity. Believe it or not, mobile gambling is a billion-dollar industry. As mobile phone technology continues to evolve so will the games that you can play on them.
Mobile Casino Options
Before you start downloading games for your phone you will need to do a little research. Some casinos only accept players from certain parts of the world. Before you sign up with a casino make sure that your country is eligible. You should also be aware that gambling is still illegal in many states if you live inside the United States of America. There are many mobile phone gambling games that can be downloaded for any type of phone as well as phone-specific games. There are games specifically designed to be played on an iPhone, iPod Touch, iPad, Blackberry, and other Android phones. You should be able to find some games that you can play on just about any kind of mobile phone. Some casinos offer individual games for you to download and others offer bundle packages. The bundle packages to download usually consist of games that are similar such as a slots bundle or a poker bundle. Still, others will offer instant no download play which is great for saving space on your mobile phone.
Something else to look into before deciding on any one casino is how they pay out and how you fund your account. Most casinos accept a variety of payment options but you need to make sure before you sign-up. Most casinos will accept all of the major credit cards, Ukash, Moneybookers, Paypal, Neteller and wire transfers. Some casinos have a minimum deposit and withdrawal amount that they adhere to as well. Generally, all of these online casinos will have a section labelled banking that will thoroughly explain how to use all of the different deposit and withdrawal procedures for each method of payment that they accept.
Best Mobile Casino Bonuses
Doing a little research before you get started can pay off in a big way. Many of these casinos aimed at the mobile industry also offer sign-up bonuses that can be used to play and you can usually win additional funds up to a set amount off of the bonus cash. A sign-up bonus may be anything from as little as £5 to as much as £1000. You can then use these funds to play in real money games. Many companies also offer referral bonuses where you can get a little extra money deposited in your account for sending new customers their way.
Most casinos will have a section on their homepage detailing how the bonuses they offer work and what the bonuses are. Some casinos offer bonuses on different days throughout the week to encourage more activity on what might normally be a slow day.  If you are lucky you may even find a casino offering a no-deposit-needed bonus or free spins, these are the ones to sign up for if you aren't ready to make a deposit yet.
Mobile Casino Review Sites
You may be wondering how to find the best online casinos to play games in and the answer is simple: Google search. There are many websites online dedicated to the reviews of online casinos in general, and of casinos that are specifically for mobile phone gaming. These reviews will usually give you all of the pertinent information about a specific casino or website. Most of the time they will tell you if the games are available to play for free, whether or not you can play for real money, what your payout options are, what bonuses are available, and whether or not you have to make a deposit to play.  Obviously, we think that our site is the best one but it can be useful to look around.
No Deposit / Play For Free
Most casinos will allow you to play their games for free without any money involved. This, of course, means that you can't win any money either, however, when you first join a new mobile gaming site it is a very good idea to play for free until you get the hang of things. Losing a large sum of money because you accidentally hit the wrong button or weren't quite fast enough is no fun for anyone.
Mobile gaming on your phone can be a lot of fun, but since you are likely playing for real money it is important to remember to log off when you are done playing. If you lose your phone or your child finds the phone and is playing with it you could lose all of your winnings simply because you failed to log off from the gaming site.
Playing casino games on your mobile phone can be a really fun way to pass the time. Just make sure that you gamble responsibly and that you do a little research before you get started. Taking the time to look around online for the best casinos can save you, or win you a considerable amount of money. If you find a great casino with a referral program make sure that you pass it on and tell your friends; that is a great way to get a little bonus cash to play your favourite games with. There are new games being developed all of the time so you are definitely going to find a favourite or two that you will love to play on your mobile phone.
Best Mobile Phone Casinos
Make sure you check our Mobile Casino section to find out which mobile casinos are the best. We only feature the top three as there are hundreds to choose from and we want to save you the time of looking through many similar-sounding casinos. The ones we have selected represent the best when it comes to the quantity and quality of mobile games as well as offering something slightly different. As ever the casinos we choose must be extra special to be featured on our pages.