The online casino world has often been ahead of the game when it comes to tech. Now, the industry has wholeheartedly engaged with the mobilisation – a word we've repurposed especially for you – of the World Wide Web. And that means casinos are mobile friendly and iPad casinos are easy to find and easy to use.
In this piece, we'll take a look at how to find safe iPad casinos, how to use iPad casinos, and how to make the most of iPad casinos, including some things you can do only with an iPad.
Let's get started.
Best iPad Casinos we Recommend for the UK Players
Vegas Mobile
200% up to £50
T & C Apply
No. 1 best mobile casino
500+ mobile games
use code ACE200 for exclusive 200% bonus
iPhone, Android, Blackberry & Windows
Different promotions every day
Game of the day
Evolution Live Mobile Casino
#ad
Spin Rider Casino
100% up to £300 + 50 Bonus Spins
T&C Apply
No. 2 best mobile casino
550+ mobile games
live dealers
instant play
20+ software providers
Best games from top developers
50 bonus spins
#ad
18+. New players only. 1 bonus offer per player. Min. deposit £20. Max. bonus bet is £5. Bonus spins
on selected games only and must be used within 72 hours. Bonus funds expire in 30 days, unused
bonus funds will be removed. Bonus funds are 100 match up to £300 on your 1st deposit, 40% match
up to £1000 on your 2nd deposit, and 80% match up to £500 on your 3rd deposit. Bonus funds are
separate to Cash funds, and are subject to 35x wagering the total bonus & cash. Only bonus funds
contribute towards any wagering requirements. Terms apply. BeGambleAware.org.
Is it safe to play iPad casinos?
It is safe to play casinos on your iPad.
If you follow these rules.
The vast majority of online casino customers are able to have a great time playing their games, and never get in any sort of trouble with either scams or dishonest practices or with gambling addiction.
However, both are issues, and both are things that you should take seriously as you find and sign-up with and then use iPad casinos.
How to find a safe iPad casino?
The first thing to look for at any casino is a licence.
In the UK it is illegal to offer gambling services to people within the UK without a licence from the UK Gambling Commission.
Never ever play at a site that does not have a licence.
The licence will be displayed at the foot of the front page. There should be a link to the UK GC's website and you should be able to visit the site and read the licence.
You should go beyond this though, and make sure that you are dealing with a site that isn't just legal but that is completely legitimate and safe to use.
This should include checking that the site has good encryption. You should take a few moments before you sign up to see that the site has access to good information on safe gambling. Check out what the site offers in terms of customer support: most sites these days use online chat as their first mode of contact. It is nice also to see an email address – rather than a web form – and some players like to hold out for a UK landline (freephone) telephone number.
We like a site that doesn't hide anything. Good, open, transparent communication is a must for any modern business, so don't allow anything else for the iPad casino site you choose.
The licensing should be enough to show that a site is offering a safe, legal service, but you deserve more than that if you're going to have a long-term relationship with an online casino site on your iPad.
What Games Can you Play on an iPad Casino?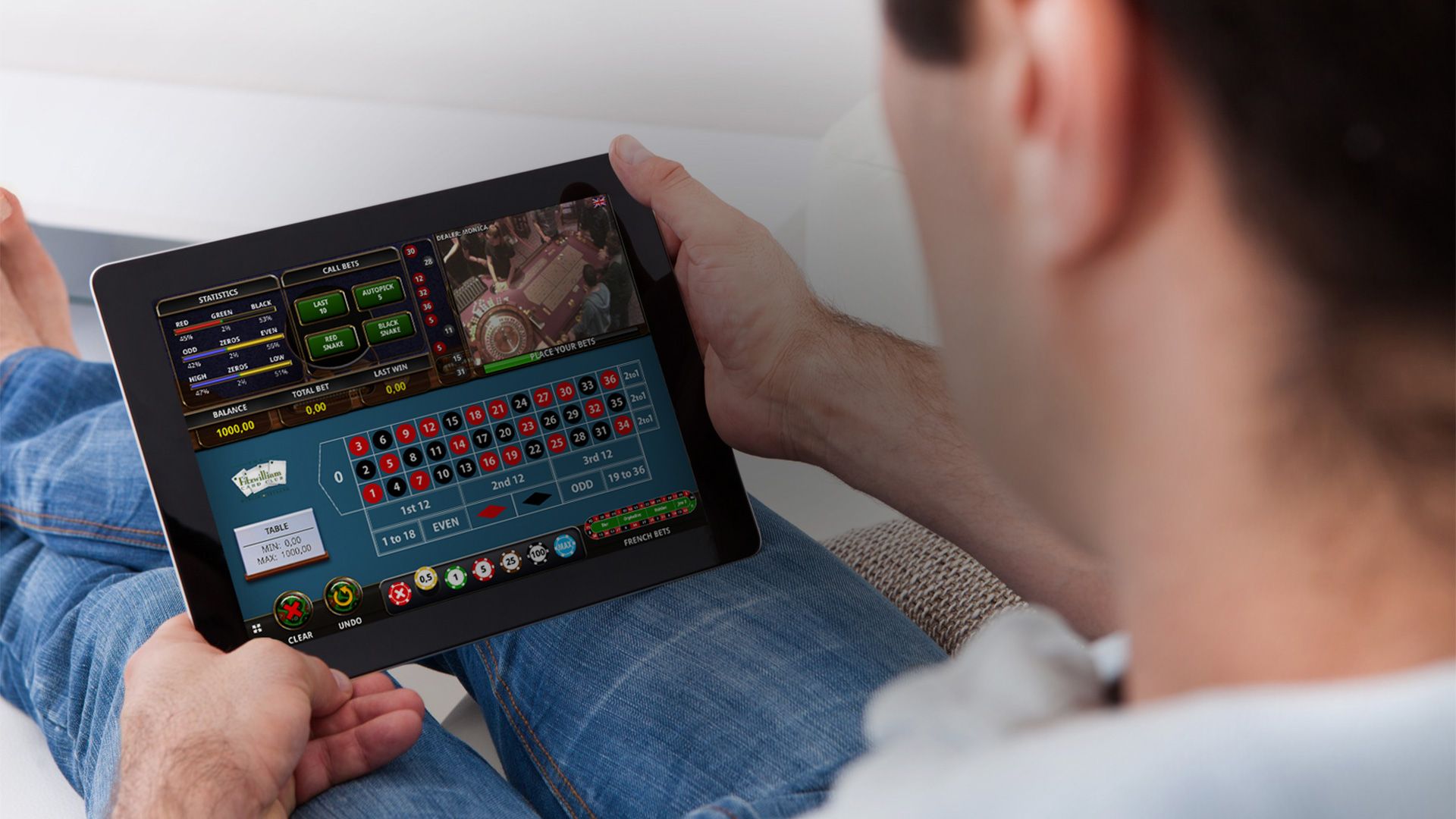 After you've established that a site is safe then you can see how much you're going to enjoy it.
In order to do that you'll want to play the games that you like.
Most online casino sites now have games in their hundreds, many in their thousands.
Check them out when you look at a site.
Most people use casinos on multiple devices. You should always check out the site you're going to use on the devices you are going to use the site on.
The good news for mobile and iPad casino users in 2020 and beyond is that the vast majority of online casino games are now made by developers who have declared themselves "mobile-first".
That means that you should be able to enjoy the vast majority of games you see at a desktop site on your mobile too.
This should include live casino games as well, the latest big craze in the online casino industry.
How do you use an iPad Casino?
There are two ways to access mobile or tablet casinos: you can use your usual browser (Safari on your iPad) to browse to the site, or you can download an app.
There doesn't to us seem to be much logic to be applied to making the decision on whether to use an app or a website.
The term "app" can cover a range of levels of service and function too. Is a link from an icon on your home screen an app? It could be. But some sites offer much more, with apps that give you access to specially designed content or services.
There's a reason why an online iPad casino would want you to use an app rather than browse to their site. An app is something that ties you to the site more strongly. This is something of a guess on our part based on basic psychology. If you've gone to the trouble of downloading and installing something, which is then constantly in your line of sight when you open up your device we think you're more likely to make use of it.
This can be a positive and a negative for you, the end-user.
Apps are very convenient.
But anything that casino sites push on their customers should be viewed with some suspicion. Sorry to give you this paranoid view, but it really is the best way to view most modern commercial interactions.
Casino sites exist to maximise the profits of their owners – welcome to capitalism. Everything they do is to that end. The profits of a casino are all, 100% the proceeds of lost bets. The more a casino can persuade you to play, the more they will make, because you are overwhelmingly likely – and more or less guaranteed when viewed as a part of the group "customers" – to lose.
So be aware of this if you want to download an app. There aren't really any sites that will force you to use an app without the option to simply browse to a mobile website.
The best decisions around gambling are the ones that prioritise your own best interests above all else.
So weigh this up before downloading an iPad casino app:
Is this a site I want to use regularly and for the long term?
If it is it might be worth downloading the app.
Having an app might discourage you from shopping around and trying other sites. However, this isn't always the right thing to do. Shopping around, particularly in the form of welcome bonus shopping, can be harmful. All welcome bonuses are designed to tie you to a site and are best treated with the same sort of scepticism that you apply to apps – only take them on if the site is genuinely good on its own merit, and make sure you fully understand the deal before you sign up.
Downloading iPad Casino Apps from the App Store
Apps are a potential security risk. The best way to keep safe is to use the official Apple app store as the source for your apps. This will ensure that at least some quality and safety standards have been met.
Follow good security protocols even if you're only using official App Store apps. Have good passwords, use a password service if possible, keep your iPad up to date with the latest downloads and so on.
Paying for Games on an iPad Casino
All this advice on safety around casino sites is partly because gambling can be addictive. But it's also because you need to shift money around in order to play casino games for cash, which is why most people play them.
On your Apple iPad, you have one option that no other casino customers have.
Using Apple Pay on your iPad Casino
Apple Pay is available only on iOS devices. And it is an increasingly popular payment method at casino websites.
Apple customers and iPad casino users can of course use any of the other payment methods that casino sites offer. These are:
Banking payments,
E-wallets,
Mobile payments, and
Prepaid cards and vouchers.
Banking payments are generally very secure, they usually come with the highest payment and withdrawal limits because of this security, but they can be the slowest payment methods.
They use your bank account, via a transfer, or the details of your debit card to access your bank account for a faster transaction.
E-wallets are most easily understood by reference to the most successful e-wallet in the world. PayPal is the model for these systems. They are online money storage devices that give you a password or other code that you can use online. Most are now considered 100% safe and secure and they are almost always fast and easy to use online. There may be a charge to receive money though and some e-wallets cannot be used to claim welcome bonuses – yet another reason to read the small print.
Mobile payment systems are apps that allow a casino site to take payment from your phone bill or phone credit. Credit card payments are now illegal in UK casinos and some casino sites will also not allow you to use a future phone bill as a proxy for a credit payment. Be aware of this and of your own financial safety if you're using apps like Boku or Pay by Phone. These payment methods are usually limited to very low deposit levels, typically £30.
Prepaid cards and vouchers take real-life coins and notes and turn them into online cash via cards with codes or passwords. They are fast and safe to use, but very often cannot be used to accept payments.
Apple Pay has been available in the UK since 2015 and it's a version of two of these systems: e-wallets and bank payments.
As this is a method specifically designed for Apple products and specifically designed around mobiles it's extremely easy to use and has done nothing to diminish Apple's reputation for good security and good service.
In order to use Apple Pay online, you need to find a site that accepts it.
Casino sites are rarely shy of advertising their payment methods because they know it's a big deal for players.
So just browse to the front page to look for Apple Pay among the list of payment methods.
Or use a list of Apple Pay casino sites.
Apple Pay works very like an e-wallet but it's also a link to your bank account. It's a way to use a bank account online without ever sharing your bank account details online.
One of the reasons why e-wallets are so popular is because they put a buffer between your bank account and the potential dangers of the online world.
However, Apple Pay is more directly linked to your bank via a debit card.
You link cards to your Apple Pay account with the "wallet" service.
To make payments you'll need to pick Apple Pay from a list of options at the cashier screen, decide how much you want to deposit and confirm the payment with your Touch ID.
You need of course to keep your device safe, and you can lock lost Apple devices and track them should they fall out of your hand.
You also need to keep yourself safe in another way.
Safe Gambling with your iPad Casino
Apple Pay makes it really easy and convenient to make payments on your iPad. Sometimes easy payments are not in your best interests.
We've covered how to find safe iPad casino sites, but you should also consider your own personal safety.
Safe gambling can never be taken too seriously. An iPad is going to give you super convenient access to your iPad casino site at any time. Make sure you're using it safely.
The first tool in keeping yourself safe is a good understanding of how the casino industry works.
Remember, casino sites are not vehicles for delivering entertaining gambling games to players. That is something that they do, but their prime purpose, the reason why they exist is to produce maximised profits for their owners. As a customer, your betting losses are the site's revenue and its profit. Any site that pays out more than it receives will go out of business.
So while casino games are random and, in their own terms, fair, they are set up to deliver a profit – and thus to deliver more betting losses than wins.
This doesn't mean that you won't come out well of an individual gaming session or in your whole iPad casino experience, but the likelihood is that you will lose money when you play casino games and the more you play the more you will lose.
That's why the industry's gaming advice – stop when the fun stops – contains the one single truth you should keep at the front of your mind.
Play for fun!
Don't even consider winning money.
Most of all don't ever depend on winning money from casino games and don't play in order to recover losses. Play because you're enjoying the games and having a good time. If you consider casino games as a form of entertainment it's easier for you to acknowledge the truth that you have to pay for entertainment.
There are a lot of tools to help you do this these days. The casino industry is under pressure to help keep players safe. Make use of these tools, which include safe gambling advice, links to organisations that can help you if you get in trouble, and tools to limit your playing time and your spending.
Make use of these tools.
Another way to keep yourself financial is by:
Playing iPad Casino Games for Free
Playing games for free is the best way to not lose any money!
There are really two ways you can do this.
The first is to sign up at a UK licensed casino site and pick your game, and simply play it in demo or free play mode.
It's not possible to play live casino games for free in this way. At least it is very rare to find the opportunity to do so. Live casino games require staff to operate, so they cost money to run no matter who is playing.
The other way to enjoy free iPad casino games is to find review sites or manufacturers' websites. Most will offer you the chance to play slots and table games without depositing any money. You should have to prove your age in order to play, but in most cases that is just a case of putting a date of birth into a box.
We are not here including games offered as part of offers or free spins offers in our definition of free games.
These games might be available for free in theory, but there is almost no "free" offer that is genuinely free. We discuss such offers in detail elsewhere on this site and we really encourage all casino players on iPads, mobiles, and desktops, to understand casino offers and to learn how to assess and make the most of them.
Enjoying iPad Casinos
A lot of this piece has focused on safety and security. That's because this is important. But it's equally important is to enjoy your iPad casino games and even a way of keeping yourself safe.
Modern casino sites offer a really great experience and iPads are amongst the best tech humankind has ever produced, so get your safety advice clear in your head then log on and enjoy the fun!