iPhones have been with us since 2007, when they started to change the world by introducing the modern generation of smartphones, with touch screens, and basically everything you can find on a computer. And now, we have the iPhone casinos!
Smartphones have been key to the boom in online casino gambling in the UK and around the world.
Most internet access is now via mobile devices. Casino sites are set up to support all popular mobile devices, and most games developers now describe themselves as "mobile-first" – which means just what it says, the games are designed to work on a small screen, rather than designed for desktops and then adding a mobile version as an afterthought.
iPhones use Apples iOS operating system – the same system used in the company's computers, smartwatches, and iPads – and that is the key variable you need to look for to see if you can use a casino site on your iPhone or not.
Here we'll have a look at:
How to play casino games on your iPhone
How to pay real-money casino games on your iPhone
How to find safe iPhone casinos
How to download iPhone casino apps, and
How to play free casino games on your iPhone.
Let's go.
Best iPhone Casinos UK
How to Play Casino Games on Your iPhone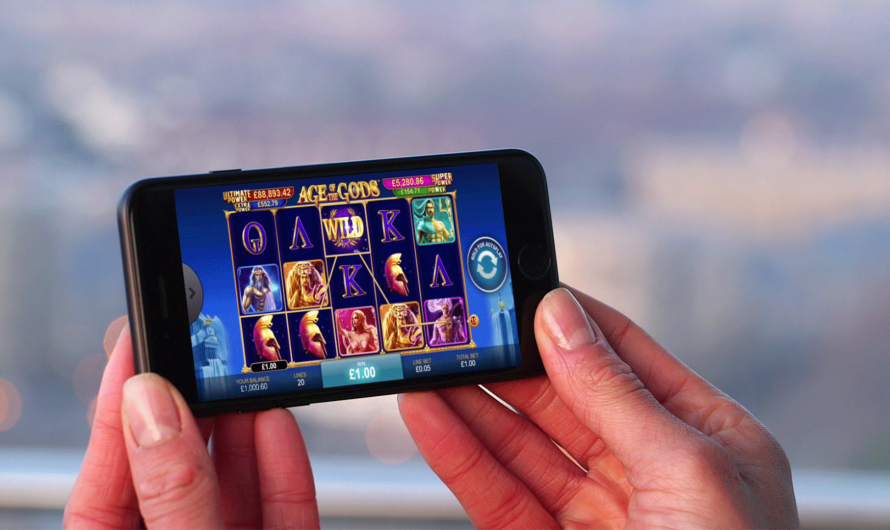 Online casinos are now massively biased towards the smartphone user.
They work via apps and mobile browsers to deliver all the services that a desktop user can enjoy.
That will be your first choice:
App or mobile browser.
If there are any casino sites out there that don't have a mobile-friendly website we'll be amazed. They may exist – as may Big Foot – but if they do you don't need to bother yourself with them.
The same is true now of the vast majority of online casino games, online slots, and even live slots. Most games designers are now mobile-first companies, and that means that they design their games on mobile platforms. They work with smaller screens and they work with touch controls and they look fantastic.
Apps are a little different. Not every casino site offers a downloadable casino app for your iPhone.
The absence of an app shouldn't stop you using any site that you can use on an iPhone. In fact, it might be a good thing.
Apps put something on your phone, taking up space. They also tie you into a site. That's why companies like you to download an app – it's more likely to make you go to their site than to browse for other ones. So, even where an app is available you need to be clear in your mind that it's something you want to have on your phone and that the site you access via the app is one you want a long-term relationship with.
Apps vary widely in what they offer. Some are full of features, and you'll be incentivised to download and use them with exclusive content. Others aren't much more than a link to a mobile site.
The only thing you really need to be clear on is that an app is safe for you to use.
We'll cover how to find safe iPhone casinos safely, but in terms of the app, it needs to be an iOS app.
One way to make sure that an app is safe is to get it from the official Apple App Store. That means it has passed certain safety and quality tests.
You should also make sure you're using encrypted sites and that they have official Apple branding on their app downloads.
Anyone with an iPhone can play pretty much any casino game via review sites or manufacturer's websites, but most of you want to play:
Real Money Games on iPhone Casinos
To play real money games you need to play only at safe, licensed sites. In the UK that means you must only use sites which have up-to-date legitimate licensing from the UK Gambling Commission.
This should be shown on the front page of the site, and you shouldn't be shy about tapping and following the link in order to check that the link is legitimate and the licence is in good order.
Legitimacy goes beyond licensing. We encourage you to find good quality sites that take your safety and security seriously. Look for good quality tech – they should tell you about this – and good privacy and data protection policies.
Decent casinos are members of industry bodies. All casinos have to offer links to advise on safe gambling, but the really good ones give you good quality information of their own. They also provide tools so you can play real money iPhone casino games safely. Look for limiting tools, timers, and the exclusion options at any site you use.
In order to play real money iPhone casino games, you need to have real money in your casino account.
For that, you need a banking system. You can use any number of payment options on your iPhone.
The old-fashioned options, and still among the most trusted ones, are to use your bank account, either via a bank transfer or with your debit card (it is illegal to fund gambling with credit cards in the UK now).
Most popular is the e-wallet. PayPal is an e-wallet. Also big in the gambling communities are Skrill and Neteller. All have pretty similar functions, are widely accepted and broadly believed to have good records on security. Payments are almost always instant – though you need to check the details on both the e-wallet you use and the casino you're signing up with – and you'll find details of any charges on the e-wallets terms and conditions. PayPal, for example, charges 6% for money transfers, independent of what the casino might charge.
The obvious answer is to use a payment method specifically targeted to mobile phone users.
There are three options for iPhone users in this instance:
How to Pay for Casino Games using an iPhone
Phone payment apps were designed to make phone payments more convenient. They are not cheaper. And they are not without their issues.
For example, paying by many pay-by-phone apps comes with much lower payment limits than other payment methods.
It is not possible to receive payments from casinos on some pay-by-phone options.
There are three widely available apps for iPhone casino users.
They are:
Boku,
PaybyPhone (which is also branded a number of other ways), and
Boku is an app that you can use to put payments for products and services onto your mobile phone bill. Such payments are potentially problematic around gambling. If you pay for your phone use after the fact then you are essentially gambling on credit. This is an issue both legally, and for your own safe gambling practices. Be sure that you're following good safety procedures and that you're comfortable with your spending if you use Boku.
PaybyPhone and its various other names is another option that basically provides the same service as Boku.
Pay by phone can also make payments using mobile phone credit that you already have.
Apple Pay is a mobile payment method with a difference. As you've guessed it is produced by Apple, and it is unique and specific to iPhones and iOS devices. It doesn't use your phone bill but is an all-in-one payments app that you can link with other accounts and use rather like an e-wallet.
Apple Pay is not as widely used at casino sites as common e-wallets, but that will change. The other pay-by-mobile apps are also likely to become more popular, and other companies will move into the market and provide alternatives.
There is no payment method that you can use on a desktop computer that you can't use on an iPhone. It's just a matter of choice and convenience, and you need to weigh these up, including charges and waits for payment processing. The lower limits on pay-by-phone apps at most casinos might even be a good thing for you, as lower deposits are a great way to keep your spending down.
How to find the best iPhone Casinos
The best iPhone casino won't be very different from the best desktop casino and the best Android casino or any other platform.
You should learn to understand casino sites and judge what they have to offer because there are an awful lot of them to choose from and they're all doing an awful lot of marketing.
For iPhone users there are two unique choices, which we've already covered:
If you prefer to use an app to access your casino play then you need to find an online casino with an app that you can use.
If you want to use Apple Pay, or Boku, or PaybyPhone then you need to find casinos that offer those payment methods.
Our first advice to any online casino player is to make safety and security their first thought.
We've mentioned licensing. Also picking high-quality sites that are well made and have their own security very much in order.
Then we get to the games that you want to play.
There are now so many online casino games that you could play 10 new games a day and you won't catch up with the market for years.
Most players are never going to play the full offer of games that even a modest site has. We just reviewed a UK online casino site that had over 3,000 games listed.
So you need to find casinos that have the games that you enjoy.
This may be slots, casino games, scratch cards, video poker, or live casino games. All of these are available in mobile formats now.
A good way to find slots that you like is to look for providers that you like. It helps when casino sites arrange their games in ways that make searching for or browsing games easy: that's something that's well worth checking.
Live casino games are the newest casino experience, but they're very much available on your mobile. These games usually come from a select number of producers: the most popular are NetEnt, and Evolution Gaming and Playtech also makes games.
If you have a preference for any of these producers then, of course, you need to pick a site that offers those games.
It's also possible to combine your casino play with other online iGaming or gambling interests. Most sportsbook and virtual sports sites have an associated casino brand. Bingo is never far from the casino world. And if you like the bingo you may also find a family of sites that will provide all your gambling services.
Playing iPhone Casino Games Safely
You should also consider your own safety when you play real money games at iPhone casinos.
This means your online cyber safety, and your personal safety.
You need to keep your iPhone safe. iPhones are generally considered to be secure. One of the attractions of Apple products has been their relative security from viruses, malware, and the like.
They are not immune, however.
Hopefully, you have a decent idea of the basics of online security. There are particular risks around gambling for two reasons:
Gambling is restricted by legislation. Some people don't want to follow the restrictions in that legislation. By trying to do so – for example by breaking age limits – they can put themselves at risk of unscrupulous operators.
Gambling seems to offer a quick way to get money for little outlay. One of the perpetual risks of gambling is its promise of "money for nothing". Yes, you might win a big prize, but if you are genuinely in need of financial help then a gambling website is the last place you should be trying to fund your rent or pay your bills. You are really in a vulnerable position and likely to make bad decisions when you are desperate so please be aware of this.
Use the best technical fixes that you can with your iPhone.
Use good passwords and pins, and don't share them between accounts. Make full checks on any apps that you download, and only download gambling apps from sites that you trust. Be careful about how you access shared Wi-Fi or shared USB charging. Check what permissions the apps you download ask for and don't grant everything they ask for without question. Use official stores and sites for apps. Delete apps that you're not using. Your iPhone cannot be hacked if it's not connected to the internet, so consider Airplane mode or the off button. Biometric access protections are the best level of security. Safe, legitimate apps will have been reviewed and reviewed by credible reviewers. Protect your screen and your passwords in the physical space you are in. Make sure that your phone's accounts won't be auto-logged in if you lose your phone. Update your apps regularly. Take all the iOS updates as soon as they become available.
You also need to know how to keep yourself safe on your iPhone. The two go together in fact. It's by getting into financial difficulties or falling into addictive or problematic behaviours that you are more likely to be lax or sloppy with your security.
Safe gambling is a big area in its own right and we think that anyone who uses online casino sites owes it to themselves to take it seriously and to do at least a little bit of research.
The first and most important rule is the one the industry promotes, which is "when the fun stops, stop".
That's important because it makes it clear that you should be playing online casino games for fun. Once you forget about the money you will start to play more safely. Playing for money is a mug's game. The vast majority of players will have a fine, fun time and will, in the long-run, lose relatively small amounts of money.
Think of gambling as a form of entertainment rather than as a means to win money. You pay for all your other entertainment, from the books you read to the games you play for the meals you buy, and you should expect to pay for your gambling.
Set limits on your play, including strict spending limits that you do not break. You can use tools to make this easier.
You should also limit the amount of time you spend on gambling. Find out about time limiting tools you can use.
Be aware of your mental state and your behaviours around gambling. Don't play in order to avoid difficult feelings or situations. Don't play to chase money that you've lost or to otherwise meet urgent financial needs.
Be honest and open with others about your gambling behaviour.
The fact is gambling on an iPhone means that you can access a slot at any time of day or night, and that can be a double-edged sword if you need to be careful of your gambling behaviour.
Enjoying iPhone Casinos
We don't mean to make you paranoid, but it is the right thing to be careful. The vast majority of iPhone casino users are very capable of enjoying a great time on their iPhone and doing so safely.
iPhones are among the most exciting pieces of tech man has ever come up with and the casino industry produces innovation after innovation.
There's never been a more exciting time to be n iPhone casino player than now.