Kansas Online Casinos and Gambling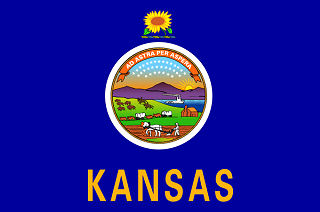 Gambling has enjoyed a rich and varied history in Kansas since before it even became a state.  The saloons of the 19th century have given way to sleek, modern facilities that offer a host of amenities not even dreamed of by the state's pioneering founders.
Casino Game and Poker Law in Kansas
Oddly enough, the state laws governing gambling are very strict when it comes to gambling outside of licensed casinos.  For example, it's completely illegal according to Kansas state statutes to organize a poker game in your home.  This applies even if the operator of the game isn't making any money.  The only time a home poker game would be legal is if there were no betting going on at all.  Since betting is such an integral part of poker, it isn't possible to play it without betting.
Inside sanctioned and licensed gaming establishments, the rules governing what kind of games that can be played are extremely easy going.  There aren't any games that are forbidden so poker enthusiasts need only visit the nearest casino in order to be able to legally while away their hours playing poker.  The casinos are allowed to be open 24 hours a day if they want and all but one take full advantage of that allowance.  The minimum gambling age in Kansas is 21 so alcohol is also served in the state's casinos.
History of Gaming in Kansas
Other than the poker games at the old time saloons, the first real gambling events in Kansas that were accepted by society was the greyhound and horse racing that have always been popular in the Midwest.  Kansas is often referred to as the "home of greyhound racing" due to the history and because both the national registry of racing hounds and the Greyhound Hall of Fame are located in the state.
The first regulated greyhound event in the state took place in Cheyenne Bottoms back in 1886.  This event was known as coursing, which was the greyhounds chasing rabbits in an enclosed field.  It took a century for betting on greyhound events to become legalized but once it did in 1986, the industry has really boomed.  With the rise in sentiment against dog racing in recent years, the greyhound racing has seen a steep decline in popularity.
In the mid-1990s, the four Kansas Native American tribes entered into compacts with the state to allow them to open Class III gaming facilities.  Now all four tribes resident to Kansas operate one or more casinos in the state.  These tribes are the Kickapoo Tribe, which was the first to open a casino in the state; the Prairie Band Potawatomi Nation tribe; the Sac and Fox tribe; and the Iowa tribe.
During the first decade of this century, the Kansas legislators fought for and passed bills that would allow the state to build and operate casinos.  The jobs created by both the casinos themselves and the supporting businesses have been a big boost to the economy of the region.  Gaming revenues and taxes have funded a number of state programs ever since.
As of now, there are three state-owned gaming facilities in Kansas but at least two more are in the planning stages.
Types of Gaming and Other Entertainment 
Just about any type of gambling game is allowed in Kansas provided it takes place in an authorized and licensed facility.  Craps, blackjack, roulette, slots, bingo and poker are all highly popular.  Of course, wagering on the greyhound or horse races is also a popular past-time in the state.
Many of the casinos do offer other forms of entertainment, such as musical performances or comedy shows, for those who need a break from being out on the gaming floor.  Of course, most also offer one or more dining options as well as other amenities such as spas or golf courses, usually as part of a resort complex that includes a hotel.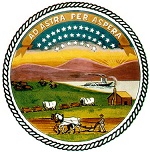 The Casinos of Kansas
Boot Hill Casino and Resort – Located in Dodge City of Gunsmoke fame, the Boot Hill Casino and Resort offers plenty of fun to area visitors.  The property includes a 128 room hotel, a bar, two restaurants and a gaming floor that contains 584 gaming machines and 13 table games.
Golden Eagle Casino – This Native American operation is located in Horton and offers two restaurants.  The roomy 45,000 square feet of gaming floor hold 18 table and poker games along with 745 machines.  There is a 368 seat bingo hall also on the property.
7th Street Casino – Another of the Native American casinos found in Kansas, this casino is one of the smaller operations but is nonetheless popular in Kansas City.  There is a restaurant alongside the 20,000 square feet of gaming space that offers just over 600 gaming machines.
Hollywood Casino at Kansas Speedway – Also in Kansas City, this facility is huge and has all the gambling one could want under one roof.  The gaming floor is 100,000 square feet packed with 2,000 gaming machines, 52 popular table games and a full 25 poker tables.
Prairie Band Casino & Resort – Located in Mayetta, this Native American casino resort has a 297-room hotel, three restaurants and a brand new 18-hole golf course.  The 35,000 square feet of gaming floor holds 31 table and poker games along with 1,100 gaming machines.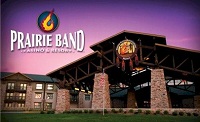 Kansas Star Casino – This pretty property in Mulvane offers three restaurant choices as well as gambling.  With 1,300 machines and 37 various table and poker games, no gambler will be disappointed with the Kansas Star.
Sac & Fox Casino – This large Native American casino can be found in Powhattan.  The 106,000 square feet of gaming floor contains 830 gaming machines along with 13 table and poker games.  Also on the property is the bar and two restaurants.
Casino White Cloud – The states smallest casino is located in White Cloud, Kansas and is Native American owned and operated.  The only casino not open 24 hours every day, this cozy casino has 21,000 square feet of gaming space that has 370 gaming machines but only 4 table games.  The major draw with Casino White Cloud, however, is the large 500 seat bingo hall.
Online Casino and Poker in Kansas
There are ten states in the union that have specifically prohibited online gambling, these are Illinois, Indiana, Louisiana, Michigan, Nevada, New Jersey, New York, Oregon, South Dakota, Washington, and Wisconsin.  Kansas remains one of the 'gray area states' that has no legislation banning residents from placing wagers, playing poker or playing other casino games at online casinos.
This means that there are a variety of online options open to players in Kansas.   Casino, poker, bingo and sportsbook sites exist that cater to American players who wish to play online which you can find out about in our USA casino pages.