Why Messi could be joining Spurs
is fantasy about to become reality?
Things change quickly in football, and what seemed unthinkable just a few months ago is now growing into a distinct possibility; Lionel Messi could well be on his way to White Hart Lane this summer, and here are six reasons why.
1. Messi Wants To Leave Spain
It's no secret in Spain that Messi and Barcelona coach Luis Enrique have never really hit it off. There have been well documented bust-ups on the training ground and the Argentine wizard has been on the verge of walking out of the club on several occasions. Rumoured tensions between Messi and Suarez, who has been in phenomenal form this season while Messi has failed to live up to his own high standards, have contributed to the air of disenchantment around Messi's Nou Camp career. There is also the looming shadow of his long awaited tax evasion trial, due to begin at the end of May, which could be the final nail in the coffin for Messi's long love affair with Spanish football.
2. Silencing the Doubters
There are still some doubts about whether Messi could thrive anywhere else but Barcelona. Despite winning player of the tournament at the 2014 World Cup for Argentina he failed to set the world alight and cut a dejected and frustrated figure in the final.
This only added to the growing chorus of doubters who believe this apparent lack of versatility prevents him from being worthy of a place among the all-time greats. His idols Cruyff and Maradona were able to replicate their feats wherever they went, and even his arch-nemesis Ronaldo has proven himself a domestic league, cup and champions league winner at multiple clubs. A move to the Premier League would finally allow him to prove himself as the greatest ever.
3. The Argentina Connection
And what better place to let his priceless experience and dazzling skills work their magic than in the heart of fellow Argentine Mauricio Pochettino's Tottenham side who have been widely acclaimed as the most exciting young English team for a generation. Pochetinno is reportedly close to Messi and was within a whisker of teaming up with him while at Espanyol.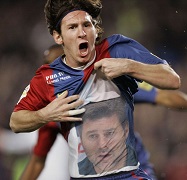 Pochettino keen to team up with Messi
The Argentine connection is thought to be crucial to his move to England with Messi unable to say more than a few words in English – something that his would be coach Pochettino will be able to relate to, having refused to speak to the media without a translator during his first season in English football.
Messi's unwillingness to learn English is thought to have infuriated his publicists as they believe he is missing out on millions in sponsorship deals. With Pochettino as a mentor he will be able to establish himself commercially in the most lucrative league in the world and enjoy a very profitable career swansong.
Messi would also be able to take inspiration from another fellow Argentine who's thriving at White Hart Lane – Erik Lamela. Lamela struggled to settle in during his first two seasons in London but has reaped the rewards of hard work and commitment, overcoming some challenging personal difficulties.
If Messi has any doubts that he can make the move he need only look at what his fellow countrymen have achieved. Spurs fans of course will recall another couple of Argentine heroes who etched their names into club folklore – Ossie Ardiles and Ricky Villa. Even Maradona turned out for Spurs on one occasion.
Messi's loyalty is one thing that's never been in doubt and those close to him suggest that he will only go somewhere he feels a strong connection with. Spurs are the only Premier League club that can tick these boxes for Messi.
4. Barcelona are Finally Willing to Sell 
It was always understood that Barcelona would never sell Messi under any circumstances, but they have not been able to overcome the financial difficulties that have threatened to toropedo the club in recent years. The clubs finances are so badly managed that they actually made a loss from their recent winning Champions League campaign. This was down to the huge bonuses they were forced to payout to players after the win. In fact player wages and bonuses make up a completely unsustainable 74% of their total revenue and with the Premier League eating away at global La Liga viewing figures it has been accepted at board level that radical action is needed. This includes the previously unthinkable option of selling their talismanic midfielder.
Behind the scenes there is a growing acceptance that Messi moving to the Premier League is now more of an inevitability than an impossibility. With the acquisitions of Neymar and Suarez it is felt that it's now or never if they are going to cash in on Messi, and with his form dipping at the same time that Suarez has peaked, the general feeling is that the club can now cope on the field without Messi.

5. Spurs Can Afford It 
With the money from the £5bn Premier League TV deal due to start pouring in this summer , English clubs are set to be able to compete for the very best footballing talent. That has previously been reserved for the two Spanish giants, Barcelona and Real Madrid, with even top English clubs like Man Utd having to make do with cast offs such as Di Maria.
Now pretty much every Premier League club will be able to compete for the best players, not just in terms of transfer fees but also in wages and bonuses. Even with the new stadium under construction, Messi's £330,000 a week wages will not be a stumbling block for Spurs. In fact the stadium will be a guarantee of extra revenue, including naming rights which could easily cover Messi's £18m a year wages.
Add the prize money from guaranteeing Champions League football, and the extra coverage this will generate for Spurs across the world next season and you can see that Spurs are going to be big hitters in the transfer market this summer. Spurs chairman Daniel Levy is a notoriously tight negotiator but with the flood of money coming into the club even he will have no problem breaking the bank for Messi.
6. Spurs Are The Best Football Team in the Premier League
No longer the declaration of a deluded member of the 'Yid Army', now every pundit in the land, even arch-gooner Paul Merson, claim that Spurs play the best football in the country. And the stats back it up too.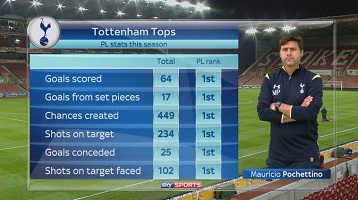 Sky Sports stats reveal Spurs are the best
With the so-called big teams like Chelsea, Utd and Liverpool all floundering this season, many are sensing a changing of the old order. It's clear that just throwing money at the club, as Chelsea, Man City and Man Utd have done, is no longer enough. You need the kind of tactical genius and team spirit that Leicester and Spurs have shown this season. Spurs especially have shown that you can have sound finances, extreme discipline, and still play attractive, effective football and this combination has undoubtedly turned them into the best team in the country.
So when contemplating a move to the Premier League why would Messi look twice at the likes of Utd and Chelsea, who have been the embodiment of bloated failure, disunity and sheer mediocrity this season? At Spurs he has the chance to add a glorious flourish to the end of his career, leading some of the most promising young players in a generation to the kind of glorious heights that Spurs have not known since the early sixties.