Live Webcam Poker
Live webcam poker against other real players across the world has long been a dream of online poker players who long for more realism in their games than has hitherto been available.
The traditional avatars, on offer at so many sites, or even fully animated 3D models such as those offered by PKR 3D have never succeeded in supplanting the presence of a real human face in front of you that you can read for tells, attempt to loosen up or wind up, or even just have a friendly chat with!
Now with PokerCam webcam technology from 888 Poker you can play face to face with multiple players from all over the world.
ALL REGULAR FEATURES AVAILABLE
As well as regular tournaments and ring games you can also play face to face webcam games one to one/heads up and they also offer team play tournaments now so you can create your own online team to battle other teams online – all via webcam!
This new frontier in online poker, which has long been desire by poker players, has been made possible by the huge proliferation of fast broadband access meaning multiple webcams can stream their cam video streams across the site at the same time without any lag.
HIGH QUALITY WEBCAMS
Obviously the quality of the video webcam stream depends on the quality of each person's webcam, but the PokerCam technology is compatible with even the highest quality webcams.   This means even if your webcam is of a low quality, if the other players' webcams are high quality you will see their faces in full high definition. You are able to chat as well (or sing or shout even!), and again this depends on the quality of your webcam.
The vast majority of webcams these days are of a high enough quality that you can make tells on the other players if you are looking for them, of course there's still nothing stopping them putting shades on to hide their faces but if they wanted to do that they may as well go on one of the non-webcam tables!
PokerCam technology has been implemented for a good few months now and it is the fastest growing area of the 888 poker room.   If you haven't checked it out yet click on the link below to literally see what you've been missing!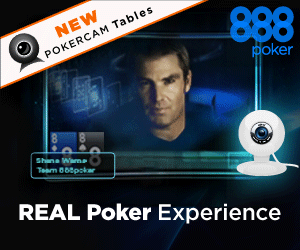 888 Poker Cam Technology
NO DEPOSIT BONUS
888 have recently extended their £20 no deposit poker bonus due to the overwhelming popularity.   This is a good time to join if you haven't done so already regardless of whether you want to use a webcam to play poker or not.  Although the no deposit bonus appears to have been extended indefinitely it's best to claim it asap as they could withdraw it at the end of the month without notice, seeing as they have given no deadline to claim the free bonus in.
OTHER WEBCAM GAMING TECHNOLOGY
Live webcam poker has exploded in popularity recently with webcam roulette and particularly webcam bingo gaining huge market shares. The line between land and online casinos continues to blur and it looks like this trend is likely to accelerate as the technology develops.
Casinos have always been at the forefront of innovative technological developments and it's exciting to think where we will be heading next with interactive webcam based poker and gaming.  Certainly it looks like the next big thing will be virtual reality headset poker. Keep a look out for 888 launching their own VR poker programme soon as they are usually the first to experiment with new technology.