Live Blackjack Casinos
Live Blackjack is the world's favourite casino card game. It is simple yet sophisticated; easy to learn but with depth to the gameplay, and it is one of the few casino games that might reward skill.
Every casino site has a good choice of blackjack tables and you can now completely recreate the magic of playing the game in Vegas, Monte Carlo, or Mayfair with live streaming versions.
This guide will tell you how to play the game, how to play it safely, and what you need to look out for at live blackjack casinos.
Best Live Blackjack Casinos
Blackjack: the basics
Blackjack is a simple card game pitting players' hands against a dealer's hand.
The aim of the game is to get a total hand value as close to 21 as possible without exceeding it.
The game uses a standard deck of cards (or decks, shuffled together in a "shoe") with no jokers.
Aces are valued at 1 or 11, whichever most advantages the player; number cards are valued at their face value; and court cards (jack, queen, and king) are all worth 10 points.
(Hands that contain aces have a "soft" total, which is the total with the maximum value of 11. For example, a hand of an Ace and a 2, is worth a "soft" 13 because it can be collapsed to a value of just 3 if the next card is too high.)
The standard game is played with one dealer and a number of players, traditionally seven at most in a casino.
Playing Live Blackjack
In a standard game this is what you should expect:
The shuffle. Cards are usually delivered from a shoe. They are shuffled by the dealer.
The players place their first bet to join the game.
First card is dealt face up, clockwise around the table, and finally to the dealer.
Second card is dealt face up to the players but face down to the dealer – this is the "hole" card.
Naturals pay. A "natural" is an ace with a court card. Unless the dealer has a natural too you've won and will be paid, usually 1.5-times stake.
Hit or stand. Players play one-at-a-time from the dealer's left. The player is asked whether they would like to "stand" or keep the cards they have, or "hit" and take the next card, which will be dealt face up. Players can continue to ask for cards as long as the total of their hand is under 21.
Dealer's turn. After all the players have finished their hands, the dealer makes their play. Dealers follow a set of rules that you should be aware of when you join the game.
Pay-out. If the dealer goes bust then all players with totals under 21 will win. If the dealer has not gone bust then they will pay – usually 1:1 – all players with a higher total (under 22) than they have. Drawn totals are awarded to the dealer.
Live Blackjack Standard Variants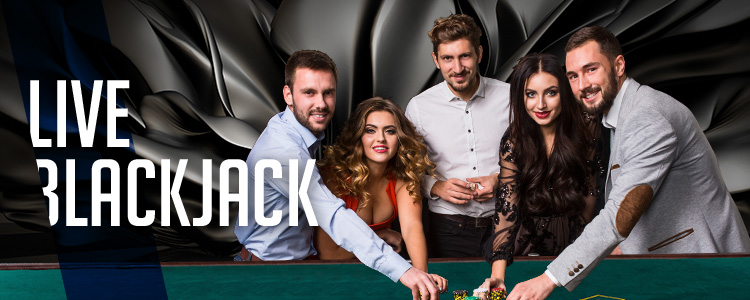 That's the very simplest version of the game. Most live blackjack games are slightly more complex than this and include these extras:
Splitting Pairs
Players who are dealt a pair of same-value cards (two 2s, or two jacks for example) may be allowed to split this pair into two hands. In doing so they must double their original stake, playing the same amount on both new hands. The dealer deals to the hand on the player's left first, completing that hand before moving to the right. Most games limit the number of cards that can be dealt to a split pair of aces to just one and do not pay a 1.5-times stake on naturals, reverting to the 1:1 pay-out.
Double Down
A phrase that has moved into more general usage, doubling down in blackjack is a doubling of the player's bet when they start the round with three of the most advantageous totals, 9, 10, and 11, as their total. In most cases, the player will then be dealt a single card face down which will be played at the very end of the game round.
Neither splitting nor doubling down is compulsory.
Insurance bets
An insurance bet usually comes into play when the dealer has an ace showing. This bet pays out if the dealer completes a natural blackjack and it is usually limited to half the player's original stake, but paying 2:1.
Live Blackjack Simple Strategy
Blackjack strategy is one of the few casino game strategies that may have some validity. Almost all gambling strategies are little better than scams, and rather than the "winning advice" they promise to players they are means by which to limit inevitable losses.
The blackjack strategy is normally influenced by card counting.
Card counting is a specific strategy and it is extremely hard. It works in live casinos and it often involves teams of players and watchers who observe cards being dealt and from their observations gain a slight advantage by knowing which cards are left and thus are more likely to be dealt.
The reality is that few casual players are able to do card counting. And, most live casino games make it impossible with endless packs.
If you ever see a live single-deck blackjack table then that is your best chance to card count online. And that's why you almost never see them.
The strategies that do work are tactical choices based on probability. In very large part they are derived from the instructions given to dealers.
Casinos make money. They make money because they win most of the bets. So, their dealers are playing games in the most efficient way possible.
Here, for example, is a dealer's set of rules:
Dealers cannot double down or split.
If the dealer's hand totals anything less than 17 they must take another card.
If the dealer has a soft 17 (that is one containing an ace) they must take another card. 17s must be hard to register for the dealer.
As you can see, it's very simple. A player following these rules would have a good chance of getting close to the advertised theoretical return to player on these games.
Dealers have no choice in these decisions, so any attempts you might make to influence them are a waste of your time.
This is not a complete blackjack strategy guide.
These do exist, and will give you a list of decisions that you should take for every possible set of circumstances: when to double down, when to split, and so on, depending on the dealer's card.
Any such guide will simply increase your chances of winning, and it will be based on probability, it will never guarantee you a win.
What You Need to Know to Play Live Blackjack
Blackjack is popular and simple. It is almost always the most popular live casino game at any site, and in high demand.
There are a few differences between live casino games and RNG games. RNG games are simulators, which run automatically.
The first thing is demo mode.
Because real casino dealers need to be paid it is more expensive to host and run live blackjack games than to host an RNG game. This makes free games very hard to come by – if you see them in some promotion or other grab them.
Because you cannot play for free you really want to be sure you know what the rules of the game you are playing are.
There are a number of blackjack variants, be sure you know what to expect.
Live games may put extra pressure on you. You are playing alongside other players, and there may even be a time on your decision making. Arm yourself with as much information as possible before you start, and if you're playing to a strategy have it written down.
Live casino tables are usually staffed by young, attractive dealers. Please make sure, first of all, that you always treat all casino staff just as you would like to be treated, and that you make decisions about your gambling for the right reasons.
Live Blackjack Variants
Live games are generally available at a large number of tables.
These are usually ranked by staking level. They are commonly also available to members at different levels of a casino site loyalty scheme.
Blackjack may also come in high-speed versions, for example, allowing players to make decisions without waiting for their turn.
Party games simply amp up the social side of the game with dealers encouraged to chat with players.
Game Variants in Live Blackjack
Then we come onto rule variants.
As with most casino games, different gambling centres have come up with their own versions of a popular game.
More recently, casinos and game site operators try to come up with variants of the game that they can offer exclusively to their players, often giving them a trademarked name.
Here are some popular versions:
American Blackjack
This is a classic game. The dealer's hole card is dealt before the players play.
European Blackjack
This version plays the players' hands before the hole card is dealt to the dealer.
Vegas Strip Blackjack
Dealer stands on soft 17s and checks their hand for blackjack before playing and finishes the game if they have it. Doubling down is allowed on any first hand and on split hands, and players can split everything apart from aces up to a total of four hands. Non-paired 10-value cards can also be split.
Blackjack Switch
Players are dealt two hands, choosing the most promising to play with.
Blackjack Perfect Pairs
This in fact a side bet that pays out on any paid dealt to a player in their first two cards.
The commonest points of difference between blackjack games are:
Whether or not the dealer hits or stands on a soft 17.
The hands on which players are allowed to double down.
The number of times players can split their hands.
The Best Live Blackjack Casinos
Our first priority is always safety. You should never play any gambling game for real money at a site that is not licensed by the UK Gambling Commission.
Be sure you check licences on any site that you use.
And make sure you have a good understanding of how to keep safe online and with your gambling before you go anywhere near a gambling site.
The two biggest providers in the live casino business are now united.
NetEnt bought Evolution Gaming in 2020, bringing together two giants. These are the most common live casino games.
Playtech also produce live casino games.
Any game that you play will be fair – within the gambling world's understanding of that word – and honest and you can play it with confidence if you play it at a licensed site that you are legally allowed to play at.
Live Blackjack FAQ
Is it Safe to Play Live Blackjack?
It is if you do the basic checks on the sites that you use. Make sure that they are licensed by the UK Gambling Commission, and that they use recognised payment partners. If you want to go further do some checking on review sites and forums.
How do I play Live Blackjack for Real Money?
You'll have trouble playing live blackjack without anteing up! You'll need a bank account, an e-wallet like PayPal, or a mobile phone payment system, you'll need to be over 18 (and able to prove it), and you'll need a way to get online.
Where Do I find the Live Blackjack Rules?
Most sites will give you good guides to the games they offer. We – and sites like us – also offer a good deal of information on all the classic casino games.
How Do I Win at Live Blackjack?
You win by chance. Blackjack does reward good, simple strategy, but anyone who tells you they can guarantee you a win is to be avoided – it's a scam. Follow some simple rules and play safely above all.
What is the Best Live Blackjack Site?
Evolution Gaming live blackjack and NetEnt are the most well-known live blackjack providers, but not the only ones. A good site will offer you a wide choice of games from a legitimate provider and good customer service back up too. Don't settle for poor quality sites.