Live Roulette Casinos
Roulette is the world's most popular casino gambling game. Every casino site has roulette in some form or another, and most recently that has meant a large selection live roulette wheels.
This guide will tell you how to get the most out of your live roulette experience and to do it safely.
Live Roulette: the Basics
Roulette is a spinning wheel game.
The classic game features a spinning wheel with either 37 or 38 numbered slots in it. After players have laid their bets on numbers, series or sets of numbers, a ball is released into the wheel.
Round and round it goes, and when the ball lands in a slot croupiers pay out winning bets according to a set of odds.
Live Casino Games
Live casino games have exploded in recent years. They are a journey forward to the past in some ways. Classic casino games are played in a remote location – quite common in the Baltic states at the moment – and players interact with them via a web interface.
These games are extremely popular at the moment and roulette is always at the top of the menu at live casino sites.
This means a lot of choice for players, but also a lot of information to take on board.
Best Live Roulette Casino Sites
Playing Live Roulette Safely
There are a few precautions players should take around live casino games that they don't have to consider with other games.
First things first though: you must only ever play gambling games for money at sites that are licensed for you to use by the UK Gambling Commission.
Scamming is rare these days, but players have to keep themselves safe online. We urge anyone who is at all interested in online gambling to know that they are on top of their safety in three areas:
Tech – make sure your device is safe, up-to-date, and you know how to use good passwords and protective software;
Site safety – licensing is the first step, but you should learn how to look around a site to satisfy yourself that it is safe to use. You should check up on data security as well as gaming security and make sure you know how to reach customer support.
Personal safety – gambling can be addictive. Before you play live roulette for money please do some research into these risks, how to spot them and react to them, and how to ask for help if you need it. This might be the most important paragraph in this guide, please take it seriously.
Live games are rarely available for free. That means that when you play you'll be playing for real money. So make sure you know what's going on before you start to play.
It's self-evident that gambling games are designed to be attractive and to entice players to spend time and money on them. You need to make sure that you're only spending time and money you can afford to spend. Live games use young, attractive staff as a means to bring in players. That's fine, but don't make decisions on spending or staking that are influenced by casino staff. Treat everyone you interact with with respect, but don't fool yourself into a parasocial relationship.
How to Play Live Roulette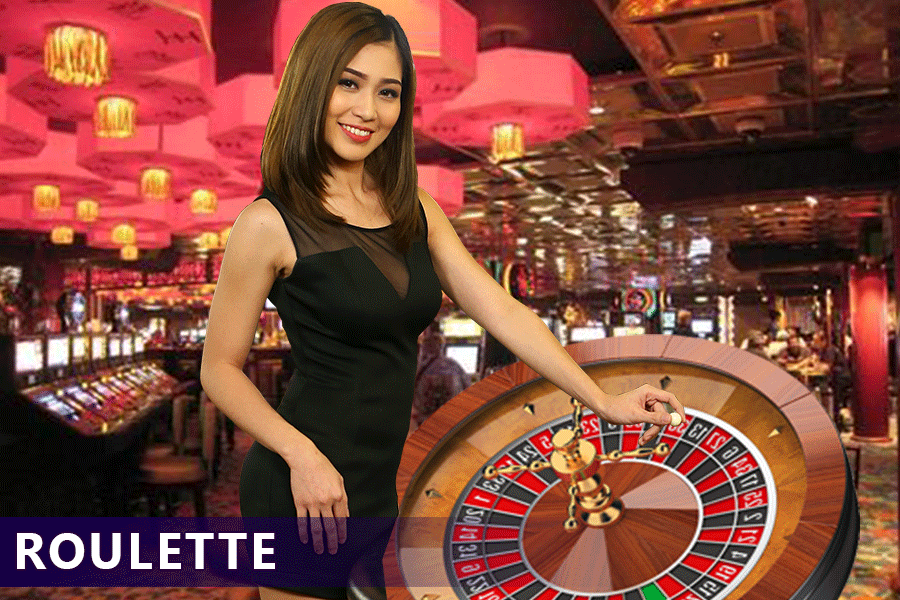 Like the best gambling games, roulette takes a simple central idea and gives it enough depth and variation to give it longevity.
These games have been developed over hundreds of years – and they do what they're designed to do (including delivering a profit to their operators).
This is how to play live roulette.
First, you need to pick your wheel.
Then:
Players place their bets
The wheel is spun.
The ball lands in a slot and the croupiers pay out winning bets according to the pay table.
Betting on Live Roulette
Betting is dependent on the variant of the game you are playing and the rules of the site you are playing it at.
You need to read the rules of the particular game you are playing, but this is a general guide.
The types of bets you ought to see are:
Inside bets and outside bets.
These are named for where they are on the table. Inside bets are less likely to pay out and offer better odds.
These are the odds for a 36 number wheel.
A single or straight number simply asks the player to pick out a single number. It's the riskiest bet in roulette and the most iconic – 32 Red anyone? – and it should pay out at 35 to 1. (All bets include the return of your stake.)
A split is a two-number bet, which you place by putting your chips between two numbers on the board) this pays out at 17/1. (Bets pay out at a slightly lower rate than their probability, which increases the profitability of the game.)
A street is a set of three numbers, which you select by putting your chip at the end of the row. It pays out from 11 to 1.
A square is a selection of four numbers and pays out at 8 to 1. You select your numbers by putting your chip in the centre of the square they form.
You can select six numbers, or two rows, by putting your chip at the end of and between two rows. This pays out at 5 to 1.
Outside bets are set up on the outside of the board.
You can select a colour. Numbers are alternately coloured red and black on the wheel, and players can select to guess whether the ball will end up in a red or a black slot. This bet pays out at evens or 1 to 1.
You can select a high number or a low number: 1 to 18 or 19 to 36. This bet pays out evens.
You can select whether the ball will land on an odd or an even. This pays out on evens.
You can also select whole columns of numbers from the board. This pays out at 2 to 1. The central column for example is: 2, 5, 8, 11, 14, 17, 20, 23, 26, 29, 32, 35.
You can also pick a set of a dozen numbers. These are divided into the first, second, and third dozens, and this bet pays out at 2 to 1.
These are the basics of live roulette betting.
Betting Strategy for Live Roulette
The best way to plan your betting on a live roulette table is safe.
The vast majority of so-called betting strategies are really either scams or damage limitation strategies. There is nothing wrong with damage limitation by the way, but it's not a great selling point, and it is rarely how betting strategies are sold.
The commonest betting strategies work like this:
When you lose, you should double your bet – making the same bet. This means that you will cover your losses – probably. If you lose a 1/1 bet betting 1 chip, you are one chip down, and you then make the same bet with 2 chips and win, you have covered your losses. Unfortunately, doubling gets you to very high sums of money very quickly.
Another common strategy is to double your bet whenever you win. This simply makes no sense.
So make safety your guide.
Theoretical Return to Player in Live Roulette
RTP is a number beloved of gamblers. It is the only measure we have for most games.
RTP is the theoretical return to the player, and it is the amount of money that should be returned to players over the lifetime of the game.
To give you a guide, most slots have an RTP of around 96%. This statistic can also be described as the house edge, which is more commonly used for casino games.
Unfortunately, this is a complex calculation on a roulette table, where the reel may have a different number of slots, where the betting odds may be different, and where different rules on betting alter the odds on some bets.
The pay-out levels on bets gives you some idea of how likely they are to pay out. The fact that around half the numbers on the board are red means that a bet placed on red should return a win around half of the time (on average over a long period of time).
The addition of zeroes and the fact that these make the bet pay-outs lower than the probability is how the house makes a profit.
Broadly speaking though, the overall RTP for the two main variants of roulette, American and European, are 94.74% and 97.3%.
This can rise to close to 99% if the variant uses the La Partage rule that returns some lost stakes.
American roulette, overall, has a lower RTP than European roulette as a matter of course.
What you should take from this is that a profit is guaranteed, and that profit is made up of lost bets. That's why, in the long-term, you should expect to lose money whatever gambling you do on whatever game. You may win, but on average, in the long term most bets are lost and most players will lose money.
RTP is calculated over the very long term. So, for example, the house edge on American Roulette of single number bets is 5.26%, which is calculated by simulating millions of spins with the same bet on.
It is entirely possible that you'll arrive at a roulette table, put £100 on 5, win, collect £3,500 and walk away after your first spin. But if you stay there for a day or a week or a year, you should expect that win/loss balance to return ever closer to around 95% of the RTP.
Here is a set of RTPs for American roulette for various bets:
The straight number pays out at 35 to 1 has a 2.63% probability of happening and delivers an RTP of 94.74%.
A split (two numbers) pays out at 17/1, has a 5.26% probability of happening, and delivers an rtp of 94.74%.
A street of three numbers has an 11/1 pay out, has a 7.89% probability and has an RTP of 94.74%.
A four-number bet, a square, has an 8/1 pay out, a 10.53% probability, and a 94.74% rtp.
A five-line bet has a 6/1 pay out, a 13.16% probability of landing and an RTP of 92.11%.
A six-line bet has a 5/1 pay out, a 15.79% probability of happening and a 94.74% rtp.
A column bet (a third of the numbers) has a 2/1 pay out, a 31.58% probability of happening, and an rtp of 94.74%.
A dozen bet also has a 2/1 pay out, a 31.58% probability and a 94.74% rtp.
Pick red or black and you'll get an evens pay out, from a 46.37% probability event, and an rtp of 94.74%.
Odds or evens also gives you the same results, as do high low bets.
In European Roulette, these are the figures:
Straight bet pays 35/1 has a 2.70% probability and a 97.30% RTP.
A split pays 17/1 at 5.41% probability with 97.30% RTP.
A street is 11/1 pay out for an 8.11% probability event that returns 97.30% RTP.
A square has an 8/1 pay out, for a 10.81% probability event at 97.30% RTP.
Six line bets pay at 5/1 with a 16.2% probability and a 97.30% RTP.
A column pays out at 2/1 for a 32.4% with an rtp of 97.30%.
Dozens pay the same.
All 50/50 bets pay out at 1/1 with a 48.64% probability and a 97.30% RTP.
French Roulette
French roulette has some slightly different rules, but the RTP of individual bets is the same. These rules are La Partage, which allows players to keep half of their stake if they lose to a ball that lands in the zero. Overall this means that the games RTP is up to 98.65%.
Live Roulette Variants
Live games online can offer even more variants than the classic three, American, French, and European.
We're going to look at the biggest company, Evolution Gaming, to find our examples, but please remember that other variants are available.
Their games come in three classic variants. They are also commonly made available at different budget levels, sometimes tied in with casino loyalty schemes.
Beyond this, we have:
Lightning roulette, which is a great example of a jazzed-up game, operates by throwing in lucky numbers that give massively inflated pay-outs.
Immersive Roulette is a game style that uses multiple camera angles to deliver a film-like experience.
Speed Roulette variants are common. They simply speed up the game play. Be aware of how much you're spending if you play these games.
Auto Roulette uses machinery to deliver the balls into the reels and is thus faster and always on.
Instant roulette is yet another high-speed game that works by spinning multiple wheels at the same time.
Double Ball Roulette is an Evolution exclusive with two balls in play on each spin, and thus two winning numbers.
Dual Play Roulette is a game that is streamed live from any real-life casino.
You will also find roulette versions for VIP players, also salon prive games, and games in various languages.
The latest innovation is to mix an RNG game – a simulation that runs on a random number generator – in with a live game by allowing players to switch quickly between the two.
Live Roulette FAQ
Are Live Roulette Games Safe to Play?
In general, casino games are safe to play if they are made available by casino sites that are licensed and legitimate and legal for you to play in the jurisdiction from which you are playing the game. You should learn how to check all this on every site you look at.
What's a live roulette offer?
Live roulette offers are rare. Live games are usually staffed by real people who need to be paid. That means it is much more expensive to give away "free spins" on these games. If you see a live roulette free game offer you should look at it closely and check the restrictions to see what the deal is.
How do I win at live roulette?
There is no trick to winning at live roulette. All you can do is choose your bet and trust luck. By studying the odds we've published here you can increase your chances of winning, and you may well be able to play for longer as a result, but you will not find a way around the tyranny of random.
What's the best roulette strategy?
The best live roulette strategy is the safest one for you. Betting strategies are generally just focussed on slowing down losses, which is no bad thing at all. However, no betting strategy will – in the long run, and on average – get around the fact that the mathematics of these games are designed to deliver a profit and will almost always do so. Make your first betting strategy: can I afford to lose this money? And you'll be on the right track.