Low Stakes Baccarat Online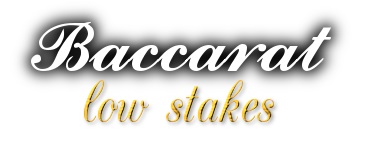 Having first emerged around 1400
, half a century later Baccarat was one of the premier casino games in Europe, especially popular among the French aristocracy. With a long-standing reputation of being the number one game for high rollers, Baccarat is now available to us in much more affordable terms, courtesy of
baccarat online casinos
and software developers who have recognised the need for low stake games.
I personally like it not only due to it being one of the games which offer the best odds but also because unlike other card games where it's you against the dealer, in Baccarat you're betting on one of the two opponents, the "Player" and the "Banker". But I'll not try to teach you the rules here, I guess you already know them and the only thing you're interested in is – where to get the most game time out of your limited budget.
Unlike with Roulette and Blackjack, online casinos are less generous when giving space to Baccarat games. Equally, not all table games developers feature this one in their portfolio. What we have available today is a very limited number of fairly standard variants under the name of Baccarat and Punto Banco.
While in land-based gambling establishments Punto banco is strictly a game of chance, while baccarat (chemin de fer and Banque) allows skill to play a part, in the online gaming world the differences between the two are negligible. Software providers who have invested time and effort to produce online games, normally offer the same variants with low, standard and high stakes options. So who are they and where is their merchandise to be found?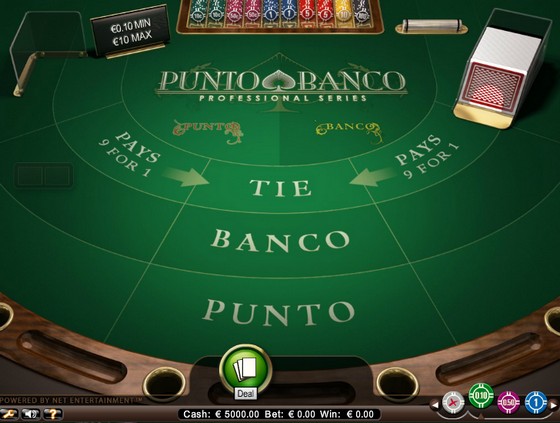 Low Stakes Baccarat from NetEnt
NetEnt is one of the few developers who are catering to various bankrolls, even if their game variants tend to be very similar to each other. Professional Series Low Limit offers you the chance to bet between £0.10 and £10, and that's the lowest stakes baccarat you'll find anywhere at this moment in time. The game is played with eight 52-card decks and standard rules apply, with no side bets available. Player bets pay even money and Banker bets the same minus a 5% commission. RTP is 98.96%.
Professional low limit Baccarat is available at Leo Vegas, SpinIt Casino, Casino Cruise, Dunder, Spin Station, Miami Dice and Videoslots.
NetEnt Punto Banco Pro Low Limit features same minimum and maximum bets, same payout schedule and an RTP of 98.92%. It can be played at most of the above-mentioned casinos.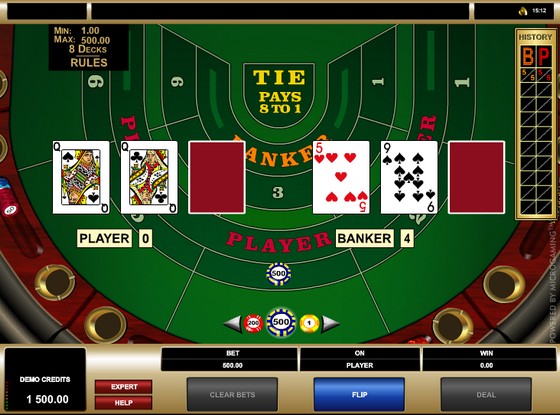 Low Stakes Baccarat from Microgaming
Baccarat games from Microgaming are targeting high rollers primarily and therefore none of them offers as low stakes baccarat as NetEnt does. If you absolutely want to try out one of their products, the best option you have is actually High Limit Baccarat which allows a minimum bet of £1. It plays with 8 decks and pays even money for Player and Banker bets, the latter decreased by 5% commission. The house edge on Banker bets is 1.06% and on Player bets 1.24%. If you want to give the game a try, head straight to
Betway
.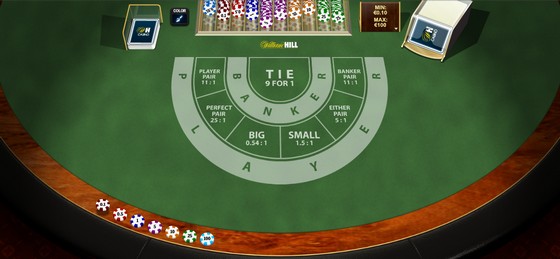 Low Stakes Baccarat from Playtech
Playtech Baccarat offers a bet range of £0.10 to £100, along with several additional bets: Banker Pair and Player Pair, Either Pair, Perfect Pair, Small and Big. The first two, win if first 2 cards dealt to the respective hand form any pair. Perfect Pair side bet wins if they form a pair of the same suit. The big bet wins if the total number of cards dealt between Player and Banker is 5 or 6, and Small bet if the total is 4. The minimum bet of £0.1 applies to Player and Banker bets, as well as Big and Small side bets. If you want to bet on a Tie or place money on any of the Pair side bets, you'll have to put at least £1 on the table. Game's RTP depends on your bet and varies between 82.93% on Perfect Pair and 98.94% on Banker bets. This is a low stakes Baccarat game which offers the most betting options out of those available, so why not pay a visit to
William Hill
 and give it a go?
Low Stakes Baccarat final words
While we're happy to see you don't need to have a large bankroll in order to enjoy this fascinating game, it's a shame there are not more options and variations to choose from. It could be that the number of Baccarat fans being significantly smaller than of those who enjoy Blackjack has something to do with the fact the developers have not gone as far in offering us a wider range.
Perhaps eventually one of them will recognise there is a potentially lucrative niche and subsequently fill the gap. In meantime, take pleasure in betting on one of the above and maybe you'll feel like the aristocrats who once had the exclusive privilege of enjoying this game.