Being a big fan of card games, naturally, I love Blackjack and play it every chance I get (not to the point of having to reach out to GambleAware or seek help elsewhere, don't worry). But I do like trying out new variants as much as I enjoy playing the good old classic version, and I'm sure many of you feel the same. And while the blackjack variation might be what first influences us to launch a particular game, we're well aware that some of these games might be just out of our reach. If my modest bankroll allows me to spend £10 each time I play, placing that amount on a £1 table will likely make my gaming session very, very short. Been there, done that? In fact, many of the Blackjack games you can play online come with betting limits between £1 and £100, so what is poor little me supposed to do? Just play for fun? No! We can play low stakes blackjack at one of the more socially inclusive casinos!
Well, we might not be able to impact the size of the budget we have available, but we can certainly make it last longer by choosing a lower stakes game; penny blackjack from only ten pence a bet. To help out all of you fellow players who can't or don't want to invest hundreds and thousands in each Blackjack game, we've looked around to find the most affordable ones. Thankfully, there's more than a few, so take your pick from the list below.
1. NetEnt Blackjack at £0.10

If you like NetEnt products, you'll be happy to know there's quite a few of their Blackjack games which you can enjoy for as little as 10p per hand.
Classic Low Limit is played with 4 standard decks of 52 cards, Blackjack pays 3:2, and you can take on insurance (2:1) to defend yourself from the dealer's BJ. Only one split is allowed and, when doubling, you'll only be able to get one additional hit to complete your hand. You can double after a split as well, except after splitting two aces. The theoretical RTP for this game is 99.65%. If this sounds like something you'd enjoy, try it out at Spin Station or Videoslots .
Professional Series Low Limit additionally allows you to place a Double Jack side bet, which wins if the first card in the regular hand is a jack, or if the first two cards are a pair of jacks. The game can be played with low stakes at Rizk Casino .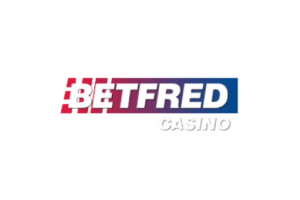 Overall Rating
Play Now
Top UK Casino for Blackjack – Betfred Casino
#1 Best Blackjack Casino
13 types of blackjack
£10 million blackjack game
multiplayer blackjack surrender
progressive BJ jackpot
cashback blackjack
exclusive live tables
Double Exposure Professional Series is a Blackjack game where both dealer cards are dealt face up. You can double down if your initial cards total a hard 9, 10, or 11, after which you are dealt one extra card and then your hand automatically stands. This variant is available at Miami Dice and Casino Cruise .
Pontoon Professional Series Low Limit is a game where both dealer cards are dealt face down. The dealer must stick on a hard 17 and twist on a soft 17. Second best hand is 5 card trick or a 'Charlie', which is a hand of five cards totalling 21 or less. Try this interesting variation at Dunder or SpinIt Casino .
2. Relax Gaming Blackjack at £0.10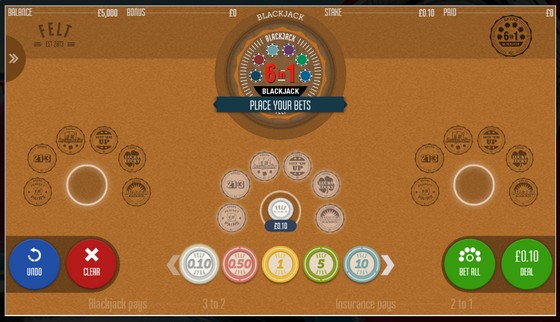 Relax Gaming has a number of distinctive Blackjack variants which are popular enough to have made it to quite a few online casinos.
Blackjack 6 in 1 allows you to play 6 side bets on a single hand: Perfect Pairs, 21+3, Lucky Ladies, Lucky Lucky, Suit 'em Up and Buster. Perfect Pairs bet wins if the first two cards dealt are a pair of same value cards. The 21+3 side bet wins if the first two cards in your hand, plus the dealer's up card, make a 3-card poker hand. Combination of same three cards will win you the Lucky Lucky side bet if they make a total of 19, 20 or 21. Lucky Ladies win when your first two cards make a total of 20, or feature a Queen. Getting the first two cards in the same suit wins you Suit 'em Up bet, while dealer busting will pay on the Buster bet. Each of these side bets is also available as a stand-alone game, and you can enjoy them all for only £0.10 per hand when visiting MrGreen or Leo Vegas .
3. Playtech Blackjack at £0.10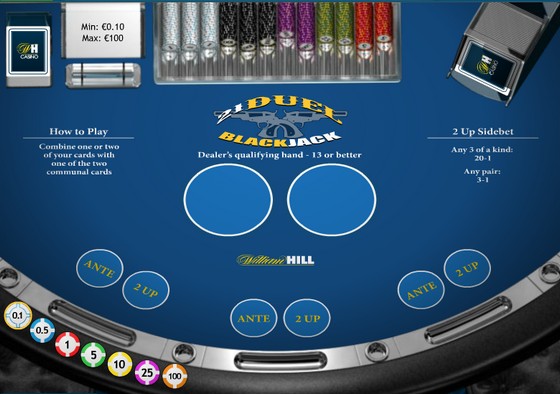 Playtech games offer several betting range options to choose from, including the one starting at only £0.10, and a variety of these can be found at William Hill . Blackjack 21 Duel differs from your classic game by attaching the same value to all hands totalling 21, be it an Ace with a 10 or a three-card 21 combo. You can also place a 2UP side bet which wins if the first three cards shown on the table contain a pair or make up three-of-a-kind. Perfect Blackjack features Perfect Pair side game, while Premium Multihand lets you simultaneously play up to 5 hands. Surrender Blackjack allows you to surrender your hand when, after the dealer has checked for BJ, you think your first two cards will not beat his hand.
BGO Casino also offers several low-limit Playtech games, such as Blackjack Pro and Peekrule 6 deck, while Premium Blackjack can be played at Paddy Power .
4. 1×2 Gaming Blackjack at £0.10
Player's Choice is a unique variation of the classic Blackjack game which allows you to pick a good hand among one of five possible options. Starting off, five sets of 2-card hands will be dealt blind and you'll be prompted to click on one of the sets to reveal its top card. If you like your chances, choose to play with it. If not, you can reject that set and select one of the four remaining ones. Once you've made your choice, clicking on one the other hands on the table will choose the dealer's cards. This creative Blackjack execution is available to play at Spin Station  and MrGreen .
So, as you see, you don't have to have tons of cash to be able to enjoy your favourite card game and win real money at the same, you can play blackjack for pennies!. There's plenty of options to choose from, so take your pick and go chasing that magical 21 combination.
Related Articles
If you'd like to enjoy the thrill of gambling without spending loads of money you might also enjoy these articles: