Michigan Casinos and Gambling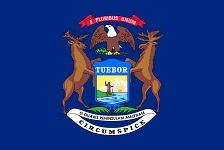 Michigan Casino Gambling History
The growth of gaming and gambling in Michigan is comparable to nationwide trends in gaming and gambling acceptance. Gaming and gambling is a flourishing industry in Michigan. Attempts to initiate legalized casino gambling in Detroit started in the 1970s. These continuous efforts were unsuccessful until the Windsor Casino opened in 1994, just across the Detroit River in Canada.
This led to a rush of Michigan residents and U.S. dollars that could have benefited the state of Michigan pouring into the Windsor Casino in Canada. This outflow of American dollars, coupled with the continued development of Indian casinos in Michigan, caused a shift in attitude toward legalized gaming and gambling in Michigan. This shift resulted in the passage of The Michigan Gaming Control and Revenue Act in the November 1996 Michigan general election. The Act allows for the licensing and development of three, privately-owned Detroit casinos. Michigan does not allow dog racing, and it does not permit slot machines, video poker, or similar forms of gambling in any place other than a casino.
Casino Gambling – Detroit Casinos
The Michigan Gaming Control and Revenue Act gives the Michigan Gaming Control Board sole right to license, regulate and manage Detroit casinos. Among other provisions, the act gives the Michigan Gaming Control Board the authority to distribute Detroit casino tax revenue to K-12 public schools in Michigan and childhood programs and tax relief for the City of Detroit.
In 1997 Detroit representative selected the three companies that the city would confer contracts to develop the Detroit casinos: Detroit Entertainment, Greektown Casino, and MGM Grand Detroit. The contracts specify that among other necessities, casino developers must obtain at least 30 percent of supplies and services from Detroit-based companies, small businesses, and minority- or women-owned companies, and the staff at each casino must consist of at least 51 percent Detroit-area inhabitants.
In total, the three Detroit casinos combined boast nearly 8,000 gaming machines and nearly three hundred gaming tables. The largest Detroit casino, Greektown Casino, is an over 100,000 square feet gaming and gambling facility which features more than 2,600 slots, 60 table games and the biggest poker room in Detroit. The MGM Grand Detroit, the city's second largest casino, consists of exactly 100,000 square feet of gaming space and has over 4,500 slot and video poker machines, nearly 100 table games and an around the clock poker room. Detroit's third casino, the Motor City Casino, also consists of exactly 100,000 square feet of gaming and gambling space, which features 2,800 slot machines, a wide variety of table games and a premiere poker room.
Michigan Casino Market Share
According to the American Gaming Association, the Detroit-Windsor area casinos is the fourth largest U.S. gaming and gambling market in terms of gross revenue. Analysts estimate that when all three Detroit gaming and gambling facilities are functioning, their annual gross revenue ranges anywhere from $1.2 billion to $2 billion.
The state's portion of Detroit casino revenue comes from an annual services fee, a total of about 8.1 percent of net wins, and state wagering tax that each of the three Detroit casinos must pay to the state. Each casino pays the state wagering tax on a daily basis via electronic transfer, and then the taxes are credited to the Michigan School Aid Fund.
Casino Gambling – Indian Operations
According to federal laws, individual states do not have the authority to regulate activities on American Indian lands. Since Indian tribes are regarded as sovereign lands, laws that prohibit casinos and gambling do not pertain to them. On the other hand, states and Indian tribes are allowed to confer agreements that provide the state some regulatory supervision over a tribe's casino development and operations, which Michigan and various American Indian tribes have done since 1993 when the governor endorsed the original gaming and gambling compacts with several of Michigan's Indian tribes.
Michigan currently has 21 Indian casinos operated by various tribes scattered across the state. The  gaming compacts permits the tribes to operate casinos that feature slot machines, video poker, and all other types of casino games, similar to Detroit casinos.
The 1993 agreements established that revenue from slot machines and video lottery terminals would be taxed at 10 percent of the net winnings for as long as tribes had privileges to operate casinos in Michigan. Eight percent of the funds would go to the state Renaissance Fund and the remaining two percent would be put toward improvements for economic development in local communities. The agreements specifically stated that if the state allowed any non-Indian casinos to develop, the tribes would no longer be required to pay the Renaissance Fund.
The initial compacts were endorsed prior to the opening of the three Detroit casinos, but by 2000, after the first Detroit casino license was issued, the tribes were released from their state tax obligation. The 1993 compacts also required that the tribes pay $25,000 to the state each year to offset the cost of managing Indian casino operations, in spite of the development of non-Indian casinos in Michigan; these payments remain.
Horse Racing and Horse Betting in Michigan
Horse racing, which began in 1933, is perhaps the oldest form of legalized gambling in the state of Michigan. During its peak in the 1970s and 1980s, horse racing in Michigan grew to a billion dollar industry, providing over 42,000 jobs for Michigan residents and nearly $250 million in personal income and nearly $500 million in total economic output. Today, the industry struggles to stay afloat thanks to competition from Michigan casinos, the lottery and charitable gaming. In May 2001, local Detroit Newspapers reported that live horse racing brought in nearly $100 million in revenue during 1998, just a year prior to the first of the three Detroit casinos opening for operation; when all three casinos were open, horse racing revenue plummeted to $44 million.
Gaming and gambling is a thriving industry in Michigan, and there are significant casino expansions being planned across the state. Gaming and gambling casinos in Michigan will remain to be a lucrative industry. These establishments supply employment and revenue, in addition to a range of gambling and gaming activities for residents and visitors.
Online Casinos and Online Gambling in Michigan
Michigan has strict and specific anti-online-gambling laws though they have never been fully exercised against any individual or organisation.  The state of Michigan has always promoted strong protectionist measures against outside threats to its internal gambling revenue and the online world is no exception.  History shows that they will eventually regulate the online gambling industry to some degree.