Montana Casinos and Gambling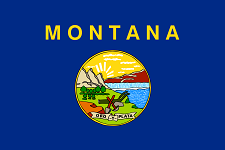 Online Casinos and Online Gambling in Montana
Montana has specific prohibitions on internet gambling as outlined in the following section of the Montana Constitution:
(19) "Illegal gambling enterprise" means a gambling enterprise that violates or is not specifically authorized by a statute or a rule of the department. The term includes:
(a) a card game, by whatever name known, involving any bank or fund from which a participant may win money or other consideration and that receives money or other consideration lost by the participant and includes the card games of blackjack, twenty-one, jacks or better, baccarat, or chemin de fer; (b) a dice game, by whatever name known, in which a participant wagers on the outcome of the roll of one or more dice, including craps, hazard, or chuck-a-luck, but not including activities authorized by 23-5-160; (c) sports betting, by whatever name known, in which a person places a wager on the outcome of an athletic event, including bookmaking, parlay bets, or sultan sports cards, but not including those activities authorized in Title 23, chapter 4, and parts 2, 5, and 8 of this chapter; (d) credit gambling; and (e) internet gambling.
(20) (a) "Internet gambling", by whatever name known, includes but is not limited to the conduct of any legal or illegal gambling enterprise through the use of communications technology that allows a person using money, paper checks, electronic checks, electronic transfers of money, credit cards, debit cards, or any other instrumentality to transmit to a computer information to assist in the placing of a bet or wager and corresponding information related to the display of the game, game outcomes, or other similar information.
However this has not stopped several casino operators welcoming players from Montana.    Casino, poker, bingo and sportsbook sites exist that cater to American players who wish to play online.  We have compliled a list of the best and safest online casinos for Montana players which you can view in the relevant sections of the site, though we highly recommend that you do not join any online casino if you are from Montana.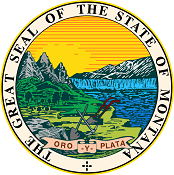 Gambling in Montana Through the Ages
Gambling in Montana has a long history.  Despite a long and cherished history of gambling in Montana, gaming and casino gambling has been illegal in the state more than it has been legal.  Whether legal or not, gambling has always flourished and has always been a part of Montana's culture.
Indigenous people of Montana are long known to have cast bets on horse and foot races, archery target shooting and on other contests of their prowess and skills.  Using marked bones, they are even known to have played a game similar to throwing dice.  These contests were often part of their social interactions for fun with other tribes and were also used to help young tribal members to develop important survival skills.
The earliest white people of Montana were the fur trappers and traders who supported their trapping operations.  Horse racing and rifle and pistol shooting contests were quite common among them.  Gambling games involving the use of playing cards were first introduced into the region by these rugged men.
During the height of the fur trading era, an annual "fur rendezvous" was held.  At these events, the trappers, the fur buyers and the traders who supplied the trappers would meet at a designated place to make their trades of furs, goods, and money.  It was the most social event of the year for these rugged mountain people who spent much of their time in solitary conditions out in the wilds pursuing their bounty.  The combination of a social setting and free-flowing alcohol and cash made gambling a natural dynamic of the event.
Later, after gold was discovered and the new culture of mining camps was being established, gambling was again a prominent part of the social life of the frontier people.  By this time, the card game of "poker" had made its way from where it originated in New Orleans.  Where there was gold and money, there was poker and gambling.
During the riverboat era that came later, and the general westward movement of Americans, gambling became part of life on long riverboat rides back and forth between the East and the West.  During a visit to this country during this era, the famous French statesman, Tocqueville commented that people gambled for the same reason they went to the West, "not only for the sake of the profit it holds out to them, but for the love of the constant excitement occasioned by that pursuit."
Another prominent wave of gambling activity occurred after the Civil War.  There was a major economic depression during this era and movement westward as part of "Manifest Destiny" was rapidly taking place as many people sought a new start and sought opportunities to become prosperous.  The transcontinental railroads were being constructed and many immigrant laborers were recruited to help with the monumental amount of work required.  These people were quite attracted to "numbers" games, and this gambling activity flourished, though it was illegal.
In 1889, gambling had caused enough social upheaval in the territory through the years that the first Montana state constitution banned gambling.  Many states throughout the West were adopting laws to prohibit a variety of games and forms of gambling involving high stakes betting.  Despite widespread legislation efforts, enforcement of the laws was not taken very seriously, and gamblers were commonly found at card tables in Montana saloons.
At the turn of the century, as cities began to grow in Montana, Victorian morality began to take root in Montana as it had throughout the nation.  During the prohibition era, alcohol, gambling and municipal corruption were all targets for elimination from civilized society.  It was during this era in particular that gambling came to be associated with organized crime.  In fact, the territories of Arizona and New Mexico, which were seeking statehood during this era, were directed by Congress to outlaw gambling as a condition of being admitted to the union.
Gambling Legalisation Takes Hold in Montana
After prohibition until the early 1970s, the pendulum of gambling in Montana swung back and forth numerous times.  Gambling with proceeds that went to charity were legalized and expanded and then outlawed and then legalized and expanded again and then outlawed once again.  Finally in 1972, Montana's Constitutional Convention met and put a revised version of its state constitution on the ballot for the people to ratify.  They also put the issue of whether to allow legalized gaming on the ballot as a side issue.  While the constitution was ratified by a margin of only 1 per cent, the approval of legalized gaming was approved by 61 per cent of voters.
Throughout the 1980s, organized casino gambling has been gaining momentum in Montana, as in much of the United States.  The reason for this is that it is profitable to allow and regulate casino gambling and many states and municipalities are able to collect handsome revenue that is used to promote the common good.  In 1986, when Montanans approved a state lottery, gambling became a respectable business and casino gambling became big business.  In 1988, Congress passed the Indian Gaming Regulatory Act to permit similar casino type gambling on tribal lands.
The revenues from the tribal casino gaming operations have been substantial enough that the tribes in Montana have become financially self-sustaining.  Between 1988 and 1996, Montana's gross income tax revenue from gambling and casino games grew from around $70 million to nearly three times that amount at over $225 million, with the state lottery alone reaping an average of $22 million.  In the current era, although Montana's population density is toward the bottom of the list among the states at 44th, it is 19th in the total amount wagered on gambling.
As human beings, we have natural urges to take risks and to enjoy games of chance.  Gambling reflects this side of human nature and fulfills the play and social impulses innate in human nature.  Indigenous peoples, and then many generations of those who call Montana home since, have engaged in a variety of gambling activities.  Despite gambling's controversial nature and a bit of a roller coaster history, organized casino gambling businesses thrive in Montana today.