New York Casinos and Gambling
Legal New York Gambling Coming Soon
Recently, there have been many changes to the gambling laws in New York. Governor Andrew Cuomo has signed legislation that makes casino gambling outside of Indian reservations legal. New York could open its first Las Vegas style casino as early as next year. However, as the first stop for many immigrants coming to America, gambling has always played a role in New York's history.
New York Online Casinos and Online Gambling in New York
New York is one of the few states to have specific laws against online casinos, however along with other states it is in the process of paving the way for complete online gambling regulation.
There are currently a variety of online options open to players in New York.   Casino, poker, bingo and sportsbook sites exist that cater to American players who wish to play online.  We have compliled a list of the best and safest online casinos for New York players which you can view in the USA sections of this website.
Gambling History in New York
Gambling was first outlawed in New York in 1821. The ban was made as a part of the Second Constitution of the State of New York. The Constitution stated that from now on no gambling, or new lotteries would be authorized.  There was an exception for those lotteries that were already authorized by the state. By 1864, all lotteries in the state of New York were prohibited. When the Fourth Constitution of the State of New York was written in 1894, all forms of gambling were outlawed.
Gambling remained illegal in New York until November 7th, 1939 when the Constitution was amended to allow betting on horse races. This type of gambling is known as parimutuel. In 1957, an amendment was made to the state Constitution to allow bingo games. There were restrictions on who could hold bingo games, and most of the games were sponsored by churches or other charities as a way to generate more funding. In 1966, New York voters chose to amend the state Constitution to allow for a state run lottery program. The first lottery was held in 1967, and the slogan for it was " Your chance of a lifetime to help Education". All of the proceeds from the state lottery went directly into an education fund.
The New York Lottery
The New York lottery is the biggest lottery in the US, based on the amount of tickets sold. The New York lottery is actually eight separate lotteries. They are the New York lotto, Numbers, Midday numbers, Take5, Win4, Midday Win4, Pick10, and Sweet Million. New York also participates in two multi-state games, Mega Millions and Powerball. The New York lottery generates three billion dollars for the state's education programs each year.
Prior to 1973, there were multiple horse racing commissions. The New York State Wagering and Racing Board was established in 1973 by the New York state legislature. The establishment of the Wagering and Racing Board brought all of the previous commissions together under one central authority.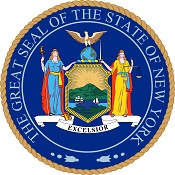 Indian Casinos in New York
In 1993, class III Indian casinos became legal. A class III casino allows for patrons to gamble against the casino. These casinos featured table games such as black jack, roulette, and craps, as well as slot machines. The first Indian casino was opened on June 20th, 1993 by the Oneida tribe. The second tribal casino was opened on April 10th, 1999 by the Saint Regis Mohawk Tribe, and the third was opened on December 31st, 2002 by the Seneca Tribe. The state of New York has eight federally recognized Indian Tribes, but only three have opened casinos at this time.
Before 1999, gambling could not be advertised in New York. The only exception was for the tribal casinos. However, in 1999 the Supreme Court ruled that it was legal for casinos to advertise private casinos in the states that allowed them, regardless of whether or not they were operated by Indian tribes.
Video Game Machines in New York
In 2001, the state of New York approved legislation that allowed for video game machines or VGM's at New York racetracks. The video game machines offer games like slot machines and keno. The games are played in denominations ranging from five cents to ten dollars. The machines all accept cash but they do not pay out in cash. Your winnings are printed on a receipt that you take to a cashier who will then pay you.
Initially, the video game machines were only allowed at racetracks, and at bars that received at least half of their revenue from the sale of food. The law has recently been amended to allow video game machines at many more adult oriented establishments such as taverns, bars, and pubs. The law was amended in an attempt to generate more revenue for the state of New York. Since the law was amended there have been 92 video game machines placed in bars, and there are roughly 500 more businesses being considered for them.
The addition of video game machines to the racetracks earned them the nickname of "racinos". In order to participate in pari-mutuel gambling, or to play the video game machines located at the racetracks you have to be 18 years old. The video game machines at the racetrack are accessible to the public every day between the hours of 9am and 4am.
Gambling in New York's Indian Casinos
Gambling at the Indian casinos is only open to patrons who are 21 and over, and the casinos are the only places where table games are legally allowed. All of the casinos offer a variety of games such as blackjack, roulette, Caribbean stud poker, slots, and craps. Some of the Indian casinos also offer games like keno, baccarat, mini baccarat, Spanish21, pai gow poker, let it ride, big six wheel, casino war, and three or four card poker. All of the casinos are cashless. In order to gamble you must visit the cashier for a "smart" card. You place the amount of money that you want to play with on the card and then your winnings and losses are added to and taken from it. When you are done playing you go back to the cashier and collect your winnings off of the card. Currently, the biggest casino in New York is the Seneca Niagara Casino which features over 3000 different slot machines, and nearly 100 table games.
Gambling has always been a part of New York history, but with the recent changes to gambling laws it is sure to play a much bigger role in the future. Before you know it there won't just be Indian casinos for your gambling entertainment. There are sure to be some privately owned gambling resorts and casinos opening up in the very near future. Perhaps New York will become the Las Vegas of the East!