North Dakota Casinos and Gambling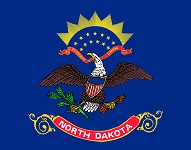 North Dakota Casinos
North Dakota, smack in the middle of the country, isn't a state that usually comes to mind when one thinks of gambling.  Surprisingly, there is actually a great number of places to gamble across the state.  That's mainly due to the tribal gaming laws that began to be enacted in the late 1980s.  North Dakota has a very strong Native American presence, with several tribes residing in the state.
Legal Gambling in North Dakota
Most gambling activities are illegal in North Dakota when not covered with tribal gaming laws.  The state does sponsor a lottery program and para-mutuel betting on horse racing is allowed.  Certain activities such as bingo raffles and pull tabs are allowed for non-profit organizations as part of the charitable gambling regulations.  Even social gambling, like friendly poker nights, are illegal if the bets top $25 per hand, yet blackjack is available for charity fund-raising throughout the state.
A largely rural state with a low population compared to most US states, the legalization of tribal gaming and resulting growth of Indian casino enterprises has fueled an economic growth as tourism became one of the state's fastest rising industries since the turn of the century.  Not only do tourists visit the casinos, but they also visit and spend at area hotels, restaurants, stores and entertainment attractions.
Tribal Compacts for Indian Casinos
In the late 1980s, federal court decisions came down in favor of sovereignty on tribal lands, a question which was raised over the issue of gambling.  The Seminole Indian tribe in Florida and the Cabazon Indians of California both were involved in separate lawsuits over gaming on tribal property.  After the favorable court decisions, the Indian Gaming Regulatory Act passed Congress and became law.  This Act laid the framework for the state tribal compacts to come.
Tribal compacts are basically legally binding contracts between the state and the Indian tribe.  These contracts set forth agreements over what types of gaming are allowed, betting limits, age limits, how casinos are licensed and all other aspects of gaming.  All states that have Native American gaming do so under their compacts with the tribes residing in those states.
In North Dakota, the state-tribal compacts are for 10 year terms and the Governor has authority to work out the details without legislative approval.  If no changes are desired by either party, then 5 year terms can be extended after a compact has reached the end of the initial 10 year term.  There are five tribes with compacts in North Dakota and all five reach the end of the initial 10 year term of their current compacts by 2013.  These five tribes are: The Three Affiliated Tribes, The Turtle Mountain Band of Chippewa, The Sisseton-Wahpeton Sioux Tribe, the Standing Rock Sioux Tribe and the Spirit Lake Nation.
With such a large Native American population in a low population state, the Indian casinos have made a big difference to the tribes' economies and lifestyles.  The majority of employees are Native Americans and helps to relieve the otherwise high level of unemployment of rural areas.  The income from the casinos provides the money to fund tribal government and essential services on the reservations.
With 30 casinos in North Dakota at last count, there isn't room in a simple article to describe them all.  Instead, here are the largest and most popular casinos to be found in the state.  As mentioned above, there are plenty of places to gamble without going to a casino thanks to fairly relaxed charitable gaming laws.  At last count, there were over 800 places to gamble found all over the state.
North Dakota Casino Resorts
Sky Dancer Hotel & Casino is located in Belcourt on Highway 5 West.  37,000 sq. feet of gaming floor encloses 535 gaming machines, a 500 seat bingo hall, 10 table games and 5 poker tables. Amenities include a full bar service in the Lounge, the Chippewa Trails Restaurant and a coffee shop.
Best Western Bismarck can be found on South Third Street, Bismarck.  The casino onsite offers 35 table games to guests and visitors.  Both a lounge and cafe are on the premises, as well as a waterpark with a 150-foot slide.
Blue Wolf Casino can be found in Fargo.  This no frills casino offers 8 table games and is located inside Cactus Jack's Saloon.
Doublewood Inn Casino on 13th Avenue South in Fargo offers 7 table games nestled in the onsite casino of the Best Western Doublewood Inn.  Bistro 13 Grille and Lounge is also on premises.
Spirits Lounge and Casino is just down the road from the Doublewood inside the Holiday Inn and offers 7 table games inside their cozy casino space. There are no dining facilities onsite but several are within walking distance.
Prairie Knights Casino & Resort On Highway 24 in Fort Yates is one of North Dakota's larger casinos.  Their 34,000 sq. foot gaming floor holds 600 gaming machines along with 9 table games.  Amenities include both casual and fine dining facilities as well as 2 bars.  Prairie Knights is owned by the Standing Rock Sioux Indian tribe.
Southgate Casino can be found in Grand Forks on Washington Street South.  The small but exciting facility offers a 300 seat bingo hall and 6 table games.
Online Casinos in North Dakota
North Dakota does not specifically support online casinos but players are still able to play online in the various US friendly online casinos that are available more generally to US players.
Popular North Dakota Casinos
Dakota Magic Casino & Hotel is in Hankinson, on 102nd Street Southeast.  Another of the more glamorous North Dakota casinos, the large 95,175 sq. foot gaming floor features 725 gaming machines, 15 table games and 5 poker tables.  Three different dining facilities take you from fast and easy to elegant, depending on your mood.  The casino is owned and operated by Dakota Nation Gaming, part of the Sisseton-Wahpeton Oyata Indian tribe.
4 Bears Casino and Lodge is located in New Town.  The facility offers only 2,925 sq. feet of gaming space but it is packed full with 500 gaming machines, 12 table games and 4 poker tables.  There are two choices of dining, depending on how elegant you want to go.
Spirit Lake Casino and Resort can be found on Highway 57 South in St. Michael.  The big 49,000 sq. foot gambling space offers 632 gaming machines, a 400 seat bingo hall, 10 table games and 3 poker tables.  3 distinctly different dining choices are onsite for anyone looking for a quick bite or an elegant dinner.