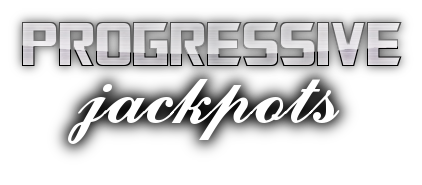 It's no secret around here: I love the progressive jackpot slots and I have some fantastic progressive jackpot tips to share with you all. It doesn't matter if you prefer Microgaming, NetEnt, PartyGaming, or Playtech games,  I think they're all great and my tips will definitely improve your playing experience.
Without a doubt, progressive jackpots are my favourite online casino game. Give me a Friday night, £100 to blow off, a couple of beers and I'll be just fine spending a good few hours hunting for and playing the best PJ.
What constitutes "the best PJ"? For me, it changes all the time, but it's a combination of the fun of the game, the size of the current jackpot, and the likelihood of a big win. And that's what I meant when I talked about "hunting" – the progressive jackpots are a sport; you have to understand the game in order to win.
Calculating The Best Progressive Slot to Play
The game is to play the slots with the biggest jackpots and the best payout. This changes all the time, but fortunately, there are ways of keeping track of the statistics.
Before I start playing, I'll visit my favourite casino sites (the big sites like William Hill and 888 Casino usually have the most progressives) open my excel spreadsheet, add the latest changes and then use a very crude formula to work out which jackpot/s I should play this session. The formula is based on working out how often a particular game pays out its big jackpots, and by how long it's now overdue
It sounds a bit serious and scientific, but it takes up very little time at all, and for me, it's part of what makes this a challenge. It makes me feel as if I've pushed the odds slightly in my favour…and maybe I did. It changes the game from one of pure chance to one of (slightly) calculated skill.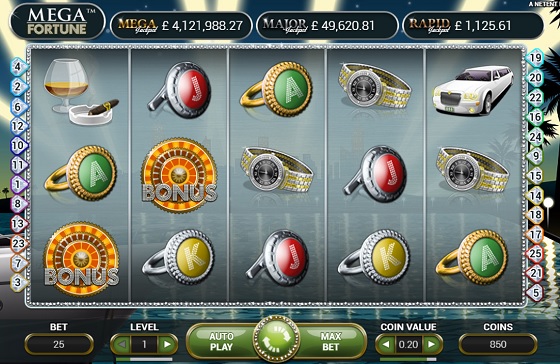 Mega Fortune is one of the biggest PJs
Play Safe and Have Fun
Don't take that the wrong way, though: there is no way of boosting your chances much beyond the odds already given. When you play the slots, you should never approach it as a cash cow – this isn't somewhere you can intentionally make a living, as you can in poker.
For this reason, whenever I give people advice about playing the slots, I emphasise this above all "play with money you are happy to lose; play for entertainment". Too many people pin their hopes on winning big – and this is true for all high jackpot games. When they lose, they throw more money chasing the dream. More often than not, that dream can turn into a nightmare.
You really should be ok with losing whatever money you're playing. Yesterday, I played for £50. For me, that's the cost of a night's entertainment. That was my Friday night. Instead of the cinema, or a restaurant, the slots were my pleasure.
For me, the best fun is making relatively large bets (£2.50 at a time, which might be small to some of you, but I'm no high roller), so from  £100, I'll have 40 spins for certain – although, it's obviously more, as the PJs have between a 90% and 97% pay out rate. It would be an extremely unlucky and boring night if I only had 40 spins!
Enjoying The Progressive Slots
Some progressive slots are definitely more enjoyable than others are. For me, these are the ones with the most lines. I just love winning – even if it's less than the bet I placed, it still fires the old "mesolimbic dopamine pathway"; that part of the brain responsible for feeling great! (Although it's also the pesky thing that leads to addiction).
Tiki Wonders & Geisha Wonders, both by NETENT are amongst my favourite progressive slots; they both have 30 lines and 4 betting levels, and it always feels like a never-ending kerrrrrrrrrrchiiiiiiiiiiiiiiiiiiiiiiiiiiiiiiiiiiiiiing! of cascading coins.
Another thing that I try to look out for when playing the slots is the number of jackpots. Some of them, like "Siberian Storm" (MegaJackpots) only have a single PJ. I like playing these because the jackpots are huge, but at the same time, I'm somewhat disappointed because they're much harder to win.
Huge jackpots versus Smaller jackpots
Other progressive slots, like Cosmic Fortune (again by NETENT), have multiple PJs. In this case, 5 (from smallest to largest): Rapid (currently £85.24), Mini (£426.20), Midi (£1072.50), Major (£24,419.88), and Mega (£34,463.63). With these games, it's an odd feeling. On the one hand, I love that there are more chances to win a jackpot, but on the other hand, it's not as exciting as playing for a single jackpot of £3million + (e.g. Mega Moolah, Hall of Gods, Mega Fortune, and The Winnings of Oz).
Hitting a huge progressive slot jackpot will be a life-changing event because the jackpot is linked across many online casinos, a big win causes a big stir in the casino business, you're guaranteed instant fame, and believe it or not some people would rather keep a low profile. For them, the smaller local (non-linked) four and five-figure progressive jackpots are often more attractive.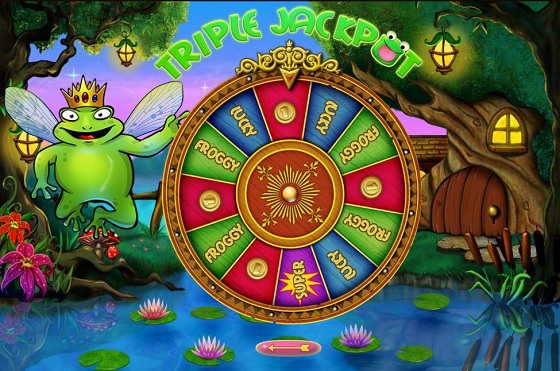 Super Lucky Frog
A Personal Favourite
My favourite game is the cheesiest PJ "Super Lucky Frogs". It always feels as if it pays out more than the others do, but this could just be a trick of the game. When I first played it, I won around £65 from a small deposit of £10. Great night and it set me up to love this game for always, even though I'd usually stay away from overly cheesy graphics.
One of my favourite things to do with "Super Lucky Frogs" is to set the autoplay to 100, on £1 bets, and just watch it spin. It's cathartic and fun. The best part's when the bonus or scatter options activate; it gets really exciting because it guarantees a win…the mystery is in finding out how much.
That leads me onto my final point, the PJs I like the best always have some bonus games and other hidden gems to make them more fun. I like nothing more than seeing a bonus game activate…actually, I probably prefer hitting the big jackpots, but that hasn't happened yet!
6 Tips For Progressive Jackpot Players
So, tips from a seasoned PJ enthusiast?
1. Your deposit is already lost – you're paying for entertainment, and not playing to win. Set a limit for the evening and stick to it. Never chase your winnings. PLAY FOR FUN.
2. Spend some time researching the various PJs and work out which ones you think are more likely to pay out. It won't make much of a difference, but it will add an element of skill to your play.
3. If you want to play for longer, choose a slot with high pay out rate. Mega Joker PJ has a famously high payout rate of about 99%, you can play it at Mr Green Casino.
4. Hide the credit card before you hit the whisky (if using PayPal, change the password by copy and pasting a nonsense string of characters – this won't entirely prevent you from accessing it later, but it will make it a lot harder).
5. Think about which is more thrilling to you: big jackpots or multiple smaller jackpots. Divide your playtime accordingly.
6. You will prefer some games to others, so if there's one you like and it doesn't appear in tip 2, play it anyway, simply because of tip 1! Spend time on the fun ones and the ones you think might pay out.
And that's how I make an evening of it on the progressive slot machines. At £100 a pop, I don't do it often, but when I do, I prepare well. It's one of my favourite ways to spend a Friday/Saturday night.