Well, what can I say? My first impressions of Casumo Casino were a mixed bag. While it looks professional, there is a distinctive WordPress feeling to the site. On consideration, I realised there's nothing wrong with a WP casino; it just isn't what I would normally expect.
While exploring the Casumo online casino site, I found their Job section. They're looking for "Designers with a Crush on UI & UX", as well as a "Front End Developer with a love for CSS". Both of these indicate that they take the design and the users experience seriously (which isn't unsurprising for such a large casino), so regardless of the CMS they're using, they certainly have their customers' needs and experience in mind when designing the site. This is evident in many different areas of the site, but more on that in a minute.
One thing that I found infuriating to start with was the ticker on the left-hand side. It provides RT information on the latest wins and bonuses across the entire casino. I found it distracting; it repeatedly draws the eye away from the games. I couldn't find a way to switch it off and that was irritating. Fortunately, within 10-minutes, I'd largely blocked it out of my awareness.
Eventually, I realised that the top section of the ticker (where you'll see three slim lines of colour – blue, yellow, and orange) is really helpful. It gives you quick access to your account details (e.g. name, address, playing preferences), your bank (deposits, withdrawals, bonuses, and playing history), and to the casino itself.
In conclusion, while the site was somewhat confusing initially, and navigation didn't feel logical, after a few minutes, it all starts to make sense.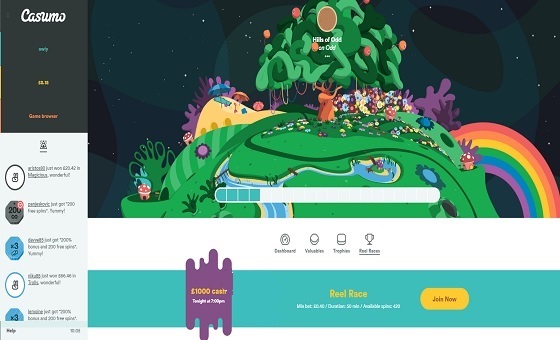 Casumo has a unique feel
What makes Casumo UK Casino a great online casino for UK players?
Casumo UK casino is relatively new in the UK but has a big international footprint, with English, Finnish, German, Norwegian, and Swedish-language versions of the site available.
What's it got for you though dear UK slots player?
Let's have a look at what makes Casumo UK casino a great online casino for UK players!
1 – Come in With a Casumo UK Welcome Bonus
The battle for consumers in the online casino market is fought with welcome bonuses! These attention-drawing offers are the bait that gets you into a site and playing their games.
Casumo online casino have one of the biggest and best, with a 100% bonus on the first deposit (which is not uncommon) with a high limit of £300. To top that Casumo'll give you 30 free spins on the super-popular Book of Dead slot! Look out for no-deposit bonuses with free spins too if you can find them.
2 – Casumo UK Casino is Legal and Safe
If you know your gambling warnings you'll be very familiar with the concept that you should stop gambling when it stops being fun. That's a good guide for personal safety, but the least fun you can have while trying to gamble is to watch your money drain out of your bank account and away to a scam site.
Always keep high standards when you sign up at sites. Check the licence is from the UK and is up-to-date. Or, let us do it for you. Casumo is UK licensed by the UK Gambling Commission, reference 39265.
3 – Casumo Casino Games
If you love slots, Casumo has slots, hundreds of slots, beautifully chosen and nicely arranged in a way that makes finding your favourite titles super easy.
If you like casino games then sit down for a huge range of roulette, blackjack, poker and more. And if you want to play them live against skilled dealers then you can do that too.
Casumo has exclusive live games, but also produces its own slots so you can have a unique slots experience at Casumo.
4 – Award-Winning Casumo UK Casino
If you're reading this and wondering why you listen to us, we'll answer, "listen to the experts" because Casumo has a habit or winning big casino industry prizes.
In the past few years, they've been awarded two awards from the EGR Nordics as best mobile operators, and have a 2019 award as the best online casino operator.
Those seem like pretty ringing endorsements.
5 – Casumo Online Casino on Mobile
As we've mentioned awards, those mobile gongs standout. You can see from the way the site is laid out that it's meant to work well for mobile players and those using a finger rather than a mouse. You can play Casumo on a mobile website or download an app. The iOS version for iPhone and iPad has a rating of 4.8 stars out of 5 on the App Store, so it could be that Casumo is on the way to another set of mobile awards.
Casumo Casino Bonuses
Be a better consumer. That's the best advice we can give to online casino players. And though it may sometimes feel uncomfortable – particularly if you have any British reserve in your personality – that means being a demanding (and polite, always polite) consumer.
In the online casino world, that means you should look for great bonuses. A new site is only a click away, and the number of casino launches seems to be going in just one direction.
Bonuses should reward you upfront for choosing a site, but you should also look for casino bonuses and promotions that make it worth your while sticking around.
Let's see how Casumo online casino does by its players, both newcomers and regular customers.
Casumo Welcome Bonus
The Welcome Bonus hits you in the forehead as soon as you arrive at most sites. It's a big selling point.
Casumo online casino is no exception to this rule of spin, and their welcome bonus looks very nice.
The deposit bonus is 100% and worth up to £300, and with that, you also get 30 free spins (or "wager free spins" as Casumo chooses to call them). The spins are currently on Book of Dead, a very popular title. There's a 30-times wagering requirement on this offer, and we remind players to always read the small print!
Casumo Free Spins
Free spins are probably as important as cash for players. To include Book of Dead, one of the top titles in the UK market at the moment is a masterstroke in the Casumo welcome offer.
Casumo No Deposit Bonus
Can you find a no deposit bonus for Casumo?
No deposit bonuses are rare: it doesn't take more than a moment's thought to work out why a business might be reluctant to hand out free cash to customers.
The fact is that no deposit casino bonuses can come with such onerous restrictions to keep the site's money safe that they are best avoided, or treated as a free tour that doesn't take the money into an account at all.
We have seen trails for Casumo no deposit bonuses, so they have been around – usually in the form of free spins – so if that's the deal-breaker for you then keep your eye on pages like ours.
Casumo Promotions
All of that stuff is designed to get you through the door. Cash and free spins will keep you committed to a site for a while. But you should demand more than that, and players at Casumo have a lot to look forward to with other promotions launched regularly via the Casumo blog.
These offers show a great variety, and change often. They included on our visit, a £10k prize draw based around two new games. A £25,000 prize pot linked to another. A 90-prize contest (including £20,000 in cash) based around games like the Joker series. A £5k summer promotion.
Head to the Casumo blog and click on the promotion's tag to check out all the details. You can see straight away that this is a site that doesn't just want to attract players, it wants to keep them.
Casumo Games
Casumo has an excellent collection of games. I counted 365 slot machine games alone. Altogether, they claim to have around 3000 games, and that definitely looks to be the case, but I'm not going to sit and count them all to verify!
With that much choice, I really had my work cut out choosing which ones to play. For my first choice, I went for one of the Monopoly slots (Once Around Deluxe). It was great. I won enough to withdraw cash! But, alas, it's one of my favourite games, so of course, I had to play my winnings! The best part of the game is getting the bonus and ending up on the board. I even managed to win "Twice Around the Board". Here, as the name implies, you get to go around the monopoly board twice, and your prizes are doubled. In terms of play, the game load quickly and played well.
I also played one of the blackjack tables. These are much like your typical casino blackjack tables. It's simple and straightforward to play. Again, this was a smooth play with some lag between rounds. Initially, there was an error and it told me to come back and play in a minute. I eventually realised that the error was due to a lack of funds – I'm not sure why they don't make that clearer, but it was a minimally irritating issue.
I think the best part of the site is the huge jackpots. Some of them are incredible. The reason for their huge jackpots is probably because it's a pan-European casino. They're based in Malta, but they have websites for Germany, Norway, Sweden, and the UK. They're clearly a large company with many players and the jackpots reflect this. Their largest jackpot today (July 2016) sits at £3m+! They also have one at £300K+, four at £150K+, and a handful at around £20K. If you want to play for big rewards, then Casumo is a great choice.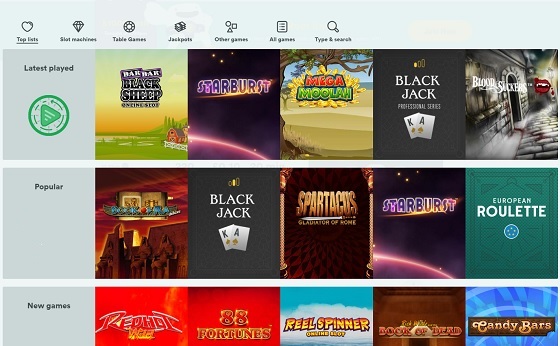 Thousands of games available
Casumo Slots
Casumo are a big international casino and game development brand which is now available to UK players.
They call themselves "an online casino for the many" in a slightly odd echo of the Labour Party's most recent slogan. Democratic socialism aside, there are no barriers to entry – as long as you're legal to play and have a bit of cash – and you'll pick up a big Casumo welcome bonus when you arrive.
Once inside you'll find hundreds upon hundreds of slot games and a big offering of casino games and live casino games.
Casumo Slots Listings
Casumo have a "games browser" to explore all the titles they host, they also put a selection up for you to browse.
These are split into the usual categories, picking out new, popular and very lucrative online slots with big jackpots.
Let's have a look.
Casumo casino Popular Slots
Casumo lists just four titles in each category on its smooth and smart looking website. The popular Casumo slots titles when we visited, in the summer of 2019 were: Rich Wilde and the Book of Dead (a massive hit this summer); the perennial favourite, UK number one, sci-fi game, Starburst; Bonanza Megaways; and Jammin' Jars.
New Slots
Any good site needs to have the latest titles on offer to its players. The slot industry is surprisingly consistent in its offering – slot games haven't changed their fundamentals for a long time – while also seeming to offer constant change.
The new slots exciting players at Casumo are the Norse themed, Thor Hammer Time; the Steampunk title, The Shadow Order; sci-fi smash, Queen of the Crystal Rays; and the colourful fun, Piñata Bucks.
Exclusive Slots
Not many sites can boast of exclusive games. Live casino games can easily be branded because they have to be filmed in any case, so many sites have their own studios. Casumo have those, with the lucky wheel game TopWheel Treasures and their version of Blackjack the most popular. But they also make their own slots – remember that Casumo are a game developer too – and you can check out games like Wild Elements and Bandits Wild Return only at Casumo slots casino.
Jackpot Games
If you're in it to spin to win then it's likely that you'll want to hunt out the big jackpot games. Most of these are progressives that network their prizes across a number of sites (harvesting small amounts of cash from player stakes in order to build up a massive prize fund). It's normally bogus to claim that slots pay-out at particular times or to a schedule, but progressive jackpot games are the one exception to this (although it's not an exact science). Casumo line up the games that are due to pay out for you, listing the likes of Devil's Number, Mega Dragon, Spin Town, and Flaming Fox when we checked out the site.
There's also a selection of the biggest paying games, including world record-holder Mega Moolah and favourite big-pay game Mega Fortune.
There's a lot more than slots at Casumo online casino too, so take a moment or two to click through and read up on their casino and live casino games when you visit the site.
Payment Methods
To find the deposit section, just look at that left ticker again, you'll notice a band of yellow near the top. When you hover the mouse over that band, it pops out. You then click on the "£" sign and it takes you to the payment and withdrawal section of the site. Here, you can make deposits, withdraw money, enter discount vouchers, and look at your deposit history.
They offer four deposit methods, Visa (Credit & Debit), Skrill, Neteller, and Paysafe.
Functionality:
We accessed the site using a laptop, and the games loaded relatively slowly – especially the slots, which took around 5 seconds to load. That is very reasonable, in my opinion. There was a slight issue of lag when moving between rounds – e.g. with the blackjack, but it was minimal.
Finally, I received several error messages when trying to play on the slots. It was confusing to start with, but eventually, I realised it was because I didn't have the funds to play that particular game. Why they didn't tell me that, I don't know. It's probably some kink that they haven't noticed yet.
Withdrawals:
A good feature of the site is that they allow you to withdraw cash of £10 or more. Some of the larger casinos set higher margins, and it can feel that your money is stuck in the site forever. The wagering requirements on the bonuses can feel frustrating, but that's the same on many other sites, too.
Casumo PayPal
If you've read our site at all you're know that we're among the most boring online slots sites on the web. We're boring because we constantly repeat warnings to our players to be careful about online safety, about security, about safe gambling, and about scams.
We're boring, but we're honest, and we're honestly delighted to be telling you about a site that offers PayPal as a payment option because it answers a lot of those potential problems in the first paragraph!
PayPal's history with gambling is an interesting one. There was lots of gambling online and PayPal processed lots of payments, including lots of gambling payments. Then, in 2003, PayPal dropped completely out of the internet gambling market, probably in an effort to keep squeaky clean as the US prepared to legislate to stop the Internet laying waste to its gambling regulations.
Into that gap streamed a whole load of other payment processors. And was a great thing for the industry.
When PayPal came back into the industry in 2010 they were well established as the biggest beast in the payments world. And they were still very cautious about their reputation. So seeing PayPal as a payment option on a website is a short-cut to showing the quality of a site.
So it's great news for Casumo players that alongside Visa, Mastercard, Skrill, Neteller, Paysafe, MuchBetter and Mobile Billing you can also pay with PayPal.
Casumo Mobile Casino & App
Playing on the go is the way to go in 2019. There's no arguing with the stats, and mobile browsing has forged beyond desktop usage in the past couple of years.
Casino sites are well on top of this trend too. They know that players demand a good quality mobile casino website or a downloadable app that they can use straight from their phone or tablet home screen.
Casumo mobile casino has you covered in both ways.
Casumo mobile website
We don't even have to make any unsupported claims here, as Casumo's mobile offering is award-winning – time after time.
Casumo has the 2017 and 2018 Mobile Casino of the Year Award from EGR in its trophy room.
There are 900 games and more to check out, and you can play almost all of them on a mobile site of award-winning quality.
Casumo Casino App
Mobile players have the choice of browsing to a site or tapping an app on their home screen. You don't have to use an app, and we think there are disadvantages to doing so in some (very limited circumstances.
But apps can open up extra content and bonuses – for example, Casumo's no deposit bonus was linked to downloading its app in the past.
Casumo's award-winning app focused on making the system easy to sign up to with a tailor-made personal dashboard that shows the content you want to see. They also linked the app to the site's innovative loyalty programme and made a seamless deposit and withdrawal process.
Game browsing and speed and ease of use were also prioritised, and it seems that the judges of the ERG awards agree that Casumo mobile casino got its app right. There's no argument with that from reviewers at the Apple App Store, who've been rating the Casumo mobile app at close to the maximum score for a while now.
Unique Selling Points (USPs):
What sets Casumo apart from their competitors? There are many positives. The huge jackpots are incredible. The massive range of games is great.
One thing that we really like is their "casino games" section, where you can find detailed information on the various games on offer and how to play them. If you've ever wondered how to play the slots, then visit Casumo.
The other thing we liked is the "Casino Challenges". Here, the casino sets various challenges and you compete with other players to win prizes. It's a great way to add a feeling of camaraderie to the site.
Conclusion
Overall, Casumo does take some getting used to. I started to warm to it after around 20 minutes of play. It has a fantastic selection of games, some great USPs, and decent bonuses. We would definitely recommend that you try it out, but that you go in with an open mind and understand that you will probably need to take a while to get to know the site. With its huge jackpots, it's definitely worth giving it a chance.